by art attack Thursday, Jan. 22, 2004 at 9:59 PM

Finally... a CREATIVE ACT to engage the public and make people think. Demonstrations are fine... but what we really need are hundreds, thousands, of creative works that intervene in the mass consciousness. An anonymous public art that speaks truth to power and dares to envision a different world. Mass political struggle is one thing... but profound, insightful, and bold cultural work paves the way to a world at last inhabitable. LET A THOUSAND FLOWERS BLOOM! No more business as usual... turn the city streets into open air art galleries! In this Reuters photograph by Frank Polich, Viet Nam Veteran Eddie Randolph looks over 500 pairs of boots laid out in Chicago's Federal plaza, January 21, 2004. The boots were placed there to remember the U.S. soldiers killed in the War in Iraq.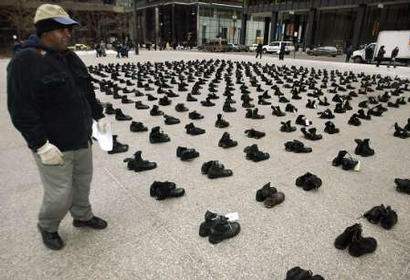 500_boots.jpg, image/jpeg, 410x280
500 pairs of Army boots stand empty in Federal Plaza to symbolize war dead
MAURA KELLY Jan. 21, 2004
Associated Press

CHICAGO - Although they drew the attention of only a few people rushing to lunch on a frigid January afternoon, more than 500 pairs of empty Army boots placed side-by-side Wednesday in downtown Chicago were a visible reminder of U.S. soldiers killed in Iraq.

The black boots, some dusty and dirty because they had been used by soldiers, were placed on Federal Plaza in front of a posterboard display that listed the names, ages and states of all soldiers killed in the war.

"These young men and women will not have died in vain if truth triumphs," said Michael McConnell, regional director of the American Friends Service Committee, a Quaker peace and social justice organization that sponsored the memorial.

The United States has not been able to find any banned weapons in Iraq, which was President Bush's justification for going to war, McConnell said. He said Bush should end the "policy of first-strike warfare," and he referred to Bush's State of the Union address a day earlier in which the president urged the nation to stay the course.

"We say reverse the course," McConnell said. "Reverse the course before this federal plaza is filled with combat boots. Admit that this war was fought under false pretenses."

One Chicago resident who stopped by the display on his lunch hour said the boots were a reminder of the human cost of the war, which he opposes.

"We cannot solve everybody's problems," said Sam Kulumami, who works as an auditor for the U.S. Department of Labor. The memorial was a powerful symbol of fallen soldiers for Becky Schillo of Chicago. "You hear about one or two soldiers being killed, then 500," the 24-year-old said. "It kind of hits home."

As of Tuesday, 501 U.S. service members had died since the beginning of military operations in Iraq, according to the military. Of those, 346 died from hostile action and 155 died of non-hostile causes, the Defense Department said.