by Raffaella Malaguti Thursday, Jul. 26, 2001 at 1:29 AM

Demonstrators hold a banner reading " Killers " as they take part in a demonstration following the death of 23-year-old Carlo Giuliani in central Rome, July 24, 2001. Tens of thousands of people, many shouting "killers, killers", protested throughout Italy on Tuesday against the use of police force that left one person dead and more than 230 injured at the G8 summit in Genoa. REUTERS/Paolo Cocco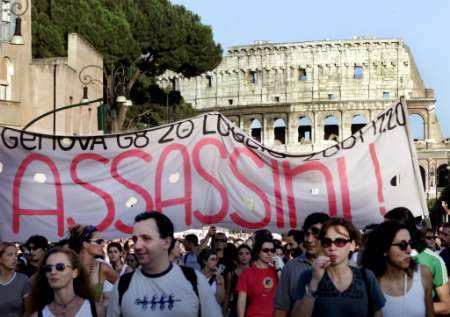 assassini1.jpg, image/jpeg, 450x317
Thousands Across Italy Protest Police at G8

By Raffaella Malaguti

ROME (Reuters) - Tens of thousands of people, many shouting ''killers, killers,'' protested throughout Italy on Tuesday against the use of police force that left one person dead and more than 230 injured at the G8 summit in Genoa.

There were no immediate reports of serious violence as the anti-globalization marches were still in progress in Rome, Genoa, Florence, Bologna, Palermo and a host of other smaller cities across Italy.

Demonstrators threw eggs at police headquarters in the southern city of Taranto and bags of red paint at police headquarters in Naples.

The largest crowd was in Rome, more than 40,000 people marched along central streets holding banners and led by a number of leftists politicians.

``Killers, killers,'' the protesters shouted as police in riot gear and with teargas canisters at the ready kept watch near the central Via del Corso.

The crowd in Rome was bigger than expected and spilled out of a small square that had been slated for a closing rally.

The protesters in Rome locked arms and symbolically circled the grassy roundabout in central Piazza Venezia, bringing traffic to a halt.

Some 10,000 people protested peacefully in Genoa, where last weekend about 200,000 people took the streets during the Group of Eight (G8) summit of world leaders and a core of anti-capitalist activists bent on violence clashed with police and caused millions of dollars of damage.

One protester, Carlo Giuliani, 23, was killed by a police bullet when he and other demonstrators assaulted a police van.

TRIBUTE

Police and government figures said the officer who fired the shot was acting in self-defense to escape what they called a lynching attempt.

Last weekend's demonstration in Genoa began with a huge banner reading ``You: G8, Us: 6 million.''

In a tribute to the dead protester, the banner that led the demonstration in Rome read ``You G8, Us: 5,999,999.''

The protesters demanded the resignation of Interior Minister Claudio Scajola, a senior figure in the conservative Forza Italia party led by Prime Minister Silvio Berlusconi.

The opposition center-left Olive Tree bloc, which lost a general election to Berlusconi last May, has put forward a formal no-confidence motion against Scajola in parliament.

During the summit in Genoa, police arrested 280 protesters, many of them foreign nationals.

Amnesty International has urged Italy to respect the rights of protesters detained and allow them access to lawyers and relatives.

The London-based international human rights organization said some foreign nationals arrested in Genoa had not yet been allowed to contact their consulates, lawyers or families.