by Art For A Change Monday, Aug. 21, 2000 at 4:33 AM
mvallen@primenet.com Art For A Change / P.O. Box 5751 Sherman Oaks, CA. 91413
The theme of Monday's protest (8/13/2000), was "Human Need not Corporate Greed." An enormous crowd gathered at Pershing Square for a march to Staples Center. No fewer than 10,000 protestors participated in the mass demonstration, and many issues were addressed.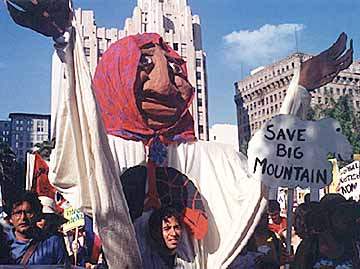 navajo.jpg, image/jpeg, 360x269
Many protestors focused on the rights of Native American people and the issue of self-determination. I photographed this puppet of a Navajo Woman, representing the Indigenous resistance to the big Coal Companies and their grabbing of traditional Navajo lands at Big Mountain. For more photographs and artworks dedicated to social justice, please visit the ART FOR A CHANGE Web site at;