Features
•
latest news
•
best of news
•
syndication
•
commentary

Feature Categories



KILLRADIO
printable version - js reader version - email this article - view hidden posts - tags and related articles


View article without comments by Susan Saturday, Oct. 14, 2017 at 11:25 AM

The fascism of the left.
Reem Assil wants to silence us. She repeatedly calls security and the Oakland Police Department to monitor our every move. Initially law enforcement even asked us to leave. But we know our rights.

Now Assil has gone much further. She has sued three of the protestors to obtain temporary restraining orders. The Alameda County Superior Court has twice denied Assil's requests. Yet she perseveres with lawsuits aimed at quashing the voices of conscience about Odeh's many crimes.

Why would Assil choose to lionize a convicted terrorist in a larger than life mural and not expect people to respond? And when they do, she quickly calls for cover from law enforcement and applies for restraining orders?

It is safe to say that Reem Assil only values free speech when it agrees with her own biased views.

blogs.timesofisrael.com/reems-cafe-owner-has-a-first-amen...

Report this post as:


by Legal insurrection Saturday, Oct. 14, 2017 at 5:27 PM


According to someone who was there, the police were called again but refused to take any action against the protesters, even commenting that the protesters had a right to be there. And indeed, they do have that right to honor the victims, just as Reem's has a right to honor the terrorist perpetrator.

Needless to say, the anti-Israel Jewish Voice for Peace which is vocal in support of terrorists like Rasmea and Marwan Barghouti, is supporting Reem's.

Reem's Bakery, JVP says, "Tastes as Delicious as Freedom." Rasmea's terror victims could not be reached for comment as to whether they agree.

https://legalinsurrection.com/2017/09/vigils-continue-for...

Report this post as:


by Rae bae Sunday, Oct. 15, 2017 at 9:13 AM



jew-world_order.png, image/png, 685x266

Jew World order supports Reem's in its struggle against the Zionist oppressor. Do you need to know anything else?

Report this post as:


by Reem's bakery glorifies violence Sunday, Oct. 15, 2017 at 1:03 PM


From the J weekly: A bakery that dishes out hatred in Oakland

The bakery owner suggests that she is open to dialogue and having the tough conversations. I believe that to be another lie. We would all find it appalling if a restaurant opened in Oakland that drew inspiration from the terrorist who killed so many young people in Manchester. We would also find it humorous if our fictitious restaurateur thought this would be a platform for dialogue. As a private establishment, a real-life restaurant can make its own choices. As consumers, I suggest we do the same. I won't support a bakery that sprinkles each dish with hate.

https://www.jweekly.com/2017/05/30/an-bakery-that-dishes-...

Report this post as:


by Oakland-ish Monday, Oct. 16, 2017 at 4:43 PM


Good News . Reem Assil has withdrawn her fascist attempt to silence the voices of local peace and justice activists. Her motivation appears to be financial.

Reem Assil dropped the lawsuit after the protesters served notice of intent to seek attorney's fees under anti-SLAPP statute.

From Legal Insurrection: A statement from the attorneys for Michael Lumish:

Early yesterday morning, we provided notice to Ms. Assil's counsel that we were going to appear in court ex parte on Wednesday to adjust certain pending case dates because we would be filing later that day – on behalf of Mr. Lumish – a motion to strike Ms. Assil's case as a Strategic Lawsuit Against Public Participation ("SLAPP" suit) designed to chill Mr. Lumish's exercise of his free speech rights. A few hours later, while we were waiting for the Court to provide a hearing date for our Anti-SLAPP motion, we received word from the Court of the plaintiff's voluntary dismissal.

Because Ms. Assil's lawsuit against Mr. Lumish was precisely the type of effort to use the courts to try to obtain a content-based prior restraint on political speech, which California law does not countenance, we are very pleased that Mr. Lumish is no longer facing the burden of having to deal with such an action and attempt to intimidate him and others from engaging in peaceful protest. In light of the time and effort that we were required to invest in order to vindicate Mr. Lumish and to stand up for his free speech rights, we are considering the possibility of recovering defense fees and costs from Ms. Assil and/or her counsel in connection with this action and with their effort to silence protest against Ms. Assil's own political speech and choice to use her restaurant to honor a convicted murderer and terrorist.

https://legalinsurrection.com/2017/10/reems-oakland-baker...

Report this post as:


by Madison Tuesday, Oct. 24, 2017 at 11:58 PM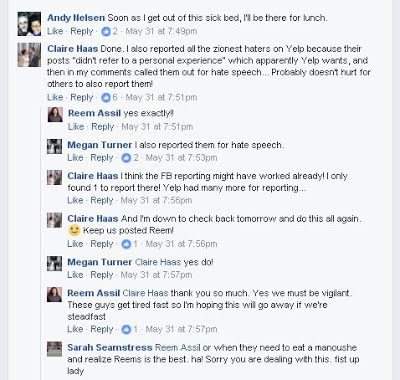 1.jpg, image/jpeg, 400x380

Reem Assil has been soliciting Positive reviews on Yelp, too, for her restaurant. Isn't that considered unethical

Report this post as:


by Madison Wednesday, Oct. 25, 2017 at 10:37 AM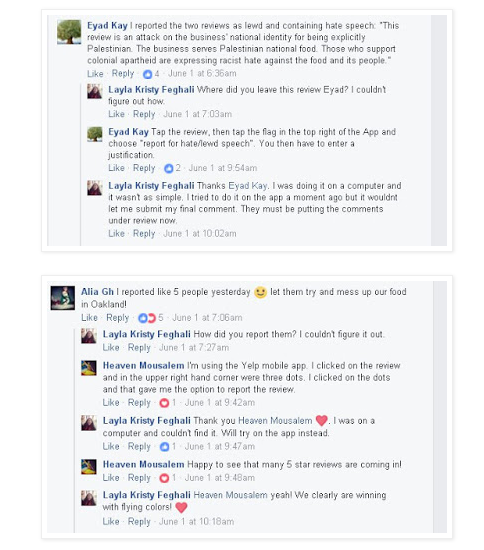 reem_s_oakland_manipulating_yelp.png, image/png, 484x550

Reporting "zionists" as "lewd". Reem Assil is still, as they put it "gaming the system"

Report this post as:


by Zoe Monday, Oct. 30, 2017 at 11:40 AM


Reem Assil never had any intention of going through with the lawsuit. She was just trying to stop the protests at her restaurant. She thought the Zionists would be too scared to come back after they were served.

Report this post as:



Local News

Chris Ballew beat up by Pasadena police J05 5:01PM

Retired LAPD Sgt. Cheryl Dorsey explains how the LAPD's Board of Rights hearings work J05 3:40PM

An Ex-Cop Talks About Police Shootings J05 3:39PM

Do Nukes Kill? J02 4:40PM

Letter: Support Proportional Representation for the California State Legislature J01 1:23PM

Community Rallies in Santa Barbara in Solidarity with Inmate Firefighters D22 9:59PM

LAWSUIT ALLEGING FEDERAL VOTING RIGHTS VIOLATIONS IN KERN COUNTY D22 8:56PM

The Video ICE Wishes Was Never Made Public D22 8:39PM

Mitchell Englander going after homeless people D18 5:24PM

"Animaniacs in Concert!" with Voice Artist Rob Paulsen, Sat., Jan. 20 in Santa Clarita D18 4:30PM

The Eagle Rock Peace Vigil Marks 15 Years N27 11:23AM

12/2-3 LA Binational Conference To Cancel NAFTA and Unite Workers Of Mexico and the US N27 3:44AM

Winter 2017 National Immigrant Solidarity Network Monthly News Alert! N26 9:22PM

Nuclear Shutdown News November 2017 N26 4:23PM

Report Back on November 18th Counter Demonstration Against Anti-Muslim March N20 10:57AM

Report Back on November 18th Counter Demonstration Against Anti-Muslim March N19 7:12PM

National US Gov as wellas EPA slow to act on Abandoned uranium Mines Cleanup in Southwest N15 10:50AM

OUR HOUSE Grief Support Center Hosts 9th Annual Comedy Fundraiser N14 10:47AM

BUSTED: Watch LAPD cops plant drugs in black suspect's wallet – unaware body cams were on N10 5:32PM

lapd shootings 1998 - 2015 N06 11:21PM

"Oh Say Can You See" How the LAPD Singing the National Anthem Cost the Dodgers WS Game 7? N03 7:30AM

Car drives into immigration protesters outside Rep. Ed Royce's office in Brea N02 2:06PM

PACIFICA RADIO BOARD SECRETLY OK'S BANKRUPTCY FILING & SEEKS NY SIGNAL SWAP O25 4:49PM

LAUSD, Privatization, Charters And The Fight To Defend Public Education Education Conferen O04 12:10PM

Afghan Women Read RAWA.org founded 1977 S27 9:42PM

[France] The State Attacks Indymedia-Grenoble and Indymedia-Nantes… Solidarity! S25 5:18PM

Segregation in the City of Angels: A 1939 Map of Housing Inequality in L.A. A15 7:44PM

Justice Dept. seeking info, IDs on 1.3M visitors to protest website DisruptJ20.org A15 1:04PM
More Local News...
Other/Breaking News

Paraphysique du No Future J18 2:14AM

Is Economic Speculation a Form of Structural Violence? J16 6:07AM

De Malik Oussekine à Rémi Fraisse, éréthisme policier J16 5:01AM

Epilogue: Pakistan on the chopping block in 2018? Zahir Ebrahim | Project Humanbeingsfirst J15 3:16PM

Friends J14 4:13PM

Pro domo J13 9:06PM

Part 3: Honduras Coup Repeat Update 15 December 2017 to 31 December 2017 J13 4:26AM

Paraphysique du fait divers J12 6:20PM

Brazil wants true justice for Lula! J12 4:14PM

Trilogy Exposing Crimes by fbi et al J11 8:22PM

The Shortwave Report 01/12/18 Listen Globally! J11 4:33PM

The Trump Election J11 4:43AM

Advocates for Terror: Why Ahed Tamimi and Her Family are No Heroes J10 9:47PM

Trial Starts for Woman with Erb's Palsy Punched in Face Repeatedly by LAPD Officers J10 1:38PM

Dear District Attorney Jackie Lacey, Prosecute Killer Cops, Signed: Your Constituents J09 10:09PM

Free Fire Battlegrounds Diamond Cheats J09 3:44PM

"Animaniacs in Concert!" with Voice Artist Rob Paulsen, Sat., Feb. 3 at the Tilles Center J09 11:41AM

BDS Palestine Movement J09 8:07AM

Rotule doublement cassée, ouverte, joyeux anniversaire J09 12:21AM

Anosognosie généralisée du capital J08 12:42AM

Great solidarity action today J06 10:22PM

How a Supreme Court Ruling Could Embolden Police Retaliation Against Political Speech J05 3:37PM

Baltimore Students Offer Solutions to Stop Police Brutality J05 3:35PM

Judge Orrick on Sanctuary Cities, 28 pp J05 1:12PM

The Perfect Totalitarian Rule: Orwell J05 3:55AM

The Shortwave Report 01/05/18 Listen Globally! J04 4:59PM

2 Alabama Hospitals as well as State of Mississippi file class action suit vs. opatecomp J02 7:17PM

Time to Start Imagineering a Post-Ayatollah Iran J02 1:38PM
More Breaking News...