Features
•
latest news
•
best of news
•
syndication
•
commentary

Feature Categories



KILLRADIO
printable version - js reader version - email this article - view hidden posts - tags and related articles


View article without comments by Abe miller Wednesday, Jul. 19, 2017 at 11:06 AM

We are shamed by our fanatics. We do not see them as role models, heroes, and inspirations. The other side idolizes their fanatics! When they stop, maybe we can have a dialog. Then we really could break manoushe with someone like Reem Assil.
On July 8, a small group of senior citizens conduct a silent, peaceful vigil outside an Oakland bakery. Shortly after their arrival, they are confronted by a group of thugs.

Sometimes a single event is a microcosm of larger and more dynamic forces. The vigil outside the bakery was such an event.

On the one hand, this is a purely American story of entrepreneurship in the manner of 19th century Horatio Alger stories of individual achievement. On the other hand, it's a grim story of the deterioration of civility and the Left's increasing use of violence in contemporary politics.

Reem Assil, the owner of Reem's Bakery, is a former labor activist who holds an undergraduate degree in international relations from Tufts University. After parting ways with labor activism, Ms. Assil showed that she was not afraid to get her hands dirty and that it was not beneath her dignity to enroll in a community college to acquire economic skills.


With some on-the-job experience, a Kickstarter fundraiser, and the courage it takes to start a new business, Ms. Assil launched her bakery. Modeled after the stand-up, Arab street bakery, Reem's advertises that it extends hands across cultures and experience through the warmth of bread.

So, what's the problem? A young entrepreneur opens a successful bakery in an underserved part of Oakland and appears to have made a success of it. It's as American as apple pie.

The problem for some is that staring down at you while you munch on your freshly baked manoushe is a large mural honoring Rasmea Odeh. Convicted of participating in a 1969 terrorist bombing in Jerusalem that killed two Israeli college students, Ms. Odeh spent 10 years in an Israeli prison. She was exchanged, along with 77 others, for an Israeli soldier held by the Popular Front for the Liberation of Palestine, a terrorist group to which Odeh belongs and whose founder, George Habash, pioneered airplane hijacking and shooting up airline terminals.

The PFLP, along with German Revolutionary Cells, carried out the 1976 hijacking of an Air France Airbus, flying it to Entebbe, Uganda, ending in the highly acclaimed Israeli commando rescue of 100 hostages.

In 1972, the PFLP teamed up with the Japanese Red Army to execute an attack on Lod (now Ben Gurion) International Airport that resulted in scores of casualties, most of whom were Puerto Ricans on a Christian pilgrimage.

Eating your Arab-street bread under the glare of Rasmea Odeh is offensive not only to Jews but to anyone who objects to the taking of innocent life. For all the warm fuzzy talk about extending hands across cultures and experiences, being looked down upon by the image of a convicted terrorist as you try to savor Ms. Assil's culinary art is incongruous at best, and indigestion-inducing at worst.

Let's be clear. Ms. Assil cannot be held responsible for the thuggery of her patrons or even her fellow anti-Zionists whom, some allege, she mobilized. Furthermore, this is America, and Ms. Assil can decorate her restaurant with whatever "art" she wants. And if patrons' appetites are stimulated by the face of bloodshed, that too is their right.

At the same time, the elderly Jews who stood outside Reem's bakery with pictures of Rasmea Odeh's victims have the same right to be there. The attack on them by the restaurant's patrons and an assortment of Berkeley/Oakland anti-Israel activists is more offensive and a greater threat to our political system than anything Ms. Assil could conceivably hang on her wall.


https://spectator.org/the-warmth-of-bread-and-of-blood/

Report this post as:


by Unite against hate Wednesday, Jul. 19, 2017 at 9:26 PM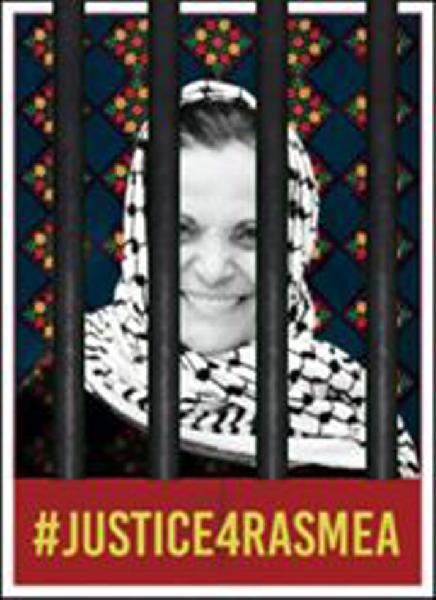 justice.jpg, image/jpeg, 692x952

Protesters of bakery's 'appalling' mural of terrorist attacked

BY DAN PINE

Protesters outside an Oakland restaurant that features a mural of a convicted Palestinian terrorist were physically attacked by counterdemonstrators, according to an organizer of the July 8 nonviolent vigil.

Protesters in front of Reem's restaurant in Oakland. (Courtesy/Faith Meltzer)
Protester holding torn sign in front of Reem's restaurant in Oakland (Photo/Courtesy Faith Meltzer)
Faith Meltzer said she and four fellow pro-Israel activists had gathered near Reem's, an Arab restaurant and bakery in Oakland's Fruitvale district. They came to protest the restaurant's wall-size mural depicting Rasmea Odeh, a Palestinian woman who confessed to participating in a 1969 Jerusalem grocery store bombing that killed two and injured nine.

"We felt the need to inform the community about what was being promoted there," Meltzer said. "We had a sign that said, 'Honor the victims, not the killer.' I think it's appalling that a convicted murderer is being lionized in this manner."

A dozen counterprotesters soon approached, according to the pro-Israel activists, ripping signs out of their hands. One pried a sign from the fingers of a disabled protester and another tried to grab Meltzer's purse, she said. Police were called, and bystanders filmed portions of the incident, according to Meltzer. Photos taken at the incident seem to confirm that one of the counterprotesters grabbing signs was Lara Kiswani, executive director of the Arab Resource and Organizing Center.

Odeh was given a life sentence in an Israeli prison after confessing to taking part in the planning of the terror attack. Released in a prisoner swap 10 years later, she recanted, claiming she was raped and tortured into giving a false confession. She came to the United States in 1995, but was later found to have lied on her immigration papers. Odeh is currently awaiting deportation later this summer.

Reem Assil, founder and owner of the bakery, is of Palestinian-Syrian descent. She has defended the mural, calling Odeh "outspoken on Palestinian rights" and "an emblem of resilience for us." In an interview with Berkeleyside, Assil called Odeh "a modern-day Malcolm X."

Once news of the mural broke a few months ago, community reaction on both sides was swift and sharp. The bakery received a string of angry one-star Yelp reviews in an effort to bring down its rating, but Yelp ended up deleting them. J. published an op-ed on May 30 condemning Assil and the mural.



Boycott Reem's . Oakland Unite Against Hate

Report this post as:


by Protest Reem Assil Friday, Jul. 21, 2017 at 10:32 AM


Did you see this about Reem Assil?

Assil has promoted at least one more PFLP terrorist from her bakery.

On August 15, 2016, the Reem's Twitter account tweeted a photo of AROC activist Sharif Zakout in Assil's bakery, holding a photo of PFLP leader Ghassan Kanafani. The tweet said: "Come hungry for food and knowledge! "

Kanafani was the spokesperson for the terrorist organization in its early years. Kanafani announced the PFLP's responsibility for the Lod Airport Massacre of May 1972 and was linked to the airport attackers. The attack killed 26 people."



https://canarymission.org/individuals/reem-assil/

Report this post as:


by eyad Saturday, Jul. 22, 2017 at 10:40 PM


Oaklands most notorious bakery.

https://www.facebook.com/boycottReemsCalifornia/

Report this post as:



Local News

Segregation in the City of Angels: A 1939 Map of Housing Inequality in L.A. A15 7:44PM

Justice Dept. seeking info, IDs on 1.3M visitors to protest website DisruptJ20.org A15 1:04PM

San Francisco Rally Protests Hate Crimes in Charlottesville A14 5:38PM

New Google algorithm restricts access to left-wing, progressive web sites A02 1:52PM

Tracking Twenty Years of Stockton Killings by Law Enforcement A02 1:27PM

Garcetti Cronyism - Why and How to Ignore Your LA Dog License A01 5:05PM

Nation's Worst Meltdown Was In LA J31 4:54PM

As RV towing resumes in LA, officials say program won't 'target homeless' J31 1:15PM

Class War on the Waterfront: Longshore Workers Under Attack J21 10:18AM

Limits to Growth Published Forty Years Ago J18 5:15AM

KPFK's Indy Media on Air Now on Wednesdays J25 9:13AM
More Local News...
Other/Breaking News

Stand Against Reem's. Stand Against hate. Stand Against Violence N22 11:10AM

Anarchie ou barbarie N22 2:07AM

The Driving Force of Global Inequality N21 6:27AM

Jewish Voice for Peace's Shocking attack on Latina activist N20 10:50PM

Fbi's dangerous threats N20 11:28AM

Report Back on November 18th Counter Demonstration Against Anti-Muslim March N20 10:57AM

Report Back on November 18th Counter Demonstration Against Anti-Muslim March N19 7:12PM

Ni patrie, ni frontière, ni nation, ni région N19 7:17AM

Statement on the Trump Visit to the Philippines N18 7:45PM

Capitalisation de l'egogestion egogérée N18 5:30AM

Three reading samples on George Orwell's "1984" N17 3:55AM

Syllogomanie N17 12:28AM

The Shortwave Report 11/17/17 Listen Globally! N16 5:05PM

Paraphysique de la collaboration N15 10:11PM

October 2017 Honduras Coup Update N15 9:23PM

National US Gov as wellas EPA slow to act on Abandoned uranium Mines Cleanup in Southwest N15 10:50AM

OUR HOUSE Grief Support Center Hosts 9th Annual Comedy Fundraiser N14 10:47AM

Republicans against the Poor and the Sick N14 4:16AM

Paraphysique du conformisme N13 11:25PM

Global Warming / Climate Change has Become a New Religion - What's it all About? N13 11:20AM

Crétinisme et jobarderie psychophysiologiques N13 8:21AM

Crétinisme et jobarderie psychophysiologiques N12 10:08PM

"The Public Trust Doctrine," Wealth Inequality, and Iraq N11 12:08PM

Anthologie de la subversion carabinée N11 1:20AM

US Executions Violate The 14th, 8th, and 1st Amendments To The Constitution N10 10:51PM

BUSTED: Watch LAPD cops plant drugs in black suspect's wallet – unaware body cams were on N10 5:32PM

FBI suppressed exculpatory evidence in Leonard Peltier's trial N09 5:16PM

The Shortwave Report 11/10/17 Listen Globally! N09 4:19PM
More Breaking News...