Features
•
latest news
•
best of news
•
syndication
•
commentary

Feature Categories



KILLRADIO
printable version - js reader version - email this article - view hidden posts - tags and related articles

by J.A. Citizen idVer:d33f39986e6202194bcaf32a2a Monday, Feb. 13, 2017 at 3:11 PM
J.A.Citizen@gmail.com PublicStorageScumbags.com
WARNING!! PUBLIC STORAGE USES AN ILLEGAL FORM CONTRACT THAT VIOLATE CALIFORNIA STORAGE LAWS, DEFRAUDING ALL THEIR CALIFORNIA CUSTOMERS ON A DAILY BASIS.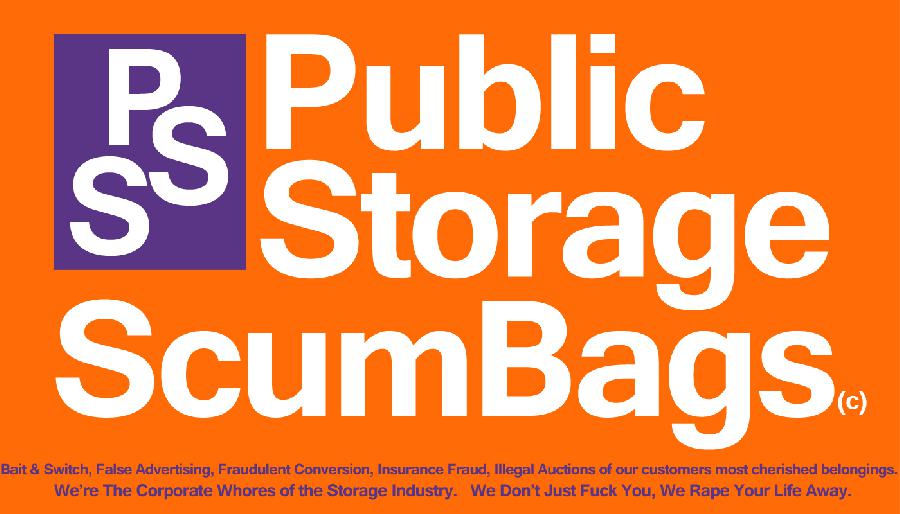 publicstoragelogo6_1400.jpg, image/jpeg, 1400x800
The Sleazy Corporate Nazi Tactics of Public Storage

Raping their customers on a daily basis has become a tradition for Public Storage who seems to be very proud of their sleazy reputation since they refuse to stop their disgustingly immoral and blatantly illegal business practices of using an illegal contract to defraud their California customers on a daily basis. And District Manager, Margaret Sommers is a fine example of the kind of criminal minded corporate thief it takes for the shameful position of District Manager in Ronald L. Havner Jr.'s thieving immoral empire of sleazy self serving scofflaw corporate thieves Margaret Sommers is a plastic, self serving, uncaring, unethical, malicious, conscienceless thief, who has devastated my life without thinking twice. Public Storage's sleazy district minion, Margaret Sommers, is a calculating corporate thief who works for a company of calculating corporate thieves who regularly rape their clients as they raped me of everything I cherish and had accomplished over the last 47 years, because they just don't give a damn about anything but their own bottom line. 47 years of my life is gone for absolutely no reason accept for Public Storages policies of pure corporate greed and their malicious contempt for their own customers.

Margaret Sommers and Public Storage have blatantly defrauded me and illegally destroyed my business and my life and I have promised them they are going to pay dearly for what they have done to me! They have wiped out my entire career as an artist! 40 plus years of my life is just gone! Illegally stolen by the disgusting scofflaw corporate thieves like District Manager Margaret Sommers, who rapes her customers in the name of Public Storage, like she and Ronald L. Havner Jr. have so brutally raped me.

Two Days notice... That's what Margaret gave me in an email that Public Storage was auctioning off everything I owned in my life after falsely claiming my rent was 3 months late! Two days notice! My last payment was just 35 days before that auction. Public Storage also knows that they qwere mailing notices to the old address I had moved out of before storing my belongings at Public Storage. And Margaret Sommers knows this to be true because several months before that, they "mock auctioned" my unit when I was literally only 18 days late on the rent! 18 days, I kid you not!! She told me then, they were mailing notices to that old address and I informed her right then and there in an email my attorney now has a copy of, that she was sending notice to the old address I moved out of. Something I also informed them when I first moved in Public Storage!!! Public Storage and Margaret Sommers personally knew I had no current address and she just didn't care. In fact, she took advantage of that fact and that's pretty disgusting! One more reason she's a sleazy corporate minion with the conscience of a flea!

Public Storage is a criminal minded organization of corporate thieves! They very well knew they were mailing auction notices to my old address and they just didn't care. Do you think a jury will care? Because I do have the emails to prove that you knew exactly what you were doing! You waited until the last minute to inform me by email that they knew they were auctioning my life away in two days! You knew the notices you were sending were going nowhere because that's the same thing they try to do to all their customers and do so as a scofflaw corporate policy. That's why they never even mentioned the the lien sale notices and the fact that they violate their own contract by not sending them electronically as they claim they will in their illegal contract.

Public Storage is very calculating and well practiced as corporate thieves and I insist this was a malicious and premeditated robbery of everything I own and a blatant Conspiracy to Defraud their CA customers! And this is one of the causes of action I have in a 16 cause of action lawsuit I am soon to file against them. They are blatant corporate thieves! Nothing less! Sleazy self serving corporate thieves that have destroyed my business and 47 years of my copyrighted art and photography! A calculating thieving corporation and I will prove that in court very easily because their own contract violates California Storage Laws! Their illegal auction has ruined my life and my career! They had no right! and they are nothing but a sleazy self important corporation who rips off their customers and destroys lives in the process. They had no right!
Public Storage and the "Corporate Thieves" that work for them like Margaret Sommers have destroyed my life, and they consider the matter closed. But I got news for these scum of the earth corporate maggots … It's just getting started because they have left me with nothing else but my hatred of what they have done to me!

What is even more distressing is the fact that the authorities are not doing a damn thing to stop them! They auction 600 to 800 people a month in CA alone! And they say they only do this whae they have no other choice! That's a bunch of bull crap! This is a chronic illegal practice that violates and defraud all their CA customers because their CA contract is blatantly illegal, containing multiple provisions that do indeed violate CA laws. But no one with authority does a damn thing!!! WHY??????????????

These scofflaw corporate thieves need to be stopped! They have destroyed my life as an artist and have left me with no way to make a living!!! When will California authorities act??? When I'm dead?????


Report this post as:
Local News

Segregation in the City of Angels: A 1939 Map of Housing Inequality in L.A. A15 7:44PM

Justice Dept. seeking info, IDs on 1.3M visitors to protest website DisruptJ20.org A15 1:04PM

San Francisco Rally Protests Hate Crimes in Charlottesville A14 5:38PM

New Google algorithm restricts access to left-wing, progressive web sites A02 1:52PM

Tracking Twenty Years of Stockton Killings by Law Enforcement A02 1:27PM

Garcetti Cronyism - Why and How to Ignore Your LA Dog License A01 5:05PM

Nation's Worst Meltdown Was In LA J31 4:54PM

As RV towing resumes in LA, officials say program won't 'target homeless' J31 1:15PM

Class War on the Waterfront: Longshore Workers Under Attack J21 10:18AM

Limits to Growth Published Forty Years Ago J18 5:15AM

KPFK's Indy Media on Air Now on Wednesdays J25 9:13AM

Lessons From Portland's Clashes With Fascists J13 7:36PM

Dr. Maryse Narcisse of Haiti Visits Southern California M20 5:55PM
More Local News...
Other/Breaking News

Religious Groups Call for Aid and Debt Relief for Puerto Rico and Dominica O22 3:47PM

Capitalisme catastrophiste autoréalisateur O22 12:23AM

Curriculum vitae paraphysique O20 11:53PM

Hate Groups in U.S. Sometimes Have Northern and Western Members splcenter.org O20 7:00PM

South African Officials Announce Trail of ANC Pres Zuma on 800 Counta O20 3:02PM

Abrégé de déictique O19 10:26PM

Large Scale Shootings in Kurdistan Autonous Zone Iraqi Kurdistan on Video O19 4:43PM

The Shortwave Report 10/20/17 Listen Globally! O19 4:19PM

(A-Radio) B(A)D NEWS – Angry voices from around the world – Episode 5 (10/2017) O19 5:10AM

Correction on Cambodia 1960's 1970's Domestic and Foriegn Powers O18 8:18PM

Presidential Obstruction of Justice, 108 pp O18 5:16PM

Trump is More than "Silly Tricks" O18 7:23AM

Paraphysique du capital O18 12:46AM

Sheriff Mark Lamb policing for $$$ DOLLARS $$$ at Pinal County Jail O17 12:39PM

Memories of Cambodian Genocide in 70's compare with Rohyinga Displacement into Bangladesh O16 9:00PM

Netanyahu, Tell the World the Truth! O16 8:15PM

Paraphysique de l'aposématisme O15 11:06PM

Southern California can open a key role for Palestine Israel Lens O15 7:32PM

Reem Assil has a first amendment problem O14 11:25AM

Reem Assil has a first amendment problem O14 11:24AM

Paraphysique de robotique biométrique O14 1:10AM

IMF and World Bank Meetings Begin With Growth Forecasts and Crisis Risk Warnings O13 8:37AM

Reem Assil Drops Lawsuit Against Jewish Protesters O13 7:04AM

The Shortwave Report 10/13/17 Listen Globally! O12 4:59PM

Ni de droite, ni de droite, AILLEURS ! O12 12:44AM

IMF Reports Global Growth and Releases New Ways to Predict Economic Crisis O11 7:34AM

Les compétitions O11 3:50AM

Reem's Oakland Bakery Drops Lawsuit Seeking to Silence Protests O10 8:05PM
More Breaking News...