Features
•
latest news
•
best of news
•
syndication
•
commentary

Feature Categories



KILLRADIO
printable version - js reader version - email this article - view hidden posts - tags and related articles

by J.A. Citizen idVer:d33f39986e6202194bcaf32a2a Monday, Feb. 13, 2017 at 3:11 PM
J.A.Citizen@gmail.com PublicStorageScumbags.com
WARNING!! PUBLIC STORAGE USES AN ILLEGAL FORM CONTRACT THAT VIOLATE CALIFORNIA STORAGE LAWS, DEFRAUDING ALL THEIR CALIFORNIA CUSTOMERS ON A DAILY BASIS.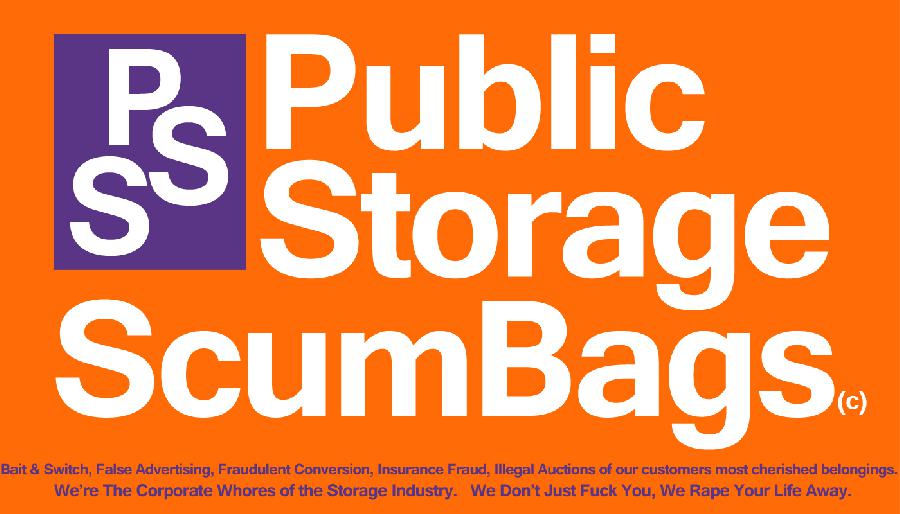 publicstoragelogo6_1400.jpg, image/jpeg, 1400x800
The Sleazy Corporate Nazi Tactics of Public Storage

Raping their customers on a daily basis has become a tradition for Public Storage who seems to be very proud of their sleazy reputation since they refuse to stop their disgustingly immoral and blatantly illegal business practices of using an illegal contract to defraud their California customers on a daily basis. And District Manager, Margaret Sommers is a fine example of the kind of criminal minded corporate thief it takes for the shameful position of District Manager in Ronald L. Havner Jr.'s thieving immoral empire of sleazy self serving scofflaw corporate thieves Margaret Sommers is a plastic, self serving, uncaring, unethical, malicious, conscienceless thief, who has devastated my life without thinking twice. Public Storage's sleazy district minion, Margaret Sommers, is a calculating corporate thief who works for a company of calculating corporate thieves who regularly rape their clients as they raped me of everything I cherish and had accomplished over the last 47 years, because they just don't give a damn about anything but their own bottom line. 47 years of my life is gone for absolutely no reason accept for Public Storages policies of pure corporate greed and their malicious contempt for their own customers.

Margaret Sommers and Public Storage have blatantly defrauded me and illegally destroyed my business and my life and I have promised them they are going to pay dearly for what they have done to me! They have wiped out my entire career as an artist! 40 plus years of my life is just gone! Illegally stolen by the disgusting scofflaw corporate thieves like District Manager Margaret Sommers, who rapes her customers in the name of Public Storage, like she and Ronald L. Havner Jr. have so brutally raped me.

Two Days notice... That's what Margaret gave me in an email that Public Storage was auctioning off everything I owned in my life after falsely claiming my rent was 3 months late! Two days notice! My last payment was just 35 days before that auction. Public Storage also knows that they qwere mailing notices to the old address I had moved out of before storing my belongings at Public Storage. And Margaret Sommers knows this to be true because several months before that, they "mock auctioned" my unit when I was literally only 18 days late on the rent! 18 days, I kid you not!! She told me then, they were mailing notices to that old address and I informed her right then and there in an email my attorney now has a copy of, that she was sending notice to the old address I moved out of. Something I also informed them when I first moved in Public Storage!!! Public Storage and Margaret Sommers personally knew I had no current address and she just didn't care. In fact, she took advantage of that fact and that's pretty disgusting! One more reason she's a sleazy corporate minion with the conscience of a flea!

Public Storage is a criminal minded organization of corporate thieves! They very well knew they were mailing auction notices to my old address and they just didn't care. Do you think a jury will care? Because I do have the emails to prove that you knew exactly what you were doing! You waited until the last minute to inform me by email that they knew they were auctioning my life away in two days! You knew the notices you were sending were going nowhere because that's the same thing they try to do to all their customers and do so as a scofflaw corporate policy. That's why they never even mentioned the the lien sale notices and the fact that they violate their own contract by not sending them electronically as they claim they will in their illegal contract.

Public Storage is very calculating and well practiced as corporate thieves and I insist this was a malicious and premeditated robbery of everything I own and a blatant Conspiracy to Defraud their CA customers! And this is one of the causes of action I have in a 16 cause of action lawsuit I am soon to file against them. They are blatant corporate thieves! Nothing less! Sleazy self serving corporate thieves that have destroyed my business and 47 years of my copyrighted art and photography! A calculating thieving corporation and I will prove that in court very easily because their own contract violates California Storage Laws! Their illegal auction has ruined my life and my career! They had no right! and they are nothing but a sleazy self important corporation who rips off their customers and destroys lives in the process. They had no right!
Public Storage and the "Corporate Thieves" that work for them like Margaret Sommers have destroyed my life, and they consider the matter closed. But I got news for these scum of the earth corporate maggots … It's just getting started because they have left me with nothing else but my hatred of what they have done to me!

What is even more distressing is the fact that the authorities are not doing a damn thing to stop them! They auction 600 to 800 people a month in CA alone! And they say they only do this whae they have no other choice! That's a bunch of bull crap! This is a chronic illegal practice that violates and defraud all their CA customers because their CA contract is blatantly illegal, containing multiple provisions that do indeed violate CA laws. But no one with authority does a damn thing!!! WHY??????????????

These scofflaw corporate thieves need to be stopped! They have destroyed my life as an artist and have left me with no way to make a living!!! When will California authorities act??? When I'm dead?????


Report this post as:
Local News

May Day March in Riverside M02 10:35PM

Nuclear Shutdown News: April 2017 M02 4:38PM

Jewish "Defense" League: Nazis in Skull-caps A07 11:13AM

Nuke Shutdown News 3/17 A01 4:13PM

RELATIONS STILL STRAINED BETWEEN SOUTH LOS ANGELES RESIDENTS AND THE POLICE M22 3:22PM

Elect a Green to Congress in Los Angeles M15 2:18AM

Prop. H Activists March on Hollywood to House and Help the Homeless M01 1:46PM

Prop. H Activists March on Hollywood to House and Help the Homeless M01 1:09PM

Prop. H Activists March on Hollywood to House and Help the Homeless M01 12:19PM

24TH ANNUAL LOS ANGELES WOMEN'S THEATRE FESTIVAL HONORS COMPOSER MEGAN CAVALLARI ON MARCH F24 2:40PM

Activists Mark 150 Years Since Chimney Rock Massacre F21 7:00PM

Indivisible local events F16 4:07PM

Help Wanted: How You Can Act Locally To Stymie Trump's Agenda F16 11:24AM

RACE RELAY - race relations dialogue F16 7:01AM

LA County Greens Oppose S F09 8:52PM

Our Revolution L.A Organizing Meeting F08 12:23AM

First We Marched. Now We Huddle F06 10:54PM
More Local News...
Other/Breaking News

Halitose J26 11:05PM

How the World Heads for the Next Crash J26 7:25AM

KPFK's Indy Media on Air Now on Wednesdays J25 9:13AM

Verbatim J25 12:21AM

The record of a failed new civilization in the making J24 3:55PM

Reclaiming Public Services J24 4:59AM

The Real fbi, aka the 'burro" J23 12:31PM

The Shortwave Report 06/23/17 Listen Globally! J22 4:38PM

Economic Stagnation and its Mastery J22 4:11AM

Allo ? J22 3:56AM

12 to 1 vote by anto homeless citizens by Atlanta City Council J21 11:59AM

BDS – Where Empathy Goes to Die J20 7:21AM

Le fantôme d'Ernest Coeurderoy J19 11:44PM

The President as Businessman J19 4:24AM

Psychosomatique de radioactivité J18 2:24AM

Reems of Fruitvale: Gaming the system on Yelp J17 6:21PM

Shame On You, Jewish Voice For Peace, For Targeting Pro-Israel Gays J17 7:54AM

The Shortwave Report 06/16/17 Listen Globally! J15 5:22PM

Hate Group Jewish Voice for Peace targets, terrorizes LGBT Youth J15 11:38AM

Déficit informationnel ou mur de Kardashev J14 10:37PM

Wells Fargo Is Accused of Making Improper Changes to Mortgages J14 10:26PM

Lessons From Portland's Clashes With Fascists J13 7:36PM

New Bill Would Reduce Police Accountability, Erode State Independence J12 7:25PM

Paraphysique de procrastination J12 11:45AM

The Great Trump Show J11 3:48PM

Muslim leaders refuse to perform funeral prayers for London Bridge attackers/VSHAME TO YOU J10 8:47PM

Paraphysique de la hiérarchie J10 1:51AM

Capitalocène de prosopopée J09 12:19AM
More Breaking News...