Features
•
latest news
•
best of news
•
syndication
•
commentary

Feature Categories



KILLRADIO
printable version - js reader version - email this article - view hidden posts - tags and related articles

by David Thompson Monday, Jun. 27, 2016 at 5:37 PM

Brutal monkey breeder plans exposed by Animal Defenders International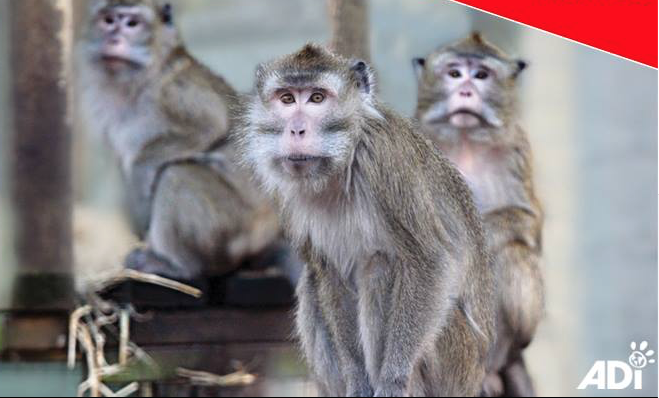 screen_shot_2016-06-27_at_5.36.57_pm.png, image/png, 659x398
A case opened today to determine whether Hendry County illegally approved permits for farms breeding and supplying thousands of monkeys for experimentation. The lid on Florida's controversial monkey breeders was first blown after Animal Defenders International (ADI) exposed horrific treatment at Mauritian-based US supplier Biodia and their plans to set up in the state two years ago.

ADI revealed workers swinging screaming monkeys by their tails; distressed baby monkeys torn from the arms of their desperate mothers and tattooed without anesthetic; monkeys injected in the eyelids for TB tests; monkeys restrained and injected in view of other animals; animals captured from the wild and used as breeding machines; barren, crowded cages; animals killed and injured from fighting; stressful separation of mothers and babies; rough handling; monkeys wrenched from cages by their tails; netted animals slammed onto concrete floors; heavily pregnant monkeys manhandled and pinned down.

ADI President Jan Creamer said: "Floridians have until now been denied a voice on whether these cruel monkey farms should be built on their doorstep. We hope this trial will bring justice to the people and importantly the thousands of monkeys facing a life of brutality."

Nearly 20,000 primates are imported into the U.S. each year. Mauritius is the second largest supplier after China, and supplied 2,842 animals in 2013, with Biodia supplying 300-600 monkeys each year. Imported monkeys are either sent directly to laboratories for cruel experiments, or are used to breed babies who will end up in laboratories. ADI revealed that Biodia's U.S. trading partner Prelabs planned to "establish the first Mauritius breeding colony in the U.S." in Labelle, Florida.

Over 70,000 monkeys are used in experiments in the U.S. each year. These intelligent, social animals are force-fed chemicals, injected with potentially poisonous substances and electrodes are implanted into their brains. They cry out as they are strapped into restraint chairs to immobilize them for cruel experiments; some experience such extreme fear and distress when being restrained that they suffer rectal prolapses. In experiments studied by ADI, monkeys were killed after suffering blocked lungs, trembling, collapse and bleeding. Terrified monkeys awaiting experiments self-mutilated and one animal chewed his finger to the bone.

Most monkeys are killed at the end of the experiments, but others are forced to endure years of deprivation in barren cages, with nothing to interest them; fights often occur and monkeys under attack cannot escape due to restricted cage space. Many have been seen performing abnormal behaviors associated with psychological damage.

International regulatory bodies, scientists and governments around the world are moving away from monkey experiments and adopting the advanced alternatives which are available. The European Union has ended the use of apes and wild caught monkeys, placed restrictions on monkey experiments and is phasing out the trade in monkeys born to wild caught parents.

There are a number of alternatives available to replace monkey experiments, including: microdosing, where tiny amounts of new drugs are safely given to human volunteers - significantly more accurate at assessing the way a product is absorbed, broken down and passed through the body than primate models; biochips, which mimic human organs on USB-sized chips "providing comprehensive toxicity data very quickly and cheaply", 3-D tissue engineering using human cells; and QSAR which predicts the toxicity of drugs through comparison with similar substances.

In the 2-day bench trial Circuit Court Judge James D. Sloan will hear the case from Animal Legal Defense Fund and local landowners determine whether Hendry County violated Florida's Sunshine Law by permitting the SoFlo Ag and Bioculture/Panther Tracts primate breeding facilities in closed-door meetings, without the required public notice or hearings.

Report this post as:
Local News

Chris Ballew beat up by Pasadena police J05 5:01PM

Retired LAPD Sgt. Cheryl Dorsey explains how the LAPD's Board of Rights hearings work J05 3:40PM

An Ex-Cop Talks About Police Shootings J05 3:39PM

Do Nukes Kill? J02 4:40PM

Letter: Support Proportional Representation for the California State Legislature J01 1:23PM

Community Rallies in Santa Barbara in Solidarity with Inmate Firefighters D22 9:59PM

LAWSUIT ALLEGING FEDERAL VOTING RIGHTS VIOLATIONS IN KERN COUNTY D22 8:56PM

The Video ICE Wishes Was Never Made Public D22 8:39PM

Mitchell Englander going after homeless people D18 5:24PM

"Animaniacs in Concert!" with Voice Artist Rob Paulsen, Sat., Jan. 20 in Santa Clarita D18 4:30PM

The Eagle Rock Peace Vigil Marks 15 Years N27 11:23AM

12/2-3 LA Binational Conference To Cancel NAFTA and Unite Workers Of Mexico and the US N27 3:44AM

Winter 2017 National Immigrant Solidarity Network Monthly News Alert! N26 9:22PM

Nuclear Shutdown News November 2017 N26 4:23PM

Report Back on November 18th Counter Demonstration Against Anti-Muslim March N20 10:57AM

Report Back on November 18th Counter Demonstration Against Anti-Muslim March N19 7:12PM

National US Gov as wellas EPA slow to act on Abandoned uranium Mines Cleanup in Southwest N15 10:50AM

OUR HOUSE Grief Support Center Hosts 9th Annual Comedy Fundraiser N14 10:47AM

BUSTED: Watch LAPD cops plant drugs in black suspect's wallet – unaware body cams were on N10 5:32PM

lapd shootings 1998 - 2015 N06 11:21PM

"Oh Say Can You See" How the LAPD Singing the National Anthem Cost the Dodgers WS Game 7? N03 7:30AM

Car drives into immigration protesters outside Rep. Ed Royce's office in Brea N02 2:06PM

PACIFICA RADIO BOARD SECRETLY OK'S BANKRUPTCY FILING & SEEKS NY SIGNAL SWAP O25 4:49PM

LAUSD, Privatization, Charters And The Fight To Defend Public Education Education Conferen O04 12:10PM

Afghan Women Read RAWA.org founded 1977 S27 9:42PM

[France] The State Attacks Indymedia-Grenoble and Indymedia-Nantes… Solidarity! S25 5:18PM

Segregation in the City of Angels: A 1939 Map of Housing Inequality in L.A. A15 7:44PM

Justice Dept. seeking info, IDs on 1.3M visitors to protest website DisruptJ20.org A15 1:04PM
More Local News...
Other/Breaking News

Social media giants feel the heat at Palestinian digital conference J19 7:52PM

2017 Reflection: Palestine Teaches Us We Must Unite Around a Common Vision for Liberation J19 7:45PM

With U.S. Backing, Turkey Invades Kurdish Syrian Afrin J19 6:43PM

Tekken Cheats | Tekken Hack Coins and Gems J19 5:45PM

Progressive Reforms Were the Reaction to the Recessions and Social Turmoil in the 1880s J19 2:41PM

Brazil: And now what, Mr. lawfare man of the year? J19 2:23PM

Government Shutdown Solutions Could Leave Out Disaster Aid for Puerto Rico J19 11:01AM

The Shortwave Report 01/19/18 Listen Globally! J18 4:26PM

Tax Reform in the US: Trump's Attack on America J18 4:05AM

Paraphysique du No Future J18 2:14AM

Is Economic Speculation a Form of Structural Violence? J16 6:07AM

De Malik Oussekine à Rémi Fraisse, éréthisme policier J16 5:01AM

Epilogue: Pakistan on the chopping block in 2018? Zahir Ebrahim | Project Humanbeingsfirst J15 3:16PM

Friends J14 4:13PM

Pro domo J13 9:06PM

Part 3: Honduras Coup Repeat Update 15 December 2017 to 31 December 2017 J13 4:26AM

Paraphysique du fait divers J12 6:20PM

Brazil wants true justice for Lula! J12 4:14PM

Trilogy Exposing Crimes by fbi et al J11 8:22PM

The Shortwave Report 01/12/18 Listen Globally! J11 4:33PM

The Trump Election J11 4:43AM

Advocates for Terror: Why Ahed Tamimi and Her Family are No Heroes J10 9:47PM

Trial Starts for Woman with Erb's Palsy Punched in Face Repeatedly by LAPD Officers J10 1:38PM

Dear District Attorney Jackie Lacey, Prosecute Killer Cops, Signed: Your Constituents J09 10:09PM

Free Fire Battlegrounds Diamond Cheats J09 3:44PM

"Animaniacs in Concert!" with Voice Artist Rob Paulsen, Sat., Feb. 3 at the Tilles Center J09 11:41AM

BDS Palestine Movement J09 8:07AM

Rotule doublement cassée, ouverte, joyeux anniversaire J09 12:21AM
More Breaking News...