by johnk idVer:02cc9e0789d637667a0306bd06b0d59cd Tuesday, May. 24, 2016 at 3:23 AM
johnk@riceball.com
Some photos from the Bernie Sanders rally. No photos of Bernie, and a lot of random comments masquerading as "writing".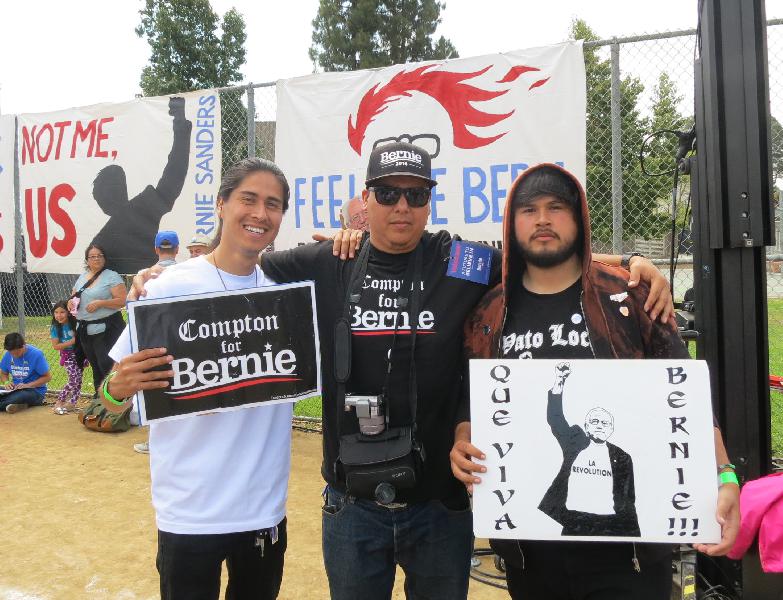 img_0142.jpg, image/jpeg, 2160x1655
The crowd was a moderate size, maybe 2000 to 3000, and hard to tell because people drifted in and out of this event at Lincoln Park. It was a modest turnout because it was on Monday morning and announced on Saturday afternoon.

People have a hard time getting a day off, and it's almost impossible over the weekend. Still, a lot of older folks showed up, and moms and dads with flexible schedules brought their kids. It's a park, after all.

I haven't been here in several years, and it appears that the Aztec-themed pyramid slides are gone. What happened to them?

The picture above are a couple ELAC organizers and the Compton for Bernie guy. Artist Daniel Mata has created a couple popular Bernie Vato Loco design shirts, and is promoting the use of German blackletter, bringing back the Eastside spirit of the 1970s.