Features
•
latest news
•
best of news
•
syndication
•
commentary

Feature Categories



KILLRADIO
printable version - js reader version - email this article - view hidden posts - tags and related articles

by ARC Saturday, May. 21, 2016 at 12:52 PM

More hawkish even than Obama, Clinton has approved the bombing of animals as well as people in the 7 illegal and immoral wars he is waging now, bombs which kill soldiers, civilian adults and children, mammals, birds, reptiles, bees, trees etc.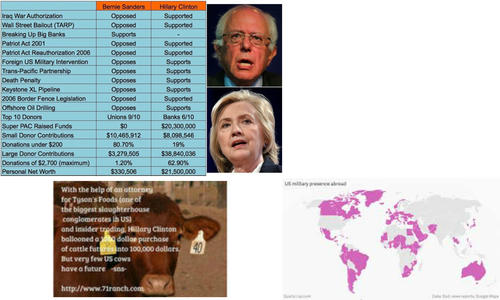 332.jpgnxkwdy.jpg, image/jpeg, 500x300
I Issues Re Animals

1. James Blair of Tyson Foods (one of the nation's biggest animal slaughter operations) and insider trading helped H Clinton turn $ 1000 into $100,000. She invested in cattle futures. Those cows had no future.

2. Hillary and Bill Clinton have had a special relationship until his death in 2011 with Don Tyson, whose company has killed tens of billions of cows and pigs and trillions of chickens after a life of suffering in hideous factory farms. The Clintons have a longstanding relationship with John Tyson, Chairman of Tyson Foods.

3. Hillary Clinton was for a time on the WalMart board, one of the world's biggest killers of mammals, birds, fishes.

4. Hillary Clinton voted for the immoral Iraq war the prosecution of which has murdered hundreds of billions of birds and mammals, burned to death by bombs, crushed by tanks, seized and killed for food etc and which has added trillions to the US debt.

5. As Secretary of State Hillary Clinton promoted the 7 illegal wars, bombing campaigns and drone assassinations of the Obama administration in Iraq, Afghanistan, Syria, Libya, Yemen, Pakistan and Somalia, with untold billions of animal deaths.

6. Hillary Clinton voted for NAFTA, which gave countries with less humane legislation easier access to the US market.

7. Until Bernie Sanders' critical mass of opposition, Clinton was in favor of the Keystone Pipeline which like nearly all oil pipelines destroys fragile animal habitats, kills animals with oil spills, crushes them under heavy vehicle

8. Clinton has hired a Monsanto person for her campaign. Monsanto has killed mammals, birds, bees and other insects in a variety of ways

9. Clinton is tied to Goldman Sachs through her son in law's hedge fund. Sanders wants her to release the text of her remarks to Goldman Sachs, which paid her $225,000 for her speaking engagement. Politico article: "She sounded more like a Goldman Sachs managing director." Goldman Sachs is invested in animal slaughter, environmental destruction, war profiteering etc and was a major factor in plunging Greece, Spain and other countries into massive debt through pricegouging interest. She, Ted Cruz whose wife has a 6 figure salary with Goldman Sachs, and John Kasich, who lost hundreds of billions for Ohio pension funds when he was an executive with Lehman Brothers, are the 3 candidates of the duopoly most tied to Wall Street.

10. At the State Department, Hillary Clinton gave an award to Heifer International, the butcher industry's corporation which separates terrified baby animals from their mothers and sends them to lives of slavery and slaughter overseas, thereby spreading disease to humans, global heating and freezing, deforestation, and world hunger.

11. Clinton has supported fracking around the world. Poisonous fracking water chemical stews have killed millions of animals, from cows, sheep and other mammals to birds, reptiles, fishes etc. not only from water poisons but from fires caused by deforestation frackers who interfere with the rain cycle and massive earthquakes such as an 8 point record breaker for Canada in Alberta.

12. Because Hillary Clinton is on record requiring forced vaccination of children against parents' wishes, (against choice), it follows that she favors the animal research (torture of animals called vivisection) which develops the vaccines.


II The Environment


Hillary's fracking promotion through the State Department has harmed the planet.

Fracking made Oklahoma the earthquake capital of the world. Government inaction on fracking has caused 800 earthquakes in the Youngstown Ohio area alone. It causes turned on water faucets to burst into flame. It deforests fragile environments. It sends a poisonous stew of fracking chemicals into the ground. They end up everywhere in the watershed, killing people, cows, sheep, other mammals, birds, frogs etc.

The movie Promised Land with Matt Damon exposes the criminal techniques of fracking companies, sometimes owned by huge natural gas companies.

Hillary Clinton supported offshore drilling, supported the Keystone Pipeline for a long time, has worked at the State Department in support of 7 illegal immoral wars and the bombing which destroys fragile environments.

Report this post as:
Local News

Chris Ballew beat up by Pasadena police J05 5:01PM

Retired LAPD Sgt. Cheryl Dorsey explains how the LAPD's Board of Rights hearings work J05 3:40PM

An Ex-Cop Talks About Police Shootings J05 3:39PM

Do Nukes Kill? J02 4:40PM

Letter: Support Proportional Representation for the California State Legislature J01 1:23PM

Community Rallies in Santa Barbara in Solidarity with Inmate Firefighters D22 9:59PM

LAWSUIT ALLEGING FEDERAL VOTING RIGHTS VIOLATIONS IN KERN COUNTY D22 8:56PM

The Video ICE Wishes Was Never Made Public D22 8:39PM

Mitchell Englander going after homeless people D18 5:24PM

"Animaniacs in Concert!" with Voice Artist Rob Paulsen, Sat., Jan. 20 in Santa Clarita D18 4:30PM

The Eagle Rock Peace Vigil Marks 15 Years N27 11:23AM

12/2-3 LA Binational Conference To Cancel NAFTA and Unite Workers Of Mexico and the US N27 3:44AM

Winter 2017 National Immigrant Solidarity Network Monthly News Alert! N26 9:22PM

Nuclear Shutdown News November 2017 N26 4:23PM

Report Back on November 18th Counter Demonstration Against Anti-Muslim March N20 10:57AM

Report Back on November 18th Counter Demonstration Against Anti-Muslim March N19 7:12PM

National US Gov as wellas EPA slow to act on Abandoned uranium Mines Cleanup in Southwest N15 10:50AM

OUR HOUSE Grief Support Center Hosts 9th Annual Comedy Fundraiser N14 10:47AM

BUSTED: Watch LAPD cops plant drugs in black suspect's wallet – unaware body cams were on N10 5:32PM

lapd shootings 1998 - 2015 N06 11:21PM

"Oh Say Can You See" How the LAPD Singing the National Anthem Cost the Dodgers WS Game 7? N03 7:30AM

Car drives into immigration protesters outside Rep. Ed Royce's office in Brea N02 2:06PM

PACIFICA RADIO BOARD SECRETLY OK'S BANKRUPTCY FILING & SEEKS NY SIGNAL SWAP O25 4:49PM

LAUSD, Privatization, Charters And The Fight To Defend Public Education Education Conferen O04 12:10PM

Afghan Women Read RAWA.org founded 1977 S27 9:42PM

[France] The State Attacks Indymedia-Grenoble and Indymedia-Nantes… Solidarity! S25 5:18PM

Segregation in the City of Angels: A 1939 Map of Housing Inequality in L.A. A15 7:44PM

Justice Dept. seeking info, IDs on 1.3M visitors to protest website DisruptJ20.org A15 1:04PM
More Local News...
Other/Breaking News

Social media giants feel the heat at Palestinian digital conference J19 7:52PM

2017 Reflection: Palestine Teaches Us We Must Unite Around a Common Vision for Liberation J19 7:45PM

With U.S. Backing, Turkey Invades Kurdish Syrian Afrin J19 6:43PM

Tekken Cheats | Tekken Hack Coins and Gems J19 5:45PM

Progressive Reforms Were the Reaction to the Recessions and Social Turmoil in the 1880s J19 2:41PM

Brazil: And now what, Mr. lawfare man of the year? J19 2:23PM

Government Shutdown Solutions Could Leave Out Disaster Aid for Puerto Rico J19 11:01AM

The Shortwave Report 01/19/18 Listen Globally! J18 4:26PM

Tax Reform in the US: Trump's Attack on America J18 4:05AM

Paraphysique du No Future J18 2:14AM

Is Economic Speculation a Form of Structural Violence? J16 6:07AM

De Malik Oussekine à Rémi Fraisse, éréthisme policier J16 5:01AM

Epilogue: Pakistan on the chopping block in 2018? Zahir Ebrahim | Project Humanbeingsfirst J15 3:16PM

Friends J14 4:13PM

Pro domo J13 9:06PM

Part 3: Honduras Coup Repeat Update 15 December 2017 to 31 December 2017 J13 4:26AM

Paraphysique du fait divers J12 6:20PM

Brazil wants true justice for Lula! J12 4:14PM

Trilogy Exposing Crimes by fbi et al J11 8:22PM

The Shortwave Report 01/12/18 Listen Globally! J11 4:33PM

The Trump Election J11 4:43AM

Advocates for Terror: Why Ahed Tamimi and Her Family are No Heroes J10 9:47PM

Trial Starts for Woman with Erb's Palsy Punched in Face Repeatedly by LAPD Officers J10 1:38PM

Dear District Attorney Jackie Lacey, Prosecute Killer Cops, Signed: Your Constituents J09 10:09PM

Free Fire Battlegrounds Diamond Cheats J09 3:44PM

"Animaniacs in Concert!" with Voice Artist Rob Paulsen, Sat., Feb. 3 at the Tilles Center J09 11:41AM

BDS Palestine Movement J09 8:07AM

Rotule doublement cassée, ouverte, joyeux anniversaire J09 12:21AM
More Breaking News...