Features
•
latest news
•
best of news
•
syndication
•
commentary

Feature Categories



KILLRADIO
printable version - js reader version - view hidden posts - tags and related articles

by Party of the Laboring Masses PLM -Philippines Wednesday, Jul. 08, 2015 at 5:47 AM

The following statement is issued by various progressive individuals and organizations from many parts of the world, but mostly in Asia-Pacific. A copy of the statement has already been sent to Syriza's international department.

2015-syriza.jpg, image/jpeg, 483x300

"Your Struggle is Our Struggle"

We, the undersigned, stand in solidarity with the people of Greece and the Syriza-led government as they prepare for a referendum on July 5, 2015 on whether to accept the continuation of the program of neoliberal austerity or chart a new course free from the debilitating stranglehold of the "troika" - the International Monetary Fund, the European Central Bank, and the European Commission.

We support the call of Syriza for a 'no vote' as the only option for the people of Greece, especially the working classes, to assert sovereign control over the country's economy and their own future.

We condemn the "troika" and their allied political institutions, for forcing their policies of neoliberal austerity, privatization, deregulation, and savage cutbacks dismantling the public sector. We, therefore, hold the "troika" responsible for the massive unemployment, increased poverty, greater social inequality, and a severe economic depression now being experienced by Greece. The irony of it all is that the huge debts the "troika" is demanding for repayment did not go to Greece but were used to repay private sector creditors such as French and German banks. In other words, these are onerous and illegitimate debts.

We had welcomed the election of the Syriza-led government on a program committed to ending the neoliberal-austerity policies imposed by the EU creditors and we stand in solidarity with them as they struggle to implement an anti-austerity program.

The austerity program has been assessed as a colossal failure by leading economists worldwide. Despite this, the insistence of the EU creditors and their political and economic allies to resuscitate this failed program, can only be construed as a cynical political maneuver whose real aim is to bring down the Syriza government, the first anti-neoliberal, anti-austerity government to be popularly elected in Europe.

Syriza was a product of the mass movements' and working people's struggles against neoliberal austerity promoted by unbridled capitalism. Similar political organizations have arisen across Europe, such as Podemos in Spain, a product of the anti-austerity 'indignados' movement.

The specter that haunts the European capitalist class is a 'Syriza syndrome' spreading to other parts of Europe, particularly in Spain, with the election of an anti-neoliberal Podemos government. By bringing down the Syriza government, the capitalist hydra aims to strangle such a movement at its birth.

Peoples from all over the world, in both developing and developed countries, have been struggling for the past decades against the imposition of a whole range of neo-liberal measures - liberalization, deregulation, and privatization, including neoliberal austerity programs imposed by capitalist governments led by the US and its allies, through the International Monetary Fund, the World Bank and other financial institutions.

There has also been a long history of struggles against debt repayments and for the cancellation of odious and illegitimate debts. The world has experienced how debt burdens and neo-liberal impositions have created havoc on economies, depleted natural resources, exacerbated inequalities, and impoverished peoples while siphoning off billions of dollars to global capitalist banks, giant corporations and imperialist governments.

We welcome the people of Greece into the struggle of peoples of the global South against neoliberalism, onerous debts and austerity.

Your struggle, is our struggle. Your victory, is our victory.

Signatories

Individuals:

Eduardo C. Tadem, Ph.D., Professor, University of the Philippines

Reihana Mohideen, Ph.D., Transform Asia

Ric Reyes, Philippines

Sonny Melencio, Chair, Partido Lakas ng Masa (PLM) - Philippines

Jean Enriquez, World March of Women

Mary Ann Manahan, Focus on the Global South, Philippines

Joseph Purugganan, Focus on the Global South, Philippines

Josua Mata, SENTRO, Philippines

Lidy Nacpil, Asian Peoples Movement on Debt and Development

Manarishi Dhital, Editor Janadesh Weekly and socialist activist, Nepal

Cora Valdez Fabros, STOP the War Coalition, Philippines

Isagani Serrano, President, Philippine Rural Reconstruction Movement (PRRM)

Amado Mendoza Jr., PhD., Professor, University of the Philippines

Teresa Encarnacion Tadem, Ph.D., Professor, University of the Philippines

Joseph Anthony Lim, Ph.D., Professor, Ateneo de Manila University

Jafar Suryomenggolo, Ph.D., Associate Professor, Kyoto University

Edru Abraham, Professor (ret), University of the Philippines

Jerik Cruz, Graduate Institute for International and Development Studies, Geneva

Teodoro Mendoza, Ph.D., Professor, University of the Philippines

Anuradha M. Chenoy, Ph.D., Professor, Jawaharlal Nehru University

Kamal Mitra Chenoy, Ph.D., Professor, Jawaharlal Nehru University

Darwis Khudori, Ph.D., Associate Professor, University of Le Havre

Annabelle Benedicto Bonje, De La Salle University, Philippines

Francisco Nemenzo, Former President and Professor Emeritus, University of the Philippines

Ana Maria R. Nemenzo, Campaign for a Life of Dignity for All (KAMP)

Edmund Landrito, Arya Progresibo

Mercy Fabros, WomanHealth, Philippines

Omi Royandoyan, Centro Saka, Inc. (Center for Rural Development Studies)

Michael Treen, national director Unite Union, Aotearoa/New Zealand

Marcela Olivera, Red Vida, Bolivia

Benjamin Quinones, Jr., Ph.D., Executive Coordinator, Intercontinental Network for the Promotion of Social Solidarity Economy (RIPESS-Asia)

Fatima Gay Molina, Center for Disaster Preparedness (CDP-Philippines)

Janus Isaac Nolasco, University Researcher, University of the Philippines

Aries Arugay, Ph.D., Associate Professor, University of the Philippines

Krishna Kumar KK, Kerala Sastra Sahitya Parishad (KSSP-India)

Maria Luisa Torres, PhD., Professor, Ateneo de Manila University

Maria Dulce F. Natividad, Ph.D., University of the Philippines

Nathan Gilbert Quimpo, Ph.D., University of Tsukuba

George Aseniero, Dapitan, Philippines.

Chibu Lagman, Independent journalist

Chris White, socialist, former Secretary of the United Trades and Labor Council of South Australia

Sam Wainwright, Socialist Alliance City Councillor for Fremantle, Western Australia

Sue Bolton, Socialist Alliance City Councillor for Moreland, Victoria, Australia

Tim Gooden, Secretary, Geelong Trades Hall Council, Victoria, Australia

Darcey O'Callaghan, USA

Marta Harnecker, writer, Chile

Michael Lebowitz, Professor Emeritus of Economics, Canada

Saturnino Borras, Jr., Ph.D., Professor, Institute of Social Studies, The Hague

Nicole Curato, Ph.D., Post-doctoral Fellow, University of Canberra

Roland Simbulan, Professor, University of the Philippines

Francis Loh Kok Wah, Ph.D., Professor, Universiti Sains Malaysia

Samuel Lee, Ph.D., Secretary General, Korean National Commission for UNESCO

Kinhide Mushakoji, Ph.D., Professor, Osaka University of Economics and Law

Naruemon Thabchumpon, Ph.D., Associate Professor, Chulalongkorn University

Carl Middleton, Ph.D., Lecturer, Chulalongkorn University

Eduardo T. Gonzalez, Ph.D., Professor (ret), University of the Philippines

Kho Tungyi, Ph.D., Lecturer, Lingnan University (Hongkong)

Wei Xiaoteng, Ph.D., Professor, South China Normal University

Temario Rivera, Ph.D., Professor (ret), University of the Philippines

Jean Franco, Ph.D., Associate Professor, University of the Philippines

Fred Chiu, Ph.D., Professor, National Taiwan University

Rudi Hartono, editor Berdikari Online

Yvonne Miller Berlie, Third World Network

Nick Dearden, Global Justice Now, UK

Caroline Sy Hau, Ph.D., Professor, Kyoto University

Lisandro E. Claudio, Ph.D., Postdoctoral Fellow, Kyoto University

Lin Shenjing, New International, Taiwan

Hansley Juliano, Lecturer, Ateneo De Manila University

Tyrell Haberkorn, PhD. Fellow, Australian National University

Arze Glipo, Executive Director, Asia Pacific Network for Food Sovereignty

Woody Aroun, National Union of Metalworkers of South Africa



Organizations:

Focus on the Global South

Parti Sosialis Malaysia (PSM)

Socialist Alliance, Australia

Marxist Student Federation, Philippines

Socialist Aotearoa/New Zealand

Alab Katipunan, Philippines

Asian Regional Exchange for New Alternatives (ARENA)

Alternative ASEAN Network (ALTSEAN)

Liga ng Makabagong Kabataan, (LMK-Philippines)

Partido Lakas ng Masa-PLM, Philippines

Freedom from Debt Coalition (FDC)

FDC-Southern Mindanao

Awami Workers Party, Pakistan

Aniban ng Manggagawa sa Agrikultura, Philippines

Partido ng Manggagawa (PM)

Resistance, Young Socialist Alliance, Australia

Blue Planet Project, Canada

Council of Canadians

Asian Peoples Movement on Debt and Development

SANLAKAS, Philippines

SANLAKAS –Mindanao

Bukluran ng Manggagawang Pilipino-BMP, Philippines

Partai Rakyat Demokratik, Indonesia

Social Action for Change, Cambodia

SustainUs, USA

Global Justice Now, UK

Earth in Brackets

South Asia Alliance for Poverty Eradication (SAAPE)

LDC Watch

Indian Social Action Forum (INSAF)

People's Alliance in Central East India (PACE-India)

Bangladesh Krishok Federation

EquityBD, Bangladesh

Coastbd, Bangladesh

VOICE, Bangladesh

Pakistan Fisherfolk Forum

All Nepal Peasants Federation

Rural Reconstruction Nepal (RRN), Nepal

Joint Preparatory Committee on Tax and Fiscal Justice (JPCTFC), Nepal

Debtwatch Indonesia

KRUHA Indonesia

LILAK (Purple Action for Indigenous Women's Rights)

Our Rivers, Our Life ( OROL)-Philippines

Gitib, Inc - Philippines

MAKABAYAN-Pilipinas

Aliran, Malaysia

Asia Pacific Network for Food Sovereignty (APNFS)



http://www.masa.ph/



___________________________________________



Defend Democracy, Repudiate Austerity

Akbayan Party's Statement of Congratulations and Solidarity with the Greek People

We in Akbayan Party extend our congratulations and solidarity with the Greek People in their overwhelming rejection of austerity in their recently concluded national referendum. We laud their government, led by the political party Syriza and their Prime Minister Alexis Tsipras, in standing with their people instead of taking the easy route of surrender and acceptance of the bailout package proposed to them by their creditors.

The Greek people have spoken. They have made it clear that they will not bear the humiliation of more privatizations and deregulations. These measures are not the answer to the country's debt crisis. Instead, these measures have crippled the country's economy and worsened the crisis.

Their decision to reject the terms of the bailout package proposed to them by the infamous troika of the European Commission, the International Monetary Fund, and the European Central Bank is a reiteration of their consistent opposition to the neoliberal policies imposed on them. They had already made clear that they reject the punishing economic measures forced on them by electing an anti-austerity party, Syriza, into power. That mandate remains.



The troika's humiliating antidote to the country's debt crisis in the form of cuts to social spending, gutting the Greek public sector, among others, has not resulted in any meaningful solution and instead ensured that Greece's future spirals into further uncertainty. These measures have worsened unemployment with 1.5 million Greeks without a job out of an active population of 6 million or an unemployment rate of 27% with youth unemployment hovering at 50%. Pensions in the country have been reduced by 44%, with 44.8% of Greek pensioners now living below the poverty line. Because of austerity, the country's GDP has been reduced from 27,000 USD in 2010 to 21,700 USD in 2014. These policies are not working.

These policies have also adversely affected the sizable migrant community in Greece, especially our own overseas Filipino community, who have become more socially and economically vulnerable due to the decrease in government spending and protection. The social tensions created by the crisis have also emboldened the burgeoning neo-fascist and anti-immigrant movement in whose racist rhetoric pin the blame on the foreign migrants instead of the true culprits of the crisis, which are the austerity policies.

The Greek people should no longer be made to pay for the illegitimate and onerous debts which have enriched foreign creditors. They should not be made to pay for a debt crisis that they did not cause. Their government has remained steadfast that a solution to their debt woes should never be at the expense of their own economic sovereignty. This reflects the mandate and the sentiment of the Greek people.

Their government's decision to defer any deal with the troika without the full consent of the people is in line with the Greek people's assertion that they should determine the fate of their country. This is democracy in its most straightforward definition.We laud them for remaining true to their heritage as the cradle of democracy. As shown by the referendum results, democracy did not fail them.

Now that the Greek people have repudiated austerity they are on their way to regaining a measure of self-respect, arrest the continued ransack of foreign corporations and creditors of their economy and pave the long road towards recovery. This will not sit well with its foreign creditors and the troika who are probably preparing to retaliate at the negotiating table. As such, we in the Philippines and other countries of the global South should stand with them in their rejection of austerity and neoliberal policies. We must also stand in solidarity with their government as they once again enter in negotiation with their creditors with a clear mandate from their people.

While the Philippines may be thousands of kilometers from Greece, we share a similar experience of bearing illegitimate and onerous debts. Our country's traumatic experience under the Marcos dictatorship did not end with its collapse but persisted as our country had to pay for the illegitimate loans contracted by the Marcos regime. These debts, much like the Greek debts, severely limited our capacity to invest in much needed social services. Some may surmise that the Philippines has little chance of sharing the same fate as Greece. However, our country has been the recipient of the same 'antidote' of neoliberalization, of privatizations and deregulations. Our country has faithfully followed the same economic policy prescriptions as Greece.

Today, Greece has chosen democracy over austerity. They have stood for their democratic principles as the true sovereigns of their country, their economy and their future.

Democracy has triumphed over austerity.

Akabayan - Citizens Action Party - Philippines

https://akbayan.org.ph





Report this post as:


by Party of the Laboring Masses PLM -Philippines Wednesday, Jul. 08, 2015 at 5:47 AM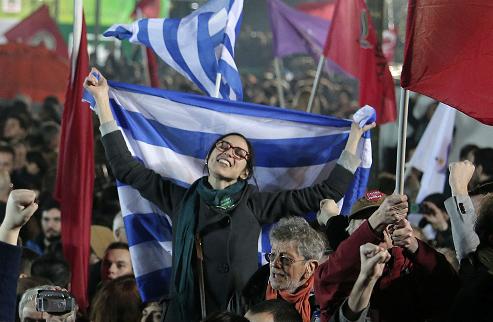 2015-greece-syriza.jpg, image/jpeg, 493x322

Report this post as:


by Party of the Laboring Masses PLM -Philippines Wednesday, Jul. 08, 2015 at 5:47 AM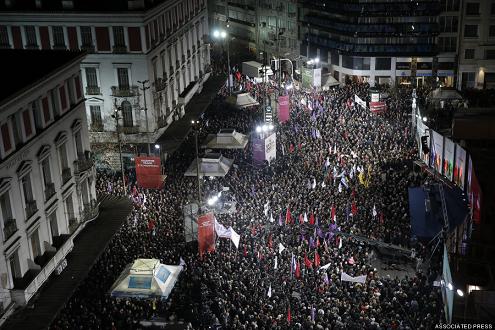 2015-syriza-greece.jpg, image/jpeg, 495x330
Report this post as:
Local News

GUIDE TO REBEL CITY LOS ANGELES AVAILABLE A12 5:39PM

lausd whistle blower A10 11:58PM

Website Upgrade A10 3:02AM

Help KCET and UCLA identify 60s-70s Chicano images A04 1:02PM

UCLA Luskin: Casting Youth Justice in a Different Light A02 11:58AM

Change Links April 2018 A01 11:27AM

Nuclear Shutdown News March 2018 M31 6:57PM

Join The Protest Rally in Glendale on April 10, 2018! M29 7:00PM

Join The Protest Rally in Glendale on April 10, 2018! M29 6:38PM

Spring 2018 National Immigrant Solidarity Network News Alert! M19 2:02PM

Anti-Eviction Mapping Project Shows Shocking Eviction Trends in L.A. M16 5:40PM

Steve Mnuchin video at UCLA released M15 12:34AM

Actress and Philanthropist Tanna Frederick Hosts Project Save Our Surf Beach Clean Ups M06 12:10PM

After Being Told He's 'Full of Sh*t' at School Event, Mnuchin Demands UCLA Suppress Video M02 11:44AM

Resolution of the Rent Strike in Boyle Heights M01 6:28PM

What Big Brother Knows About You and What You Can Do About It M01 3:30PM

Step Up As LAPD Chief Charlie Beck Steps Down F14 2:44PM

Our House Grief Support Center Hosts 9th Annual Run For Hope, April 29 F13 12:51PM

Don't let this LA County Probation Department overhaul proposal sit on the shelf F13 11:04AM

Echo Park Residents Sue LA Over Controversial Development F12 8:51AM

Former Signal Hill police officer pleads guilty in road-rage incident in Irvine F09 10:25PM

Calif. Police Accused of 'Collusion' With Neo-Nazis After Release of Court Documents F09 7:14PM

Center for the Study of Political Graphics exhibit on Police Abuse posters F07 9:50AM

City Agrees to Settle Lawsuit Claiming Pasadena Police Officer Had His Sister Falsely Arre F04 3:17PM

Professor's Study Highlights Health Risks of Urban Oil Drilling F04 12:42PM

Claims paid involving Pasadena Police Department 2014 to present F04 10:52AM

Pasadenans - get your license plate reader records from police F03 11:11PM

LA Times Homicide Report F03 1:57PM
More Local News...
Other/Breaking News

What does the Quran Say About Islamic Dress?? A21 4:15PM

Biodiversité ou la nature privatisée A20 11:22AM

The Market is a Universal Totalitarian Religion A20 7:14AM

Book Available about Hispanics and US Civil War by National Park Service A19 5:52PM

The Shortwave Report 04/20/18 Listen Globally! A19 4:01PM

The Republican 'Prolife' Party Is the Party of War, Execution, and Bear Cub Murder A19 11:48AM

Neurogenèse involutive A18 9:21AM

Paraphysique de la dictature étatique A16 10:13AM

Book Review: "The New Bonapartists" A16 3:45AM

The West Must Take the First Steps to Russia A14 12:25PM

Théorie générale de la révolution ou hommage à feu Mikhaïl Bakounine A14 3:30AM

The Shortwave Report 04/13/18 Listen Globally! A12 3:50PM

"Lost in a Dream" Singing Competition Winner to Be Chosen on April 15 for ,000 Prize! A12 3:48PM

The World Dependent on Central Banks A12 4:43AM

Ohio Governor Race: Dennis Kucinich & Richard Cordray Run Against Mike DeWine A11 9:40PM

March 2018 Honduras Coup Again Update A10 10:52PM

Apologie du zadisme insurrectionnel A10 3:33PM

ICE contract with license plate reader company A10 1:14PM

Palimpseste sisyphéen A09 11:23PM

Black Portraiture(S) IV: The Color of Silence...Cuba No...Cambridge Yes A09 5:32AM

Prohibiting Micro-Second Betting on the Exchanges A09 4:18AM

Prosecutors treat Muslims harsher than non-Muslims for the same crimes A08 10:33PM

Amy Goodman interview on cell phone safety A08 10:29PM

Mesa, Arizona police officer kills unarmed white man A08 9:50PM

Israeli leaders should be prosecuted for war crimes A08 9:48PM

Paraphysique de l'autorité A08 12:11AM

Two Podcasts on fbi corruption A06 10:13PM

Fbi assassins assault & try to kill DAVID ATKINS A06 7:29PM
More Breaking News...