by Peggy Lee Kennedy Friday, May. 08, 2015 at 7:45 PM

Righteous Anger at LAPD and Councilman Mike Bonin at Venice Town Hall on Fatal Police Shooting of Unarmed African American now begets retribution and More Venice Homeless Sweeps?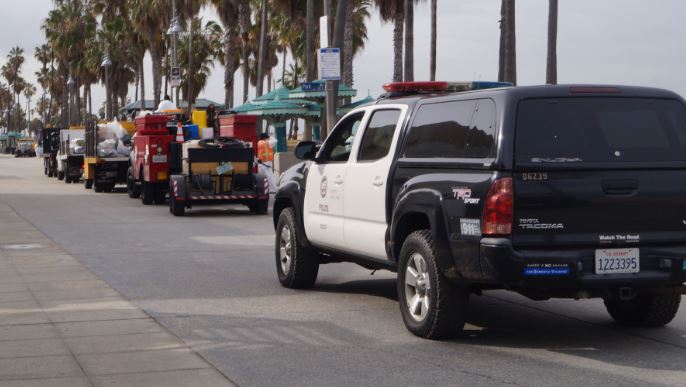 parade.jpg, image/jpeg, 686x387
Councilman Mike Bonin, LA City Council District 11 representative for Venice, was severely BOOed at the Town Hall meeting to address the May 5th LAPD fatal shooting of Brendon Glenn in Venice. To get us back, the twice monthly sweeps (or so-called cleanings) will now be every Friday. Who is paying for this? I am quite confident it will not be coming out of Bonin's salary package. And the real price is paid by the least among us.

Following hours of angry public comment from last night's town hall - the LAPD were doubled down at this morning's sweep; escorting the Hazmat, Recreation and Parks, Watershed Protection, and whatever other over-the-top parade of City agents on the Venice Boardwalk are being used to move unhoused people and discard their belongings.

And this sweep was pregnant with what's really bad about this whole thing. The worst was the deaf, disabled, unhoused African American woman. The initial LAPD officers approaching the woman would not believe the community that she was deaf. The one officer said he was recently talking to her.

OK, think what you want, but I can recognize American Sign Language and I am pretty good about assessing the fact that people are hearing voices. This woman was signing with her hands to no apparent person from under her blanket while the LAPD searched through her fanny pack without her permission.

The community was very vocal and the cops on the scene did call (probably due to concern of a vocal group there) a sergeant. In the mean time a local person was found who was fluent in sign language. He explained to the woman that she had to move and so she did. No psychiatric team was called to the scene by the LAPD, despite requests of the community present. It was pretty awful. The police were not qualified to deal with this situation. That is a fact.

So now, because apparently it's inconvenient or even scary that the community was intervening, I heard that we will no longer be allowed to observe and whole areas will be closed off while they do these evil cleanings.

This is nasty business folks. And it seems to be escalating when it should be defused.