Features
•
latest news
•
best of news
•
syndication
•
commentary

Feature Categories



KILLRADIO
printable version - js reader version - email this article - view hidden posts - tags and related articles


View article without comments by J.A. Citizen Thursday, Mar. 19, 2015 at 2:39 PM
ArtistBlogs@LAArtsDistrictBlogs.com
Public Storage is being sued all over the country for their unethical and even predatory business practices. And one LA artist tells us why... "This storage company 'Public Storage' has done nothing but put me in a constant state of prolonged emotional stress with there blatantly predatory and unethical business practices! Public Storage SUCKS!"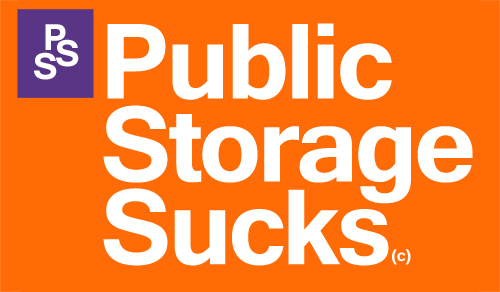 pss_1a.jpg1hjkvz.jpg, image/jpeg, 500x292

Unethical Predatory business practices by Kathleen Jarnagin, 818-244-8080 ex.1549, and Margaret Sommers, 818-244-8080 ex.1560, management at "Public Storage".

David Goldner is currently a homeless artist in Los Angeles trying desperately to turn his situation around. (DavidGoldner.com) But after having to put his belongings in storage for safe keeping, he found out it was "Public Storage", the storage facility itself was who he needed protection from!

David explains: And as I looked for "Public Storage Law suits", WOW! They are being sued for their business practices all over the country! And now I understand why! This storage company "Public Storage" has done nothing but put me in a constant state of prolonged emotional stress with there blatantly predatory and unethical business practices! This stems from non sequitur predatory policies hidden in the small print of their contract, a contract that they unethically claim gives them the right to arbitrarily decide to auction off my personal belongs with literally one days notice. They have already done this to me once before when my storage payment was as little as only 18 days over due! They actually claimed they sold my belongs!

Then told me the they would still give me until the end of the month to pay if I wanted them back! This is just a sadistic business practice that only serves to make their customers miserable!!! And that's exactly what they have done and continue to do to me. This is blatantly a predatory business and an unethical interpretation of the small print in their blatantly self serving service contract. They go out of their way to take advantage of their customers who may be struggling to pay their bills. Public Storage has no ethics what so ever! I have found people all over the internet that have experienced the same treatment from Public Storage that I am now enduring myself.

No one should have to go through this torturous experience with an unethical company like Public Storage. And I would warn anyone who needs a storage not to do business with Public Storage.

Report this post as:


by Vince Romero idVer:c78e93abf7c8585466b54cabf8 Tuesday, Aug. 11, 2015 at 1:40 AM


Just because you are homeless doesn't mean that you aren't responsible to pay your storage bill on time. I have had a few storage spaces with this company and I never had a problem with them auctioning my stuff..All the people suing this company were people who didn't pay their rent on time. Just because u are homeless doesn't mean this company needs to provide you with handouts or free rent. Try being a responsible citizen and not blame others like the managers that were listed.Im sure they would rather u paid you bill on time than waste their time auctioning off your items.All the people suing need to look in the mirror and blame that person.

Report this post as:


by JD Saturday, Mar. 11, 2017 at 12:15 PM


Homeless or Not, Public Storage Violated the Law for the trusted customer.
Wrongful Auction, Not mailing certified notice, slapping extra FEES, and Locking customers OUT are All unacceptable on any level for any CITIZENS!
PS provided --NO remedy, and given NO legal notice BY EMAIL OR MAIL

Report this post as:


by Laura K Saturday, Mar. 11, 2017 at 12:25 PM


It was All strange and arranged by Public Storage. My 1 suitcase with personal DOCUMENTS were arranged, moved, then finally removed! Gone!
My

Report this post as:


by David Goliath Saturday, Mar. 11, 2017 at 12:37 PM


I may be David and Public Storage is the Goliath.
I will fight for my rights and truth!
Public Storage mislead and lied to me about fees, dates, and auction buyers.
God Bless All the blind sided VICTIMS of Public Storage.
I will see a Day of VICTORY!!


Report this post as:


by BE AWARE - Public Lock Saturday, Mar. 11, 2017 at 2:15 PM


Public Storage is operating illegal sales to illegal auction buyers along illegal fees.
Public Storage sets traps and road blocks for customers to sink in quick sand!
Public Storage's goal is to steal, kill souls and memories for their Greed!!

BE AWARE::
Public Storage knows EXACTLY what you have in your unit . They wait for the "right" moment to get in and prey on your unit.
Split second-
Public storage to Public Lock

Report this post as:


by Mr. Arat Saturday, Mar. 11, 2017 at 4:19 PM


Hello,, No one ever answers the PHONE??
No one ever calls me or my wife back.
Bad customer service.
Report- I found RATS in my unit!



Report this post as:


by Patient Advocate idVer:0b0c5735e314c5ed1ea0da Thursday, Aug. 31, 2017 at 2:37 AM
administration@patientadvocacyservices.com 3232030456 7610 Beverly Blvd, Box 480293 LA 90048

If any individual suffered the loss of personal items under suspicious or premature circumstances by Public Storage, all got together as a ""unit,"" the group could file a class action for misrepresentation, violating both State and Local laws, breach of industry standards, and not conducting business in good faith, a big No-No in CA. Whether the malicious act was conducted by the local site manager or the corporate work-force at Public Storage headquartered in Glendale, CA., the more distinct and individual people, the greater the likelihood that the Attorney General and District Attorney will pay attention and get involved. Step one would be to file a report with the better business bureau, file a police report for stolen property, and business licensing agencies both local and state. The LA Cnty District Attorney's Consumer Affairs Dept has complaint forms online.

Report this post as:



Local News

Segregation in the City of Angels: A 1939 Map of Housing Inequality in L.A. A15 7:44PM

Justice Dept. seeking info, IDs on 1.3M visitors to protest website DisruptJ20.org A15 1:04PM

San Francisco Rally Protests Hate Crimes in Charlottesville A14 5:38PM

New Google algorithm restricts access to left-wing, progressive web sites A02 1:52PM

Tracking Twenty Years of Stockton Killings by Law Enforcement A02 1:27PM

Garcetti Cronyism - Why and How to Ignore Your LA Dog License A01 5:05PM

Nation's Worst Meltdown Was In LA J31 4:54PM

As RV towing resumes in LA, officials say program won't 'target homeless' J31 1:15PM

Class War on the Waterfront: Longshore Workers Under Attack J21 10:18AM

Limits to Growth Published Forty Years Ago J18 5:15AM

KPFK's Indy Media on Air Now on Wednesdays J25 9:13AM

Lessons From Portland's Clashes With Fascists J13 7:36PM

Dr. Maryse Narcisse of Haiti Visits Southern California M20 5:55PM
More Local News...
Other/Breaking News

Sheriff Mark Lamb policing for $$$ DOLLARS $$$ at Pinal County Jail O17 12:39PM

Memories of Cambodian Genocide in 70's compare with Rohyinga Displacement into Bangladesh O16 9:00PM

Netanyahu, Tell the World the Truth! O16 8:15PM

Paraphysique de l'aposématisme O15 11:06PM

Southern California can open a key role for Palestine Israel Lens O15 7:32PM

Reem Assil has a first amendment problem O14 11:25AM

Reem Assil has a first amendment problem O14 11:24AM

Paraphysique de robotique biométrique O14 1:10AM

IMF and World Bank Meetings Begin With Growth Forecasts and Crisis Risk Warnings O13 8:37AM

Reem Assil Drops Lawsuit Against Jewish Protesters O13 7:04AM

The Shortwave Report 10/13/17 Listen Globally! O12 4:59PM

Ni de droite, ni de droite, AILLEURS ! O12 12:44AM

IMF Reports Global Growth and Releases New Ways to Predict Economic Crisis O11 7:34AM

Les compétitions O11 3:50AM

Reem's Oakland Bakery Drops Lawsuit Seeking to Silence Protests O10 8:05PM

FEMA has the authority to order martial law and open up FEMA camps for dissident Americans O09 11:28AM

The Fairy-tale of the End of the Financial Crisis O09 5:10AM

La galénique logicienne O08 11:21PM

Notice of fbi criminality run amuck in a world in crisis O08 1:51PM

September 2017 Honduras coup update O08 4:48AM

Mexican Heroin Flood Killing Families,Governments on Both Sides of the Dry Border O08 2:34AM

The Unification Church is not a Church and is Seeking New People to Abuse O08 1:20AM

Trucage du dopage O08 12:44AM

Reem Assil's Racist Restaurant in Oakland O07 10:24PM

The War in Karen State Eastern Burma is being Covered Up Except in WWEstern Thailand O07 11:45AM

Peace in the Park 2017 – Summer of Love Edition! O07 11:30AM

Fred Hamton's Work and Assasination in Chicago Serve as a Warning O06 12:31PM

Hypoxie de la réification O05 10:18PM
More Breaking News...