Features
•
latest news
•
best of news
•
syndication
•
commentary

Feature Categories



KILLRADIO
printable version - js reader version - email this article - view hidden posts - tags and related articles


View article without comments by J.A. Citizen Thursday, Mar. 19, 2015 at 2:39 PM
ArtistBlogs@LAArtsDistrictBlogs.com
Public Storage is being sued all over the country for their unethical and even predatory business practices. And one LA artist tells us why... "This storage company 'Public Storage' has done nothing but put me in a constant state of prolonged emotional stress with there blatantly predatory and unethical business practices! Public Storage SUCKS!"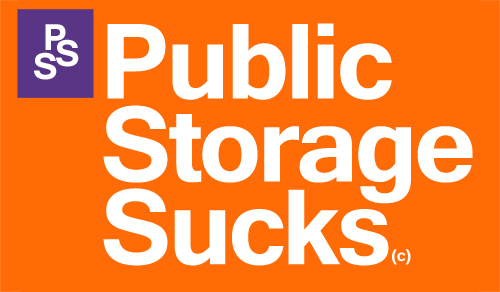 pss_1a.jpg1hjkvz.jpg, image/jpeg, 500x292

Unethical Predatory business practices by Kathleen Jarnagin, 818-244-8080 ex.1549, and Margaret Sommers, 818-244-8080 ex.1560, management at "Public Storage".

David Goldner is currently a homeless artist in Los Angeles trying desperately to turn his situation around. (DavidGoldner.com) But after having to put his belongings in storage for safe keeping, he found out it was "Public Storage", the storage facility itself was who he needed protection from!

David explains: And as I looked for "Public Storage Law suits", WOW! They are being sued for their business practices all over the country! And now I understand why! This storage company "Public Storage" has done nothing but put me in a constant state of prolonged emotional stress with there blatantly predatory and unethical business practices! This stems from non sequitur predatory policies hidden in the small print of their contract, a contract that they unethically claim gives them the right to arbitrarily decide to auction off my personal belongs with literally one days notice. They have already done this to me once before when my storage payment was as little as only 18 days over due! They actually claimed they sold my belongs!

Then told me the they would still give me until the end of the month to pay if I wanted them back! This is just a sadistic business practice that only serves to make their customers miserable!!! And that's exactly what they have done and continue to do to me. This is blatantly a predatory business and an unethical interpretation of the small print in their blatantly self serving service contract. They go out of their way to take advantage of their customers who may be struggling to pay their bills. Public Storage has no ethics what so ever! I have found people all over the internet that have experienced the same treatment from Public Storage that I am now enduring myself.

No one should have to go through this torturous experience with an unethical company like Public Storage. And I would warn anyone who needs a storage not to do business with Public Storage.

Report this post as:


by Vince Romero idVer:c78e93abf7c8585466b54cabf8 Tuesday, Aug. 11, 2015 at 1:40 AM


Just because you are homeless doesn't mean that you aren't responsible to pay your storage bill on time. I have had a few storage spaces with this company and I never had a problem with them auctioning my stuff..All the people suing this company were people who didn't pay their rent on time. Just because u are homeless doesn't mean this company needs to provide you with handouts or free rent. Try being a responsible citizen and not blame others like the managers that were listed.Im sure they would rather u paid you bill on time than waste their time auctioning off your items.All the people suing need to look in the mirror and blame that person.

Report this post as:


by JD Saturday, Mar. 11, 2017 at 12:15 PM


Homeless or Not, Public Storage Violated the Law for the trusted customer.
Wrongful Auction, Not mailing certified notice, slapping extra FEES, and Locking customers OUT are All unacceptable on any level for any CITIZENS!
PS provided --NO remedy, and given NO legal notice BY EMAIL OR MAIL

Report this post as:


by Laura K Saturday, Mar. 11, 2017 at 12:25 PM


It was All strange and arranged by Public Storage. My 1 suitcase with personal DOCUMENTS were arranged, moved, then finally removed! Gone!
My

Report this post as:


by David Goliath Saturday, Mar. 11, 2017 at 12:37 PM


I may be David and Public Storage is the Goliath.
I will fight for my rights and truth!
Public Storage mislead and lied to me about fees, dates, and auction buyers.
God Bless All the blind sided VICTIMS of Public Storage.
I will see a Day of VICTORY!!


Report this post as:


by BE AWARE - Public Lock Saturday, Mar. 11, 2017 at 2:15 PM


Public Storage is operating illegal sales to illegal auction buyers along illegal fees.
Public Storage sets traps and road blocks for customers to sink in quick sand!
Public Storage's goal is to steal, kill souls and memories for their Greed!!

BE AWARE::
Public Storage knows EXACTLY what you have in your unit . They wait for the "right" moment to get in and prey on your unit.
Split second-
Public storage to Public Lock

Report this post as:


by Mr. Arat Saturday, Mar. 11, 2017 at 4:19 PM


Hello,, No one ever answers the PHONE??
No one ever calls me or my wife back.
Bad customer service.
Report- I found RATS in my unit!



Report this post as:


by Patient Advocate idVer:0b0c5735e314c5ed1ea0da Thursday, Aug. 31, 2017 at 2:37 AM
administration@patientadvocacyservices.com 3232030456 7610 Beverly Blvd, Box 480293 LA 90048

If any individual suffered the loss of personal items under suspicious or premature circumstances by Public Storage, all got together as a ""unit,"" the group could file a class action for misrepresentation, violating both State and Local laws, breach of industry standards, and not conducting business in good faith, a big No-No in CA. Whether the malicious act was conducted by the local site manager or the corporate work-force at Public Storage headquartered in Glendale, CA., the more distinct and individual people, the greater the likelihood that the Attorney General and District Attorney will pay attention and get involved. Step one would be to file a report with the better business bureau, file a police report for stolen property, and business licensing agencies both local and state. The LA Cnty District Attorney's Consumer Affairs Dept has complaint forms online.

Report this post as:



Local News

The Eagle Rock Peace Vigil Marks 15 Years N27 11:23AM

12/2-3 LA Binational Conference To Cancel NAFTA and Unite Workers Of Mexico and the US N27 3:44AM

Winter 2017 National Immigrant Solidarity Network Monthly News Alert! N26 9:22PM

Nuclear Shutdown News November 2017 N26 4:23PM

Report Back on November 18th Counter Demonstration Against Anti-Muslim March N20 10:57AM

Report Back on November 18th Counter Demonstration Against Anti-Muslim March N19 7:12PM

National US Gov as wellas EPA slow to act on Abandoned uranium Mines Cleanup in Southwest N15 10:50AM

OUR HOUSE Grief Support Center Hosts 9th Annual Comedy Fundraiser N14 10:47AM

BUSTED: Watch LAPD cops plant drugs in black suspect's wallet – unaware body cams were on N10 5:32PM

lapd shootings 1998 - 2015 N06 11:21PM

"Oh Say Can You See" How the LAPD Singing the National Anthem Cost the Dodgers WS Game 7? N03 7:30AM

Car drives into immigration protesters outside Rep. Ed Royce's office in Brea N02 2:06PM

PACIFICA RADIO BOARD SECRETLY OK'S BANKRUPTCY FILING & SEEKS NY SIGNAL SWAP O25 4:49PM

LAUSD, Privatization, Charters And The Fight To Defend Public Education Education Conferen O04 12:10PM

Afghan Women Read RAWA.org founded 1977 S27 9:42PM

[France] The State Attacks Indymedia-Grenoble and Indymedia-Nantes… Solidarity! S25 5:18PM

Segregation in the City of Angels: A 1939 Map of Housing Inequality in L.A. A15 7:44PM

Justice Dept. seeking info, IDs on 1.3M visitors to protest website DisruptJ20.org A15 1:04PM

San Francisco Rally Protests Hate Crimes in Charlottesville A14 5:38PM

New Google algorithm restricts access to left-wing, progressive web sites A02 1:52PM

Tracking Twenty Years of Stockton Killings by Law Enforcement A02 1:27PM

Garcetti Cronyism - Why and How to Ignore Your LA Dog License A01 5:05PM

Nation's Worst Meltdown Was In LA J31 4:54PM

As RV towing resumes in LA, officials say program won't 'target homeless' J31 1:15PM

Class War on the Waterfront: Longshore Workers Under Attack J21 10:18AM

Limits to Growth Published Forty Years Ago J18 5:15AM
More Local News...
Other/Breaking News

Paraphysique de la prohibition D16 2:14AM

Philippines: We condemn extension of Martial Law in Mindanao D14 9:37PM

The Shortwave Report 12/15/17 Listen Globally! D14 4:27PM

What the State Can Do D14 5:50AM

November 2017 Honduras Pre-Coup Repeat Update: Part 1 D14 5:23AM

Le système, ses agents, ses exécutants D13 11:49PM

Police problem officers D12 11:13AM

Masturbatorium de capitalisation D11 10:15PM

Palestinians, Beware Jewish Days of Rage, Hanukkah is Coming to Israel! D11 5:28PM

Asian Superstar's Book Finding Julia, Based on the Movie, Goes on Sale D11 11:16AM

I am the victim of murder for hire and need help to file a police report D11 12:29AM

Modus operandi de l'apocope D10 10:04PM

Archbishop and Evangelical Leader Tell Congress to Protect Puerto Rico in Tax Plans D08 9:51AM

Fbi is Gestapo D07 6:12PM

The Shortwave Report 12/08/17 Listen Globally! D07 5:10PM

Paraphysique de l'argutie D06 10:18PM

Holiday Tips for Grievers D06 1:27PM

Stand Against Reem's. Stand Against hate. Stand Against Violence D06 8:44AM

Base Erosion and Profit Shifting (BEPS) D06 7:53AM

Philippines - Why there is nothing Revolutionary about the call for a "Revolutionary Govt" D06 2:04AM

Historicisme d'hybridation D04 10:08PM

Real filthy fbi D03 7:30PM

People in Uproar in West Virginia-US Public lands Hearings 2017 D03 10:42AM

Le capital ou la société des inégalités D03 12:11AM

Stop Trump's tax plan D02 3:10PM

Government Regimes Are On A Global Kill Spree D01 8:29PM

Global High Crimes By Government D01 7:47PM

The Right to the City and the Greed of the Rich D01 3:32AM
More Breaking News...