Tell the NSA:
StopWatching.US
Features
•
latest news
•
best of news
•
syndication
•
commentary

Feature Categories



KILLRADIO
printable version - js reader version - email this article - view hidden posts - tags and related articles
by Sharon Schloss Saturday, Jan. 25, 2014 at 9:15 PM

Los Angeles participated in the Global March Against Chemtrails & Geoengineering today in Santa Monica. There were 50-70 activists involved, including members of Los Angeles Skywatch. The public was very receptive and inquisitive.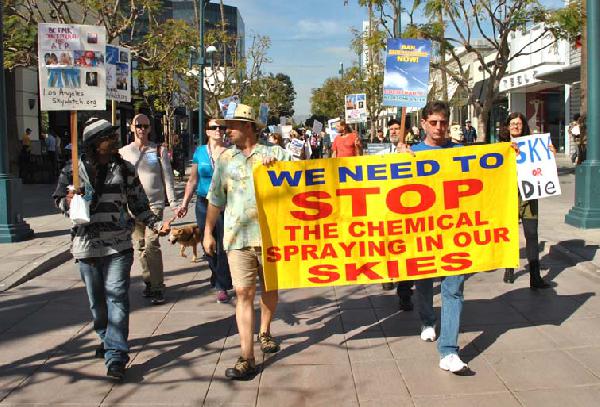 dsc_8164emailsize.jpg, image/jpeg, 755x513

Concerned Los Angeles residents met at the Santa Monica Pier today for the second Global March Against Chemtrails and Geoengineering. The group, which included members of the local activist group Los Angeles Skywatch, convened at the cannon overlooking the Pacific Ocean under a sky peppered with aerosol clouds and a variety of chemtrail markings. There were around 50-70 people in attendance, an increase from the first global march in August. The march was peaceful and well organized, and although there was one agitator present to try and bring the activists down, he was outnumbered and could not offer an adequate reason for his opposition to this environmental cause.

The march lasted for about two hours, slowly making its way through the Third Street Promenade, which was an excellent venue in which to bring this issue to light. Santa Monica is a health and environmentally conscious city and the march happened to coincide with the Santa Monica Farmers Market, where consumers vote against agribusiness with their purchase of local and organic produce. The marchers handed out flyers and literature from Geoengineeringwatch.org and Los Angeles Skywatch to a receptive public. Many of the shoppers, who had been aware of the spraying for some time, were looking for answers and information. Last month this issue was brought into the mainstream by Stephen Colbert in his brutally comedic interview with David Keith, one of the world's best known geoengineering scientists. It is becoming increasingly difficult to hide the reason behind the spraying, and people are even starting to notice the difference between natural and aerosol clouds.

For many years people have noticed persistent contrails coming from jets and lingering in the sky for hours. Science's reasoning for what we are seeing is that these are simply contrails, or condensation trails of jet exhaust. The problem with this explanation, leading to what the mainstream media has termed as the "chemtrail conspiracy theory," is that it does not agree with the actual science of flight and weather. Contrails are very short, last only a few plane lengths behind the aircraft, and only occur at altitudes above 30,000 feet. They are composed of ice crystals that dissipate quickly behind the plane. Chemical trails can happen at much lower altitudes, and now with the Plane Finder App for smart phones, many lay people have been documenting persistent trails at lower altitudes.

Another failure of mainstream science in regard to quelling the public's concerns about chemtrails is that they cannot adequately explain why water condensation is lingering for so many hours and spreading out across the sky. Almost daily, throughout North America, Europe, Australia, and many other parts of the world, airplanes fly back and forth creating grids in the sky that within hours create hazy whiteout conditions. We are also seeing many artificial clouds which are easily recognized by features such as a cotton-candy appearance, fine linear ripples caused by HAARP's radio frequencies, and streaky rainbow colors like one would see in oil spilled on dark pavement. These events are simply reported as cirrus clouds and rainbows, both of which were extremely uncommon in Los Angeles until the past couple of years. It seems odd to the growing number of people noticing this that there are some days where the planes do not leave any persistent trails and others where the sky gets completely obliterated by them, even though there are planes flying every day. Also strange and completely ignored by weather reporters on mainstream news is why it has been cloudy so much of the time in Los Angeles recently, yet we are experiencing a drought. The public is now demanding an answer.

In Los Angeles, we are accustomed to clear blue skies for most of the year with cumulus clouds and rain in the winter and early spring. For the past year, almost every day has been cloudy or partly cloudy, no matter what time of year, and there has been almost no rain in the winter and spring. The chemtrails and aerosol clouds are composed of aluminum, barium, and strontium, and, as documented by the Carnicom Institute, biological agents. Rain tests in California over the past year have revealed increasing levels of these three heavy metals which far exceed what is considered normal and healthy by the EPA. There has been a dramatic increase in aluminum related illnesses in the past decade since this heavy spraying began, including autism, Alzheimer's disease, and asthma. Los Angeles residents who have never had issues with allergies are now reporting sore throats and congestion, as well as headaches and lethargy. These problems seem to coincide with the amount of aerosols in the air.

Another important reason that people are now taking to the street and marching in protest of the chemtrail spraying is that it is ultimately a weather modification program which is wreaking havoc on people's lives. California is in an unprecedented drought while the central and eastern parts of the U.S. are being slammed with devastating storms. We are in the driest year since they began recording rainfall levels in 1894, which is causing events like the Glendora wildfire last week, while the east is being crippled by extreme snow storms. Simply attributing this to "climate change" does not address the reasons for the climate change. Climate change is an effect, not a cause. Geoengineering is altering weather patterns and exacerbating global warming by creating a blanket of aerosol clouds that hold in heat at night. The spraying is also destroying the ozone layer. Now that people are wising up to the crime in the sky, scientists like David Keith are proposing geoengineering as a cure for global warming, which it most certainly is not. In fact, it will only make this problem worse without addressing the need to reduce CO2 emissions.

Since new evidence is coming out linking Monsanto to the geoengineering program, there is even more reason for public outrage. The biotech giant has been throwing its weight around for years, suing independent farmers for patent infringement when their fields become contaminated with GMO cross-pollination, spending millions of dollars trying to stop the labeling of foods containing GMOs, and now even trying to force their unhealthy foods upon underdeveloped nations in Africa under the guise of philanthropy. Monsanto means to control the world's food supply. They have patented aluminum resistant, drought resistant genetically modified seeds in the face of the chemtrail spraying, which is causing crop loss for organic farmers, as seen in the documentary film, "Why in the World Are They Spraying?" It is no coincidence that they have this patent. By creating conditions in which plants cannot survive, they can further their agenda to monopolize the agriculture business by offering the only seeds that can live with this abiotic stress.

This march along with the global marches against Monsanto in 2013 will hopefully increase awareness about how our natural world is being taken away from us, all for a corporate monopoly. It seems absurd that anyone would want to patent and own nature itself, and it seems crazy that anyone would do so much harm to people and the environment. But history shows that these types of abuses happen time and time again, the difference now is that there is more science and technology involved. It is still the same story of the many being abused and controlled by the few, and marches like the Global March Against Chemtrails & Geoengineering show that if we unite against the corporate food and weather monopoly, we can prevail and take back our air, food, and water.


Report this post as:


by Sharon Schloss Saturday, Jan. 25, 2014 at 9:15 PM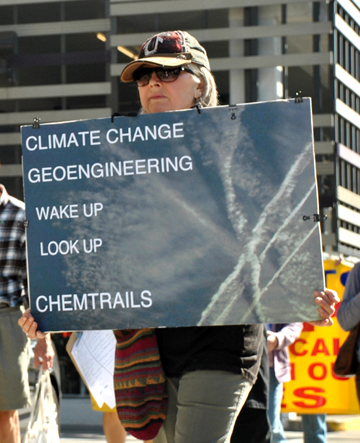 climate_change_sign.jpg, image/jpeg, 360x443

Report this post as:


by Sharon Schloss Saturday, Jan. 25, 2014 at 9:15 PM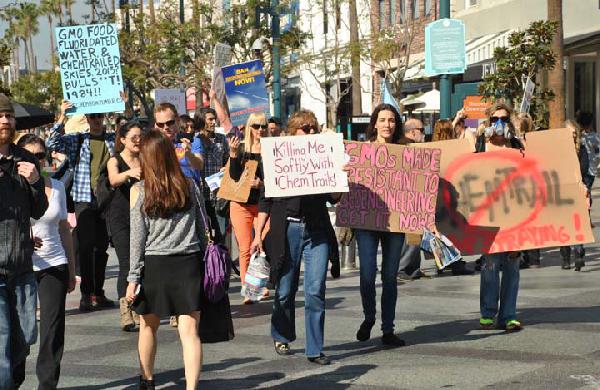 dsc_8190emailsize.jpg, image/jpeg, 720x469

Report this post as:


by Sharon Schloss Saturday, Jan. 25, 2014 at 9:15 PM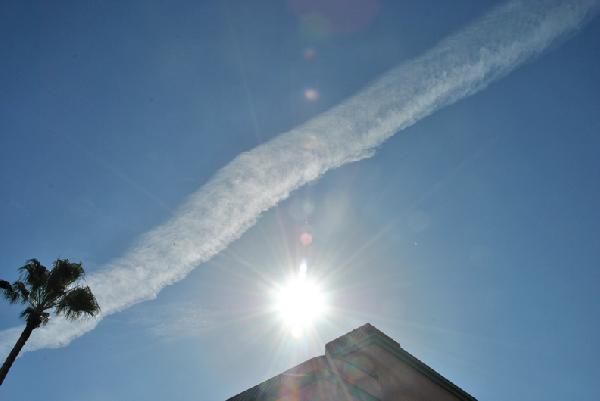 dsc_8171emailsize.jpg, image/jpeg, 792x530
Report this post as:
LATEST COMMENTS ABOUT THIS ARTICLE
Listed below are the 10 latest comments of 10 posted about this article.
These comments are anonymously submitted by the website visitors.

| | | |
| --- | --- | --- |
| TITLE | AUTHOR | DATE |
| Shasta Aluminium | bob | Sunday, Jan. 26, 2014 at 6:09 AM |
| HAARP Facility Shuts Down | crazy_inventor | Tuesday, Jan. 28, 2014 at 1:02 PM |
| 'shut down' | qob | Tuesday, Jan. 28, 2014 at 2:48 PM |
| "permanently" appears nowhere in the article I cited | crazy_inventor | Tuesday, Jan. 28, 2014 at 3:21 PM |
| Regarding Contrails | johnk | Friday, Jan. 31, 2014 at 10:01 AM |
| A "Debunker" Website | johnk | Friday, Jan. 31, 2014 at 4:26 PM |
| hey John | crazy_inventor | Friday, Jan. 31, 2014 at 4:49 PM |
| Final Chemtrails Comment | johnk | Saturday, Feb. 01, 2014 at 9:58 PM |
| Regarding Debunkers | johnk | Monday, Feb. 03, 2014 at 2:06 AM |
Local News

KPFK is in double trouble, credit cards misused, and... A24 3:48PM

WW Broad & The War On Public Education In LA A19 8:05AM

KPFK= more. Tired of the turmoil? we are too. A18 4:22PM

KPFK Work Reductions ....signs of an ending now, so soon ? A18 10:30AM

kPFK under threatening duress - even to it's long-established staff by new Gen'l Mgr A16 8:46PM

Secretive Glonvec weapons manufacturer in town A13 9:21AM

KPFK in MeltDown.NOW. A11 11:31AM

KPFK RADIO is essential to Pacifica, who also umbrellas KPFA that may be falling away A07 7:26PM
More Local News...
Other/Breaking News

Maidan 2.0 Eerupting in Ukraine? A31 10:08AM

Legendary Team Hack Trainer Mod A31 7:40AM

Fashion Diva Hack iOS Android Cheats A31 7:06AM

Pocket Platoons Hack iOS Android Cheats A31 7:05AM

Farewell to Homo Oeconomicus A31 6:39AM

US Presidential Aspirants Irresponsibly Bash Putin A31 6:36AM

US Presidential Aspirants Resemble an FBI Most Wanted List A31 2:16AM

NYT Features Anti-Russian Propagandist A30 12:21PM

US Occupies Yemeni Island A30 12:06PM

West Point Professor Calls Anti-War Legal Scholars Fifth Column Threats A30 10:27AM

France, Germany and Russia Back Ceasefire in Donbass: Hold the Cheers A30 6:31AM

Why the Refugee Crisis A30 4:19AM

Investigate UNRWA spokesperson Chris Gunness for violating UNRWA's Mandate A29 9:47PM

Ukrainians Overwhelmingly Oppose Junta Rule A29 12:45PM

Dubious Sponsor Launches Petition to End Gaza Blockade A29 11:30AM

Egypt's War on Press Freedom A29 6:56AM

Right-Wing DC Court of Appeals Upholds Unconstitutional Surveillance A29 3:04AM

Fbi methods are unconscionable A29 12:31AM

Black New Orleans 10 Years Post-Katrina A28 11:22AM

908 Environmentalists Have Been Murdered in Brazil, Many Elsewhere As Well A28 9:52AM

Wall Street Rally: Hold the Cheers A28 9:50AM

Shell paid out $15.5 Million over Saro-Wiwa Murder A28 9:29AM

Washington Intends Breaching Iran Nuclear Deal A28 5:15AM

Florida State Attorney's Office, Unethical A28 4:35AM

Phony Reports of Russian Casualties in Ukraine Resurface A28 3:40AM

The Shortwave Report 08/28/15 Listen Globally! A27 5:23PM

DEFROST A Virtual Reality Short Movie A27 4:47PM

Fabricated Pentagon Reports on ISIS A27 10:45AM
More Breaking News...