Tell the NSA:
StopWatching.US
Features
•
latest news
•
best of news
•
syndication
•
commentary

Feature Categories



KILLRADIO
printable version - js reader version - email this article - view hidden posts - tags and related articles
by Satur C. Ocampo Friday, Mar. 08, 2013 at 3:20 AM

One can understand Andres Bautista's deep frustration in wanting to abolish the Presidential Commission on Good Government, which he has headed since October 2010, although — or because — it has failed to accomplish its two-pronged mandate, 27 years after President Cory Aquino created the PCGG through Executive Order No. 1.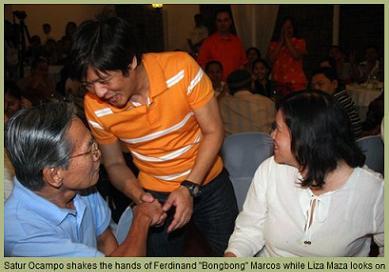 1-satur-ocampo-bayan-muna-liza-maza-gabriela-women-bongbong-marcos.jpg, image/jpeg, 389x272

The mandate: to recover an estimated $10 billion in ill-gotten wealth, amassed and stashed away by Ferdinand Marcos, his wife Imelda, and his cronies during his 14-year dictatorship, and to prosecute them accordingly. (Marcos died in Hawaii on Sept. 28, 1989.)

The PCGG claims to have recovered $4 billion in cash and assets, about half the estimated loot.

However, the PCGG has been losing the court battles in more than 200 cases it filed against the Marcos heirs and cronies. Bautista attributes this losing streak to two factors: 1) the cases "were weak from the very start," and 2) "our justice system is flawed."

An added factor, Bautista laments, is that the Marcos heirs are "back in power" and they "have the resources to go head-to-head with us in respect to litigation." What compounds Bautista's anguish is that, in all probability, the resources that the Marcoses use is the purloined wealth the PCGG has failed to recover.

(Imelda is now congresswoman of Ilocos Norte, daughter Imee is governor of the province. And son Ferdinand "Bongbong" Jr. is a senator who makes no bones about his ambition to become president.)

Although Bautista has assured that the hunt for the remaining ill-gotten wealth should continue, he has also said that the PCGG remains "open to a compromise agreement with the Marcos family."

This is a dismaying proposition, to say the least. Any compromise agreement — conditioned on the dropping of all cases against the Marcoses, as Imelda has insisted — would not only be a financial and political loss to the government.

A compromise agreement would mean the Marcoses win on two counts: they would go scot-free and they would retain a big chunk of the wealth that must be returned to the people, from whom it was stolen.

Most painfully, a compromise settlement would be a brazen insult to the Filipino people who struggled hard and sacrificed thousands of lives — mostly in the underground struggle — against the Marcos dictatorship until its overthrow in February 1986.

The fact is that, throughout a succession of presidents who either encouraged or tolerated it, the PCGG has attempted to forge compromise agreements with the Marcoses:

• On Dec. 28, 1993 the PCGG proposed to split some $400 million in ill-gotten wealth, 75-25%, in favor of the government. The Supreme Court declared the agreement invalid on Dec. 9, 1998.

• On Sept. 13, 1995 the PCGG, along with the American lawyer Robert Swift who represented the plaintiffs in the class-action suit already won against Marcos in a US district court, entered into an agreement for a $100-million settlement in exchange for dropping the suit. President Ramos was deterred from approving it because the plaintiffs belonging to Selda condemned the agreement as illegal and immoral.

• On February 25, 1999 President Estrada's administration tried to forge another 75-25 sharing agreement among the government, Imelda and Swift. The agreement was aborted because of strong popular opposition to it, along with Estrada's proposal to bury Marcos at the Libingan ng mga Bayani.

• Under the Arroyo government, the PCGG again attempted but failed, due to public opposition, to enter into a compromise agreement with Imelda.

To my mind, the root cause of the problem has been the failure of every administration — from Cory's to her son, P-Noy's — to assert the political will to go hammer-and-tongs after the Marcoses.

Ironically it was Cory, towards the end of her six-year term, who first allowed the dictator's heirs and cronies to return to the Philippines in 1991. Ramos, who succeeded her, sustained that initiative.

Cory allowed the Marcoses to come back purportedly as a gesture towards national reconciliation. But hadn't she declared that national reconciliation must be based on justice? Until lately, P-Noy was still repeating the same line — without any clear positive action — that justice must be attained for those who suffered under the Marcos dictatorship.

Bongbong, in a recent interview by American journalist Jackie Dent, gleefully narrates that when he arrived at the NAIA he felt so welcomed that he called Imelda by phone and told her:

"Mom, it's time to come home. We will walk the streets. Nobody is going to hurt us." And sure enough, he added, "when she came home, people were out in the streets cheering her."

Imelda ran unsuccessfully for president against Ramos and others in 1992. After that she ran and won a congressional seat for Leyte, her home province (today she claims Ilocos Norte as her province). Her children followed suit thereafter and won. With unalloyed hubris, Bongbong gloats:

"If people believed that the family deserved to be punished and jailed, various members of the clan would not keep getting voted back into office."

How sad that, for lack of political will at the very top, the avowed quest for justice has turned this way.



Report this post as:


by Satur C. Ocampo Friday, Mar. 08, 2013 at 3:20 AM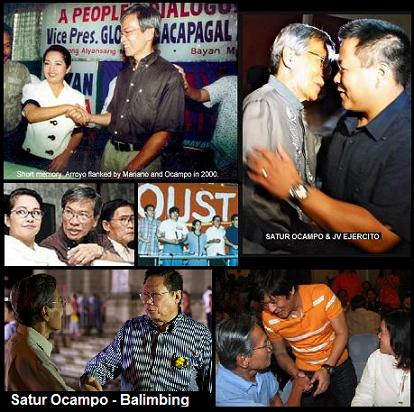 2-bayan-muna-balimbing-satur-ocampo-trapo.jpg, image/jpeg, 414x412

Report this post as:


by Satur C. Ocampo Friday, Mar. 08, 2013 at 3:20 AM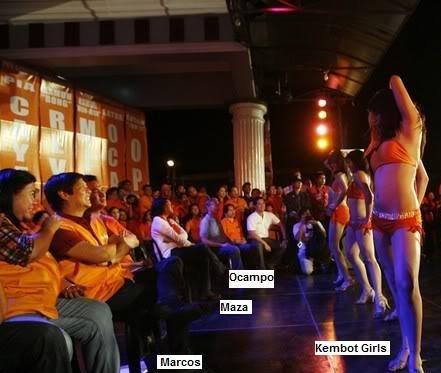 3-satur-ocampo-bayan-muna_marcos-liza-maza-gabriela-womens-party.jpg, image/jpeg, 441x373

Report this post as:


by Satur C. Ocampo Friday, Mar. 08, 2013 at 3:20 AM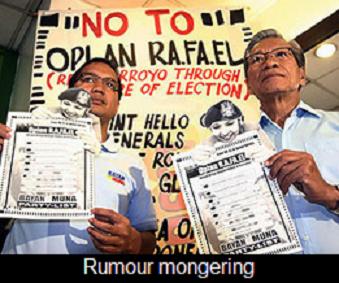 4-bayan-muna-teddy-casino-satur-ocampo-rumour-mongering.jpg, image/jpeg, 339x283

Report this post as:


by Satur C. Ocampo Friday, Mar. 08, 2013 at 3:20 AM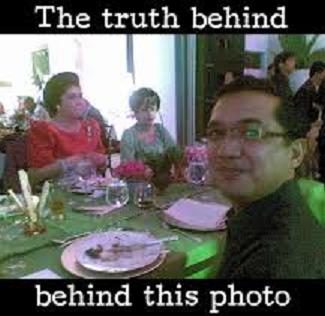 5-bayan-muna-teddy-casino-imelda-marcos.jpg, image/jpeg, 325x316
Report this post as:
Local News

Dutchman Opens Limited Engagement at Edgemar Center for the Arts on July 15 J01 9:21AM

KPFK in Pacifica's meeting - more descriptions J29 2:57PM

KPFK hosted PACIFICA's board in LA. Missed it? here's some for ya J29 2:16PM

5 Reasons to Support RAC-LA This Month J20 11:10PM

Viacom CBS' Sumner Redstone Promotes Brutal Treatment Of Pot Smokers J19 1:20PM

Summer 2015 National Immigrant Solidarity Network Monthly News Alert! J15 12:33PM

Housing Board Member is an Evicter! J11 11:37PM

KPFK & PAPCIFICA forum in LA J11 5:45PM

LA Times goes to bat for killer cops in Salinas J10 10:34PM

NUCLEAR SHUTDOWN NEWS MAY 2015 J04 12:48PM

Los Angeles Uranium Film Festival J04 7:18AM

KPFK difficulties continue J01 4:22PM

KPFK buys premiums to re-sell them for donations -so J01 4:00PM

Latest Long Beach Police Execution: Murder of Youth In Mental Distress J01 8:19AM

How can california deal with this water crisis? M31 1:46PM

Four Winds of March Against Monsanto Los Angeles Take The Streets of Hollywood M27 2:49PM

Foreclosure Victims Occupy Senate Stump Speech of Kamala Harris M21 4:58AM

LA Nakba Anniversary protest at the Israel Consulate M19 12:56AM

Long Beach Police Execute Unarmed Teen Hector Morejon on Suspicion Of Trespassing M15 6:08AM

Eagle-Con 2015 at Cal State L.A. M13 4:15PM

Brendon Glenn Dies and Venice S/Weeps M08 7:45PM

JOIN CLASS ACTION LAWSUIT AGAINST RONALD L. HAVNER JR's PREDATORY BUSINESS, PUBLIC STORAGE M08 4:48PM

Councilmember Bonin Calls People of Venice Outraged by Police Murder "Outside Agitators" M08 10:45AM
More Local News...
Other/Breaking News

Stop Circus Animal Suffering – Protestors Urge Audiences to Shun the Wild Animal Circus J07 5:50PM

fbi national academy for murder J07 1:43PM

US-Installed Ukrainian-Style "Democracy" J07 11:37AM

Deadlock in Vienna J07 10:59AM

Planned US Coup in Greece? J07 6:54AM

Obama Declares Permanent War on Humanity J07 2:54AM

Greek Voters Reject Financing Plan J06 1:54PM

Hillary Clinton Wants BDS Campaign Undermined J06 12:35PM

Turkey Mobilized to Invade Syria? J06 9:58AM

"No" Supporters Win in Greece: Now What? J06 2:10AM

Israeli Military Court Justice: Rubber-Stamp Guilt J06 1:48AM

Nazi Holocaust & fbi Extermination J05 10:34PM

Who's behind The Burnings of Black Churches? Who wants a Race War? The Feds J05 9:11PM

Similarities between the Holocaust and modern extermination of Targeted Individuals J05 7:23PM

Iran Bashing in Late Stage Nuclear Talks J05 11:48AM

Hillary Clinton Threatens World Peace J05 9:54AM

UN Human Rights Council Denounces Israeli War Crimes J05 5:42AM

Greek Bailouts for Creditors, not Economic Recovery J05 3:41AM

Génétique de l'environnement J05 1:13AM

GA AS P J04 3:33PM

ACT: Ask Oprah Winfrey to Renounce Leviev's Angolan Blood Diamonds and Israeli Settlements J04 2:39PM

Video: Rise of the Robots, 1 hr J04 1:27PM

White Supremacists tied to human trafficking and a series of unsolved murders J04 1:22PM

Thoughts on Independence Day Weekend J04 12:20PM

US-Orchestrated Coup Attempt in Ecuador J04 10:31AM

Tentative Deal on Iran Sanctions Relief? J04 10:07AM

Hillary Clinton Warns of Nonexistent Iranian Threat to Israel J04 7:25AM

Scare-mongering Greeks to Vote "Yes" on Sunday J04 3:24AM
More Breaking News...