Tell the NSA:
StopWatching.US
Features
•
latest news
•
best of news
•
syndication
•
commentary

Feature Categories



KILLRADIO
printable version - js reader version - email this article - view hidden posts - tags and related articles
by Satur C. Ocampo Friday, Mar. 08, 2013 at 3:20 AM

One can understand Andres Bautista's deep frustration in wanting to abolish the Presidential Commission on Good Government, which he has headed since October 2010, although — or because — it has failed to accomplish its two-pronged mandate, 27 years after President Cory Aquino created the PCGG through Executive Order No. 1.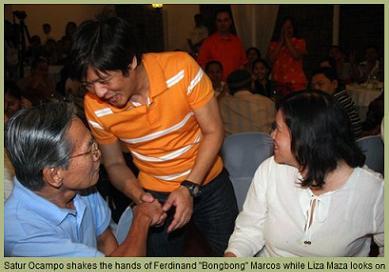 1-satur-ocampo-bayan-muna-liza-maza-gabriela-women-bongbong-marcos.jpg, image/jpeg, 389x272

The mandate: to recover an estimated $10 billion in ill-gotten wealth, amassed and stashed away by Ferdinand Marcos, his wife Imelda, and his cronies during his 14-year dictatorship, and to prosecute them accordingly. (Marcos died in Hawaii on Sept. 28, 1989.)

The PCGG claims to have recovered $4 billion in cash and assets, about half the estimated loot.

However, the PCGG has been losing the court battles in more than 200 cases it filed against the Marcos heirs and cronies. Bautista attributes this losing streak to two factors: 1) the cases "were weak from the very start," and 2) "our justice system is flawed."

An added factor, Bautista laments, is that the Marcos heirs are "back in power" and they "have the resources to go head-to-head with us in respect to litigation." What compounds Bautista's anguish is that, in all probability, the resources that the Marcoses use is the purloined wealth the PCGG has failed to recover.

(Imelda is now congresswoman of Ilocos Norte, daughter Imee is governor of the province. And son Ferdinand "Bongbong" Jr. is a senator who makes no bones about his ambition to become president.)

Although Bautista has assured that the hunt for the remaining ill-gotten wealth should continue, he has also said that the PCGG remains "open to a compromise agreement with the Marcos family."

This is a dismaying proposition, to say the least. Any compromise agreement — conditioned on the dropping of all cases against the Marcoses, as Imelda has insisted — would not only be a financial and political loss to the government.

A compromise agreement would mean the Marcoses win on two counts: they would go scot-free and they would retain a big chunk of the wealth that must be returned to the people, from whom it was stolen.

Most painfully, a compromise settlement would be a brazen insult to the Filipino people who struggled hard and sacrificed thousands of lives — mostly in the underground struggle — against the Marcos dictatorship until its overthrow in February 1986.

The fact is that, throughout a succession of presidents who either encouraged or tolerated it, the PCGG has attempted to forge compromise agreements with the Marcoses:

• On Dec. 28, 1993 the PCGG proposed to split some $400 million in ill-gotten wealth, 75-25%, in favor of the government. The Supreme Court declared the agreement invalid on Dec. 9, 1998.

• On Sept. 13, 1995 the PCGG, along with the American lawyer Robert Swift who represented the plaintiffs in the class-action suit already won against Marcos in a US district court, entered into an agreement for a $100-million settlement in exchange for dropping the suit. President Ramos was deterred from approving it because the plaintiffs belonging to Selda condemned the agreement as illegal and immoral.

• On February 25, 1999 President Estrada's administration tried to forge another 75-25 sharing agreement among the government, Imelda and Swift. The agreement was aborted because of strong popular opposition to it, along with Estrada's proposal to bury Marcos at the Libingan ng mga Bayani.

• Under the Arroyo government, the PCGG again attempted but failed, due to public opposition, to enter into a compromise agreement with Imelda.

To my mind, the root cause of the problem has been the failure of every administration — from Cory's to her son, P-Noy's — to assert the political will to go hammer-and-tongs after the Marcoses.

Ironically it was Cory, towards the end of her six-year term, who first allowed the dictator's heirs and cronies to return to the Philippines in 1991. Ramos, who succeeded her, sustained that initiative.

Cory allowed the Marcoses to come back purportedly as a gesture towards national reconciliation. But hadn't she declared that national reconciliation must be based on justice? Until lately, P-Noy was still repeating the same line — without any clear positive action — that justice must be attained for those who suffered under the Marcos dictatorship.

Bongbong, in a recent interview by American journalist Jackie Dent, gleefully narrates that when he arrived at the NAIA he felt so welcomed that he called Imelda by phone and told her:

"Mom, it's time to come home. We will walk the streets. Nobody is going to hurt us." And sure enough, he added, "when she came home, people were out in the streets cheering her."

Imelda ran unsuccessfully for president against Ramos and others in 1992. After that she ran and won a congressional seat for Leyte, her home province (today she claims Ilocos Norte as her province). Her children followed suit thereafter and won. With unalloyed hubris, Bongbong gloats:

"If people believed that the family deserved to be punished and jailed, various members of the clan would not keep getting voted back into office."

How sad that, for lack of political will at the very top, the avowed quest for justice has turned this way.



Report this post as:


by Satur C. Ocampo Friday, Mar. 08, 2013 at 3:20 AM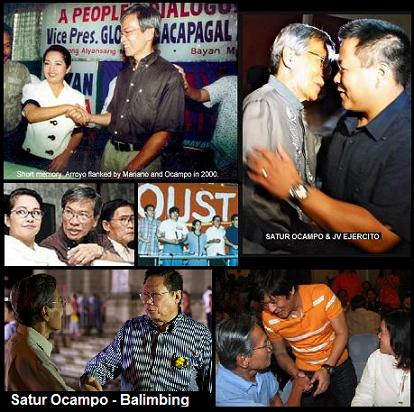 2-bayan-muna-balimbing-satur-ocampo-trapo.jpg, image/jpeg, 414x412

Report this post as:


by Satur C. Ocampo Friday, Mar. 08, 2013 at 3:20 AM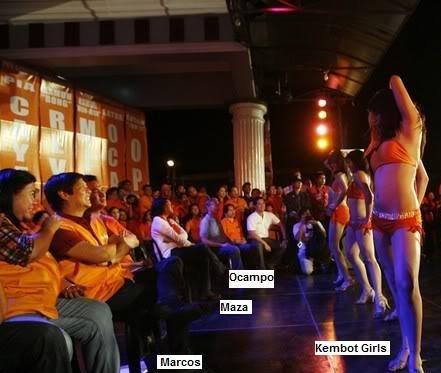 3-satur-ocampo-bayan-muna_marcos-liza-maza-gabriela-womens-party.jpg, image/jpeg, 441x373

Report this post as:


by Satur C. Ocampo Friday, Mar. 08, 2013 at 3:20 AM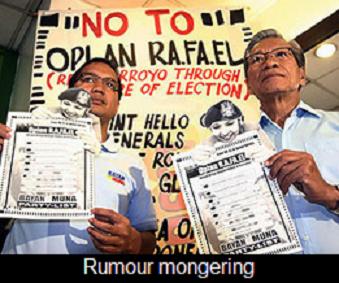 4-bayan-muna-teddy-casino-satur-ocampo-rumour-mongering.jpg, image/jpeg, 339x283

Report this post as:


by Satur C. Ocampo Friday, Mar. 08, 2013 at 3:20 AM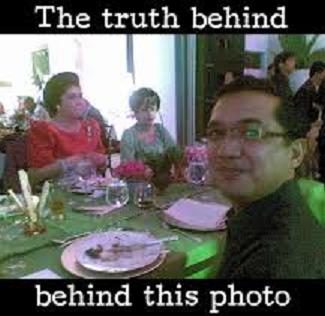 5-bayan-muna-teddy-casino-imelda-marcos.jpg, image/jpeg, 325x316
Report this post as:
Local News

Foreclosure Victims Occupy Senate Stump Speech of Kamala Harris M21 4:58AM

LA Nakba Anniversary protest at the Israel Consulate M19 12:56AM

Long Beach Police Execute Unarmed Teen Hector Morejon on Suspicion Of Trespassing M15 6:08AM

Eagle-Con 2015 at Cal State L.A. M13 4:15PM

Brendon Glenn Dies and Venice S/Weeps M08 7:45PM

JOIN CLASS ACTION LAWSUIT AGAINST RONALD L. HAVNER JR's PREDATORY BUSINESS, PUBLIC STORAGE M08 4:48PM

Councilmember Bonin Calls People of Venice Outraged by Police Murder "Outside Agitators" M08 10:45AM

May Day March, LA 2015 M07 7:33PM

LA Progressive: Ref Rodriguez—What the PUC Is Going on Here? M05 11:26PM

L.A. Stands in Solidarity with Australian Aborigines M05 11:12AM

KPFK'S rep to Pacific Bd Whitleblower -being kicked out ...plse sign petiton here M04 2:38PM

Families Protest Abusive Foreclosure Practices of Wells Fargo Bank A26 10:37AM

How is CCSA's Ref Rodriguez hiding his billionaire and ideologue contributors? A21 12:08PM

What drives charter profiteer Ref Rodriguez? A21 12:04PM

Los Angeles Artist Threatens 40 Million Dollar Law Suit for Public Storage Illegal Auction A20 4:08PM

RAC-LA Community Center Grand Opening A20 1:44PM

KPFK and Pacifica- woes unrelenting... A19 4:20PM

RAC-LA Community Center Badly Needs Your Support A14 10:09PM
More Local News...
Other/Breaking News

Ukraine Threatens Total Blockade on Donbass M28 12:25PM

The lowest common denominator rules the uSA M28 11:43AM

Racist Wendy Sherman Leaving State Department M28 10:01AM

Western Long Knives Out for FIFA's Sepp Blatter? M28 9:21AM

Washington Wages War on International Soccer M28 3:56AM

ATTO INQUISIZIONE REGNANS IN EXCELSIS M28 3:04AM

Four Winds of March Against Monsanto Los Angeles Take The Streets of Hollywood M27 2:49PM

Reinvented War Criminal Tony Blair Resigns As Middle East Envoy M27 11:47AM

Obama Memorial Day Big Lies M27 11:25AM

World Be Advised M27 10:50AM

19 Ways the USDA Kills People, Animals, Birds, And/Or Trees M27 10:22AM

Bernie Sanders: Populist or Opportunist? M27 7:49AM

G7 Finance Ministers Focus on Growth in Face of High Debt M27 7:26AM

Israel Wants 50% Increase in US Provided Military Aid M27 4:29AM

Abduction, Torture and Summary Killings of Palestinians by Hamas M26 10:44PM

Risks and Opportunities for Consumer Welfare, 56 pp M26 10:47AM

Mission Creep in Syria M26 10:46AM

Netanyahu's Sham Settlement Bloc Boundaries Proposal M26 10:25AM

China's Military Strategy M26 7:27AM

The Battle for Jobs M26 4:43AM

Sham Yemen Peace Conference Postponed M26 4:33AM

Trapps de la domination, trapps de l'aliénation M25 11:05PM

USA, fbi, et al Crimes Against Humanity M25 9:19PM

Netanyahu Appoints Right-Wing Extremist to Head Israel's Diplomatic Corps M25 11:33AM

Venezuelan/Palestinian Relations: Based on Brotherhood, Solidarity and Mutual Support M25 9:27AM

Propaganda Accompanies Kiev's Buildup for Escalated Aggression M25 7:35AM

Washington Created the Islamic State (ISIS) M25 4:45AM

Paraphysique de la naissance M24 11:15PM
More Breaking News...