Tell the NSA:
StopWatching.US
Features
•
latest news
•
best of news
•
syndication
•
commentary

Feature Categories



KILLRADIO
printable version - js reader version - email this article - view hidden posts - tags and related articles
by Satur C. Ocampo Friday, Mar. 08, 2013 at 3:20 AM

One can understand Andres Bautista's deep frustration in wanting to abolish the Presidential Commission on Good Government, which he has headed since October 2010, although — or because — it has failed to accomplish its two-pronged mandate, 27 years after President Cory Aquino created the PCGG through Executive Order No. 1.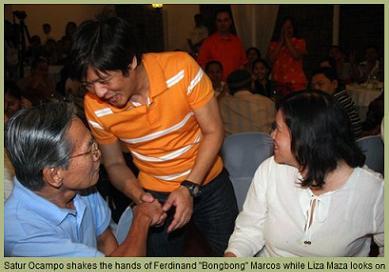 1-satur-ocampo-bayan-muna-liza-maza-gabriela-women-bongbong-marcos.jpg, image/jpeg, 389x272

The mandate: to recover an estimated $10 billion in ill-gotten wealth, amassed and stashed away by Ferdinand Marcos, his wife Imelda, and his cronies during his 14-year dictatorship, and to prosecute them accordingly. (Marcos died in Hawaii on Sept. 28, 1989.)

The PCGG claims to have recovered $4 billion in cash and assets, about half the estimated loot.

However, the PCGG has been losing the court battles in more than 200 cases it filed against the Marcos heirs and cronies. Bautista attributes this losing streak to two factors: 1) the cases "were weak from the very start," and 2) "our justice system is flawed."

An added factor, Bautista laments, is that the Marcos heirs are "back in power" and they "have the resources to go head-to-head with us in respect to litigation." What compounds Bautista's anguish is that, in all probability, the resources that the Marcoses use is the purloined wealth the PCGG has failed to recover.

(Imelda is now congresswoman of Ilocos Norte, daughter Imee is governor of the province. And son Ferdinand "Bongbong" Jr. is a senator who makes no bones about his ambition to become president.)

Although Bautista has assured that the hunt for the remaining ill-gotten wealth should continue, he has also said that the PCGG remains "open to a compromise agreement with the Marcos family."

This is a dismaying proposition, to say the least. Any compromise agreement — conditioned on the dropping of all cases against the Marcoses, as Imelda has insisted — would not only be a financial and political loss to the government.

A compromise agreement would mean the Marcoses win on two counts: they would go scot-free and they would retain a big chunk of the wealth that must be returned to the people, from whom it was stolen.

Most painfully, a compromise settlement would be a brazen insult to the Filipino people who struggled hard and sacrificed thousands of lives — mostly in the underground struggle — against the Marcos dictatorship until its overthrow in February 1986.

The fact is that, throughout a succession of presidents who either encouraged or tolerated it, the PCGG has attempted to forge compromise agreements with the Marcoses:

• On Dec. 28, 1993 the PCGG proposed to split some $400 million in ill-gotten wealth, 75-25%, in favor of the government. The Supreme Court declared the agreement invalid on Dec. 9, 1998.

• On Sept. 13, 1995 the PCGG, along with the American lawyer Robert Swift who represented the plaintiffs in the class-action suit already won against Marcos in a US district court, entered into an agreement for a $100-million settlement in exchange for dropping the suit. President Ramos was deterred from approving it because the plaintiffs belonging to Selda condemned the agreement as illegal and immoral.

• On February 25, 1999 President Estrada's administration tried to forge another 75-25 sharing agreement among the government, Imelda and Swift. The agreement was aborted because of strong popular opposition to it, along with Estrada's proposal to bury Marcos at the Libingan ng mga Bayani.

• Under the Arroyo government, the PCGG again attempted but failed, due to public opposition, to enter into a compromise agreement with Imelda.

To my mind, the root cause of the problem has been the failure of every administration — from Cory's to her son, P-Noy's — to assert the political will to go hammer-and-tongs after the Marcoses.

Ironically it was Cory, towards the end of her six-year term, who first allowed the dictator's heirs and cronies to return to the Philippines in 1991. Ramos, who succeeded her, sustained that initiative.

Cory allowed the Marcoses to come back purportedly as a gesture towards national reconciliation. But hadn't she declared that national reconciliation must be based on justice? Until lately, P-Noy was still repeating the same line — without any clear positive action — that justice must be attained for those who suffered under the Marcos dictatorship.

Bongbong, in a recent interview by American journalist Jackie Dent, gleefully narrates that when he arrived at the NAIA he felt so welcomed that he called Imelda by phone and told her:

"Mom, it's time to come home. We will walk the streets. Nobody is going to hurt us." And sure enough, he added, "when she came home, people were out in the streets cheering her."

Imelda ran unsuccessfully for president against Ramos and others in 1992. After that she ran and won a congressional seat for Leyte, her home province (today she claims Ilocos Norte as her province). Her children followed suit thereafter and won. With unalloyed hubris, Bongbong gloats:

"If people believed that the family deserved to be punished and jailed, various members of the clan would not keep getting voted back into office."

How sad that, for lack of political will at the very top, the avowed quest for justice has turned this way.



Report this post as:


by Satur C. Ocampo Friday, Mar. 08, 2013 at 3:20 AM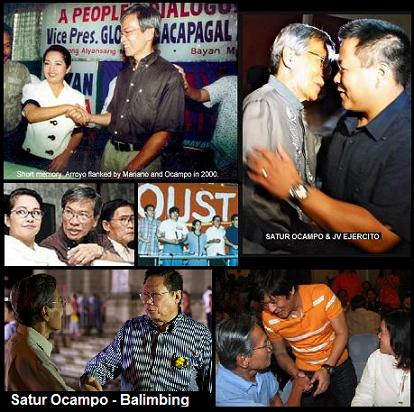 2-bayan-muna-balimbing-satur-ocampo-trapo.jpg, image/jpeg, 414x412

Report this post as:


by Satur C. Ocampo Friday, Mar. 08, 2013 at 3:20 AM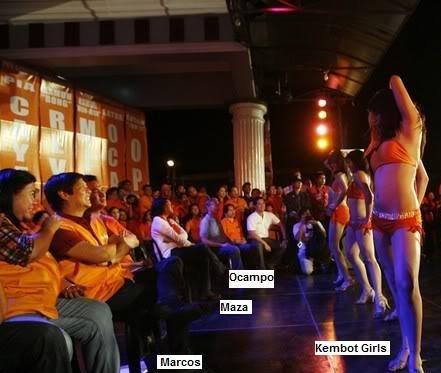 3-satur-ocampo-bayan-muna_marcos-liza-maza-gabriela-womens-party.jpg, image/jpeg, 441x373

Report this post as:


by Satur C. Ocampo Friday, Mar. 08, 2013 at 3:20 AM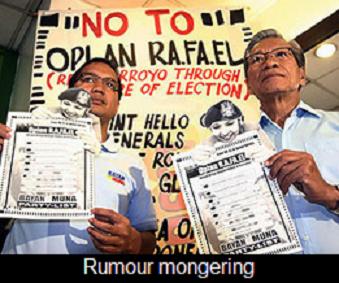 4-bayan-muna-teddy-casino-satur-ocampo-rumour-mongering.jpg, image/jpeg, 339x283

Report this post as:


by Satur C. Ocampo Friday, Mar. 08, 2013 at 3:20 AM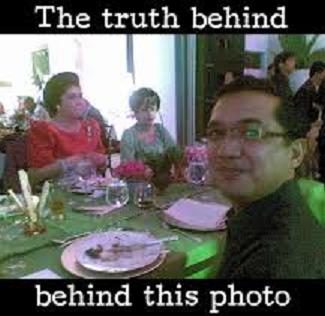 5-bayan-muna-teddy-casino-imelda-marcos.jpg, image/jpeg, 325x316
Report this post as:
Local News

RAC-LA Community Center Badly Needs Your Support A14 10:09PM

Meet Green elected school board members, Sunday, March 29 in LA - 4pm M26 2:36AM

Californians Shame Regulators For Teaching Big Oil How To Skirt Law and Pollute Our Water M25 5:28PM

Next "Star Wars" to score in Los Angeles for First Time in Franchise History M25 10:43AM

Los Angeles Stands Up for Women's Rights M10 9:25PM

American Flag Banned from UC Irvine M06 10:38PM

Conversations with 3 HOLES AND A SMOKING GUN M06 5:27PM

Indymedia and the Cyber Left M01 4:03PM

FEDS ALLOW LAWSUIT TO SHUT DOWN DIABLO CANYON TO PROCEED F27 8:18PM

Open Letter to LA indymedia re hardly any more comments F27 12:07PM

Time Warner Now Charging Customers For Over-The-Air Television F14 12:16PM

Sketchy Crusader Against Poor Brandishes Dildo at Council F13 7:23PM
More Local News...
Other/Breaking News

World Bank Announces Package of Aid and Loans to Ebola-Affected Countries A17 7:13AM

Paraphysique de l'anarchisme A16 11:02PM

Overdue farewell to dogma A16 7:07PM

The Shortwave Report 04/17/15 Listen Globally! A16 5:04PM

The Sleazy Corporate Thieves of Public Storage: Ronald L. Havner Jr. , B. Wayne Hughes.... A16 2:02PM

Socialist Animalism A16 9:50AM

Federal agents being accused of gross misconduct & assassinations A15 11:31PM

4 Men Murdered 1983 San Pedro, Stat of WW III, Memory Returned 2014, Psych Ops, Video Link A15 8:50PM

BDS Drops Its Veil: Campus Anti-Semitism A15 7:08PM

IMF Reports Debt and Human Crises Drive Uneven Growth A15 7:25AM

Le capital où l'épouvante permanente A14 9:35AM

Pavlovian dogs are today's fbi human torture victims A13 3:28PM

Death in Days: Beware of This Bacteria: Lethal Anthrax Vaccine's Victims A13 9:31AM

research material on meth use A13 5:55AM

Fast Track, TPP and TTIP Should Be Scrapped! A13 4:15AM

A guide to California's water crisis-and why it's so hard to fix A11 6:45PM

Independent Media Guide A11 4:52PM

San Diego State University defeats BDS A11 8:52AM

Paraphysique du prétendu instinct maternel A11 3:23AM

March 2015 Honduras coup update - during high school students strikes: 4 students assassin A10 9:27PM

CLASS ACTION LAW SUIT FILED AGAINST RONALD L. HAVNER JR. 's COMPANY, "PUBLIC STORAGE" A10 1:23PM

Grenada Reaches Debt Deal as Caribbean Mired in Debt Problems A10 9:27AM

The Pacifica Radio Network and "local control" A09 11:15PM

The Shortwave Report 04/10/15 Listen Globally! A09 4:24PM

The Illegal & Predatory Business Practices of Ronald L. Havner Jr's company Public Storage A09 2:36PM

A Summary Of Crimes By The fbi A09 9:33AM

UN Accuses Saudi Arabia of Killing Yemeni Civilians A09 2:07AM

Iran: The Leading Proponent for a Nuclear Weapons-Free World A09 1:48AM
More Breaking News...