Tell the NSA:
StopWatching.US
Features
•
latest news
•
best of news
•
syndication
•
commentary

Feature Categories



KILLRADIO

printable version - json version - email this article - view hidden posts - tags and related articles
by Lucine Kasbarian Thursday, Feb. 21, 2013 at 9:18 PM

The Campaign to Save Mren: An Interview with Dr. Christina Maranci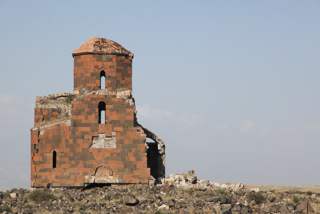 img_1125.jpeg, image/jpeg, 320x214

Dr. Christina Maranci, Arthur H. Dadian and Ara T. Oztemel Associate Professor of Armenian Art and Architecture at Tufts University in Medford, Mass., has issued a call to save the 7th century Mren Cathedral of Western Armenia, located in the Kars region of present-day Turkey. Prof. Maranci's areas of expertise include Byzantine art and architecture, and the art and architecture of the Transcaucasus—principally Armenia. She is considered one of the world's authorities on the Mren Cathedral.

According to Dr. Maranci, "the cathedral of Mren is now in danger of collapse. Constructed circa 638 AD, Mren is a masterpiece of world art and a product of the 'Golden Age' of Armenian architecture. Bearing an inscription naming the Roman emperor Heraclius, and a unique sculpted relief image of Heraclius returning Christendom's greatest relic-the True Cross—to Jerusalem, Mren preserves precious material evidence for one of the most dramatic and yet poorly documented moments in history.

It is also the largest domed basilica surviving from the region, and a key example of the architectural achievements of the seventh century."


Dr. Maranci stresses that Mren may not be standing much longer. "Photographs from the 1990s to the first decade of the 21st century show the progressive collapse of the south façade. Now the entire south aisle lies in rubble on the ground, severely compromising the domed superstructure of the monument and opening the interior and its wall paintings to the elements," she says. "The prospect of stabilizing what is left is at present doubtful, however, because of Mren's position within a military zone in Eastern Turkey (Kars province) next to the closed Armenian-Turkish border. Visiting the site is forbidden."


Dr. Maranci is campaigning to raise awareness about Mren's precarious condition. "Mren has stood for over a millennium, bearing world history on its walls," she says. Its collapse would represent a tragic loss to human knowledge."

Following is an interview with Dr. Maranci.

Lucine Kasbarian: For years, scholars and travelers have been unable to obtain official permission to visit this site. When was the last time that architectural experts had access to Mren?

Christina Maranci: The last time anyone was able to do substantial scientific work there was in the 1960s when Nicole and Jean-Michel Thierry visited multiple times. I have never been there although I have tried to get permission.

LK: Observers say that Mren Cathedral seems to rival in size the Great Cathedral of Ani, and contains bas-reliefs and remnants of frescos not unlike those at the Cathedral of the Holy Cross in Aghtamar. Is forbidden access the reason why Mren is not as well known as these other two monuments?

CM: Mren and Ani are comparable in size, and Mren probably served as a local model for Ani Cathedral in its domed basilica layout and form, although Ani exhibits typical features of the 10-11th century Armenian architectural tradition. Mren has sculpted bas-reliefs on its portals and over some windows, and preserves fragments of wall painting in the eastern end. However, it bears nothing like the program of figural reliefs at Aght'amar—something that makes this church anomalous even in the Armenian tradition. Aght'amar's wall painting is also better preserved. But the inaccessibility of Mren surely shaped its scholarly reception and public awareness about it. Toros Toramanyan, known as the father of Armenian architectural historiography, tells us that he
himself was only able to visit it for one day.

LK: The website VirtualAni.org describes Mren as being one of four structures similar in design and which were likely built around the same time, the other three being the St. Gayane Church—built between 630 and 641 AD at Etchmiadzin; the church of St. John at Bagavan—built between 632 - 639 AD and north of the Lake Van region but now destroyed; and the Odzun Basilica—probably built in the first half of the 7th century AD in the Odzun region of Armenia. How does Mren compare in historical importance to these other structures?

CM: Gayane is obviously important for its connections to the conversion to Christianity tradition and because of its connections to the Patriarch Ezr, who is thought to have built it. If the church of Bagavan were standing today, it would have been, by far, the largest domed basilica in the region. Odzun is difficult to discuss, because it has been renovated so many times. While it dates to the early medieval period, it is generally thought to have a 9th century phase and perhaps even later ones. Mren is the only one of these monuments that is linked to the broader global world via its epigraphy and sculpture. It speaks directly to the network of relationships between empire, frontier, and local Armenian nobility. There is much more to say but this is a start, one hopes.

LK: Even as Mren is on the brink of collapse, would you say that it is one of the more intact monuments still standing in the Kars/Ani region?

CM: Well, it is hard to say. So many are in danger, so many have collapsed, and so many have been lost to historical record. But it is remarkable in many ways that a 7th century monument, so isolated and in such a seismic area, has survived as well as it has-so far.

LK: How can readers of this interview help bring attention to Mren Cathedral so that scholars and restorers might conduct important inspection and preservation work and so that Mren may become a protected site?

CM: I am in the midst of contacting UNESCO and, of course, nominating the monument to the World Monuments Fund. I will also be organizing a global petition in the very near future. In the meantime, readers who would like to get involved in the campaign to save Mren Cathedral may signal their interest by contacting me at: christinaDOTmaranciATtuftsDOTedu

Photographs courtesy of Gagik Arzumanyan.

Report this post as:


by Lucine Kasbarian Thursday, Feb. 21, 2013 at 9:18 PM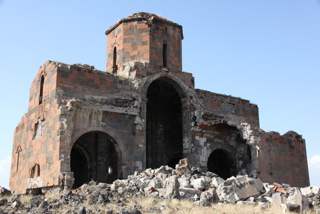 img_1142.jpeg, image/jpeg, 320x214
Photographs courtesy of Gagik Arzumanyan.
Report this post as:
Local News

Happy 90th Birthday Bob Barker from Animal Defenders International D12 3:18PM

Anarcho-Cafe and Fundraiser, Dec 14th, 5pm, @ 3 Worlds Cafe D08 10:33PM

Winter 2013 National Immigrant Solidarity Network Monthly News Alert! D03 10:17PM

Labor Laws Learned by Studying OUR Walmart #2 D03 4:25AM

Labor Laws Learned by Studying OUR Walmart #1 D01 11:19PM

Local Black Friday Protests at Walmart D01 4:18PM

TPP Protesters Greet President Obama in Beverly Hills — in Pictures N29 8:17PM

Trans Pacific Partnership Tutorial N28 2:25PM

Elevated Rates of Thyroid Disease in California Newborn Linked to Fukushima Fallout N22 10:06PM

"Valentino's Ghost" screening in Orange Country today, Nov 15th, 8pm. N15 11:20AM

My Occupy LA Arrest, by Patrick Meighan O27 10:45PM

LAPD's Secret Reporting Getting Public Airing O27 10:37PM

Retired LAPD Officers Confirm Racism inside LAPD O27 10:17PM

Ballona Wetlands Again in Jeopardy O20 8:12PM

All Nighter in Eagle Rock, Los Angeles California O19 11:42AM

Hamid Kahn: Discusses the LAPD SPYING SCANDAL and the LA Council's next move O17 10:05PM

Palos Verdes Teen Podcasters Awarded by Transom (Atlantic Public Media) O16 10:51AM

Save the World Stage O16 2:28AM

Alberto Pathistan Political prisioner O15 3:15PM
More Local News...
Other/Breaking News

Russian Ukrainian Aid v. US/EU Neoliberal Harshness D18 12:04PM

Injuries To Bulls, Horses, Matadors and Spectators in Bullfighting D18 10:54AM

Paraphysique de la cybernétique D18 6:06AM

Federal Judge Rules Against Mass Surveillance D17 11:49PM

US Scholars Endorse Boycotting Israel D17 11:46PM

Hillary's Habitat Designer$ Environmental News .. D17 7:55PM

Predatory Hedge Funds and Argentina Face Supreme Court Showdown in Landmark Global Poverty D17 9:04AM

The Soup Kitchen State Grows D17 5:51AM

Washington's Dirty Game in Ukraine D16 11:47PM

Gaza's Humanitarian Crisis Deepens D16 11:42PM

HOT SPOTS: RADIOACTIVE SAN FRANCISCO D16 9:57PM

UN's Syria "Aid" Appeal is Bid to Relieve Trapped Terrorists D16 12:39PM

US supported Death Squads Massacre Syrian Civilians D16 11:53AM

Making the World Safe for War Profiteers D15 11:50PM

1,000 Days and Counting D15 11:48PM

VIDEO: Neil Postman on "Technopoly," 58 min D15 11:05AM

Obama Violates Geneva Agreement D14 11:45PM

Rigging Foreign Exchange Markets D14 11:43PM

Marilyn Manson video commemorates Abortion survivor and USA Holocaust Victim, slo-mo-tion D14 11:50AM

STO Service du Travail Obligatoire D14 12:56AM

Beltway Bandit Named Senior Obama Adviser D13 11:48PM

Hardball US Geopolitics D13 11:46PM

The Iran Sanctions Game D13 12:15PM

Venezuelan v. US Budget Priorities D12 11:47PM

US Hawks Want War on Iran D12 11:44PM

The Purge in Pyongyang D12 6:53PM

Lawsuit to Protect Our Political Power D12 4:58PM

The Shortwave Report 12/13/13 Listen Globally! D12 4:38PM
More Breaking News...