Features
•
latest news
•
best of news
•
syndication
•
commentary

Feature Categories



KILLRADIO
printable version - js reader version - email this article - view hidden posts - tags and related articles

by Robert D. Skeels Tuesday, Feb. 19, 2013 at 3:07 PM
rdsathene@sbcglobal.net
Bloomberg's $1 Million for the right-wing Coalition for School Reform's corporate slush fund insults District 2 voters. Our community deserves self determination free from outside millionaire interference.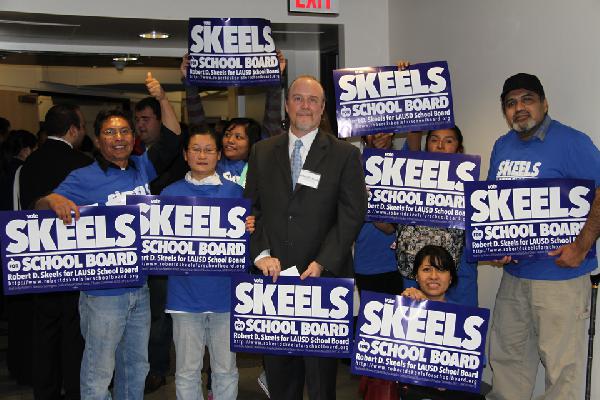 img_5006.jpgfrgt97.jpg, image/jpeg, 960x640
"Alongside this began a sharp rise in the costs of elections, which drove the political parties even deeper into the pockets of the corporate sector." — Professor Noam Chomsky
Readers have probably already seen the news of how the morning after I trounced the incumbent at a local candidate forum, that NYC Mayor Bloomberg increased my opponent's already obscene campaign fund by a whopping $1 Million. We had begun our campaign early, because we knew that the corporate reformers would "up the ante" this election cycle, but I don't think anyone anticipated the right-wing Coalition for School Reform (CSR) would raise over $2.5 Million in support of the corporate candidates for the March 5, 2013 election. This is significantly more than they raised last election cycle.
The intractable Los Angeles Times asked me for a quotation on the latest plutocrat donation to the corporate CSR slush fund. As their custom, they only used an out-of-context sentence fragment from my quote. Professor Diane Ravitch, on the other hand, used my full quote along with an introduction:
Robert Skeels is a pro-public school candidate in Los Angeles. He has raised $15,000. He will not get anything from Eli Broad or Michael Bloomberg.

He comments:

The LA Times asked me for a quote on Bloomberg's $1 Million CSR donation. Here's my response: "As a community candidate who has raised over $15,000 through myriad small contributions from local parents, community members, and classroom teachers, I find it dismaying that a single out-of-state billionaire has a greater voice in our school board election than all the working families of District 2. Where were these millions of dollars when the incumbent callously cut early childhood education, adult education, and K-12 arts last year?"
I'm not expecting to out-fund-raise the billionaire boys club, but every donation counts. If you believe in public education, and have followed my work on schoolsmatter.info and other sites, then you know what I stand for. If you're in Los Angeles, we can use your physical help with precinct walking, phone banking, and letters to the editor. If you aren't in town, consider a donation. We're a few weeks out, and the last minute help can make all the difference.
Award-winning documentary film-maker Chris Hume captured footage and interviews from the Robert D. Skeels for LAUSD School Board campaign's third weekend of precinct walking on January 19, 2013. Filmed on 1st Street in Boyle Heights at Purgatory Pizza just prior to the group going out to talk to voters. Featured in the video are two widely respected educators whose support is greatly appreciated.
Dr. John Fernandez — Teacher, Theodore Roosevelt High School (Ret.) and former Director of the Mexican-American Education Commission for the LAUSD.
Martha Infante — 2009 CCSS Teacher of the Year, National Board Certified Teacher, Past-President Southern CA Social Science Association, proud public middle school teacher.
Here is the text of our latest campaign flyer:
Trusted by Community, Rooted in Community
Robert D. Skeels' longstanding as a principled community activist has won him broad support with families, community leaders, and grassroots organizations. LA Schools Report recently wrote about him: "just one School Board candidate [is] running a truly grassroots campaign built on dozens of volunteers and more than a hundred small contributions of as little as $5 — and little else by way of outside support." Robert's record of defending schools like Garfield HS from outside takeover, siding with public school parents against colocations, advocating for the rights of special needs students, and standing up against the incumbent's cuts to early childhood education, elementary arts, and adult education has demonstrated that he will aways fight for the community and stand up against corporate interests.
Trusted by Education Experts, Rooted in What Works
Because of his extensive education policy knowledge and deep understanding of local issues, Robert D. Skeels is the only District 2 candidate endorsed by both United Teachers Los Angeles (UTLA) and Associated Administrators of Los Angeles (AALA). Robert is also endorsed the former U.S. Assistant Secretary of Education, Dr. Diane Ravitch, and many other national and local education experts including: Professor Stephen Krashen, Professor Paul L. Thomas, Professor James Horn, Dr. Rosemary L. Lee, Dr. John Thompson, Dr. John Fernandez, Susan Ohanian, and Cheryl Ortega. A regular contributor to education websites like the nationally recognized schoolsmatter.info, Robert is an advocate of what works in education, not expensive fads or wasteful experiments. He supports proven, research based methods of pedagogy, including dual language immersion programs, project based learning, free voluntary reading with ample access to libraries, and critical studies.
Supporting Programs that Serve Our Community
The current LAUSD leadership has a long history of squandering our community's money as evidenced by massive spending on useless assessments, expensive consultants, highly discredited value added methodologies, and nine figure real estate giveaways to lucrative charter corporations. Instead of looking to cut the former expenses, LAUSD leaders have targeted programs that our communities depend upon most — Early Education, Student Readiness and Language Development Program (SRLDP), Elementary Arts, and Adult Education. The Superintendent and LAUSD Board of Education President have continually balanced the budget on the backs of the working people. Robert D. Skeels has been on the forefront of every struggle to fight budget cuts and to save programs critical to our community.
---
Public education activist, researcher, and writer Robert D. Skeels has lived, worked, and organized in District 2 for over 18 years. He and his wife, Yoon Jung Lee, make their home in Historic Filipinotown. Robert is a U.S. Navy Veteran. He attended Glendale Community College and the University of California at Los Angeles (UCLA). Robert taught Catechism at St. Teresa of Avila Church for 12 years. For the past 15 years he has volunteered ten hours a week teaching life and literacy skills at the Mary Lind Foundation. Robert is a committed member of a number of grassroots education and immigrant rights organizations including Coalition for Educational Justice, Public Education and Social Justice Advocacy, The Trinational Coalition To Defend Public Education, The Southern California Immigration Coalition, and Veterans for Peace. Robert's articles and essays have appeared in publications including: Schools Matter, CounterPunch, Dissident Voice, Daily Censored, Echo Park Patch, and The Los Angeles Daily News.

Robert's campaign website is www.robertdskeelsforschoolboard.org

Report this post as:


by Robert D. Skeels Tuesday, Feb. 19, 2013 at 3:08 PM
rdsathene@sbcglobal.net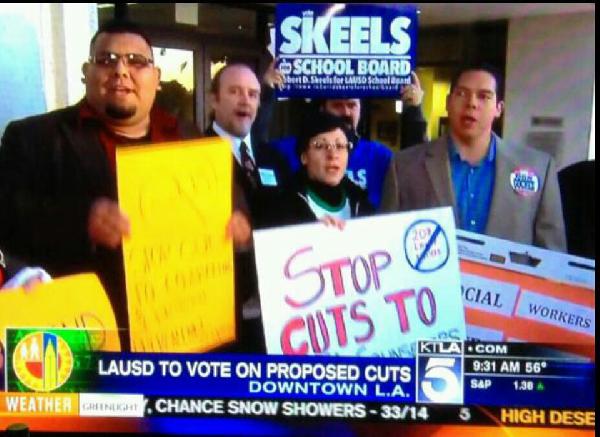 427180_413404628749188_1592864641_n.jpgovbx0w.jpg, image/jpeg, 960x700

Defending PSA Health and Human Services workers for our students!

Report this post as:


by Robert D. Skeels Tuesday, Feb. 19, 2013 at 3:08 PM
rdsathene@sbcglobal.net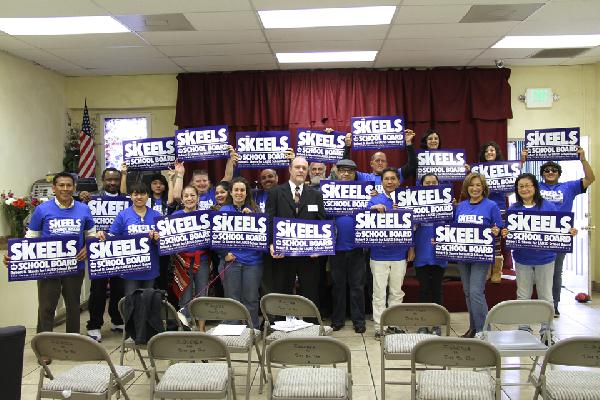 img_4959.jpgbrtdtd.jpg, image/jpeg, 960x640

Lincoln Heights

Report this post as:


by Robert D. Skeels Tuesday, Feb. 19, 2013 at 3:08 PM
rdsathene@sbcglobal.net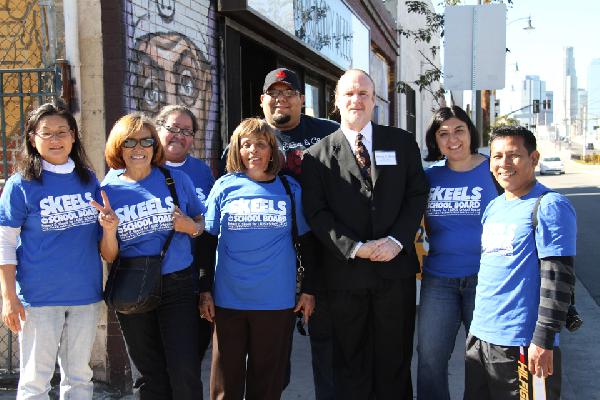 img_5101.jpg09x62r.jpg, image/jpeg, 960x640

Boyle Heights

Report this post as:


by Robert D. Skeels Tuesday, Feb. 19, 2013 at 3:08 PM
rdsathene@sbcglobal.net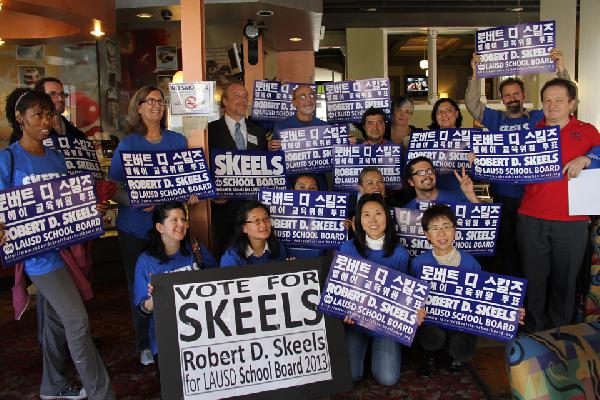 img_5247.jpgq2l1eb.jpg, image/jpeg, 960x640

Koreatown

Report this post as:


by Robert D. Skeels Tuesday, Feb. 19, 2013 at 3:08 PM
rdsathene@sbcglobal.net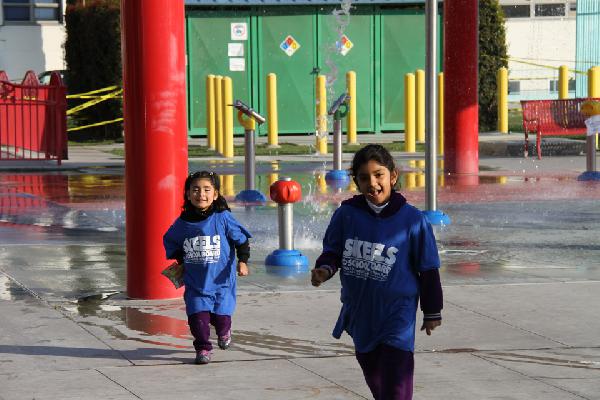 img_5378.jpgig7hz2.jpg, image/jpeg, 960x640

East Los Angeles

Report this post as:


by Robert D. Skeels Tuesday, Feb. 19, 2013 at 3:08 PM
rdsathene@sbcglobal.net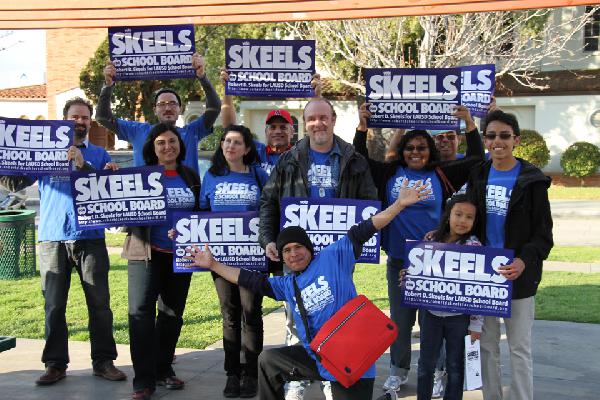 img_5390.jpg, image/jpeg, 960x640

Atlantic Park

Report this post as:


by Robert D. Skeels Tuesday, Feb. 19, 2013 at 3:08 PM
rdsathene@sbcglobal.net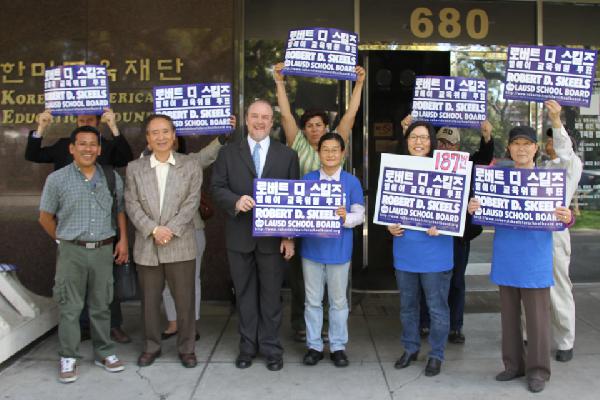 img_5422.jpg, image/jpeg, 960x640
Korean American Education Foundation
Report this post as:
Local News

SAG-AFTRA video game performers on strike O22 11:04PM

Stop Circus Animal Suffering – Protestors Urge Audiences to Shun the Wild Animal Circus O20 3:04PM

KPFK LSB statement on DAPL arrests O19 10:25AM

Transit Dependent Residents Need a Guaranteed Right to Stay O15 11:36PM

My letter to JJJ on JJJ O11 12:33PM

Prop 60, Condom Law O10 12:43PM

KPFK-Pacifica Radio Archives being sold off on ebay? O10 10:31AM

KPFK struggles without re-solutions O07 2:25PM

Problems with Measure M O05 5:24PM

Stop Circus Animal Suffering – Protestors Urge Audiences to Shun the Wild Animal Circus S07 5:57PM

Nuclear Shudown News Aufust 2016 A30 3:46PM

WIKIpedia is not what we readers Thought nor is it even current about Pacifica or KPFK A24 3:10PM

"KPFK has a $500,000 deficit " !! Can this be true? A19 6:10AM

Nuclear Shutdown News July 2016 A01 1:36PM

A 99-page report "Election fraud" from Election Justice USA A01 4:14AM

INDY's KPFK radio program being eliminated ? too ? J10 4:57PM

Bertolt Brecht Testifies Before the House Un-American Activities Committee (1947) 2 min J02 3:04PM

Pacifica-KPFK Archives, director resignation J18 4:50PM

SAVE KPFK & PACIFICA: VOTE IN THIS CRUCIAL ELECTION! J18 3:39PM

KPFK radio elections for LSB coming Quick ! J18 1:05PM

KPFK Local Station Board Elections In-Progress J13 11:31AM

Black Lives Matter Activist Jasmine Abdullah Sentenced Three Months in Jail on Attempted Lynching Charge J09 2:08AM

Why are the Park Rangers making it even more difficult for the homeless in Los Angeles? J04 3:11PM

Bernie Sanders in Lincoln Heights M23 8:23PM

Los Angeles Sit-In to Fight Voter Suppression M18 4:28AM

War Within California's 46th CD M13 11:42AM

NPR's David Greene & Alison Aubrey along with David Ludwig Shill For Factory Farm Eggs M13 7:55AM

2016 AT&T Shareholders engaged by Communications Workers of America D9 Activists M12 11:43PM
More Local News...
Other/Breaking News

MLB 9 Innings 16 Hack O24 12:17PM

Video: Noam Chomsky: The Alien Perspective on Humanity, 51 min O24 7:43AM

renewed US pressure on Australia to line up against China O24 12:30AM

Art About Privilege Censored on Facebook O23 3:16AM

Paraphysique de la folie O23 2:21AM

Vote if you want to serve on a jury. O22 2:37PM

Washington moves to silence WikiLeaks O22 2:12AM

The class struggle of th Libertarian presidential candidate Gary Johnson O22 2:09AM

What is behind the anti-Russia campaign in the US? O22 1:51AM

The Supposed "Omnipotence" of Politicians O21 10:52AM

USA, A NATION UNDER SEIGE O21 10:02AM

Philippines: Duterte's first 100 days O21 4:01AM

Fbi/police community is a threat to our people O20 11:24PM

The Shortwave Report 10/21/16 Listen Globally! O20 5:01PM

Film/TV Composer Megan Cavallari to Receive the FAHF Humanitarian Award O20 2:18PM

NYC Councilwoman sponsors ground-breaking bill prohibiting wild and exotic animal displays O19 10:22AM

Paraphysique de l'aidance O19 2:57AM

Hallmarks of f b i O18 9:43PM

Sylvia Opens October 21 at Odyssey Theatre; Tanna Frederick Stars O18 11:13AM

WELCHOME MATEO BARAK O18 8:40AM

What the Narcissists Have Done to Our Jobs and Health O18 4:48AM

Fbi as human monster O18 1:16AM

Fbi as human monster O17 11:50PM

Barbouzerie collusive O16 4:37AM

Pyongyang Retaliates for Killing of South Korean O15 8:38PM

Trump, Crooked Hillery (CH) and fbi/cia mass murderers & assassins O15 4:50PM

Ethics and the Profit System: Global Change of Values Necessary O15 1:14PM

DICHIARAZIONE DI GUERRA ALLO STATO MAFIA CAPITALECHIGI O15 6:55AM
More Breaking News...