Tell the NSA:
StopWatching.US
Features
•
latest news
•
best of news
•
syndication
•
commentary

Feature Categories



KILLRADIO
printable version - json version - email this article - view hidden posts - tags and related articles
by Arhi Uexurini via The Rebel Press Sunday, Jan. 20, 2013 at 10:44 AM

Identity of Rogue Police Officer At A Santa Ana Youth Conference Revealed. The man who was seen behaving in a strange manner and recording audio at a CopWatch Santa Ana (CWSA) "Know Your Rights" workshop at a youth conference, turned out to be a SAUSD PD Sargent.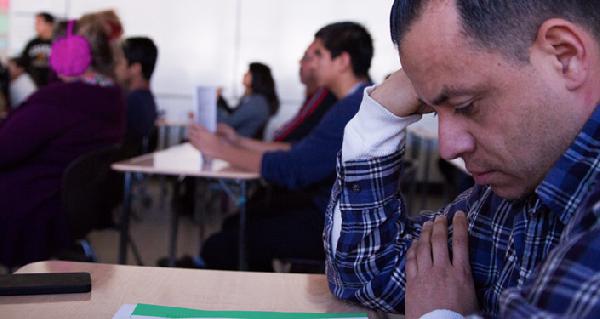 01162013_sa_school_police.jpg, image/jpeg, 705x375
The man who was seen behaving in a strange manner and recording audio at a CopWatch Santa Ana (CWSA) "Know Your Rights" workshop at a youth conference, turned out to be a SAUSD PD Sargent.

According to some CWSA members who were present at the workshop at Valley High School in Santa Ana, last Saturday, the man "seemed nervous; he wouldn't look up and his eyes were fixed on his cellphone". The workshop included a testimonial of a 13-year-old girl who appears sitting on the curb after being detained by a school police officer, on a video that went viral a few days ago.

The young female talked about her experience with police officers that have been harassing and verbally abusing her, ever since she entered MC Fadden Intermediate School last year.

As the presenters were finishing the workshop, the man quickly exited the room through a back door. A CWSA ally followed him outside where the man noticed him and started to walk to the cafeteria and "looked back to watch his back at least twice" according to the unidentified supporter. Later on, the rest of the CWSA group tried to look for him, but he was nowhere to be found.

The way in which the identity of the "mysterious" man was going to be revealed couldn't have been more unexpected.

Tuesday evening, members of CopWatch Santa Ana and The Rebel Press accompanied the girl and her father and brother, who requested they be anonymous, to a SAUSD PTA meeting, where they would bring up the issue and talk to a Sargent who was scheduled to give a presentation to the parents.

About half an hour into the meeting, Sargent Manuel Chavez showed up and turned out to be none other than the sneaky man at the workshop.

He was immediately recognized by the girl's family, CWSA and TRP members.

Sgt. Chavez began his presentation by talking about the recent school shooting in Connecticut and how to prevent this type of occurrences.

The officer asked the crowd if anyone had any questions. The young girl's father, asked Sgt. Chavez what could be done about officers who abuse their authority and mistreat students. Sgt. Chavez gave a brief answer. "There's a process. You have the right to contact the officer's supervisor and file a formal complaint."

Not satisfied with the answer, the brother said he didn't feel like complaints did much and then asked what else could be done, to which the Sargent replied, "There's a process. Because of the officer's position, he has certain rights that protect him against an investigation, nevertheless; the investigation is still conducted. Our department is transparent. When we do an investigation we try to find the truth. It's a transparent investigation." He stated.

The girl's father then mentioned the undercover officer who attended the workshop his daughter had participated in. Visibly nervous Sgt. Chavez said he had to wrap it up because he had, conveniently, received a call to attend a "board meeting". He passed his business cards around and left without first reassuring his office was open to "assist and help" anyone who needed it.

At the end of the meeting members of CWSA and The Rebel Press looked for Sgt. Chavez at the board meeting he said he was attending and were told that he had left.

Through a confidential source we found out Sgt. Chavez doesn't live in Santa Ana and doesn't have any kids who attend any of the schools in the Santa Ana Unified School District.

According to information released by the SAUSD in 2010, then police officer Manuel Chavez, "with over 10 years of experience including various field operations assignments, gang suppression and vice enforcement, was promoted to the rank of sergeant." Among his duties are listed supervising the school resource officers and the investigations division.

His business card also describes him as an "Administrative Sergeant and Adjutant to Chief of Police."

therebelpress.com/articles/show?id=32
Report this post as:
Local News

Water in California - info proliferated now is dubious J28 5:04PM

Pacifica clearly endangered. Reposting info here: J28 2:34PM

Video: Occupy Love (2013), 1 hr 19 min J28 4:43AM

Who declares themselves to be the ultimate-only-valid-authority here on current wars elsew J27 11:11AM

MDRC's Rent Reform Assault: Section 8 tenants vs. affordable housing industry J24 12:24AM

Obama at LA Trade Tech J23 3:23PM

Los Angeles Joins World Wide Protest Against Israeli Aggression J22 6:33PM

Los Angeles Joins World Wide Protest Against Israeli Aggression J22 5:48PM

Los Angeles Joins World Wide Protest Against Israeli Aggression J22 5:28PM

Protest Israeli Shelling of Gaza J21 1:58AM

#SaveTheInternet Rally J20 11:24AM

PACIFICA is shify-ing more J18 8:55PM

Radical Women Study Group J16 4:43PM

KIDS REPLANT WILSHIRE FRUIT TREES UPROOTED BY VANDALS J16 2:34PM

Emails Needed by Thursday, July 17 to Save the South Central Farm (Again) J15 4:40PM

Is AFT Pres Weingarten On The Take? J12 7:45AM

LA Living in Vehicle Law Found UnConstitutional J11 12:22PM

KPFK News covers the Che Cafe struggle J10 9:33PM

Public Comment on South Central Farm Site J07 10:44PM

Successful Protest at new Burbank Hobby Lobby on 4th J06 5:17PM

Protesters Violently Arrested in Murietta J05 12:44AM

Gallery Opening Highlights Journalist's Creativity, Insights, and Passions J03 11:52AM

Indymedia On Air - Che Cafe show J02 10:27AM

Save the Che: Letter from Zack de la Rocha J29 8:47PM

Political Thriller Citizen Koch Premieres in Los Angeles J28 2:35AM

Veteran and Families of Military hold Press Conference J18 7:36AM

Furious Homeowners Occupy Lobby of Fannie Mae in Pasadena J16 4:15AM

Change Links Revival J12 12:09PM
More Local News...
Other/Breaking News

Christian Zionism: The Heresy that Undermines Middle East Peace J29 7:53AM

Memorandum 2014 J29 4:01AM

Paraphysique de la violence J28 9:49AM

Philippine President told: Re-energize the campaign for reforms J28 3:23AM

Panthers in the Hole: French Angola 3 Book Illustrates US Prison Crisis J27 12:13PM

¡Abajo las nuevas exacciones criminales de Israel! J27 11:41AM

looks ok to me... J27 10:32AM

Down with the latest criminal abuses by the Israeli State! J27 10:21AM

THE BOOK OF JOSHUA | ZIONAZIS J26 9:52PM

Video: Left Forum on Thomas Paine 1 hr, 23 min J26 4:21PM

Surpopulation et paupérisation J26 9:13AM

AVAAZ_GAZA_war crimes J26 8:07AM

Israeli-Palestinian Science Organization (IPSO) Struggles for Peace J26 8:02AM

Snake Valley Festival in Baker NV fights SNWA 'Water Grab' J26 6:59AM

Nuclear Bomb LA 1983, Revelations tortured Witness Recovers from 14 year coma J25 7:52PM

The Shortwave Report 07/25/14 Listen Globally! J24 5:00PM

Come for the education, Stay for the fun at the OC Health & Wellness Fair J23 10:59PM

Philippine president signs law requiring tobacco companies to put graphic health warnings J23 3:55AM

Rockets found in Gaza school J22 10:57PM

Statement on the Gaza Genocide J22 8:32PM

Capitalism and War: Pope Francis J22 4:18AM

Geekouts Link's for June and July 2014 J22 1:14AM

ADI holds Week of Action Against Circus Suffering J21 11:41AM

phantom protests J21 7:35AM

Précis de la tyrannie ou les 64 bourgeoisies J21 3:32AM

The Abiding Economics of John Kenneth Galbraith J19 3:19PM

The Word J18 1:12PM

Burn Cut Poison: Toxic Trillion Dollar Cancer Industrial Complex Of Radiation, Surgery, Ch J18 10:17AM
More Breaking News...