Tell the NSA:
StopWatching.US
Features
•
latest news
•
best of news
•
syndication
•
commentary

Feature Categories



KILLRADIO
printable version - js reader version - email this article - view hidden posts - tags and related articles
by Arhi Uexurini via The Rebel Press Sunday, Jan. 20, 2013 at 10:44 AM

Identity of Rogue Police Officer At A Santa Ana Youth Conference Revealed. The man who was seen behaving in a strange manner and recording audio at a CopWatch Santa Ana (CWSA) "Know Your Rights" workshop at a youth conference, turned out to be a SAUSD PD Sargent.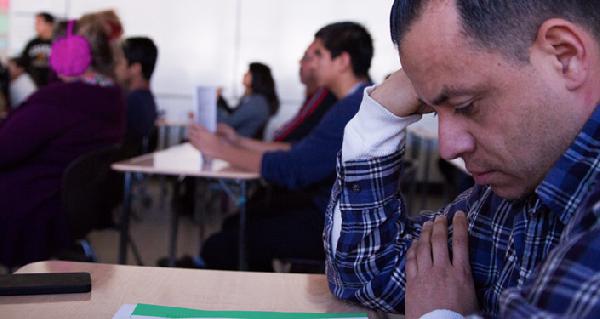 01162013_sa_school_police.jpg, image/jpeg, 705x375
The man who was seen behaving in a strange manner and recording audio at a CopWatch Santa Ana (CWSA) "Know Your Rights" workshop at a youth conference, turned out to be a SAUSD PD Sargent.

According to some CWSA members who were present at the workshop at Valley High School in Santa Ana, last Saturday, the man "seemed nervous; he wouldn't look up and his eyes were fixed on his cellphone". The workshop included a testimonial of a 13-year-old girl who appears sitting on the curb after being detained by a school police officer, on a video that went viral a few days ago.

The young female talked about her experience with police officers that have been harassing and verbally abusing her, ever since she entered MC Fadden Intermediate School last year.

As the presenters were finishing the workshop, the man quickly exited the room through a back door. A CWSA ally followed him outside where the man noticed him and started to walk to the cafeteria and "looked back to watch his back at least twice" according to the unidentified supporter. Later on, the rest of the CWSA group tried to look for him, but he was nowhere to be found.

The way in which the identity of the "mysterious" man was going to be revealed couldn't have been more unexpected.

Tuesday evening, members of CopWatch Santa Ana and The Rebel Press accompanied the girl and her father and brother, who requested they be anonymous, to a SAUSD PTA meeting, where they would bring up the issue and talk to a Sargent who was scheduled to give a presentation to the parents.

About half an hour into the meeting, Sargent Manuel Chavez showed up and turned out to be none other than the sneaky man at the workshop.

He was immediately recognized by the girl's family, CWSA and TRP members.

Sgt. Chavez began his presentation by talking about the recent school shooting in Connecticut and how to prevent this type of occurrences.

The officer asked the crowd if anyone had any questions. The young girl's father, asked Sgt. Chavez what could be done about officers who abuse their authority and mistreat students. Sgt. Chavez gave a brief answer. "There's a process. You have the right to contact the officer's supervisor and file a formal complaint."

Not satisfied with the answer, the brother said he didn't feel like complaints did much and then asked what else could be done, to which the Sargent replied, "There's a process. Because of the officer's position, he has certain rights that protect him against an investigation, nevertheless; the investigation is still conducted. Our department is transparent. When we do an investigation we try to find the truth. It's a transparent investigation." He stated.

The girl's father then mentioned the undercover officer who attended the workshop his daughter had participated in. Visibly nervous Sgt. Chavez said he had to wrap it up because he had, conveniently, received a call to attend a "board meeting". He passed his business cards around and left without first reassuring his office was open to "assist and help" anyone who needed it.

At the end of the meeting members of CWSA and The Rebel Press looked for Sgt. Chavez at the board meeting he said he was attending and were told that he had left.

Through a confidential source we found out Sgt. Chavez doesn't live in Santa Ana and doesn't have any kids who attend any of the schools in the Santa Ana Unified School District.

According to information released by the SAUSD in 2010, then police officer Manuel Chavez, "with over 10 years of experience including various field operations assignments, gang suppression and vice enforcement, was promoted to the rank of sergeant." Among his duties are listed supervising the school resource officers and the investigations division.

His business card also describes him as an "Administrative Sergeant and Adjutant to Chief of Police."

therebelpress.com/articles/show?id=32
Report this post as:
Local News

Dutchman Opens Limited Engagement at Edgemar Center for the Arts on July 15 J01 9:21AM

KPFK in Pacifica's meeting - more descriptions J29 2:57PM

KPFK hosted PACIFICA's board in LA. Missed it? here's some for ya J29 2:16PM

5 Reasons to Support RAC-LA This Month J20 11:10PM

Viacom CBS' Sumner Redstone Promotes Brutal Treatment Of Pot Smokers J19 1:20PM

Summer 2015 National Immigrant Solidarity Network Monthly News Alert! J15 12:33PM

Housing Board Member is an Evicter! J11 11:37PM

KPFK & PAPCIFICA forum in LA J11 5:45PM

LA Times goes to bat for killer cops in Salinas J10 10:34PM

NUCLEAR SHUTDOWN NEWS MAY 2015 J04 12:48PM

Los Angeles Uranium Film Festival J04 7:18AM

KPFK difficulties continue J01 4:22PM

KPFK buys premiums to re-sell them for donations -so J01 4:00PM

Latest Long Beach Police Execution: Murder of Youth In Mental Distress J01 8:19AM

How can california deal with this water crisis? M31 1:46PM

Four Winds of March Against Monsanto Los Angeles Take The Streets of Hollywood M27 2:49PM

Foreclosure Victims Occupy Senate Stump Speech of Kamala Harris M21 4:58AM

LA Nakba Anniversary protest at the Israel Consulate M19 12:56AM

Long Beach Police Execute Unarmed Teen Hector Morejon on Suspicion Of Trespassing M15 6:08AM

Eagle-Con 2015 at Cal State L.A. M13 4:15PM

Brendon Glenn Dies and Venice S/Weeps M08 7:45PM

JOIN CLASS ACTION LAWSUIT AGAINST RONALD L. HAVNER JR's PREDATORY BUSINESS, PUBLIC STORAGE M08 4:48PM

Councilmember Bonin Calls People of Venice Outraged by Police Murder "Outside Agitators" M08 10:45AM

May Day March, LA 2015 M07 7:33PM
More Local News...
Other/Breaking News

Hillary Clinton Threatens World Peace J05 9:54AM

UN Human Rights Council Denounces Israeli War Crimes J05 5:42AM

Greek Bailouts for Creditors, not Economic Recovery J05 3:41AM

Génétique de l'environnement J05 1:13AM

"Margaret Sommers" Public Storage's Corporate Cunt of the Year J04 5:14PM

GA AS P J04 3:33PM

ACT: Ask Oprah Winfrey to Renounce Leviev's Angolan Blood Diamonds and Israeli Settlements J04 2:39PM

Video: Rise of the Robots, 1 hr J04 1:27PM

White Supremacists tied to human trafficking and a series of unsolved murders J04 1:22PM

Thoughts on Independence Day Weekend J04 12:20PM

US-Orchestrated Coup Attempt in Ecuador J04 10:31AM

Tentative Deal on Iran Sanctions Relief? J04 10:07AM

Hillary Clinton Warns of Nonexistent Iranian Threat to Israel J04 7:25AM

American Torture Story J04 4:27AM

Scare-mongering Greeks to Vote "Yes" on Sunday J04 3:24AM

Outlaws Are Better Company Than The Community of Cops J03 8:11PM

Caution Re Outdoor Grills, Fireworks And Other Holiday Events J03 2:45PM

Human Rights in Venezuela v. America J03 12:32PM

Israel Falsely Claims Hamas Supports ISIS in Sinai J03 10:04AM

Greece: Ground Zero for Global Pillage J03 6:36AM

UN Declares Highest Humanitarian Emergency Level in Yemen J03 3:23AM

Anarchie et anarchisme J02 10:37PM

The Shortwave Report 07/03/15 Listen Globally! J02 4:48PM

politikang sekswual sa pilipinas J02 12:10PM

Sunday's Referendum in Greece J02 11:31AM

Troika Plan for Greece: Endless Pillage and Regime Change J02 10:07AM

More Proof of Israeli Ruthlessness J02 6:28AM

Pentagon Calls Russia, China, Iran and North Korea Threats to Global Peace J02 3:46AM
More Breaking News...