Features
•
latest news
•
best of news
•
syndication
•
commentary

Feature Categories



KILLRADIO
printable version - js reader version - email this article - view hidden posts - tags and related articles

by Arhi Uexurini via The Rebel Press Sunday, Jan. 20, 2013 at 10:44 AM

Identity of Rogue Police Officer At A Santa Ana Youth Conference Revealed. The man who was seen behaving in a strange manner and recording audio at a CopWatch Santa Ana (CWSA) "Know Your Rights" workshop at a youth conference, turned out to be a SAUSD PD Sargent.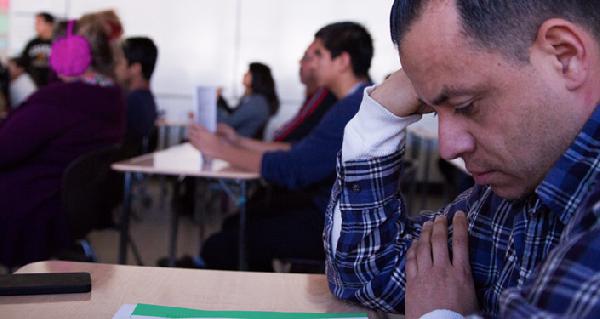 01162013_sa_school_police.jpg, image/jpeg, 705x375
The man who was seen behaving in a strange manner and recording audio at a CopWatch Santa Ana (CWSA) "Know Your Rights" workshop at a youth conference, turned out to be a SAUSD PD Sargent.

According to some CWSA members who were present at the workshop at Valley High School in Santa Ana, last Saturday, the man "seemed nervous; he wouldn't look up and his eyes were fixed on his cellphone". The workshop included a testimonial of a 13-year-old girl who appears sitting on the curb after being detained by a school police officer, on a video that went viral a few days ago.

The young female talked about her experience with police officers that have been harassing and verbally abusing her, ever since she entered MC Fadden Intermediate School last year.

As the presenters were finishing the workshop, the man quickly exited the room through a back door. A CWSA ally followed him outside where the man noticed him and started to walk to the cafeteria and "looked back to watch his back at least twice" according to the unidentified supporter. Later on, the rest of the CWSA group tried to look for him, but he was nowhere to be found.

The way in which the identity of the "mysterious" man was going to be revealed couldn't have been more unexpected.

Tuesday evening, members of CopWatch Santa Ana and The Rebel Press accompanied the girl and her father and brother, who requested they be anonymous, to a SAUSD PTA meeting, where they would bring up the issue and talk to a Sargent who was scheduled to give a presentation to the parents.

About half an hour into the meeting, Sargent Manuel Chavez showed up and turned out to be none other than the sneaky man at the workshop.

He was immediately recognized by the girl's family, CWSA and TRP members.

Sgt. Chavez began his presentation by talking about the recent school shooting in Connecticut and how to prevent this type of occurrences.

The officer asked the crowd if anyone had any questions. The young girl's father, asked Sgt. Chavez what could be done about officers who abuse their authority and mistreat students. Sgt. Chavez gave a brief answer. "There's a process. You have the right to contact the officer's supervisor and file a formal complaint."

Not satisfied with the answer, the brother said he didn't feel like complaints did much and then asked what else could be done, to which the Sargent replied, "There's a process. Because of the officer's position, he has certain rights that protect him against an investigation, nevertheless; the investigation is still conducted. Our department is transparent. When we do an investigation we try to find the truth. It's a transparent investigation." He stated.

The girl's father then mentioned the undercover officer who attended the workshop his daughter had participated in. Visibly nervous Sgt. Chavez said he had to wrap it up because he had, conveniently, received a call to attend a "board meeting". He passed his business cards around and left without first reassuring his office was open to "assist and help" anyone who needed it.

At the end of the meeting members of CWSA and The Rebel Press looked for Sgt. Chavez at the board meeting he said he was attending and were told that he had left.

Through a confidential source we found out Sgt. Chavez doesn't live in Santa Ana and doesn't have any kids who attend any of the schools in the Santa Ana Unified School District.

According to information released by the SAUSD in 2010, then police officer Manuel Chavez, "with over 10 years of experience including various field operations assignments, gang suppression and vice enforcement, was promoted to the rank of sergeant." Among his duties are listed supervising the school resource officers and the investigations division.

His business card also describes him as an "Administrative Sergeant and Adjutant to Chief of Police."

therebelpress.com/articles/show?id=32
Report this post as:
Local News

Jane Fonda Divests From Wells Fargo J03 8:27PM

LA Solidarity Protest Rally For Japanese American Apparel Workers Who Face Loss D16 1:49PM

Architect Chris Mercier Unveils Mural in Rogers Park, Inglewood D16 9:13AM

Peace Vigils D15 8:20PM

Standing Rock Solidarity Action D11 9:59PM

Large Turnout for Dakota Pipeline Protest N16 3:35PM

NODAPL N15 2:24PM

Cruel Teacher Taunts 6th Grade Kids, Fired N12 8:47PM

How Cities Can Protect People Threatened By Trumpism N12 8:17PM

What ThisMeans, How This Happened, What to Do Now N12 5:03AM

PROTEST TRUMP TONITE N11 2:55PM

Westside Thanksgiving for everyone in LA ! N11 12:36PM

FOR A WORLD WITHOUT NUCLEAR RISKS   N10 5:05AM

Non-violent protest ideas; hooch bomb recipe N09 7:42AM

Nuclear Shutdown News October 2016 N05 6:17PM

State Legislature is where it's at N03 10:16PM

Tom Hayden on The Unfinished Business of Democracy O28 4:49AM

Video: Tom Hayden, Listen Yankee! 2015 O25 10:56AM

Art About Privilege Censored on Facebook O23 3:16AM

SAG-AFTRA video game performers on strike O22 11:04PM

Stop Circus Animal Suffering – Protestors Urge Audiences to Shun the Wild Animal Circus O20 3:04PM

KPFK LSB statement on DAPL arrests O19 10:25AM

Transit Dependent Residents Need a Guaranteed Right to Stay O15 11:36PM

My letter to JJJ on JJJ O11 12:33PM

Prop 60, Condom Law O10 12:43PM

KPFK-Pacifica Radio Archives being sold off on ebay? O10 10:31AM

KPFK struggles without re-solutions O07 2:25PM

Problems with Measure M O05 5:24PM
More Local News...
Other/Breaking News

Trump, spokesman slam U.S. media over inaugural crowd coverage J21 11:00PM

Los Angeles Braves Extended Downpour to Tell Trump Hell No J21 3:32AM

Los Angeles Braves Extended Downpour to Tell Trump Hell No J21 3:04AM

Obituary - Robert George Tronge J20 12:07PM

De l'éducastration chattemite J19 10:15PM

The Shortwave Report 01/20/17 Listen Globally! J19 5:33PM

"Trump does not read much" J19 1:28PM

Important Discoveries J18 6:50PM

#J20 CalArts in SoCal Plan Walkout; NY Galleries & Nonprofits Plan Art Strike J18 5:25PM

FBI's "Suicide Letter" to Dr. Martin Luther King, Jr., and the Dangers of Unchecked Survei J18 5:10PM

Camp 120 Will Hold Space in Front of City Hall Until Inauguration Day to Protest the Inac J18 5:03PM

Teamsters Local 2010 Initiates Mass Walkout and Strikes at University of California J18 4:12PM

Civil Rights Groups Sue Caltrans to Stop Illegal Raids Against California's Homeless J18 4:05PM

This Week in Palestine, January 13th, 2016 J18 3:44PM

Littératie ou numératie ou La loi J18 4:14AM

Nurses Storm The Boulevard To Pressure Trump on the ACA J17 4:49PM

Nurses Storm The Boulevard To Pressure Trump On the ACA J17 3:12PM

Gangstar New Orleans Hack J16 6:18PM

All Government Officials can be Sued for Actions Outside their Authority – Robert Tronge J16 12:36PM

The Effectiveness of Sex Offender Treatment Programs – Robert Tronge J16 12:32PM

Inevitable Conclusion J15 7:48PM

Trump and the Consequences: Democracy at a Crossroads J15 9:07AM

Nuclear Shutdown News January 2017 J14 8:17PM

Honduras coup update December 2016 J14 6:06PM

Evidence that fbi corrupts all of society at will J14 4:15PM

Intellectuels d'élevage, intellectuels de batterie, intellectuels industriels J14 8:03AM

Paraphysique de virologie politicienne J12 10:58PM

The Shortwave Report 01/13/17 Listen Globally! J12 5:23PM
More Breaking News...