Tell the NSA:
StopWatching.US
Features
•
latest news
•
best of news
•
syndication
•
commentary

Feature Categories



KILLRADIO
printable version - json version - email this article - view hidden posts - tags and related articles
by Arhi Uexurini via The Rebel Press Sunday, Jan. 20, 2013 at 10:44 AM

Identity of Rogue Police Officer At A Santa Ana Youth Conference Revealed. The man who was seen behaving in a strange manner and recording audio at a CopWatch Santa Ana (CWSA) "Know Your Rights" workshop at a youth conference, turned out to be a SAUSD PD Sargent.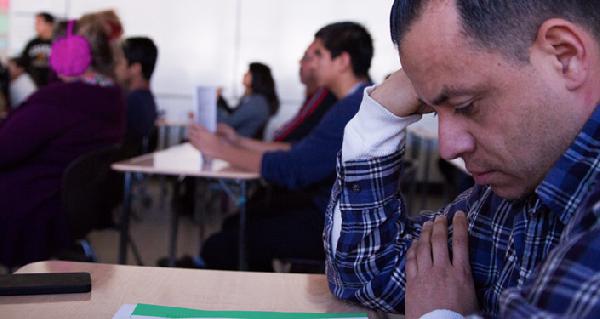 01162013_sa_school_police.jpg, image/jpeg, 705x375
The man who was seen behaving in a strange manner and recording audio at a CopWatch Santa Ana (CWSA) "Know Your Rights" workshop at a youth conference, turned out to be a SAUSD PD Sargent.

According to some CWSA members who were present at the workshop at Valley High School in Santa Ana, last Saturday, the man "seemed nervous; he wouldn't look up and his eyes were fixed on his cellphone". The workshop included a testimonial of a 13-year-old girl who appears sitting on the curb after being detained by a school police officer, on a video that went viral a few days ago.

The young female talked about her experience with police officers that have been harassing and verbally abusing her, ever since she entered MC Fadden Intermediate School last year.

As the presenters were finishing the workshop, the man quickly exited the room through a back door. A CWSA ally followed him outside where the man noticed him and started to walk to the cafeteria and "looked back to watch his back at least twice" according to the unidentified supporter. Later on, the rest of the CWSA group tried to look for him, but he was nowhere to be found.

The way in which the identity of the "mysterious" man was going to be revealed couldn't have been more unexpected.

Tuesday evening, members of CopWatch Santa Ana and The Rebel Press accompanied the girl and her father and brother, who requested they be anonymous, to a SAUSD PTA meeting, where they would bring up the issue and talk to a Sargent who was scheduled to give a presentation to the parents.

About half an hour into the meeting, Sargent Manuel Chavez showed up and turned out to be none other than the sneaky man at the workshop.

He was immediately recognized by the girl's family, CWSA and TRP members.

Sgt. Chavez began his presentation by talking about the recent school shooting in Connecticut and how to prevent this type of occurrences.

The officer asked the crowd if anyone had any questions. The young girl's father, asked Sgt. Chavez what could be done about officers who abuse their authority and mistreat students. Sgt. Chavez gave a brief answer. "There's a process. You have the right to contact the officer's supervisor and file a formal complaint."

Not satisfied with the answer, the brother said he didn't feel like complaints did much and then asked what else could be done, to which the Sargent replied, "There's a process. Because of the officer's position, he has certain rights that protect him against an investigation, nevertheless; the investigation is still conducted. Our department is transparent. When we do an investigation we try to find the truth. It's a transparent investigation." He stated.

The girl's father then mentioned the undercover officer who attended the workshop his daughter had participated in. Visibly nervous Sgt. Chavez said he had to wrap it up because he had, conveniently, received a call to attend a "board meeting". He passed his business cards around and left without first reassuring his office was open to "assist and help" anyone who needed it.

At the end of the meeting members of CWSA and The Rebel Press looked for Sgt. Chavez at the board meeting he said he was attending and were told that he had left.

Through a confidential source we found out Sgt. Chavez doesn't live in Santa Ana and doesn't have any kids who attend any of the schools in the Santa Ana Unified School District.

According to information released by the SAUSD in 2010, then police officer Manuel Chavez, "with over 10 years of experience including various field operations assignments, gang suppression and vice enforcement, was promoted to the rank of sergeant." Among his duties are listed supervising the school resource officers and the investigations division.

His business card also describes him as an "Administrative Sergeant and Adjutant to Chief of Police."

therebelpress.com/articles/show?id=32
Report this post as:
Local News

LA Fields Two Marches Against Police Executions Photoset 2 of 2 A21 9:09PM

LA Fields Two Marches Against Police Executions Photoset 1of 2 A21 7:01PM

Running Down the Walls 2014 A20 8:48PM

Weaving the Past: Journey of Discovery Extends Exclusive Engagement A19 3:37PM

Los Angeles Declares "Hands Up!" in Peaceful Protest of LAPD Murder of Ezell Ford A18 4:09AM

Ezell Ford and Ferguson Solidarity A17 6:35PM

Family and Supporters of #Justice4Fords Protest LAPD Execution of Ezell Ford in South L.A. A17 2:49PM

Southern California Swarms to Save the Bees in Solidarity with Honey Bee Day Around the Gl A17 5:30AM

L.A Supports August 2nd International Gaza Protest Photoset 4 A05 7:03PM

L.A Supports August 2nd International Gaza Protest Photoset 3 A05 6:45PM

More about KPFK via Pacifica turmoils A05 6:29PM

L.A Supports August 2nd International Gaza Protest Photoset 2 A05 6:23PM

L.A Supports August 2nd International Gaza Protest Photoset 1 A05 11:36AM

Demonstration in Support of Persecuted Christians Saturday A02 10:40AM

Water in California - info proliferated now is dubious J28 5:04PM

Pacifica clearly endangered. Reposting info here: J28 2:34PM

Video: Occupy Love (2013), 1 hr 19 min J28 4:43AM

Who declares themselves to be the ultimate-only-valid-authority here on current wars elsew J27 11:11AM

MDRC's Rent Reform Assault: Section 8 tenants vs. affordable housing industry J24 12:24AM

Obama at LA Trade Tech J23 3:23PM
More Local News...
Other/Breaking News

Wasecans hope trip to Ghana makes a difference A28 1:27PM

Targeting Syria A28 11:42AM

The Russians Are Coming Big Lies A28 5:11AM

Washington Sabotages Russian/Ukrainian Summit A27 1:29PM

The unconditional basic income - a social concept for Europe A27 10:49AM

Gaza Ceasefire: Hold the Cheers A27 6:04AM

Ottawa, Kansas Police Cure for Depression is 16 Bullets A27 4:08AM

Turkey is training ISIS / Islamic State A26 2:58PM

Did Obama really save the Yezidis? A26 2:38PM

Obama Declares War on Syria A26 12:43PM

What we're being told about ISIS just doesn't add up A26 12:29PM

Another No-Peace Ceasefire A26 12:23PM

Mejicanada angelina rechaza contundentemente al "Presidente" Peña Nieto A26 12:19PM

Joseph Stiglitz Calls for Fair Taxes for All A26 5:05AM

Israel v. Palestine: MSM Unreported Truths A26 4:05AM

Russia and America: Geopolitical Opposites A26 3:40AM

Anarchie ou barbarie A26 12:11AM

Steven Salaita's Academic Lynching A25 10:32AM

America's Mind Manipulators Meet New Members A25 10:27AM

Pharma Corps Act as Mafia Dons by Suppressing Cancer Treatment Alternatives A25 7:35AM

in-human rights in the U.S. A25 6:46AM

Fascism Grips Israel A25 5:55AM

The Free Trade Trap A25 4:30AM

Shocks The Conscience, Offends Sensibilities A24 2:53PM

Ukraine's Independence Day A24 12:12PM

Israel's Genocidal Killing Machine A24 7:58AM

Obama Heading for War on Syria? A24 3:22AM

Fucking Awesome Local Show A24 12:41AM
More Breaking News...