Tell the NSA:
StopWatching.US
Features
•
latest news
•
best of news
•
syndication
•
commentary

Feature Categories



KILLRADIO
printable version - json version - email this article - view hidden posts - tags and related articles
by Arhi Uexurini via The Rebel Press Sunday, Jan. 20, 2013 at 10:44 AM

Identity of Rogue Police Officer At A Santa Ana Youth Conference Revealed. The man who was seen behaving in a strange manner and recording audio at a CopWatch Santa Ana (CWSA) "Know Your Rights" workshop at a youth conference, turned out to be a SAUSD PD Sargent.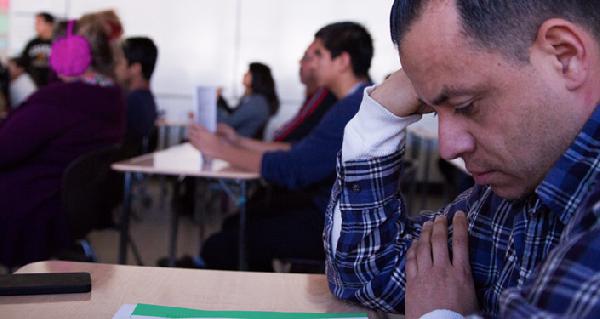 01162013_sa_school_police.jpg, image/jpeg, 705x375
The man who was seen behaving in a strange manner and recording audio at a CopWatch Santa Ana (CWSA) "Know Your Rights" workshop at a youth conference, turned out to be a SAUSD PD Sargent.

According to some CWSA members who were present at the workshop at Valley High School in Santa Ana, last Saturday, the man "seemed nervous; he wouldn't look up and his eyes were fixed on his cellphone". The workshop included a testimonial of a 13-year-old girl who appears sitting on the curb after being detained by a school police officer, on a video that went viral a few days ago.

The young female talked about her experience with police officers that have been harassing and verbally abusing her, ever since she entered MC Fadden Intermediate School last year.

As the presenters were finishing the workshop, the man quickly exited the room through a back door. A CWSA ally followed him outside where the man noticed him and started to walk to the cafeteria and "looked back to watch his back at least twice" according to the unidentified supporter. Later on, the rest of the CWSA group tried to look for him, but he was nowhere to be found.

The way in which the identity of the "mysterious" man was going to be revealed couldn't have been more unexpected.

Tuesday evening, members of CopWatch Santa Ana and The Rebel Press accompanied the girl and her father and brother, who requested they be anonymous, to a SAUSD PTA meeting, where they would bring up the issue and talk to a Sargent who was scheduled to give a presentation to the parents.

About half an hour into the meeting, Sargent Manuel Chavez showed up and turned out to be none other than the sneaky man at the workshop.

He was immediately recognized by the girl's family, CWSA and TRP members.

Sgt. Chavez began his presentation by talking about the recent school shooting in Connecticut and how to prevent this type of occurrences.

The officer asked the crowd if anyone had any questions. The young girl's father, asked Sgt. Chavez what could be done about officers who abuse their authority and mistreat students. Sgt. Chavez gave a brief answer. "There's a process. You have the right to contact the officer's supervisor and file a formal complaint."

Not satisfied with the answer, the brother said he didn't feel like complaints did much and then asked what else could be done, to which the Sargent replied, "There's a process. Because of the officer's position, he has certain rights that protect him against an investigation, nevertheless; the investigation is still conducted. Our department is transparent. When we do an investigation we try to find the truth. It's a transparent investigation." He stated.

The girl's father then mentioned the undercover officer who attended the workshop his daughter had participated in. Visibly nervous Sgt. Chavez said he had to wrap it up because he had, conveniently, received a call to attend a "board meeting". He passed his business cards around and left without first reassuring his office was open to "assist and help" anyone who needed it.

At the end of the meeting members of CWSA and The Rebel Press looked for Sgt. Chavez at the board meeting he said he was attending and were told that he had left.

Through a confidential source we found out Sgt. Chavez doesn't live in Santa Ana and doesn't have any kids who attend any of the schools in the Santa Ana Unified School District.

According to information released by the SAUSD in 2010, then police officer Manuel Chavez, "with over 10 years of experience including various field operations assignments, gang suppression and vice enforcement, was promoted to the rank of sergeant." Among his duties are listed supervising the school resource officers and the investigations division.

His business card also describes him as an "Administrative Sergeant and Adjutant to Chief of Police."

therebelpress.com/articles/show?id=32
Report this post as:
Local News

black activista, white racists meet to discuss civil rights M01 12:55PM

Q: are we safely anonymous on Indy or can someone chose to find us for their personal ... F26 3:54PM

Meeting for upcoming April 4, Dr. King Workshop. F26 6:46AM

Race Discrimination in Los Angeles County F20 2:19PM

Indymedia being inundated by repeaters F14 11:38AM

Divestment defeated at UC Riverside F13 9:26PM

LA Workers Ask for Solidarity F09 8:51PM

Van Nuys Neighborhood Council Supports Hundreds of Residents F05 6:36PM

West Hollywood Police Department: "We Don't Need a Reason to Interrogate Pedestrians" F02 9:16PM

The Rent Crisis in Los Angeles F02 12:28PM

National Reparations Day at Tragniew Park in Compton , March 6 , 2014 J31 10:47PM

California Safe Schools Celebrates Pearl August Humanitarian Award Recipients J30 4:56AM

Taking over public areas by homeless means overuse not moderate fair-share-use J29 4:18PM

KPFK turmoils continue, this one comes from Christine Blosedale critics J29 12:50PM

Los Angeles Marches in the Second Global March Against Chemtrails & Geoengineering J25 9:15PM

Joseph Pitruzzelli, The Hypocrisy Never Ends. J24 7:40PM

The Anti-Artist of LA Arts District Joseph Pitruzzlli, Falsely Praised as "Good Neighbor". J23 8:50PM

Activist Sentenced to 2.5 Years for Wire Cutters J21 9:29AM

CITIZENS TO PICKET WEHO CITY COUNCIL J20 10:09PM

On MLK Day: Racist Bullying Cover-up In Riverside Dear Coach Rice J20 1:43PM

The Kelly Thomas Protest In Fullerton J19 2:34PM

Interview with Chuck MorseHe founded the Institute for Anarchist Studies J14 7:14PM

KPFK SECRECY, TURMOILS, CONFLICTS, OPAQUENESS, and HYPOCRISY too ? J13 5:27PM

Marx, White Supremacy and the Left J13 9:51AM

Fukushima Keeps Pouring Poisons Into Pacific J12 12:37PM

KPFK: self-destructing? or is it again the usual dysfunctioning? J10 6:01PM

Protesting Xavier Becerra's Support of TPP J10 5:53PM

John Dingler's "Ten Prosecuted Whistleblowers J09 8:09PM
More Local News...
Other/Breaking News

The clash in Crimea is the fruit of western expansion M09 11:34AM

Big Lies Drown Out Truth M08 11:56PM

Israel Denies 45,000 Palestinians Water M08 11:54PM

CASTORIADIS. THE HUNGARIAN REVOLUTION .pdf M08 9:33PM

CASTORIADIS. THE HUNGARIAN REVOLUTION .pdf M08 9:24PM

The Snowdown - Wikileaks - Sibel Edmonds - Whistleblower Effect By Zahir Ebrahim M08 8:46PM

Getting Past Snowdown - Wikileaks - Sibel Edmonds - Whistleblower Effects By Zahir Ebrahim M08 8:22PM

Walking the New Broadway M08 5:40PM

Spring 2014 National Immigrant Solidarity Network Monthly News Alert! M08 11:21AM

Israel Hypes Nonexistent Iranian Threat M08 12:01AM

Putin v. Obama: Geopolitical Opposites M06 11:57PM

Talking Peace While Waging War M06 11:49PM

Ongoing Operation Gladio Redux in Pakistan Written by Zahir Ebrahim M06 8:59PM

The Shortwave Report 03/07/14 Listen Globally! M06 4:16PM

Propaganda War on Russia M05 11:52PM

Evidence Shows Kiev Putschists Recruited Euromaidan Snipers M05 11:51PM

Global turn-around: to persuade Western Powers to adopt 'bottom-up' ethical human rights. M05 3:04AM

Crisis in Ukraine M05 12:08AM

Media Scoundrels on the Wrong Side of History M04 11:50PM

California Drought: Is this the big one? M04 4:28PM

"Fair Harvard" Lacks Fairness M04 11:56AM

RENT may not be Controlled in LA City soon...watch out ! M04 9:16AM

TTIP: International Mega-corporations prevent social and ecological globalization M04 5:42AM

East/West Confrontation Looms M03 11:51PM

Scoundrel Media War on Russia M03 11:50PM

Interview with Jose Maria Sison M03 10:27PM

Structural Weaknesses of Capitalism M03 3:36AM

The Damn Fool in the White House M02 11:50PM
More Breaking News...