Features
•
latest news
•
best of news
•
syndication
•
commentary

Feature Categories



KILLRADIO

printable version - email this article - view hidden posts - tags and related articles
by Fábio de Oliveira Ribeiro Sunday, Jan. 13, 2013 at 11:45 AM
sithan@ig.com.br
The art as a vehicle of a bad ideology.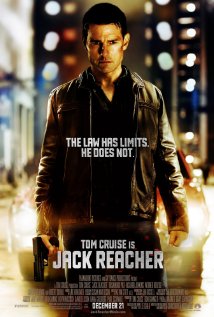 jack_reacher.jpg, image/jpeg, 214x317


The story of this film is banal. Several random killings occur, but one of the victims was intentionally chosen for business reasons. The suspect of committing crimes is a former U.S. military who have committed similar crimes in the past. All the evidence put the suspect at the scene, but the real killer is someone else.

Convened by the action of the suspect, Jack Reacher (also former U.S. military) know the lawyer and the suspect starts to help her. But in doing so he becomes an enemy of those who want to cover up the murder committed intentionally. First, a group of bad boys is hired to beat up the hero. As this does not work, the real criminals, a gang of gunmen in the service of a Russian mobster who has a construction company, killing a girl to incriminate Jack Reacher.

After fights, shootings and car chases, the hero can discover the whole truth. The criminals are all dead with the help of another former U.S. military. The cop investigating the random murders, that actually provided services to Russian mobsters, is also dead.

Racism in the movie Jack Reacher is not very evident. But are printed between the lines.

The hero is a white Anglo-American former military. The villains are Russians who employ criminal means to achieve business objectives. The cop who helps them is black guy. It is true: in the car chase scene, another black guy helps Jack Reacher slightly, but the overall picture of the movie is highly racist. The white Anglo-Americans characters are good, virtuous and pursue truth and justice (Jack Reacher, the lawyer and the prosecutor ); Russians are criminals and the bad cop is black. The only good black guy in the movie do not "acts", he lets the white guy keep acting.

Another relevant aspect of the film is that it raises serious doubts about the American Legal System. In this film the U.S. Justice does not deserve any credit because it allows that an innocent man is framed with fabricated evidence. It also allows criminals commit crimes getting away with it. The black cop is corrupt and unreliable. The solution is disrespect the Law, and only a white Anglo-American former military is able to distinguish what is right from what is wrong and what is more important, kill and die for what is right.

Under the textual layers the movie hides a really dangerous idea: that in a heterogeneous society like the U.S. (with whites, blacks and Russian immigrants, etc...) only the dominance of white element guarantees truth, justice and the security of Legal System still that through the intentional breach of the Law. Ultimately, the movie literally says that the "Rule of Law" in a racially heterogeneous country like the U.S. is not a viable option. There is or this is just an offshoot of the old racism of white Anglo-Americans who want to dominate anyway and use art to convey this idea?

Report this post as:
Local News

Divestment Fails at UC Santa barbara M15 4:19PM

Uncensored Manifesto from Retired LAPD Officer Christopher Dorner M15 9:37AM

Santa Ana Police Department: taking payoffs to jail the innocent M14 5:31PM

California's vigilante police justice: Trial by machine gun M14 5:23PM

Nevada Tribes Walk 272 Miles to Protest SNWA Pipeline M14 11:44AM

RAISE THE FIST MOBILE APP! M08 2:02AM

CA Safe Schools Honors LA Unified & Local Heroes! M07 6:13PM

Proposition C M07 1:13AM

VENICE OPDs ARE BACK! BUT WHY? M06 1:20AM

May Day 2013 Los Angeles M04 3:18AM

May Day 2013 Los Angeles M03 6:32PM

May Day 2013 Los Angeles M03 5:47PM

Join Demo At Farmer John Slaughterhouse A22 8:52AM

LAPD spying using StingRay A21 11:28AM

May Day Workers Film Festival San Diego A17 1:21AM

L.A born Actor James Cromwell Arrested in Animal Rights Action A16 1:46PM

CA . ASSOC. OF AMERICAN MOTHERS, INC. HONOR LOCAL MOTHERS A10 11:57PM
More Local News...
Other/Breaking News

IRS Scandal: More Than Meets the Eye M18 12:03AM

Putin v. Obama et al M17 11:59PM

Monica Ratliff for School Board M17 4:25PM

Colombia Takes Another Step Towards Circus Animal Ban M17 3:35PM

Stop and Frisk: NYPD Racial Profiling M17 12:08AM

Israel Threatens More Syrian Attacks M17 12:03AM

The Shortwave Report 05/17/13 Listen Globally! M16 2:11PM

Counter-Currents on the Run! M16 10:27AM

Russia Catches CIA Spy Red-Handed M16 12:20AM

Obama's Contempt for Venezuelan Democracy M16 12:05AM

SF Labor: Calls on Labor Movement to Mobilize in Washington, D.C. August 24 M16 12:03AM

HIV-Negative AIDS: Is it CFIDS or AIDS? M15 3:39PM

Debt jubilee: Revolutionary change or reform to stabilize capitalism? M15 2:00PM

FBI Documents Suggest Feds Read Emails Without a Warrant M15 11:54AM

The Elite Look Down on Democracy M15 4:13AM

Syria Endgame Approaching Fast M15 12:38AM

Spies "R" Us M15 12:12AM

Anti-Assad Forces: Caught in the Act Again M15 12:02AM

Cicero speaks on traitors M14 11:49AM

Las guerrillas argentinas en el siglo XX - Historia M14 2:55AM

Turkey: US Imperial Tool M14 12:12AM

Close Guantanamo Now! M13 11:56PM

The State Should Rescue the Market Economy M13 10:54AM

Israeli Lobby Power in America M13 10:22AM

Financial War - How Banks and Bandits Endanger our Democracy M13 4:59AM

Another Anti-Assad False Flag M13 12:41AM

Israelis Protest Austerity Harshness M12 11:58PM

Local Fights Against Austerity Are Growing Across the U.S. M08 7:36PM
More Breaking News...