Tell the NSA:
StopWatching.US
Features
•
latest news
•
best of news
•
syndication
•
commentary

Feature Categories



KILLRADIO
printable version - js reader version - email this article - view hidden posts - tags and related articles
by Edmund Sanders, Saturday, Dec. 08, 2012 at 8:24 PM

"Journalist" Harry Fear and friends in Gaza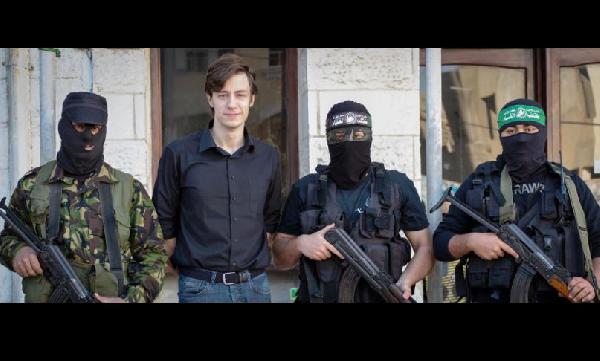 harry_fear_and_friends.jpg, image/jpeg, 807x486
AFAH, Gaza Strip — Exiled Hamas leader Khaled Meshaal set foot in the Gaza Strip for the first time Friday, emerging from the Egyptian border with his hand over his heart and telling jubilant supporters that his visit marked a new era in the pursuit of Palestinian independence.

Though Meshaal has led the Islamist militant group since 2004, traveling to its Gaza-based home was unthinkable just a month ago because of fear that Israel might assassinate him as it did his two predecessors.

But the Nov. 21 cease-fire agreement that ended an eight-day clash with Israel emboldened Meshaal to make a victory lap through the seaside territory, culminating Saturday with an outdoor celebration to mark the group's 25th anniversary.

"I say I'm returning to Gaza even though I have never been before because it's always been in my heart," he told the crowd, fighting back tears.

The visit underscores Hamas' rising political clout in a Middle East reshaped by the "Arab Spring." But it also has many wondering how the militant group will use its newfound prominence, and what role Meshaal will play.

Meshaal, a West Bank native who spent most of his life as a refugee or in exile, was expected to step down as head of the political bureau in coming months, after secret Hamas elections to select a new leader.

Meshaal leads a more moderate, pragmatic Hamas faction against a rival group of Gaza-based hard-liners. He has said he no longer wants the job.

Yet on the heels of the recent clash with Israel, some predict that Meshaal, 56, will want to remain at the helm at such a crucial time.

During his visit, he looked and talked more like someone running for office than someone getting ready to fade away.

"This is just the beginning," Meshaal said, adding that his visit to Gaza felt like a rebirth. "Today is Gaza. Tomorrow will be Ramallah, Jerusalem and then Haifa and Jaffa." He was referring to, in order, the West Bank city that hosts the Palestinian Authority headquarters, the city both Israelis and Palestinians claim as their capital, and two Israeli cities with large Arab populations.

Some in Hamas' leadership are lobbying for him to stay.

"He's unique, with a good political mind and support from all the factions," said Hamas Deputy Foreign Minister Ghazi Hamad. "I wish he'd continue."

The next Hamas leader will play a significant role in determining the intensity of the conflict with Israel as well as the possible reconciliation with Fatah, Hamas' rival Palestinian party in the West Bank.

Meshaal, who recently left the chaos in Syria for the Persian Gulf state of Qatar, is a leading proponent of ending the division with the secular Fatah, and says he would accept a Palestinian state within the pre-1967 borders, which some view as de facto recognition of Israel.

And though he refuses to give up armed resistance, he supports signing a long-term cease-fire agreement. At one point during his visit Friday, members of the crowd passed him a rifle, expecting him to hold it over his head in a sign of military triumph. He shook his head and brushed it aside.

Meshaal is facing a challenge from hard-liners, such as Hamas Prime Minister Ismail Haniyeh and senior official Mahmoud Zahar, who are skeptical of reconciliation with Fatah and say armed resistance is the only path to ending the Israeli occupation. Over the last year, Zahar and Meshaal have clashed openly about the future direction of Hamas.

"We should not be speaking about just one person," Zahar said Friday when asked about Meshaal's future during the welcoming ceremony. "This is a symbolic victory for all Hamas leaders and Islamic Jihad leaders. It shows Israel that we control our land."

Though some Western diplomats hope Meshaal will moderate the group's behavior, Israelis dismiss Hamas' internal power struggles as irrelevant. They note that the group, which Israel and the U.S. label a terrorist organization, refuses to renounce violence, recognize Israel or accept past peace accords.
www.latimes.com/news/nationworld/world/la-fg-gaza-hamas-20121208,0,5971885.story
Report this post as:
Local News

5 Reasons to Support RAC-LA This Month J20 11:10PM

Viacom CBS' Sumner Redstone Promotes Brutal Treatment Of Pot Smokers J19 1:20PM

Summer 2015 National Immigrant Solidarity Network Monthly News Alert! J15 12:33PM

Housing Board Member is an Evicter! J11 11:37PM

KPFK & PAPCIFICA forum in LA J11 5:45PM

LA Times goes to bat for killer cops in Salinas J10 10:34PM

NUCLEAR SHUTDOWN NEWS MAY 2015 J04 12:48PM

Los Angeles Uranium Film Festival J04 7:18AM

KPFK difficulties continue J01 4:22PM

KPFK buys premiums to re-sell them for donations -so J01 4:00PM

Latest Long Beach Police Execution: Murder of Youth In Mental Distress J01 8:19AM

How can california deal with this water crisis? M31 1:46PM

Four Winds of March Against Monsanto Los Angeles Take The Streets of Hollywood M27 2:49PM

Foreclosure Victims Occupy Senate Stump Speech of Kamala Harris M21 4:58AM

LA Nakba Anniversary protest at the Israel Consulate M19 12:56AM

Long Beach Police Execute Unarmed Teen Hector Morejon on Suspicion Of Trespassing M15 6:08AM

Eagle-Con 2015 at Cal State L.A. M13 4:15PM

Brendon Glenn Dies and Venice S/Weeps M08 7:45PM

JOIN CLASS ACTION LAWSUIT AGAINST RONALD L. HAVNER JR's PREDATORY BUSINESS, PUBLIC STORAGE M08 4:48PM

Councilmember Bonin Calls People of Venice Outraged by Police Murder "Outside Agitators" M08 10:45AM

May Day March, LA 2015 M07 7:33PM

LA Progressive: Ref Rodriguez—What the PUC Is Going on Here? M05 11:26PM

L.A. Stands in Solidarity with Australian Aborigines M05 11:12AM

KPFK'S rep to Pacific Bd Whitleblower -being kicked out ...plse sign petiton here M04 2:38PM
More Local News...
Other/Breaking News

The U.S. Social Forum Puts San José on the Map of Social Change J30 11:26PM

Governor SIgns SB 277, Citing Science J30 6:54PM

Corruption of Law & Society by fbi J30 9:20AM

Russia Vows Continued Support for Embattled Syria J30 9:19AM

Dreyer's, Another Ice Cream Maker, Is Owned By Nestle J30 9:09AM

No Deal as June 30 Iranian Nuclear Talks Deadline Arrives J30 7:17AM

Greece May Become BRICS Member J30 4:58AM

Greece May Become BRICS Member J30 4:54AM

High-Seas Piracy: Israel's Latest Bandit Act J30 2:31AM

Gov Mulls SB 277 (SATIRE) J29 10:47PM

Video: The Age of Uncertainty-The Big Corporation, 56 min J29 3:51PM

KPFK in Pacifica's meeting - more descriptions J29 2:57PM

KPFK hosted PACIFICA's board in LA. Missed it? here's some for ya J29 2:16PM

Khader Adnan Ends Hunger Strike J29 12:12PM

Sitemeter blocks my account, prevents tracking of visitors J29 11:47AM

ISIS: US Proxy Foot Soldiers J29 10:50AM

Greece Declares Bank Holiday, Capital Controls Imposed J29 8:37AM

Netanyahu's Statement Following His Latest Bandit Act J29 5:34AM

Israel Hijacks Humanitarian Ship to Gaza in International Waters J29 3:27AM

Going for Broke. Why Financialization is the Wrong Fix for Infrastructure, 60 pp J28 6:50PM

Covert assaults for hideous agendas J28 5:31PM

BDS Effect on Israel's Economy J28 11:55AM

EU Bashes "Russian Propaganda" J28 9:51AM

Troika Intends Starving Greece Into Submission J28 6:46AM

Israel Is Murdering Khader Adnan J28 3:55AM

Paraphysique du taulard J28 1:51AM

Our Duty, Yours & Mine J27 6:54PM

NUCLEAR SHUTDOWN NEWS JUNE 2015 J27 6:18PM
More Breaking News...