Features
•
latest news
•
best of news
•
syndication
•
commentary

Feature Categories



KILLRADIO
printable version - js reader version - view hidden posts - tags and related articles

by Mark Gabrish Conlan/Zenger's Newsmagazine Wednesday, Sep. 05, 2012 at 5:19 PM
mgconlan@att.net (619) 688-1886 P. O. Box 50134, San Diego, CA 92165
Author and activist Sharon Smith came to San Diego to speak to Occupy San Diego's Labor Solidarity Committee, the International Socialist Organization (ISO) and other community members September 1, but it was her unannounced co-speaker -- a teachers' union activist from Chicago identified only as Becca -- who galvanized the crowd. Smith used the Chicago teachers' union struggle as an example that radical labor activism in the U.S. is alive and well despite decades of repression from the ruling class.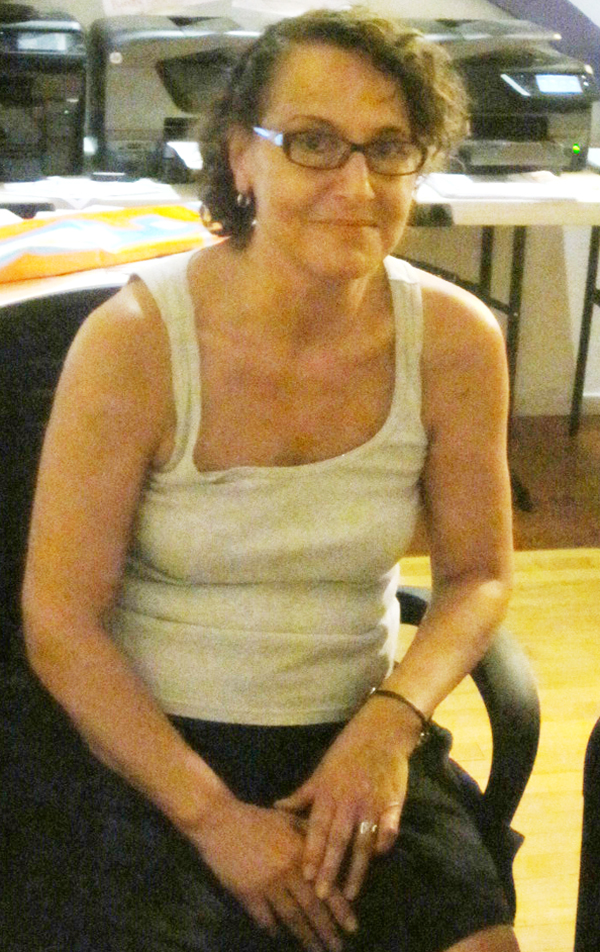 smith.a.jpg, image/jpeg, 600x952
Labor Radicalism Is Alive and Well in the U.S.

Chicago Teachers' Struggle Continues Tradition, Smith Says

by MARK GABRISH CONLAN

Copyright © 2012 by Mark Gabrish Conlan for Zenger's Newsmagazine • All rights reserved

The group that assembled at the Queer-rights organization Canvass for a Cause's Hillcrest headquarters September 1 came to hear author and activist Sharon Smith talk about her new book, Subterranean Fire: A History of Working-Class Radicalism in the United States. But before Smith spoke, the room was galvanized by another speaker, a Chicago teacher and labor activist identified only as Becca, who spoke via Skype about one of the best-kept secrets in the U.S. today: the Chicago Teachers' Association (CTU) has done extensive community organizing for a potential September 10 strike.

Though Sharon Smith's talk was officially sponsored by the Occupy San Diego Labor Solidarity Committee, it had the appearance of an International Socialist Organization (ISO) event. Not only were many local ISO members there, the group had canceled their own regularly scheduled meeting two days earlier and urged its members to attend Smith's talk instead. What's more, Smith regularly publishes in the ISO's press, her book was put out by their publishing company (Haymarket Books), and her talk largely matched the ISO's ideology, particularly its rejection of any electoral work within the Democratic Party.

Indeed, many people there — including Smith herself — saw the CTU's struggle as confirmation of their rejection of the Democratic Party as a potential vehicle for social change. They noted that Becca described the union's principal enemy as Rahm Emanuel, Chicago's recently elected Democratic mayor and previously chief of staff for President Barack Obama, who along with the Obama administration and officials from both major parties is pushing an education "reform" agenda including relentless student testing; a "back to basics" curriculum that eliminates art, music and culture as "frills"; encouraging privatization of education through non-union charter schools; and demonization of teachers' unions as the principal obstacles to "reform."

"I'm proud to be part of a union seeking to educate the whole child," Becca said. "This is a fight for schoolchildren and also a fight for union rights. We've seen concession after concession, and I'm proud to be part of a union that has chosen to make a stand. We're fighting for a better school day, smaller class sizes, art and music education, and more social workers and nurses in schools. My school only has a nurse on duty twice a week — and we have 18,000 students, many of them with diabetes." The CTU's other key demand, Becca said, is "treating teachers like professionals."

Becca said the fight-back against the privatization "reform" agenda began two years ago, when an insurgent slate, the Caucus of Rank and File Educators, won the union's own elections and took over its leadership. "We were building a rank-and-file union, not just a service union and a crusty bureaucracy," she explained. "We had teacher activist trainings where teachers could learn to become organizers. We produced a document called The Schools Chicago Students Deserve, which articulates a vision of what sort of schools we want. Too often we say what we're against but not what we're for. We've built relationships between teachers in different schools, and also worked hard on getting community and parent involvement."

Rahm Emanuel got on the teachers' enemies list by not only continuing but extending the school-privatization agenda of his predecessor, Richard M. Daley. In particular, he pushed through the closure of 17 schools, most of them in communities of color. The union decided to mobilize against the closure and, while they weren't able to stop it, "we gained a lot because parents and community members saw us as fighting for the schools," Becca explained. "The union has also hosted and participated in town-hall meetings and sponsored 'Teacher in the Pulpit' programs where teachers volunteered to outreach to churches, synagogues and mosques."

According to Becca, this community outreach campaign has helped the union blunt the "nasty, anti-teacher" attack ads Mayor Emanuel has put out. "Parents have told us, 'The city thinks I'm stupid enough to listen to this and believe it,'" Becca said. She also said that teachers have benefited from "a great deal of student activism" on their behalf — and in some cases have suffered for it.

"Social Justice Academy is a school in a mostly Mexican neighborhood that was founded by teachers and parents going on a hunger strike," Becca said. "They fired the principal during the summer, the students rebelled and they fired teachers for helping the students protest. Students are taking active roles [in the current struggle]. They are having discussions on just what types of education we need."

There's been little corporate media coverage of the Chicago Teachers' Union's threatened strike, and what there has been has made it seem like a normal, everyday wage dispute. According to the Chicago Sun-Times, the Chicago schools made what they called their "last, best" offer last May — a 2 percent salary increase every year for four years, but abolition of pay raises for "seniority and credentials." The CTU has denounced the offer as "insulting" and said the school system is reneging on 4 percent increases it previously agreed to and is refusing to pay teachers for the 10 extra days it required them to work the past school year.

But Becca says it's about much more than wage increases; it's a clash between two very different visions of education, one focused on rote learning and teaching to standardized tests, and one based on teaching students to think and act for themselves. Though she doesn't think the Chicago school system could fire the striking teachers en masse the way President Reagan did with the air traffic controllers in 1981 — "There are 26,000 union members and they can't fire us all," she said — she is worried about "the scab operation and what it will look like." She's also aware that the long-term vision of Mayor Emanuel and the others running Chicago's schools is of an increasingly privatized operation in which 100 more schools will be closed and replaced by 200 non-union charter schools.

Sharon Smith: It's All About Class Struggle

Sharon Smith's presentation began with a ringing affirmation of the continued relevance of Karl Marx and Friedrich Engels, starting with a quote from the Communist Manifesto that "the history of all existing society is a history of class struggle." She added that "for the better part of the last 35 years, many people relegated Marx's theory to the dustbin of history because class-based social movements seemed to be breaking out everywhere but here." What's changed in the last 18 months — first in the response to Wisconsin Governor Scott Walker's bid to bust the state's public employee unions, then in the Occupy movement and now in the CTU's struggle — is the beginning of what Smith calls a "new phase" in the class struggle in which America's working people are rediscovering their tradition of militant resistance.

"The Chicago struggle is significant because it marks the first time in decades that a union is standing strong and defiant, with leaders that feel accountable to their members and committed to winning the best contract for their members," Smith said. "No one under 35 to 40 years old has any living memory of class struggle in the U.S., but class struggle is what built the union movement and won the eight-hour day and the 40-hour week. You younger workers don't realize that this is a major advance."

Smith also attacked the notion, pushed by "most commentators" in the corporate media, that the present is an era of "labor peace" and that the U.S. is a middle-class consumer society. "In fact," she explained, "we are a nation today of indebted workers only a paycheck or two away from poverty. The image of the 'middle-class consumer' is a stereotype planted by TV programs, newspapers and schools. The consumption patterns of the 'middle class' are taken as a given. We're inundated with the message that we are a 'middle-class society' and that if you're not part of the 'middle class,' it's your fault."

Another stereotype of the U.S. Smith challenged is the belief that "the fact that half of the adult population stays home on election day is a sign that the U.S. is an apathetic society." What it really means, she said, is that people sense that "democracy has been reduced to pulling a lever once every four years for one of two ruling-class parties. Most Americans are part of the working class" — which Smith defines broadly, as Marx did, as "the class that does not own the means of production and are forced to sell their labor to survive. There is a middle class in this society," she acknowledged, "but it is much smaller than claimed. There is never a period in which class struggle is stagnant. One side is always winning, one side is always losing, and the only time the working class wins is when it's involved in mass struggle."

One purpose of Smith's talk — and her book — was to educate her audience that there was a long and powerful history of mass working-class struggle in the U.S. until the late 1940's, when in a purge that has become known as "McCarthyism" (even though it started before the rise of Wisconsin Senator Joe McCarthy and continued well after he was disgraced), "thousands of radical union members and rank-and-file members of the Communist Party, U.S.A. were driven from their jobs and sent to prison. The U.S. working class possesses a tradition that at certain points has led the world in militancy."

Among the high points she cited were the struggle for the eight-hour day, the proclamation of May Day as the international workers' holiday, and the origin of International Women's Day in the ladies' garment workers' strike of 1909. She also mentioned the mass resistance to U.S. involvement in World War I — which continued even after the government made it illegal — and the sit-down strikes of the 1930's, in which industrial workers reached across racial lines and occupied factories to force their employers to recognize their unions and negotiate.

According to Smith, the sit-down strikes "built the industrial unions and brought together thousands of Black and white workers against a common enemy at a time when lynchings were commonplace and Jim Crow [racial segregation] was the law of the land. Thousands of white workers came over to the fight against racism." Smith said the workers in the sit-down struggles took on sexism, too. "Far from taking a back seat in the struggle, women built unions in their own right and took a leading role in the sit-down strikes," she said. "The Flint Women's Auxiliary Brigades armed themselves with baseball bats and beat back the National Guard on some occasions."

Smith also said that the workers of the 1930's "broke with the Democratic Party and broke with Franklin Roosevelt's pose as a friend of the workers when he was saving capitalism. The 1935 United Auto Workers' (UAW) convention voted overwhelmingly against endorsing Roosevelt, and in favor of forming a nationwide farmer-labor party. At any given time thousands of workers belonged to a radical workers' party." Smith said that at its height the Communist Party, U.S.A. had 88,000 members, nine percent of whom were Black. She went further back in history to mention the Industrial Workers of the World (IWW), a radical union in the first two decades of the 20th century which "welcomed women, Blacks, immigrants and unskilled workers" at a time when the American Federation of Labor (AFL) was open only to white males working in skilled trades, and the Socialist Party, which "got over 1 million votes for its candidate for President, Eugene V. Debs, in 1912."

The bottom-line message of Smith's talk was, "Radicals built much of the strength of the U.S. union movement." And despite the major purge of radicals from both American labor and American life in the late 1940's and early 1950's, Smith said, the radical spirit still broke forth in the wildcat strikes of the late 1960's and early 1970's and groups like the Dodge Revolutionary Union Movement (DRUM) organized by African-American workers to challenge, as Smith put it, "not only the companies but the racism within the UAW." In addition to building much of the American labor movement, Smith said, U.S. Leftists also created the Black power movement, the women's movement and a Queer rights movement "that has only now begun to reap successes from decades of struggle."

Smith also acknowledged the role of immigrants — particularly ones who'd been radicalized in their countries of origin and brought those traditions here — in building the U.S. union movement. She said the socialist and anarchist traditions in this country were largely started by German immigrants, and hailed the May Day immigrant rights' demonstrations in 2006 — the first mass May Day events in the U.S. in decades — as rekindling that tradition of radicals from other countries bringing their politics here and lighting a fire under U.S.-born activists. Ironically, the immigrant roots of much of American radicalism turned out to be a two-edged sword, as they made it easier for capitalist propagandists to denounce Left politics in general as "un-American." One of the principal instruments of the McCarthyist purge of Leftists from American life was even called the "House Un-American Activities Committee."

After recounting this history, Smith again returned to her theme of the futility of seeking fundamental change through the Democratic Party. "The problem of class and social inequality is not going to be solved by re-electing President Obama or getting a Democratic majority in Congress," Smith said. "Increasing the inequality of wealth and income has been a long-term bipartisan project that began under Jimmy Carter. The last three and one-half decades has been a continuous process in which the rich set out to make themselves richer, and the working class and poor people poorer."

As part of that campaign, the U.S. ruling class began a long-term effort to rid themselves of labor unions altogether, according to Smith. "By the 1980's, U.S. corporations were spending half a billion dollars on union-busting firms," she said. "That is how today we have achieved a level of inequality not seen since the 19th century robber barons, and they are determined to finish off unions altogether. The Great Recession has just accelerated the deliberate immiseration of the working class and the poor to enrich those who are already obscenely wealthy. The so-called 'debt crisis' was artificially manufactured on Wall Street. We know all the budget problems could be solved just by raising taxes on the 1 percent, but they will not turn to this solution until they're forced to do so."

So what is to be done? Smith's recommendation is to keep building radical movements and confronting the system — and to reject the plaint of so-called "realists" that the only thing we can do is work through the Democratic Party to achieve a slightly more "liberal" form of capitalism. "What seems impossible today can be taken for granted tomorrow," she said. "Who thought that the whole country would be swept up in Occupy's rhetoric of the 99 percent versus the 1 percent, or that the Occupiers would beat back the police in New York's Zuccoti Park without violence? I've lived in Chicago and I wouldn't have predicted the CTU. In fact, because the U.S. has only two major political parties and they're both pro-corporate and don't even pay lip service to working-class interests, this country is even more unpredictable than others."

Smith summed up by returning to her Marxist roots: "The essence of Marxism is to understand that exploitation ultimately breeds resistance. The ruling class can use repression and all kinds of tactics to fight back, but they cannot do more than delay the day of reckoning."
Report this post as:
Local News

Marshall Tuck's racist dog whistle O27 5:01AM

Marshall Tuck's ethnocentrism contradicts Californian values O27 4:32AM

Contra Costa-Hawkins O25 3:48AM

Debunking Some Anti-Prop 10 Propaganda O12 6:56AM

Why Should California Choose De Leon Over Feinstein? O10 9:55PM

Change Links September 2018 posted S02 10:22PM

More Scandals Rock Southern California Nuke Plant San Onofre A30 11:09PM

Site Outage Friday A30 3:49PM

Change Links August 2018 A14 1:56AM

Setback for Developer of SC Farm Land A12 11:09PM

More problems at Shutdown San Onofre Nuke J29 10:40PM

Change Links 2018 July posted J09 8:27PM

More Pix: "Families Belong Together," Pasadena J02 7:16PM

"Families Belong Together" March, Pasadena J02 7:08PM

Short Report on the Families Belong Together Protest in Los Angeles J30 11:26PM

Summer 2018 National Immigrant Solidarity Network News Alert! J11 6:58AM

Watch the Debate: Excluded Candidates for Governor of California M31 5:20AM

Change Links June 2018 posted M28 7:41AM

The Montrose Peace Vigil at 12 Years M22 8:01PM

Unity Archive Project M21 9:42AM

Dianne Feinstein's Promotion of War, Secret Animal Abuse, Military Profiteering, Censorshi M17 10:22PM

CA Senate Bill 1303 would require an independent coroner rather than being part of police M10 9:08PM

Three years after OC snitch scandal, no charges filed against sheriffs deputies M10 8:57PM
More Local News...
Other/Breaking News

Credit Mr. Richard Enos with outstanding penmanship N19 6:08AM

Master list=====47 million american on foodstamp List State plus Federal N18 8:21PM

Cholesterol Medicine Causes Alzheimers N18 7:40PM

Lucifers Banker N18 7:38PM

Paraphysique du scientisme N18 9:19AM

USDA Withholds Names Of Turkey Companies Spreading Salmonella N17 7:51PM

Hebron, Ben-Gurion, and UNESCO N17 6:00PM

What Can Destroy Enclosure? N17 1:47PM

Please Help Mississippians Vote For Mike Espy On Nov 27th N17 7:42AM

The Incredible & Brilliant Work of Dr TOMO SHIBATA N17 5:19AM

October 2018 Honduras Coup update N16 9:22PM

Profit de guerre, guerre de profit N16 11:58AM

"Animaniacs in Concert!" Starring Voice Legend Rob Paulsen Heads to Seattle N15 7:22PM

Paraphysique du prodrome oukase N15 12:39PM

President Trump: Hurricane Relief Should not Pay Puerto Rico Debt N14 8:54PM

94 Of Rick Scott's, Brian Kemp's, the Mississippi GOP's & Other Republican Campaign Crime N13 9:42PM

30 Of Brian Kemp's Felonious Racist Vote Suppression Crimes N13 8:42PM

Help translation of From Islam To Womanism book on IndieGoGo N13 12:04PM

COP 21, 25, 32, de l'écocide organisé N11 11:45PM

fbi & fmj are ' Lord of the Flies ' N11 8:26PM

Parangon d'une grande infestation N11 12:03AM

Video: Beautiful Country Burn Again, 39 min N10 10:19PM

OBAMA WERE POW'S LEFTBEHIND IN AFGHANISTAN IRAQ AND LIBYA N08 7:57PM

OBAMA WERE POWS LEFT BEHIND IN AFGAHNISTAN IRAQ AND LIBYA N08 7:29PM

DID BARACK OBAMA LEAVE POWS BEHIND IN AFGAHNISTAN IRAQ AND LIBYA N08 6:43PM

DID BARACK OBAMA LEAVE POWS BEHIND IN AFGHANISTAN IRAQ AND LIBYA N08 5:50PM

Paraphysique de l'Etat d'urgence N08 4:24AM

Republican Vote Fraud Reached A New Level In Midterms N07 7:50PM
More Breaking News...