by Mark Gabrish Conlan/Zenger's Newsmagazine Sunday, Aug. 26, 2012 at 4:29 PM
mgconlan@att.net (619) 688-1886 P. O. Box 50134, San Diego, CA 92165
The predominantly Queer San Diego Democrats for Equality voted August 23 to make defeating Proposition 32 a priority race in the November 6 election. Proposition 32 is an effort to destroy the ability of organized labor to raise money for political campaigns, and it's being sold deceptively as a campaign finance reform measure even though its principal sponsors are multi-million dollar donors to Republican candidates and super-PAC's. On the eve of Women's Equality Day, the club also heard from professors Dr. Sue Gonda and Carla Kirkwood on the history of women's struggles for equality and their links to the Queer rights movement.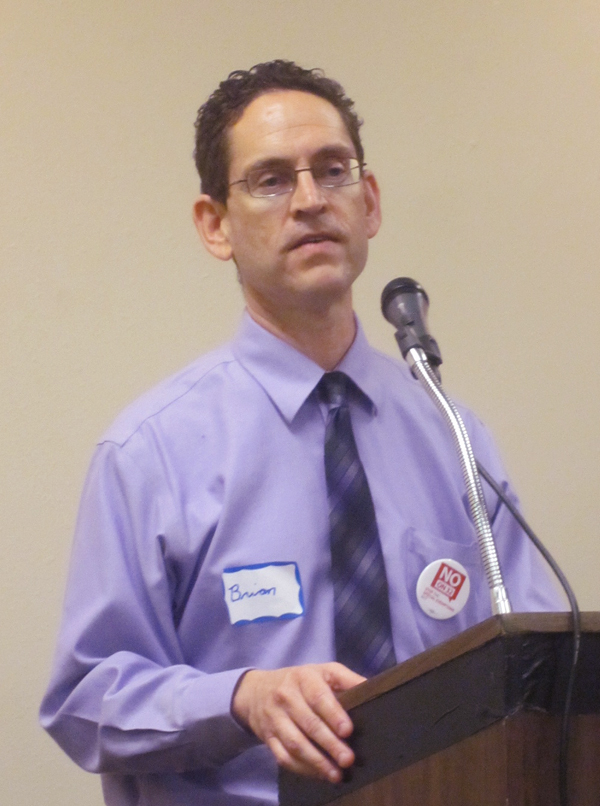 polejes.a.jpg, image/jpeg, 600x806
Queer Democrats Make Defeating Anti-Labor Prop. 32 a Priority

Club Also Hears Presentations on History of Women's Rights Struggle

by MARK GABRISH CONLAN

Copyright © 2012 by Mark Gabrish Conlan for Zenger's Newsmagazine • All rights reserved

Top photo: Brian Polejes

The predominantly Queer San Diego Democrats for Equality voted overwhelmingly at their August 23 meeting to make defeating Proposition 32, an attack on labor unions' ability to raise money for political action, one of their priority races in the November 6 election. The club's board had picked out four local races as the club's top priorities — Bob Filner for Mayor of San Diego; Sherri Lightner for San Diego City Council District 1; Dave Roberts for San Diego County Board of Supervisors District 3; and Scott Peters for Congress against Republican incumbent Brian Bilbray — but the club added Proposition 32 after hearing a presentation by longtime member and union official Brian Polejes on just how devastating its passage would be not only to organized labor but all progressive causes, including Queer rights.
"It's a game that's been tried before by two of our not-so-favorite governors, Pete Wilson and Arnold Schwarzenegger," Polejes explained. "It's back, and now it's been dressed up as 'campaign finance reform.' The proponents are calling it the 'Stop Special Interests Now Initiative.' We're calling it the 'Special Exemptions Act.'" According to Polejes, the initiative's sponsors made it look even-handed by banning both corporations and labor unions from asking employees and members to fund political action committees (PAC's) through automatic deductions from their paychecks — but corporate PAC's get less than 1 percent of the money from automatic payroll deductions, while such payments raise over 95 percent of labor's political funding.
What's more, Polejes said, Proposition 32 is full of pro-corporate loopholes. "It exempts super-PAC's, 'independent expenditures' and independent campaigns," he explained. "It has key exemptions for Wall Street investment firms, hedge funds, real-estate developers, insurance companies and corporate-funded front groups. Meanwhile, teachers, nurses and firefighters would be effectively limited by this initiative. What that would mean to the Democratic party, women's equality, the environmental community and the LGBT [Queer] community would not be pretty."
In a column in the August 19 Los Angeles Times, Michael Hiltzik listed the principal funders of Proposition 32: Hollywood mogul A. Jerrold Perenchio, the second-largest individual political donor in California in the last 10 years ($16.9 million, "mostly to Republican and conservative interests," including $2 million to Karl Rove's American Crossroads super-PAC); Silicon Valley billionaire Thomas Siebel (who gave $250,000 to American Crossroads and once called Sarah Palin "the embodiment of pure, unadulterated good"); Public Storage founder and CEO B. Wayne Hughes (who has given $3.5 million to American Crossroads and $2.3 million to Republicans in California, and zero to Democrats); and Charles Munger, Jr. (third-largest individual donor in California in the last 10 years: $14.1 million, mostly to Republicans).
"The backers of this are the same ones who helped Governors Wilson and Schwarzenegger: Wall Street executives, anti-union activists, the Howard Jarvis Taxpayers' Association and the Lincoln Club of Orange County, the group that helped get Citizens' United [the 2010 U.S. Supreme Court decision that essentially ended all attempts to reduce the influence of big money in U.S. politics] through," Polejes said. Among the opponents, he added, are the League of Women Voters, Common Cause and various newspapers, including the ordinarily conservative Orange County Register as well as the Los Angeles Times, Sacramento Bee and Long Beach Press-Register. The California Democratic Party is also opposed because, as Polejes said, "Without [funding from] labor unions, this state could go back to being a Republican state, as it was in presidential elections before 1992." He also warned club members that so far the Yes on 32 stealth strategy is working — early polls show it leading 55 to 35 percent — and said it's important to get the word out to voters that 32 is a pro-corporate wolf in "reform" sheep's clothing.
Polejes reminded his audience that organized labor had been a major donor to the campaign against Proposition 8, the 2008 ballot measure that banned marriage equality in California. His employer, the Service Employees' International Union (SEIU), put $2 million into the No on 8 campaign, and the California Teachers' Association (CTA) gave $1 million to No on 8. Polejes didn't have any trouble getting the club to endorse No on 32 — that took place as part of an omnibus motion in which the club adopted the California Democratic Party's positions on virtually all the propositions on the November ballot — but the motion from a club member to make No on 32 a priority race proved unexpectedly controversial.
Craig Roberts, the club's vice-president for political action, strongly opposed adding No on 32 to the priority list. He cited the warnings from club president Doug Case that fewer members are volunteering for the club's endorsed campaigns than ever before and said the club would stretch itself too thin if it added another priority campaign. "We've never had more than four priority races in one election, and we have to be selective," Roberts said. "Our efforts will do the most good in the [local] races."
"This is not just a labor issue," said Evan McLaughlin. If Proposition 32 passes, McLaughlin warned, anti-labor and anti-Queer U-T San Diego publisher Doug Manchester "will have special exemptions in every election, and your allies in organized labor will have nothing. There will be absolutely no money [available to labor] that can be construed as 'political.' The labor movement is the piggy bank of the progressive program, and California raises 25 percent of the labor movement's political funding. Every group I work with — the Environmental Health Coalition, the ACLU, Equality Alliance — is putting No on 32 prominently on their campaign material."
Allan Acevedo, the club's mobilization chair, said he agreed with Roberts that No on 32 shouldn't be designated a priority race. "A 'priority' doesn't just mean it's important," Acevedo explained. "It means we're going to work on it. This list is already a lot, and we need to get back to the grass roots. I think everything is important, but we need to set priorities."
San Diego County Democratic Party chair and former club president Jess Durfee said that as a club board member, he had intended to make the motion to add No on 32 to the priority list during the board's meeting but had let the opportunity slip by him. "It's been said very eloquently that money for the progressive movement in California will dry up if Proposition 32 passes," Durfee said. "None of these other races will matter if 32 passes. If nothing else, if we designate No on 32 as a priority our materials will say it's important." Eventually both the motion to add No on 32 as a priority race and the overall motion to designate it and the four local candidates passed overwhelmingly on voice votes.

Women and Queers: Linked Struggles

The club's two speakers on women's issues — scheduled in connection with August 26, Women's Equality Day — both had strong academic as well as activist backgrounds. Dr. Sue Gonda teaches at both San Diego State University (SDSU) and Grossmont College and has published extensively on the history of women in the U.S., including the so-called "crime of seduction" for which women were prosecuted in early American history and the roles women have played in America's wars. Carla Kirkwood co-founded the first women's studies program in the U.S. at SDSU in 1970. She also worked in blue-collar jobs at Solar Turbines in San Diego and Inland Steel in Chicago, and was active in unions on both jobs. A member of the California Teachers' Association since 1989, she is currently coordinator for international programs at Southwest College.
Dr. Gonda began her talk with a joke that "it's really easy with people like Todd Akin around" to establish the link between anti-women attitudes and other forms of oppression. She also said that Akin, the Missouri Congressmember and U.S. Senate candidate who made headlines recently with his statement that women don't have to worry about becoming pregnant from being raped because "if it's a legitimate rape, the female body has ways to try and shut that whole thing down," was expressing a mainstream opinion … from the 17th century. "Among the things they believed then was that if a woman didn't have orgasm, she couldn't get pregnant," Dr. Gonda explained.
The history Dr. Gonda told was one all too familiar to long-term women's equality activists and scholars. "Before 1848, women's bodies belonged either to their fathers or to their husbands," she said. "In 1848 New York passed the first Women's Property Act that allowed women to earn money and own property on their own. By 1900 all U.S. states had those laws. In 1848, the first women's convention took place in Seneca Falls, New York. Most of the attendees were abolitionists who looked at how they were being discriminated against in anti-slavery organizations." She said that the organizers of the Seneca Falls convention expected about 50 people and got 300, and passed a wide variety of resolutions unanimously on issues ranging from property rights to children's custody.
But the one issue that split the Seneca Falls convention was whether women should demand and receive the right to vote, Dr. Gonda said. Though women didn't win the right to vote nationwide until 1920, a few states and territories enfranchised women before that — among them Wyoming and Utah — partly to attract more settlers and partly "because they thought women would be the conservative vote," she explained. California gave women the right to vote in 1911, nine years before the 19th Amendment was ratified and made women's suffrage nationwide. (Dr. Gonda didn't discuss the peculiar connection between women's suffrage and Prohibition. Many of the pioneering feminists were also strong prohibitionists — largely in the hope that banning alcohol would stop domestic violence — and much of the funding to keep women from getting the vote came from beer and liquor companies.)
Another milestone year Dr. Gonda discussed was 1872, the first year a woman ran for the U.S. presidency and also the year feminist pioneer Susan B. Anthony was arrested for voting. She also mentioned a much less well-known feminist of the period, Victoria Woodhull, an outspoken opponent of marriage whose argument that marriage was essentially prostitution — that "in marriage women were chattel; it was essentially money for sex" — was echoed by radical feminists in the 1960's and 1970's. Dr. Gonda also discussed the ways feminists were caricatured in the popular media in the 1870's and compared it to the drawings that circulated during Hillary Clinton's presidential campaign in 2008 of her riding a broomstick. (Actually Hillary Clinton had been caricatured as a witch by the Right-wing Weekly Standard magazine while Bill Clinton was President, well before she ran herself.)
Among less well-known feminist icons Dr. Gonda mentioned were African-American anti-lynching activist Ida B. Wells; Latina activist Jovita Idar, whose family newspaper La Crónica ("The Chronicles") attacked anti-Latino lynchings and other violations of Latinos' civil rights; and women's education pioneer Mary Emma Woolley, president of Mount Holyoke College from 1901 to 1937 who lived surprisingly openly with Jeannette Marks, head of Mount Holyoke's English department and editor of Woolley's papers after her death. She cited the partnership of Woolley and Marks as an example of what was then called a "Boston marriage," two women (usually academics or independently wealthy people) living together in what a writer in the late 19th century said was "by all appearances a true union."
Dr. Gonda also mentioned Margaret Burbidge, an internationally known astrophysicist who for many years couldn't get laboratory or observatory time unless a man co-signed the application with her and got credit for her research; Madge Bradley, the first female judge in San Diego County, who for years wasn't permitted to attend meetings and luncheons with her male colleagues; and Rev. Dr. Anna Pauline "Pauli" Murray, the first African-American woman ordained as an Episcopal priest, who said she enrolled in Harvard as a "race woman" and left as a feminist, and whom Dr. Gonda said "would today be described as Transgender."
The conclusion of Dr. Gonda's presentation was a bit depressing. She noted that the jobs most readily available to women in the U.S. economy today are the same ones as in 1910: elementary- and middle-school teaching, nursing, secretarial and domestic. "There's still so much we have to do," she said ruefully. "While so much has changed, and you're in the middle of a struggle over Gay marriage, just remember there's a reason to embrace women's rights."
Carla Kirkwood, who said she prefers the late 1960's/early 1970's term "women's liberation" to "women's studies" because "it's about taking stands," set herself the uneasy task of reconciling the often bitterly anti-marriage stand of the women's movement in the 1970's to its support of marriage equality for same-sex couples today. What changed, she said, is the definition of marriage itself; largely due to pressure from feminist activists, she argued, marriage between men and women has changed from a male-dominated institution to a more equal partnership. "We fought for independent property rights for women," said Kirkwood, who recalled that when she applied for a loan in the 1950's her husband had to co-sign the papers. Thanks to the work of feminist activists, Kirkwood argued, "marriage is [no longer] an institution based on gender inequality and subjugation."
Not that the task has been easy — or that the progress couldn't be reversed. Kirkwood sees the position of anti-woman politicians like Todd Akin and his allies on the radical Right as "the idea that my body is public property and it has to be managed by men. Some of the most fearsome regulations are about my womb" — and she added a joke that if government is going to regulate her womb, "it should be declared a state park and I shouldn't have to pay taxes on it."
Kirkwood talked about the standards men impose on women in general and their sexuality in particular, noting that despite legal reforms "it's still very difficult to find a man responsible for raping his wife. In some analyses, we are by nature 'tempting sexual creatures.' It's like the so-called 'choice' between the virgin and the slut." She also analyzed homophobia as an extension of sexism, saying that since according to the patriarchy the worst thing you can be is a woman, the patriarchy comes down especially hard on men who "reject the role of masculinity" and sexually submit to other men. "The Gay community stretches the bonds of patriarchial culture and society," she explained.