by Mark Gabrish Conlan/Zenger's Newsmagazine Thursday, Aug. 02, 2012 at 4:15 PM
mgconlan@att.net (619) 688-1886 P. O. Box 50134, San Diego, CA 92165
The predominantly Queer San Diego Democrats for Equality heard a presentation July 26 from "Paradise Plundered" author Vladimir Kogan. The book, co-written with professors Steven P. Erie and Scott A. MacKenzie, argues that San Diegans have long wanted their city government to do far more in services than they're willing to pay for in taxes -- and recently they and the politicians seeking to lead the city, most notably Right-wing Queer Mayoral front-runner Carl DeMaio, have been scapegoating city workers and their unions for the city's pension crisis and other financial shortfalls.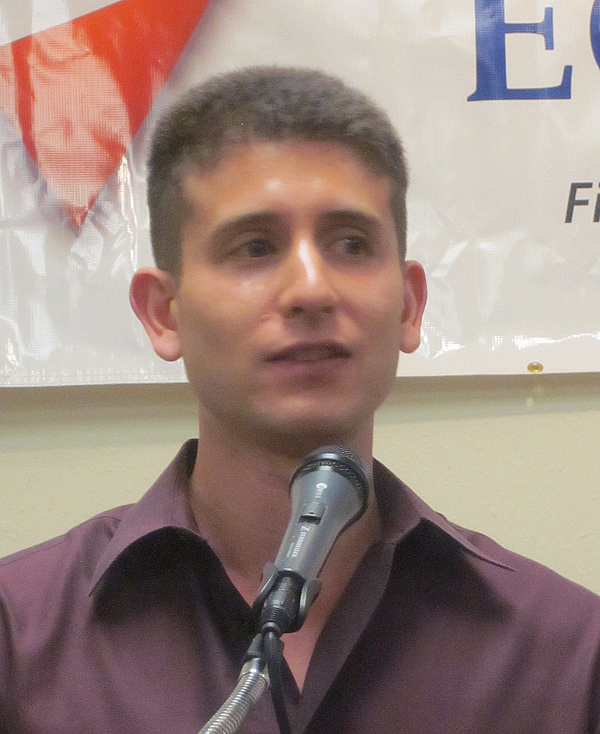 kogan.a.jpg, image/jpeg, 600x734
Queer Democrats Hear "Paradise Plundered" Author

City Residents Want Government Services but Don't Want to Pay for Them

by MARK GABRISH CONLAN

Copyright © 2012 by Mark Gabrish Conlan for Zenger's Newsmagazine • All rights reserved

San Diego's residents want their city government to provide a wide array of services — but they don't want to pay the taxes needed to finance them. That's the bottom line Vladimir Kogan, co-author of Paradise Plundered, brought to the predominantly Queer San Diego Democrats for Equality at their regular meeting July 26. Kogan, who recently completed his Ph.D. at the University of California at San Diego (UCSD) and is leaving town to take a teaching job at Ohio State University, and co-authors Steven P. Erie of UCSD and Scott A. MacKenzie of UC Davis, published Paradise Plundered last year. The book tells a story of a city governed by a tightly-knit downtown elite that has resisted all efforts at genuine reform, and in his talk Kogan focused on the city's 20-years-in-the-making pension crisis and how the city's elites have managed to preserve their power by scapegoating city workers and their unions for San Diego's financial problems.

"We have been cutting hours at recreation centers, and yet we're talking about building a new football stadium," Kogan said. "We've been cutting hours at branch libraries and yet we're building a new $200 million downtown library. We don't have money to maintain Balboa Park, but we're building a Convention Center expansion." Those seemingly contradictory policies, said Kogan, are evidence that San Diego doesn't have one city government, but two: "a big government that provides benefits for a handful of people, and small government for everyone else." Kogan said that the explanations for San Diego's fiscal crises from both the Right and Left — City Councilmember Carl DeMaio's blaming them on "greedy union workers and labor bosses" and former City Councilmember Donna Frye and former City Attorney Mike Aguirre attributing them to "corrupt or stupid public officials" — are both overly simplistic.

Instead, Kogan and his co-authors attribute San Diego's fiscal dysfunction to three much broader and more enduring traits. First, Kogan said, is "political culture at the mass level." While San Diegans are relatively liberal culturally, much like people in the state's other major coastal cities, Los Angeles and San Francisco, "fiscally we have a very conservative electorate," Kogan said. "In the last 20 years we have not passed any tax increases and have approved only one bond measure." Second is the fact that San Diego is what Kogan calls "a quintessential branch-plant town." While many major corporations have offices in the city, only a few are headquartered here — so many businesspeople don't take an interest in civic affairs because they're hoping to be promoted and move somewhere else. Third is the city's decision to base its economy largely on tourism instead of manufacturing, which means the elites "only invest in infrastructure for people coming in from out of town."

Kogan also identified two complicating factors in San Diego's politics: California's tradition of direct democracy — particularly the initiative process, which allows both grass-roots voter organizations and well-heeled special interests to bypass elected officials and make laws themselves — and the city's shift to district-only City Council elections in the 1980's. He blamed the "gridlock" that has afflicted San Diego's politics largely on initiatives and the uneasy combination of district-elected Councilmembers and a citywide-elected Mayor. "With these constraints, it doesn't matter so much who the officials are," Kogan said.

San Diego's fiscal problems, like the rest of California's, really began in June 1978, when the state's voters approved Proposition 13, Kogan said. Sold to voters as a way to keep property taxes from rising so they weren't forced out of their homes due to paper increases in the homes' value, Proposition 13 also made it much more difficult to raise taxes in California. It required voter approval for new local taxes and said that tax increases aimed at a specific purpose — say, police, fire or other public-safety programs — needed a two-thirds vote. It also transferred property-tax revenue from cities, counties and other local agencies to the state, which worked out a formula for distributing them to local governments based on what they had been spending in the past. This discriminated against San Diego, Kogan explained, because its budget was already so low relative to its population that "when we had to make cuts, they were especially painful because we had very little fat."

When Proposition 13 passed, Pete Wilson was Mayor of San Diego, and one of the first things he did in response was to persuade city employees to end their participation in Social Security and Medicare, Kogan said. "In order to make the deal sweeter, he said the city would give [its employees] free health care for life," Kogan explained. "The employees voted for this, but the city never set aside any money to fund the employees' health care. Instead, they took the money from the pension funds."

Throughout the 1980's and 1990's, according to Kogan, this pattern continued: a mayor, city council and city manager would find that the city's budget was dangerously out of balance, and they'd raid the workers' pension funds to cover the shortfall. When Susan Golding became mayor in 1993, she was committed to expanding the Convention Center to accommodate the 1996 Republican National Convention and building a new downtown ballpark for the San Diego Padres, which just added to the city's financial burden and the temptation to cover the deficits with pension money. Twice, in 1996 and 2002, the city passed proposals to reduce its contributions to the pension funds — and got city workers and their unions to agree by promising them higher benefits the city wasn't paying for and, as it turned out, couldn't pay for.

These proposals were based on the hope that investment income from the pension fund would rise fast enough to cover the debts — but the recession in the early 2000's put an end to that. According to Kogan, the city actually started losing money on the pension fund's investments in 2001. His figures indicate that pension costs for San Diego have risen from five percent of the city's budget in 1997 to over 20 percent today, and that the city owes $2.2 billion more in pensions than it can afford. Kogan also said that the overpayments to city workers — the extra pension money the city promised and couldn't or wouldn't supply — accounts for only $350 million, less than 15 percent of the total. The remainder is due to the city underfunding the pension system and the pension fund's investment losses in the last two recessions.

In the June 2012 mayoral primary, Councilmember DeMaio made a pension "reform" initiative a major focus of his campaign and got city voters to approve it by a 2-1 margin. The initiative eliminates guaranteed-benefit pensions for all new city employees except police officers and shifts them into a plan similar to the 401(k) individual investment accounts all too familiar to most private-sector workers who get offered retirement plans at all. It also imposes a five-year freeze on so-called "pensionable" pay for all city workers — after they've already gone five years without a raise. Kogan argued that DeMaio's "reform" would actually cost the city more money than the deal Mayor Jerry Sanders negotiated with the city workers' unions in 2007, and it won't do anything to reduce the $2.2 billion pension shortfall because it comes from current employees.

What it's going to do, Kogan argued, is make it harder for the city to attract and retain qualified employees. "We're going to be competing against other cities for skilled employees — cops, firefighters, engineers — and we'll probably be paying for them with non-pensionable 'bonuses,'" Kogan said. "It's not clear this measure will solve the problems we have."

Who deserves the blame for San Diego's ongoing financial problems? "Public officials and public employees," said Kogan, "but mostly the voters who for a long time believed they could get the services people get in San Francisco and Long Beach without paying comparable taxes. In order to be a viable political candidate in San Diego, you had to go along with this something-for-nothing fantasy, and the way they got away with it was to use the pension system as a piggybank." Kogan also said that now that that's not a viable option, the city is creating the illusion of a "balanced" budget by cutting back on infrastructure — adding to San Diego's sorry reputation as a city of potholes. "If you have a candidate who says they have a magic solution — and both [general-election mayoral candidates, DeMaio and Bob Filner] do — they're wrong," Kogan summed up. "It's going to be higher taxes, lower services or both."