Features
•
latest news
•
best of news
•
syndication
•
commentary

Feature Categories



KILLRADIO
printable version - js reader version - email this article - view hidden posts - tags and related articles

by Mark Gabrish Conlan/Zenger's Newsmagazine Wednesday, Jun. 20, 2012 at 2:46 PM
mgconlan@earthlink.net (619) 688-1886 P. O. Box 50134, San Diego, CA 92165
Most Queer people, unless they actually came from Kansas, think of it as the place Dorothy Gale was lucky enough to be flown out of by a cyclone in "The Wizard of Oz." But San Diego's Diversionary Theatre is producing an original musical, "Harmony, Kansas," a touching comedy/drama about Gay men in Kansas who come together and form a singing group just to have one place where they can be who they are.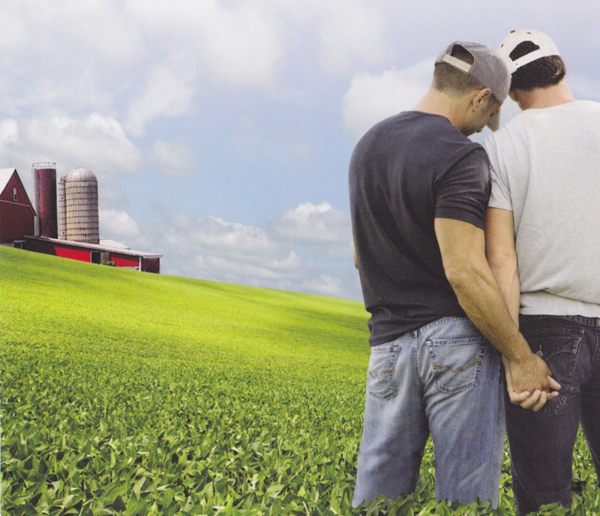 scan_blur.a.jpg, image/jpeg, 600x516
Harmony, Kansas: Diversionary's Engaging Original Musical

by MARK GABRISH CONLAN

Copyright © 2012 by Mark Gabrish Conlan for Zenger's Newsmagazine • All rights reserved

Say what you will about Diversionary Theatre, you never quite know what to expect from them. Their latest production, Harmony, Kansas, is an original musical — that's something of a surprise right there — set in the Kansas flatlands and the town of Shiloh, described on the ePodunk.com Web site as "a township in Neosho County … [whose] population, at the time of the 2000 census, was 297." For those Queers whose association with Kansas is as the place Dorothy Gale was magically whisked out of by a cyclone that took her to Oz, Harmony, Kansas will be a jolting confirmation that we are, indeed, everywhere — even in the middle of the Kansas wheat country where virtually everyone is a farmer and there are virtually no opportunities to meet each other.

Written (book and lyrics) by Bill Nelson with music by Anna K. Jacobs, Harmony, Kansas centers around Heath (Jacob Caltrider), a Wisconsin native whose sex-fueled wanderlust cost his family their farm and who's trying to make it right by building a spread in Kansas equal in size to the one he lost in Wisconsin. Either one or two and one-half years earlier — Nelson's book is a bit unclear on the timeline — Heath met a man named Julian (Tom Zohar) in Kansas City (there are actually two Kansas Cities, but Julian is presumably from the larger and much more cosmopolitan one in Missouri rather than the one across the state line in Kansas), started a relationship with him and ultimately got him to move back with him to his farm.

There's just one problem: Julian remains a city boy at heart, painfully yearning for the company of other people in general and other Gay men in particular. He's found at least some of what he's looking for in an informal singing group that meets every Monday night in Shiloh. The organizer is Wylie (John Whitley) and the other members include middle-aged bear type Fuzz (Bill Nolte); rather prissy homebody Darrell (Tony Houck) — whose partner Pete (whom we never see as an on-stage character) is out of town selling horses — Ken (Anthony Methvin), with whom Darrell has drifted into an affair; and 16-year-old D. J. (Dylan Hoffinger), who's taking out his dual frustrations over being Queer and under the age of consent out on animals he puts in freezers or blows up with homemade bombs.

The plot of Harmony, Kansas deals with Julian's desperate attempts to get Heath to join him in the singing group — whose members have informally nicknamed it "The Poker Night" because that's what they tell anybody else who asks what they're doing on those Monday nights — and the struggles of the various members to maintain their integrity as people against the relentless pressure on them to remain closeted. The first half is generally campy and a bit silly — though at least Nelson resists the temptation to turn the relationship of Heath and Julian into Green Acres, the Gay version.

Indeed, their cultural conflicts and the peculiar combination of love and guilt in the relationship between Darrell and Ken are presented dramatically and with genuine pathos, even though sometimes it seems as if Nelson has inverted the formula of "comic relief" by creating those moments as "serious relief" from the campy humor. At one point Darrell even gets miffed that Julian has brought snacks for the group and sings a song called "I Bring the Snacks."

The second half gets a good deal more serious as the conflicts between Heath and Julian get more pointed, the triangle between Darrell, Ken and the unseen Pete becomes harder to maintain, and Wylie gradually wants to raise the profile of the singing group and have it perform in public. Though all the onstage characters are Gay men, Nelson does a superb job of dramatizing the closet and its corrosive effects on these men's self-esteem, as well as their abject fear of "outing" themselves by appearing on a local stage with all their neighbors watching. "Don't ask, don't tell" may be history as far as the U.S. military is concerned, but at least as depicted here it's still very much a part of life on the Kansas plains.

When Julian protests that their fellow farmers will have noticed that they are two men living together and therefore have intuited that they're a Gay couple, Heath protests that he needs to maintain their respect (especially since he's depending on them for the bank loan he needs to expand his farm) and therefore they can't do anything that might be read as "flaunting." Darrell is in an even worse pickle because the farm he lives on is owned by Pete's family, and they have the power to throw him out and render him homeless any time they choose.

Harmony, Kansas gets darker and more emotionally intense as it goes on, and though it reaches an affirmative climax it gets there through a deus ex machina device of such bone-crushing obviousness one gets the impression that Nelson missed the class session of Playwriting 101 that would have taught him not to do that. Despite that miscalculation, though, it remains emotionally intense (this viewer cried!) and is superlatively staged by director James Vasquez and Diversionary's technical crew, and impeccably acted by the cast.

Though Jacob Caltrider stands out — he's the hottest man in the cast (when one of the other characters makes a joke about how well he fills out his Wranglers, virtually every Gay man in the audience — and most of the straight women as well — will no doubt agree!), he's the most charismatic actor and he's also got the strongest singing voice — Harmony, Kansas is really an ensemble piece. Tom Zohar gets a bit whiny sometimes as Julian, and John Whitley and Tony Houck don't always maintain the right balance between their characters' queeny exteriors and their emotion-ridden interiors, but Anthony Methvin is a powerful stage presence as the tortured Ken and Dylan Hoffinger is dynamic as the frustrated D.J.

The best part of Harmony, Kansas is the formidable vocal blend its actors have achieved. Adam Wachter, who conducts the show, plays the piano accompaniment (supported by Peggy Johnston on bass) and is responsible for the arrangements, deserves credit for rehearsing the actors and training them to become a first-rate singing group. The few times they're less than perfect — like on the pathetic (in the negative sense) "Welcome Song" Wylie writes to welcome Heath to the group — are clearly intentional. Indeed, it might be nice to see these actors stay together and keep singing after the run of Harmony, Kansas ends on July 22; they're good enough to sing the great standard songs their 1950's harmonies were made for. (There's one point during the musical in which Nelson's dialogue seems to be setting up a song cue for "Over the Rainbow" — and it seems likely the only reason he and Jacobs didn't go there was the nightmarish trouble and expense of securing the rights.)

Harmony, Kansas is produced with Diversionary's usual technical aplomb. Sean Fanning's unit set is reasonably credible as both farm country and living room, and only when we're asked to believe that a crude stack of three chairs is a mechanical bull does it tax credibility. Shirley Pierson's costumes are appropriate enough — especially D. J.'s overalls and Fuzz's belt buckle, which tell us more than we need to know about them — and Michelle Carron's lighting design is a bit on the autumnal side but still lets us see what's going on. Overall, it's a nice, uplifting evening at the theatre, a piece that fulfills the musical conventions (and is helped by being about people who sing!) despite some glitches in the dramatic construction which Nelson may well fix for subsequent productions.

Harmony, Kansas runs through Sunday, July 22 at Diversionary Theatre, 4545 Park Boulevard in University Heights. Previews run through June 22 and the official opening is on Saturday, June 23. Performances are 8 p.m. Thurs.-Sat. and 2 p.m. Sun. Special performances occur Wed., June 20 and Mon., July 9. For tickets and other information, call (619) 220-0097 or visit www.diversionary.org
Report this post as:
Local News

Activists Mark 150 Years Since Chimney Rock Massacre F21 7:00PM

Indivisible local events F16 4:07PM

Help Wanted: How You Can Act Locally To Stymie Trump's Agenda F16 11:24AM

RACE RELAY - race relations dialogue F16 7:01AM

LA County Greens Oppose S F09 8:52PM

Our Revolution L.A Organizing Meeting F08 12:23AM

First We Marched. Now We Huddle F06 10:54PM

Indigenous, Sacred Lands Disrespected at L.A. Women's March J24 1:52PM

Massive Women's March Los Angeles Tells President Donald Where To Go J23 8:22PM

Massive Women's March Los Angeles Tells President Donald Where To Go J23 8:00PM

Massive Women's March Los Angeles Tells President Donald Where To Go J23 7:42PM

Massive Women's March Los Angeles Tells President Donald Where To Go J23 6:04PM

Massive Women's March Los Angeles Tells President Donald Where To Go J23 5:48PM

Massive Women's March Los Angeles Tells President Donald Where To Go J23 5:30PM

Massive Women's March Los Angeles Tells President Donald Where To Go J23 5:02PM

Massive Women's March Los Angeles Tells President Donald Where To Go J23 4:23PM

Massive Women's March Los Angeles Tells President Donald Where To Go J23 4:03PM

Massive Women's March Los Angeles Tells President Donald Where To Go J23 3:39PM

University of California Riverside Students Walkout J22 10:41PM

San Gabriel Valley Anti-Repression Committee Action J22 10:07PM

Staggering Turnout for Women's March L.A. J22 1:09PM

Los Angeles Braves Extended Downpour to Tell Trump Hell No J21 3:32AM

Los Angeles Braves Extended Downpour to Tell Trump Hell No J21 3:04AM

#J20 CalArts in SoCal Plan Walkout; NY Galleries & Nonprofits Plan Art Strike J18 5:25PM

Camp 120 Will Hold Space in Front of City Hall Until Inauguration Day to Protest the Inac J18 5:03PM

Teamsters Local 2010 Initiates Mass Walkout and Strikes at University of California J18 4:12PM

Nurses Storm The Boulevard To Pressure Trump on the ACA J17 4:49PM

Nurses Storm The Boulevard To Pressure Trump On the ACA J17 3:12PM
More Local News...
Other/Breaking News

Our Beautiful New Clothes F27 5:11AM

La société spectaculaire marchande techno-industrielle F26 10:18PM

Nuclear Shutdown News February 2017 F26 9:22PM

Controlled Media, can you hear me yet! F26 1:50PM

(A-Radio) Región chilena I - Radio Kurruf, su proyecto en Temuco y la amenaza paramilitar F26 1:18PM

Philippines: Unity Statement by February 25 Coalition F25 7:11PM

Neutralization Horrors F25 12:06AM

24TH ANNUAL LOS ANGELES WOMEN'S THEATRE FESTIVAL HONORS COMPOSER MEGAN CAVALLARI ON MARCH F24 2:40PM

Destiny of Man as seen through the looking glass F23 8:20PM

Palestine Advocacy Day 2017 F23 6:52PM

The Shortwave Report 02/24/17 Listen Globally! F23 5:31PM

Metal Fist Urban Domination Cheats Gold F23 3:37PM

Treasury Extends Anti-Money Laundering Luxury Real Estate Regulations F23 11:00AM

Metal Fist Urban Domination Hack F23 9:01AM

Fbi COINTEL Operations Expand F23 1:33AM

Le travail est une prostitution F22 10:29PM

Art of War : Executive Order F22 10:16PM

Damage Assessment F22 9:42PM

La société future, la société sans relation F21 6:24AM

The Long History of Human Incapacitation by Politics and the Press F21 6:09AM

Kucinich Warns of Deep State's Plans for War Post-Trump Impeachment F20 4:54AM

KLM refuses seven passengers following Trump's muslim ban/KLM accomplice to discrimination F19 3:50AM

Radio Libertaire ou Persona grata F18 3:47AM

Resistance Recess F17 2:21PM

Congress Moves Slowly on Bipartisan Puerto Rico Recommendations F17 9:30AM

The Shortwave Report 02/17/17 Listen Globally! F16 5:01PM

Paraphysique de l'emprise F15 10:34PM

107 More Groups Oppose Neil Gorsuch F15 4:38PM
More Breaking News...