Tell the NSA:
StopWatching.US
Features
•
latest news
•
best of news
•
syndication
•
commentary

Feature Categories



KILLRADIO
printable version - js reader version - email this article - view hidden posts - tags and related articles
by Venice Justice Committee Tuesday, Jun. 19, 2012 at 12:47 PM
justicecommittee@fastmail.fm
Venice NIMBYs blame the unhoused for environmental problems.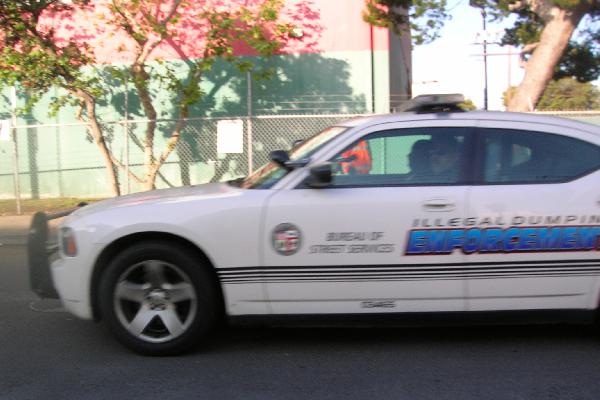 dumpingcops.jpg, image/jpeg, 2064x1377
Underneath the streets, sidewalks, and houses of Venice there is a maze of decrepit city plumbing, including the old sewer main that runs from Venice to the Hyperion treatment plant. Old leaky sewer pipes run for miles just beneath our feet; pipes with unspeakable sludge running into the ground near water mains that supply homes and businesses. The city's water supply has also been contaminated with pharmaceutical drugs that pass through water treatment.

One example of a city sewer pipe leaking for years was just east of Lincoln Blvd. It oozed bubbling raw sewage up to the surface into the grass by the side walk right of way. This was next to two homes and a church with considerable youth activity and a daycare, but the city allegedly could not find the pipe on any city map. This continual flow of sewage, not only contaminated the grassy area, but ran directly into a gutter drain going out to the ocean. There is also direct dumping of contaminants into storm drains like automobile fluids, household cleaning products, industrial chemicals, paint, and other waste products.

It is a fact that the city is denying proper sanitation facilities for its homeless population, yet the homeless population in Venice and other parts of Los Angeles are blamed for contaminating the streets. While untold sewage is leaching into our drinking water system and the ocean, motor homes have been towed, impounded, and seized by the city for extremely small or imagined leaks coming from their plumbing systems. City workers dressed in hazmat suits have even been seen crawling under motor homes and examining backpacks, tents, and other personal belongings, then impounding them.

Blaming the unhoused homeless population and those living in vehicles for environmental problems is a biased masquerade to hide the real problems regarding civil rights and human rights violations. It is a form of Environmental Fascism when the more affluent population of Venice blames the poor for destroying the water and air quality.

The vast majority of our environmental problems in Venice come from businesses and homes. The more affluent consume more and pollute more - a fact studied by the scientific community.

When a sewer line backs up and leaks in an expensive Venice home, the Hazmat team and the LAPD do not come to seize the home. Yet many vehicles were towed and impounded by the LAPD during the cities attempt to run them out of town. Those who point fingers at the extremely small percentage of pollution caused by people living on the streets of Venice should first look at what is going on directly under their house and over their heads.

Carbon pollution, the main cause of global warming, threatens the entire planet and cannot be blamed on the poor and unhoused. The population who live on the streets should be helped economically so they can repair their vehicles – not persecuted for being poor. Programs should be started and funded by the City of L.A. to improve the lives of the poor and not to seize and destroy their personal property.

When a local bar fly urinates in the alley, he is not arrested and his car is not impounded. Those in the community who are trying to push our poor and homeless community members over the cliff by saying they are a health and environmental hazard are exposing their fascistic tendencies.

One must remember the past and how other minority groups have been persecuted. Treating the poor like a punching bag is a distraction started by politically motivated tricksters .The local politicians in power are not humanitarians and are acting on behalf of their negatively motivated voter base.

Those who rail against the poor and call them an environmental hazard should jump first into the cauldron of environmental degradation and not blame the poorest among us for it.
Report this post as:
Local News

Dutchman Opens Limited Engagement at Edgemar Center for the Arts on July 15 J01 9:21AM

KPFK in Pacifica's meeting - more descriptions J29 2:57PM

KPFK hosted PACIFICA's board in LA. Missed it? here's some for ya J29 2:16PM

5 Reasons to Support RAC-LA This Month J20 11:10PM

Viacom CBS' Sumner Redstone Promotes Brutal Treatment Of Pot Smokers J19 1:20PM

Summer 2015 National Immigrant Solidarity Network Monthly News Alert! J15 12:33PM

Housing Board Member is an Evicter! J11 11:37PM

KPFK & PAPCIFICA forum in LA J11 5:45PM

LA Times goes to bat for killer cops in Salinas J10 10:34PM

NUCLEAR SHUTDOWN NEWS MAY 2015 J04 12:48PM

Los Angeles Uranium Film Festival J04 7:18AM

KPFK difficulties continue J01 4:22PM

KPFK buys premiums to re-sell them for donations -so J01 4:00PM

Latest Long Beach Police Execution: Murder of Youth In Mental Distress J01 8:19AM

How can california deal with this water crisis? M31 1:46PM

Four Winds of March Against Monsanto Los Angeles Take The Streets of Hollywood M27 2:49PM

Foreclosure Victims Occupy Senate Stump Speech of Kamala Harris M21 4:58AM

LA Nakba Anniversary protest at the Israel Consulate M19 12:56AM

Long Beach Police Execute Unarmed Teen Hector Morejon on Suspicion Of Trespassing M15 6:08AM

Eagle-Con 2015 at Cal State L.A. M13 4:15PM

Brendon Glenn Dies and Venice S/Weeps M08 7:45PM

JOIN CLASS ACTION LAWSUIT AGAINST RONALD L. HAVNER JR's PREDATORY BUSINESS, PUBLIC STORAGE M08 4:48PM

Councilmember Bonin Calls People of Venice Outraged by Police Murder "Outside Agitators" M08 10:45AM
More Local News...
Other/Breaking News

Planned US Coup in Greece? J07 6:54AM

Obama Declares Permanent War on Humanity J07 2:54AM

Greek Voters Reject Financing Plan J06 1:54PM

Hillary Clinton Wants BDS Campaign Undermined J06 12:35PM

Turkey Mobilized to Invade Syria? J06 9:58AM

"No" Supporters Win in Greece: Now What? J06 2:10AM

Israeli Military Court Justice: Rubber-Stamp Guilt J06 1:48AM

Nazi Holocaust & fbi Extermination J05 10:34PM

Who's behind The Burnings of Black Churches? Who wants a Race War? The Feds J05 9:11PM

Similarities between the Holocaust and modern extermination of Targeted Individuals J05 7:23PM

Iran Bashing in Late Stage Nuclear Talks J05 11:48AM

Hillary Clinton Threatens World Peace J05 9:54AM

UN Human Rights Council Denounces Israeli War Crimes J05 5:42AM

Greek Bailouts for Creditors, not Economic Recovery J05 3:41AM

Génétique de l'environnement J05 1:13AM

GA AS P J04 3:33PM

ACT: Ask Oprah Winfrey to Renounce Leviev's Angolan Blood Diamonds and Israeli Settlements J04 2:39PM

Video: Rise of the Robots, 1 hr J04 1:27PM

White Supremacists tied to human trafficking and a series of unsolved murders J04 1:22PM

Thoughts on Independence Day Weekend J04 12:20PM

US-Orchestrated Coup Attempt in Ecuador J04 10:31AM

Tentative Deal on Iran Sanctions Relief? J04 10:07AM

Hillary Clinton Warns of Nonexistent Iranian Threat to Israel J04 7:25AM

Scare-mongering Greeks to Vote "Yes" on Sunday J04 3:24AM

Outlaws Are Better Company Than The Community of Cops J03 8:11PM

Caution Re Outdoor Grills, Fireworks And Other Holiday Events J03 2:45PM

Human Rights in Venezuela v. America J03 12:32PM

Israel Falsely Claims Hamas Supports ISIS in Sinai J03 10:04AM
More Breaking News...