Tell the NSA:
StopWatching.US
Features
•
latest news
•
best of news
•
syndication
•
commentary

Feature Categories



KILLRADIO
printable version - js reader version - email this article - view hidden posts - tags and related articles
by Save Our Heritage Organization Sunday, May. 06, 2012 at 4:48 PM
mgconlan@earthlink.net (619) 688-1886 P. O. Box 50134, San Diego, CA 92165
Pioneering San Diego-based Queer artist and photographer Robert Miles Parker also founded Save Our Heritage Organization (SOHO), dedicated to preserving San Diego's historic buildings and parks against redevelopment and gentrification. His recent passing in New York, where he had relocated, was memorialized by SOHO.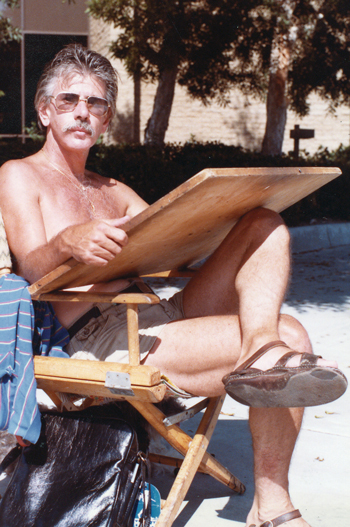 miles80s.jpg, image/jpeg, 350x527
In Memoriam: Robert Miles Parker, 1939-2012

by ANN JARMUSCH and DAN SODERBERG

A media release from Save Our Heritage Organization based on an interview Parker did with Jarmusch and Soderberg in 2009.

PHOTO: Robert Miles Parker in the 1980's: self-portrait, courtesy Save Our Heritage Organization.

Save Our Heritage Organization (SOHO) was sad to receive word of the passing of our founder Robert Miles Parker from his longtime partner, David Vanleer. Miles spoke about his founding of SOHO with great pride: "I don't think about pride much. I don't think about that stuff...but I am prouder than I know how to define the word. It is pretty amazing to look at what SOHO is doing still."

Miles was a colorful, charismatic, and outspoken man. A renowned artist, his drawings have been published in magazines and newspapers such as San Diego Magazine, Sacramento Magazine and the New York Times, and collected in the books Images of American Architecture (1982), L.A. (1984), and Upper West Side: New York (1988). His work garnered him national attention, including two appearances on the Today Show with Barbara Walters. Additionally, he taught art at both Adult Night School and at College level.

Miles began SOHO with a sign on a plain board that he put up at the Sherman-Gilbert House reading "Save This House" along with his phone number. "A billion people called," he remembered. "I had no plans for that … evidently a whole lot of people felt the way I did."

He saved all the money he earned teaching for travel. "My plan was to always travel," he said. "I could never get a normal job; I just couldn't be structured." Miles had just returned from hitchhiking around Europe for a year when he heard about plans to tear down the Sherman-Gilbert House and replace it with a "two-story cement beast."

Miles recalled the very first SOHO meeting: "I'd like to think it was about 50 people showing up at my house on a rainy dreary early January Sunday afternoon in 1969." He told the gathering, "I don't know what to do. I don't know what WE'RE going to do. It was Carol Lindemulder who kicked me and said, 'Well, you're going to start an organization, and your life will forever be different.' She was right, it was forever different, certainly in a better way."

Robert Miles Parker credited his caring for his neighborhood and city to his Southern upbringing. "I was born in the South, of a billion generations of Southerners." He spoke about being taught to respect country, society, and community, but to do things for the community. "I grew up believing, still, that we have an obligation to take care of our place. We have to make it better. We have to do that...I just think it is my duty to do my job. And SOHO was my job!"

He spoke about his love for the city, and it was his interpretation of San Diego history that shaped his views as a historic preservationist. "San Diego, I think, is a holy place. Madame Blavatsky (through the mission of Madame Tingley's Theosophical Society in Point Loma) was here. The Rosicrucians were here. The Indians considered this holy land. The first settlers, I think appreciated that. I think the monied families, like the Klaubers, appreciated that, and built wonderful things. Jessop comes to mind. Walker Scott comes to mind. But then the next generation didn't care and began to tear them down. And I don't think anyone has cared since."

"In the old days it was the 'geranium growers' vs. the developers. I came here in the 1940's as a little boy. It was the 'geranium growers' who were in power, and it was such a neat place. It was just so comfy. I think it is interesting the city went from being a holy place to a place of destruction. So it is our battle to pull it back."

Miles spoke about his role as SOHO founder. "I delegated like mad. There were Carol Lindemulder and Nick Fintzelberg who understood money and land, all the things that never interested me. All I had to do was to be outrageous, which is my nature, so I didn't have to do anything! Except of course I really believed in what was happening. It became more than saving the Sherman-Gilbert House, it became about saving the city."

"I discovered when I traveled around if there weren't a little Miles Parker there, then the city was doomed. But there were Miles Parkers. I met one in St. Louis who saved his neighborhood. I met one in Washington. I met one in Northern California. But it didn't happen if there wasn't a rebel rouser. Most places didn't have it, and most places are horrible looking. We were lucky. San Diego was lucky. We were all lucky."

Miles eventually left San Diego to live in New York City. "I had super adventures as a San Diegan. But I spent all my years in San Diego battling, I think."

Rest in peace, Miles. We're proud to carry on the battle for you, the battle you so passionately fought. You inspired us all.
Report this post as:
Local News

5 Reasons to Support RAC-LA This Month J20 11:10PM

Viacom CBS' Sumner Redstone Promotes Brutal Treatment Of Pot Smokers J19 1:20PM

Summer 2015 National Immigrant Solidarity Network Monthly News Alert! J15 12:33PM

Housing Board Member is an Evicter! J11 11:37PM

KPFK & PAPCIFICA forum in LA J11 5:45PM

LA Times goes to bat for killer cops in Salinas J10 10:34PM

NUCLEAR SHUTDOWN NEWS MAY 2015 J04 12:48PM

Los Angeles Uranium Film Festival J04 7:18AM

KPFK difficulties continue J01 4:22PM

KPFK buys premiums to re-sell them for donations -so J01 4:00PM

Latest Long Beach Police Execution: Murder of Youth In Mental Distress J01 8:19AM

How can california deal with this water crisis? M31 1:46PM

Four Winds of March Against Monsanto Los Angeles Take The Streets of Hollywood M27 2:49PM

Foreclosure Victims Occupy Senate Stump Speech of Kamala Harris M21 4:58AM

LA Nakba Anniversary protest at the Israel Consulate M19 12:56AM

Long Beach Police Execute Unarmed Teen Hector Morejon on Suspicion Of Trespassing M15 6:08AM

Eagle-Con 2015 at Cal State L.A. M13 4:15PM

Brendon Glenn Dies and Venice S/Weeps M08 7:45PM

JOIN CLASS ACTION LAWSUIT AGAINST RONALD L. HAVNER JR's PREDATORY BUSINESS, PUBLIC STORAGE M08 4:48PM

Councilmember Bonin Calls People of Venice Outraged by Police Murder "Outside Agitators" M08 10:45AM

May Day March, LA 2015 M07 7:33PM

LA Progressive: Ref Rodriguez—What the PUC Is Going on Here? M05 11:26PM

L.A. Stands in Solidarity with Australian Aborigines M05 11:12AM

KPFK'S rep to Pacific Bd Whitleblower -being kicked out ...plse sign petiton here M04 2:38PM
More Local News...
Other/Breaking News

Tsipras Surrenders to Troika Demands J01 5:21AM

The U.S. Social Forum Puts San José on the Map of Social Change J30 11:26PM

Governor SIgns SB 277, Citing Science J30 6:54PM

Corruption of Law & Society by fbi J30 9:20AM

Russia Vows Continued Support for Embattled Syria J30 9:19AM

Dreyer's, Another Ice Cream Maker, Is Owned By Nestle J30 9:09AM

No Deal as June 30 Iranian Nuclear Talks Deadline Arrives J30 7:17AM

Greece May Become BRICS Member J30 4:58AM

Greece May Become BRICS Member J30 4:54AM

High-Seas Piracy: Israel's Latest Bandit Act J30 2:31AM

Gov Mulls SB 277 (SATIRE) J29 10:47PM

Video: The Age of Uncertainty-The Big Corporation, 56 min J29 3:51PM

KPFK in Pacifica's meeting - more descriptions J29 2:57PM

KPFK hosted PACIFICA's board in LA. Missed it? here's some for ya J29 2:16PM

Khader Adnan Ends Hunger Strike J29 12:12PM

Sitemeter blocks my account, prevents tracking of visitors J29 11:47AM

ISIS: US Proxy Foot Soldiers J29 10:50AM

Greece Declares Bank Holiday, Capital Controls Imposed J29 8:37AM

Netanyahu's Statement Following His Latest Bandit Act J29 5:34AM

Israel Hijacks Humanitarian Ship to Gaza in International Waters J29 3:27AM

Going for Broke. Why Financialization is the Wrong Fix for Infrastructure, 60 pp J28 6:50PM

Covert assaults for hideous agendas J28 5:31PM

BDS Effect on Israel's Economy J28 11:55AM

EU Bashes "Russian Propaganda" J28 9:51AM

Troika Intends Starving Greece Into Submission J28 6:46AM

Israel Is Murdering Khader Adnan J28 3:55AM

Paraphysique du taulard J28 1:51AM

Our Duty, Yours & Mine J27 6:54PM
More Breaking News...