Tell the NSA:
StopWatching.US
Features
•
latest news
•
best of news
•
syndication
•
commentary

Feature Categories



KILLRADIO
printable version - json version - email this article - view hidden posts - tags and related articles
by Save Our Heritage Organization Sunday, May. 06, 2012 at 4:48 PM
mgconlan@earthlink.net (619) 688-1886 P. O. Box 50134, San Diego, CA 92165
Pioneering San Diego-based Queer artist and photographer Robert Miles Parker also founded Save Our Heritage Organization (SOHO), dedicated to preserving San Diego's historic buildings and parks against redevelopment and gentrification. His recent passing in New York, where he had relocated, was memorialized by SOHO.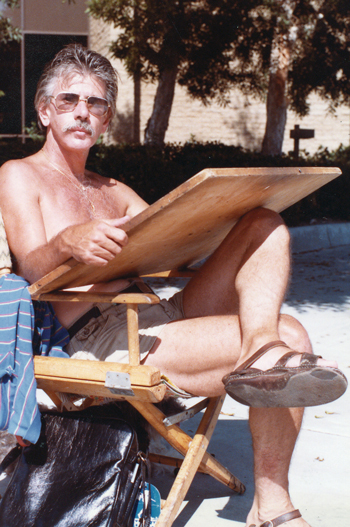 miles80s.jpg, image/jpeg, 350x527
In Memoriam: Robert Miles Parker, 1939-2012

by ANN JARMUSCH and DAN SODERBERG

A media release from Save Our Heritage Organization based on an interview Parker did with Jarmusch and Soderberg in 2009.

PHOTO: Robert Miles Parker in the 1980's: self-portrait, courtesy Save Our Heritage Organization.

Save Our Heritage Organization (SOHO) was sad to receive word of the passing of our founder Robert Miles Parker from his longtime partner, David Vanleer. Miles spoke about his founding of SOHO with great pride: "I don't think about pride much. I don't think about that stuff...but I am prouder than I know how to define the word. It is pretty amazing to look at what SOHO is doing still."

Miles was a colorful, charismatic, and outspoken man. A renowned artist, his drawings have been published in magazines and newspapers such as San Diego Magazine, Sacramento Magazine and the New York Times, and collected in the books Images of American Architecture (1982), L.A. (1984), and Upper West Side: New York (1988). His work garnered him national attention, including two appearances on the Today Show with Barbara Walters. Additionally, he taught art at both Adult Night School and at College level.

Miles began SOHO with a sign on a plain board that he put up at the Sherman-Gilbert House reading "Save This House" along with his phone number. "A billion people called," he remembered. "I had no plans for that … evidently a whole lot of people felt the way I did."

He saved all the money he earned teaching for travel. "My plan was to always travel," he said. "I could never get a normal job; I just couldn't be structured." Miles had just returned from hitchhiking around Europe for a year when he heard about plans to tear down the Sherman-Gilbert House and replace it with a "two-story cement beast."

Miles recalled the very first SOHO meeting: "I'd like to think it was about 50 people showing up at my house on a rainy dreary early January Sunday afternoon in 1969." He told the gathering, "I don't know what to do. I don't know what WE'RE going to do. It was Carol Lindemulder who kicked me and said, 'Well, you're going to start an organization, and your life will forever be different.' She was right, it was forever different, certainly in a better way."

Robert Miles Parker credited his caring for his neighborhood and city to his Southern upbringing. "I was born in the South, of a billion generations of Southerners." He spoke about being taught to respect country, society, and community, but to do things for the community. "I grew up believing, still, that we have an obligation to take care of our place. We have to make it better. We have to do that...I just think it is my duty to do my job. And SOHO was my job!"

He spoke about his love for the city, and it was his interpretation of San Diego history that shaped his views as a historic preservationist. "San Diego, I think, is a holy place. Madame Blavatsky (through the mission of Madame Tingley's Theosophical Society in Point Loma) was here. The Rosicrucians were here. The Indians considered this holy land. The first settlers, I think appreciated that. I think the monied families, like the Klaubers, appreciated that, and built wonderful things. Jessop comes to mind. Walker Scott comes to mind. But then the next generation didn't care and began to tear them down. And I don't think anyone has cared since."

"In the old days it was the 'geranium growers' vs. the developers. I came here in the 1940's as a little boy. It was the 'geranium growers' who were in power, and it was such a neat place. It was just so comfy. I think it is interesting the city went from being a holy place to a place of destruction. So it is our battle to pull it back."

Miles spoke about his role as SOHO founder. "I delegated like mad. There were Carol Lindemulder and Nick Fintzelberg who understood money and land, all the things that never interested me. All I had to do was to be outrageous, which is my nature, so I didn't have to do anything! Except of course I really believed in what was happening. It became more than saving the Sherman-Gilbert House, it became about saving the city."

"I discovered when I traveled around if there weren't a little Miles Parker there, then the city was doomed. But there were Miles Parkers. I met one in St. Louis who saved his neighborhood. I met one in Washington. I met one in Northern California. But it didn't happen if there wasn't a rebel rouser. Most places didn't have it, and most places are horrible looking. We were lucky. San Diego was lucky. We were all lucky."

Miles eventually left San Diego to live in New York City. "I had super adventures as a San Diegan. But I spent all my years in San Diego battling, I think."

Rest in peace, Miles. We're proud to carry on the battle for you, the battle you so passionately fought. You inspired us all.
Report this post as:
Local News

Mormon Perspective on #BundyRanch, U.S. Federal Government, and Divinity of Constitution A22 2:10PM

Livestreamer @PMBeers interviews Bundy Ranch supporters during BLM stand-off A22 8:13AM

Will Hundreds of Years of Contract Law be Eradicated in Santa Ana Court? A22 12:32AM

John Johnson A21 10:25AM

Los Angeles Joins Nationwide March Against Mainstream Media #MAMSM A20 3:04PM

Has KPFK's GM Duncan just dis-appeared? A20 12:35PM

Michael Ruppert dead. A18 6:17PM

Pacifica voting in secret with no accountability? Is this part of KPFK ? A18 3:39PM

Kassim Alhimidi convicted of murder A17 8:33PM

Members of Bundy Family Explain Bundy Ranch Stand-Off With Bureau of Land Management (BLM) A17 1:03AM

Here's some interesting privatization connections in regards to the LAUSD District 1 race A15 4:25PM

Rock, Rap & Speakout vs Poverty, Prisons & War A13 3:16PM

Report Back: 4th Annual Hahamongna Walkabout A13 2:33PM

Pacifica Exe Director position is in confusion still putting KPFK at risk A10 3:52PM

Bernard Duncan, prior GM of KPFK is still in play A08 5:01PM

San Diego May Dai Workers Film Festival A06 5:11PM

Southern California Joins Worldwide Wave Of Action A05 2:31AM

Pacifica board members named here, who attempted ousting ED A04 1:06PM

LA Weekly promotes a slanted view of Pacifica/ KPFK A04 10:36AM

More Info about Pacifica, which holds KPFK's license, etc. A03 2:08PM

Listen to KPFK's staff talking to Pacifica Exe Director M29 7:31PM

Pacifica IS also KPFK, so let's not ignore what going on M29 5:42PM

Reported excerpts of Pacifica's - and that's KPFK's - incidents happening - update M29 5:14PM

Repost from Counterpunch re Pacifica - KPFK too involved M29 2:10PM

Forever intertwined: KPFK, WBAI, Gary Null ? M28 4:10PM

Why is KPFK still failing to thrive ? M28 3:32PM

GLOBAL DAY of ACTION for the Indonesian Rainforests! M27 3:06PM

Opponents of SB County Jail's Letter Ban to Share Progress, Next Steps M27 9:58AM
More Local News...
Other/Breaking News

Kiev Declares War A24 12:46AM

Israel Wants Temple Mount Control A24 12:44AM

American Oligarchs: Thieving Koch Brothers A23 3:05PM

PLO/Hamas Detente? A23 12:49PM

Well, the #MyNYPD hashtag sure backfired quickly A23 9:07AM

US Threatens Russia A23 12:48AM

Outrageous Pro-Kiev Op-Ed A23 12:46AM

Propaganda alert: US and UN object to the holding of presidential elections in Syria A22 10:45AM

Cold War 2.0 A22 12:51AM

Marwan Barghouti on Sham Peace Talks A22 12:50AM

F*ck One Democratic state A21 10:55PM

Uranium Madhouse unleashes The Duchess of Malfi in Hollywood A21 8:48PM

Major BDS Donor Owned Shares of Caterpillar While Campaigning for Divestment A21 8:23PM

There Is A Petition For Single Payer Health Insurance A21 2:10PM

Proposal: Piketty and Saez Meme Project A21 1:24PM

The Great Shakespeare On Animal And Plant Rights A21 12:40PM

Kropotkin Prison A21 4:58AM

The Earth a Common Treasury for All A21 3:38AM

Kiev Breaks Easter Truce A21 12:44AM

Unacceptable State-Sponsored Murder A21 12:43AM

"Believing without Seeing" A20 4:13PM

Trolling ...what is that ? A20 1:01PM

Canada Targets Russia A20 11:45AM

Russia Bashing Continues A20 12:45AM

Koch Brothers-Style Free Society A20 12:43AM

Arythmie du capital A19 5:33AM

Dissent within after article, Profound Arrogance at UN. A19 4:20AM

Dissent within after article, Profound Arrogance at UN. A19 3:25AM
More Breaking News...