by Lee Rendlog Tuesday, Apr. 10, 2012 at 12:27 PM
LRendlog@hotmail.com
Is the new token President of Los Angeles River Artists and Business Assoc., Joseph Pitruzzelli, a blatant hypocrite for attempting to violate an artists first amendment rights? The artist seems to think so, calling Joseph Pitruzzelli one of "The Anti-Artists of the Arts District". Is Joseph Pitruzzelli self fulfilling the artist's own prophecy with this law suit?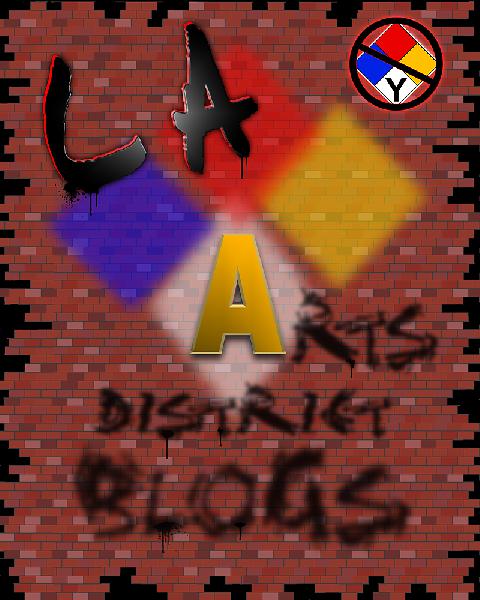 laartsdistrictlogo1000_v2.jpg, image/jpeg, 800x1000
Is it total hypocrisy that the new token President of Los Angeles River Artists and Business Assoc., Joseph Pitruzzelli has filed a law suit against Los Angeles artist David Goldner for calling him "The Anti-Artists of the Arts District", and a few other choice names in his on line blogs at LAArtsDistrictBlogs.com. Is Joseph Pitruzzelli self fulfilling David's own prophecy with this frivolous harrasment suit? David seems to think so...

According to on line blogs, artist David Goldner thinks LARABA president Joseph Pitruzzelli and his cousin Tyler Wilson who started Wurstkuche Restaurant directly next to his long time arts district studio are his own personal anti-artist demons who literally drove him out of his studio and seems to have the evidence to prove it posted on several new web sites he just started. WurstkucheSucks.com, WurstkucheBlogs.com, as well as multiple mirror sites. Though still under construction, from what is now there, what David Goldner went through would be anyone's worst nightmare, not just an artist's.

WurstkucheSucks.com contains documentation of blogs, emails, images and sounds as David illustrates the daily torture that drove him out of his long time studio with Wurstkuche restaurant's arrival in the LA Arts District and their illegal use of the Artist in Residence loft directly next to his as a noisy, 24 hour commercial warehouse for their restaurant next door. And this is the president of the Los Angeles River Artists and Business Assoc.?

David also reportedly battled with his landlord developer Paul Solomon, because of Joseph Pitruzzelli's illegal use of the AIR next to him. Paul Solomon was also cited by the city of Los Angeles along with Wurstkuche's owners, Tyler Wilson and Joseph Pitruzzelli for the illegal use of the AIR loft next to David at 808 E. 3rd St. in the LA Arts District. But apparently, Joseph Pitruzzelli, the president of the Los Angeles River Artists and Business Assoc., put his own business needs before any consideration of the artist neighbors his illegal warehouse was disturbing on a on-going 24 hour basis.

More details can be read at WurstkucheSucks.com, WurstkucheBlogs.com and on LAArtsDistrictBlogs.com now on line.

-Lee Rendlog
www.LAArtsDistrictBlogs.com