Tell the NSA:
StopWatching.US
Features
•
latest news
•
best of news
•
syndication
•
commentary

Feature Categories



KILLRADIO
printable version - json version - email this article - view hidden posts - tags and related articles
by Sharat G. Lin Saturday, Mar. 24, 2012 at 8:20 AM
San Jose
Student Advocates for Higher Education (SAHE) was honored by the San José Peace and Justice Center for the service, activism, tenacity, and courage of its students, and especially of its undocumented members. Representatives Mike Honda and Zoe Lofgren participated in the ceremony held at San José State University.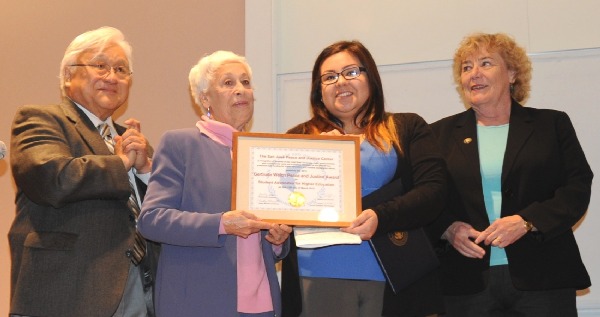 sahe-1s.jpg, image/jpeg, 600x317

The San José Peace and Justice Center presented its 2012 Gertrude Welch Peace and Justice Award to Student Advocates for Higher Education (SAHE) at an award ceremony at San José State University on March 12, 2012. Congresswoman Zoe Lofgren and Congressman Mike Honda, joined in giving the award, and presented their own Congressional Commendations to SAHE.

SAHE was chosen for the award because of the courage of its student members, both undocumented and documented, in openly standing up, despite the risk of deportation, for their rights as human beings and promoting higher education for undocumented immigrants.

Barby Ulmer, who co-founded the San José Peace Center in 1957 and worked with Gertrude Welch in its earlier years, thanked SAHE students for their "courage and dedication to making this a better country and a better world." She presented the Gertrude Welch Peace and Justice Award to Kimberly Martinez, President of SAHE, and 15 of its student and alumni members.

As the as ranking member of the House Judiciary Subcommittee on Immigration Policy and Enforcement, Congresswoman Zoe Lofgren has been in a key position to formulate a more rational and humane immigration policy. But her efforts have been blocked by conservative members of Congress who only want more enforcement. The powerful movement for immigrants' rights in Santa Clara County has enabled Lofgren to become a leading proponent of comprehensive immigration reform.

Congressman Mike Honda, who was taken with his family to an internment camp for Japanese Americans in 1942, remembered how racial profiling was used to remove an entire subpopulation in the United States. He pointed out that the U.S. Constitution guarantees fundamental rights not only to citizens, but to people. This has led him to become an increasingly vocal proponent of humane immigration reform and for the civil liberties of all residents of the United States.

San José City Councilmembers Ash Kalra, Xavier Campos, Kansen Chu, and Sam Liccardo also came to honor SAHE and present a commendation. On behalf of the San José City Council, Ash Kalra praised the San José Peace and Justice Center for its ongoing efforts to promote peace, justice, and non-violence, and for its recognition of the courage of SAHE students.

Finally, Pete McHugh, Vice Mayor of Milpitas and former Chairperson of Santa Clara County Board of Supervisors, presented a proclamation on behalf of the city of Milpitas, recognizing the activism, courage, and service of SAHE. Having worked with Gertrude Welch on local social justice programs, McHugh has been steadfast, despite controversy, in his support for the human rights and civil rights of all.

SAHE

While undocumented students had been living in the shadows for many years, SAHE was going public -- openly challenging a broken immigration system that puts them into a legal limbo -- having access to higher education, but unable to access financial aid, or unable get a job after graduation. The undocumented students who came out, publicly identifying themselves in press conferences and rallies, did so at great risk of being arrested and deported by Immigration and Customs Enforcement (ICE).

Founded in 2004, one of the earliest public actions by SAHE students was to press for passage of the Federal DREAM Act by going on a three-day hunger strike. Beginning on July 2, 2007 they sat during the daytime in front of the office of Congresswoman Zoe Lofgren to ask her to support the DREAM Act. Lofgren was then Chair of the House Subcommittee on Citizenship, Refugees, Immigration and Border Security. On Tuesday, July 3, they went to the evening meeting of the San José City Council to ask for backing.1-4

Four students participated in the hunger strike in San Jose, joined by supporting members of community organizations. They coordinated their action with students in Santa Ana, Los Angeles, Pasadena, Bakersfield, San Francisco, and Berkeley.

While protesting in front of San José City Hall, Emmanuel, then 20 years old, explained, "I was ten when my mom brought me here. I didn't want to leave because I was doing real well then." He became aware of his predicament when in the seventh grade, a summer math course application asked for a social security number. "That's the time I realized I couldn't be like others in my class."4

One hunger striker, César, then 21, declared, "After fourteen years of being in the shadows, you reach a point where you say, I don't care, I'm fighting for what's right."5

The aftermath of the hunger strike and protests was growing public awareness of the dilemma facing undocumented students. But there was also a backlash. After a right-wing talk show host challenged the students to "starve to death," the students took their protest to the San Francisco radio station broadcasting his show in the San Francisco Bay Area.

After California Governor Arnold Schwarzeneggar vetoed the California DREAM Act (SB 1) on October 13, 2007, SAHE students became more determined than ever to take their campaign to the public and to Senator Dianne Feinstein in the hopes of winning passage at the Federal level.6

In 2007 SAHE launched outreach to high school students to stimulate interest in college education, scholarships, knowing their rights, political activism, and to inform them about immigration reform. In particular, the campaign sought to make undocumented high school students aware of AB 540, the California law enacted in 2001 that enables undocumented resident students to qualify for lower in-state tuition at public colleges and universities.

As a way of providing tangible support for undocumented and activist students, SAHE began fundraising to provide scholarships to such students. In recent years, SAHE has raised $4000 to $7000 for its annual scholarship fund.

In February 2008, the Human Relations Commission of Santa Clara County gave its Human Relations Award to SAHE among 13 local groups and individuals.

On April 22, 2008, SAHE students organized a "Dream In" on the SJSU campus in front of the Tommie Smith and John Carlos statues, camping overnight "dreaming for our demands to become reality."

In the summer of 2008, SAHE organized a "Know Your Rights" people's theater at the National Hispanic University and at Santa Maria Goretti Church, showing how to act when ICE raids a home or workplace. These plays evolved into wider community outreach, such as the "Novelas del Pueblo" skits in Plaza de César Chávez in San José on July 22, 2009.

Finally, on July 25, 2011, Governor Jerry Brown signed the first part of the California DREAM Act (AB 130), giving undocumented students access to private financial aid. This was followed on October 8, 2011 with his signing of the second part (AB 131) which makes undocumented students eligible for Cal Grants and other state financial aid.

These are but the first fruits of the courage and determination of the students of SAHE. Today, following the pioneering efforts of SAHE, undocumented students of every ethnic group across the country are shedding their fears to press for equal access to higher education and humane immigration reform.

1. Doño, Rossa, "Students fast today for a better tomorrow," El Observador, 29 June 2007, p. 9.

2. Ortiz, Manuel, "Estudiantes de San José inician huelga de hambre," El Mensajero, 1 July 2007, p. 9.

3. Ollín, Nahuí, "Una lucha con esperanza," Alianza News, 5 July 2007, pp. 1,6.

4. Robles, Elena, "DREAMing students take action to resuscitate a dead bill," La Oferta, 6 July 2007, pp. 1,4.

5. Jayadev, Raj, "Don't call me criminal," Metro News, 12 December 2007, pp. 15,17.

6. Castillo, Oswaldo, "Group pushes for federal DREAM Act," Spartan Daily, 23 October 2007, pp. 1-2.


Report this post as:


by Sharat G. Lin Saturday, Mar. 24, 2012 at 8:21 AM
San Jose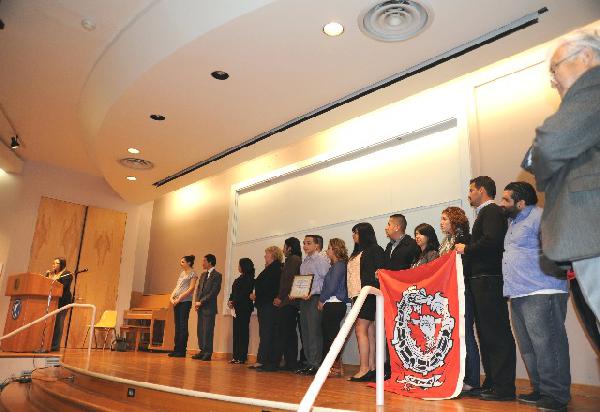 sahe-2.jpg, image/jpeg, 640x440

Kimberly Martinez, President of SAHE, giving the acceptance speech. Congressman Mike Honda, Congresswoman Zoe Lofgren, SJPJC President Sharat G. Lin, and SJPJC Coordinator Shelby Minister stand with the students.

Report this post as:


by Sharat G. Lin Saturday, Mar. 24, 2012 at 8:21 AM
San Jose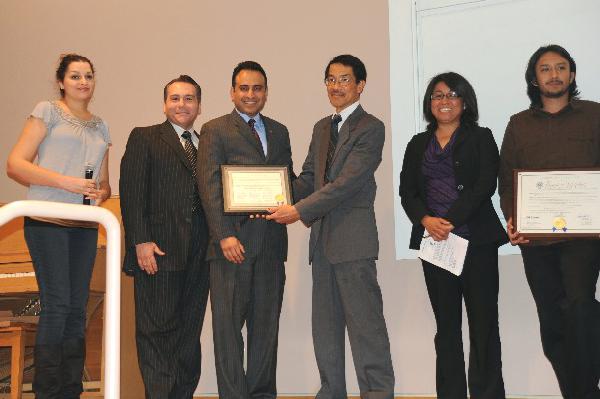 sahe-3.jpg, image/jpeg, 620x413

Councilmembers Ash Kalra and Xavier Campos present a commendation to SJPJC President Sharat G. Lin and SJPJC Coordinator Shelby Minister. SAHE alumni look on.

Report this post as:


by Sharat G. Lin Saturday, Mar. 24, 2012 at 8:21 AM
San Jose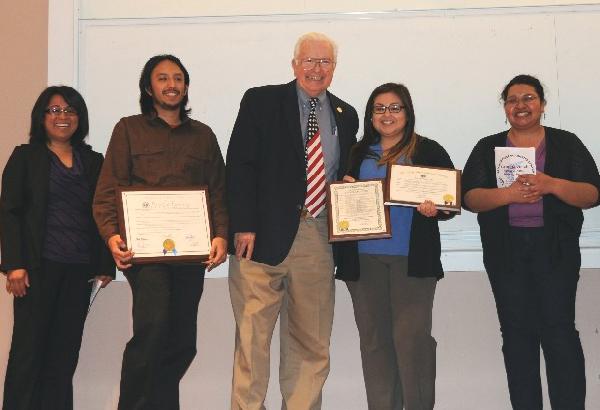 sahe-4s.jpg, image/jpeg, 620x424

Milpitas Vice Mayor Pete McHugh presents a Proclamation to Kimberly Martinez, César Juarez, and other SAHE members.

Report this post as:


by Sharat G. Lin Saturday, Mar. 24, 2012 at 8:21 AM
San Jose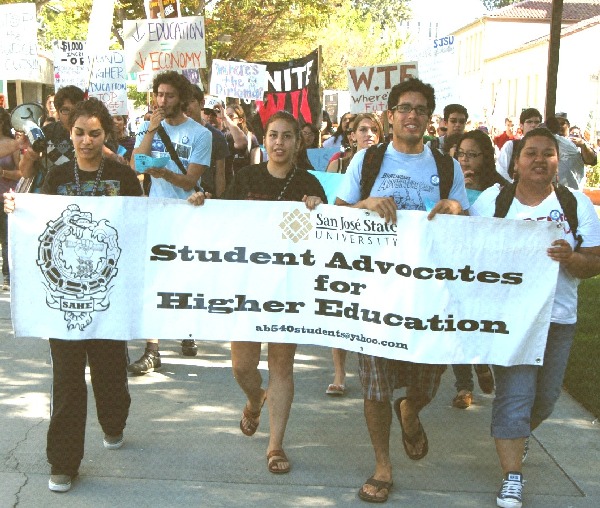 sahe-5s.jpg, image/jpeg, 600x508

SAHE students leading a protest against budget cuts at San José State University on September 22, 2009.

Report this post as:


by Sharat G. Lin Saturday, Mar. 24, 2012 at 8:21 AM
San Jose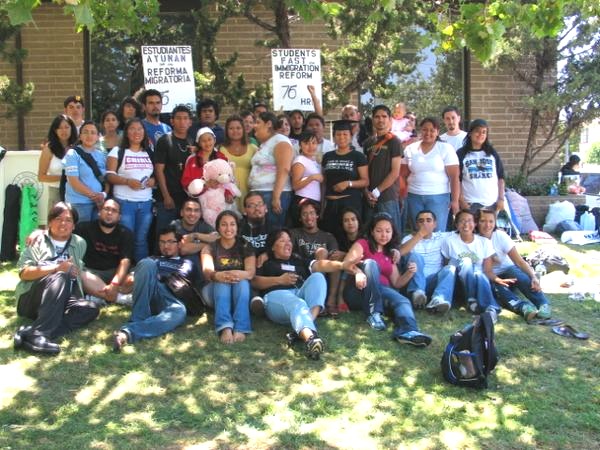 sahe-6.jpg, image/jpeg, 600x450
SAHE students pressing Lofgren to support the Federal DREAM Act on July 5, 2007. (Photo courtesy of SAHE)
Report this post as:
Local News

LA Fields Two Marches Against Police Executions Photoset 2 of 2 A21 9:09PM

LA Fields Two Marches Against Police Executions Photoset 1of 2 A21 7:01PM

Running Down the Walls 2014 A20 8:48PM

Weaving the Past: Journey of Discovery Extends Exclusive Engagement A19 3:37PM

Los Angeles Declares "Hands Up!" in Peaceful Protest of LAPD Murder of Ezell Ford A18 4:09AM

Ezell Ford and Ferguson Solidarity A17 6:35PM

Family and Supporters of #Justice4Fords Protest LAPD Execution of Ezell Ford in South L.A. A17 2:49PM

Southern California Swarms to Save the Bees in Solidarity with Honey Bee Day Around the Gl A17 5:30AM

L.A Supports August 2nd International Gaza Protest Photoset 4 A05 7:03PM

L.A Supports August 2nd International Gaza Protest Photoset 3 A05 6:45PM

More about KPFK via Pacifica turmoils A05 6:29PM

L.A Supports August 2nd International Gaza Protest Photoset 2 A05 6:23PM

L.A Supports August 2nd International Gaza Protest Photoset 1 A05 11:36AM

Demonstration in Support of Persecuted Christians Saturday A02 10:40AM

Water in California - info proliferated now is dubious J28 5:04PM

Pacifica clearly endangered. Reposting info here: J28 2:34PM

Video: Occupy Love (2013), 1 hr 19 min J28 4:43AM

Who declares themselves to be the ultimate-only-valid-authority here on current wars elsew J27 11:11AM

MDRC's Rent Reform Assault: Section 8 tenants vs. affordable housing industry J24 12:24AM

Obama at LA Trade Tech J23 3:23PM

Los Angeles Joins World Wide Protest Against Israeli Aggression J22 6:33PM
More Local News...
Other/Breaking News

How Lou Gehrig And Mao Tse Tung Got Lou Gehrig's Disease (ALS) A22 1:06PM

Russian Humanitarian Aid Reaches Lugansk A22 12:39PM

Who Cares? A Feminist Critique of the Care Economy A22 6:13AM

Pro-Israeli Security Council Gaza Resolution A22 4:27AM

World Humanitarian Day Hypocrisy A22 3:17AM

The Shortwave Report 08/22/14 Listen Globally! A21 3:53PM

Ebola Depopulation Scam: Liberian Poor Held At Gunpoint In Quarantine Concentration Camps A21 9:20AM

Western Leaders Support Israeli Genocide A21 6:55AM

Israel's Genocidal War Continues A21 1:09AM

Paraphysique de la collaboration A20 10:55PM

Kiev's Dirty War A20 12:09PM

Clinton, Obama and the New Era of American Empire A20 11:12AM

Failure in Cairo A20 3:02AM

Thinkers replaced by Social Controllers on massive scale. A19 6:11AM

Gaza Ceasefire Extended A19 6:05AM

8 Things to Know About the Iraq Crisis A19 4:58AM

Huge Rescue Mission Launched in Peru to Save Suffering Circus Animals A18 3:47PM

III ANARCHIST AND PUNK FILM FESTIVAL - SÃO PAULO – BRASIL A18 1:47PM

Russia: Waging Peace in Ukraine A18 10:41AM

Promoting Confrontation with Russia A18 4:56AM

Anti-Democratic Straitjackets A18 4:23AM

Militarization of our police A17 11:47AM

Kiev's War Without Mercy Continues A17 11:36AM

The risse of political extremism A17 11:21AM

Block the Boat for gaza A17 10:37AM

Netanyahu: Israel's Pinochet A17 6:10AM

As Quartermaster Memory Returns, Nuclear Disaster Directly off So Cal Coast 1983 A16 3:42PM

The New York Times War on Truth A16 5:53AM
More Breaking News...