Features
•
latest news
•
best of news
•
syndication
•
commentary

Feature Categories



KILLRADIO
printable version - js reader version - email this article - view hidden posts - tags and related articles

by Mark Gabrish Conlan/Zenger's Newsmagazine Thursday, Feb. 23, 2012 at 7:08 PM
mgconlan@earthlink.net (619) 688-1886 P. O. Box 50134, San Diego, CA 92165
"Next Fall," playing through March 25 at Diversionary Theatre in University Heights, San Diego, is a sometimes funny, sometimes wrenching, sometimes thought-provoking play in which an auto accident involving one member of a Gay male couple provokes confrontations between his partner and his blood family and triggers a series of flashbacks highlighting the conflict of faith between the victim, a devout born-again Christian, and his non-believing lover.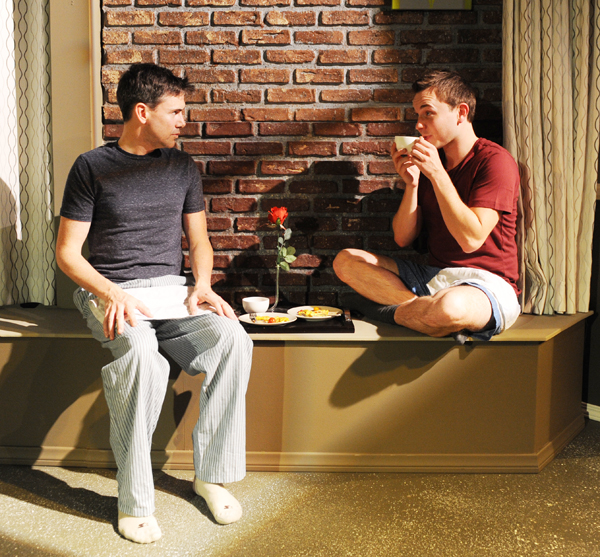 kjp_lukeadam2.a.jpg, image/jpeg, 600x557
Diversionary's Next Fall: Fun and Thought-Provoking

by MARK GABRISH CONLAN

Copyright © 2012 by Mark Gabrish Conlan for Zenger's Newsmagazine • All rights reserved

PHOTO: Matt McGrath and Stewart Calhoun in Next Fall. (Photo by Ken Jacques; courtesy Diversionary Theatre.)

"What do you believe?" asks a large piece of white paper hung in the lobby of Diversionary Theatre, 4545 Park Boulevard in University Heights, with a wide variety of names of religious denominations or schools of thought so both believers and non-believers can write their answers to the question near the appropriate label. It's an interesting way to present their current production, Geoffrey Nauffts' Next Fall, a comedy-drama in which a life-threatening injury to one of the characters brings together almost all the important people in his life, and a series of flashbacks shows the burgeoning relationship between Adam (Matt McGrath) and Luke (Stewart Calhoun) and how, despite what would seem to be an insurmountable difference of faith, it lasted four years and was almost literally "till death do us part."

As the play opens, Nauffts introduces us to the characters in Luke's families, both biological and chosen: his friend Brandon (Tony Houck), whose function in the story doesn't become clear until midway through the second act; Holly (Jacque Wilke), his employer and essentially his mother confessor; his talk-a-minute mother Arlene (Shana Wride), who seems to have wandered in from one of Carol Burnett's or Leslie Jordan's Southern-fried parodies; his overbearing father Butch (John Whitley); and, eventually, Adam. Nauffts' script requires almost cinematic changes between past and present — between the grim reality that the characters have been brought together by Luke's near-death in an auto crash and the lighthearted reminiscences of his and Adam's past — vividly executed by director James Vasquez and set designer Matt Scott, even though the swinging panels require the actors themselves to be their own stagehands for many of the scene changes.

We soon learn that, as well as they got along in virtually every other conceivable respect, there was one unbridgeable gap between Adam and Luke that never got resolved. Adam was raised in a non-religious household and, while he isn't actively anti-religious, he never had any particular use for, or interest in, faith or spiritual matters in general. Luke is not only a born-and-raised Christian, he's had his own born-again experience and he believes in the entire evangelical package, from salvation by faith alone (he and Adam get into an argument over whether Matthew Shepard's murderers can ever be redeemed) to the literal truth of the Rapture. (Adam jokes that the thought of an airline pilot being whisked out of the cockpit and transported to heaven in mid-flight makes him even more scared of flying than he ever was before.) Adam picks up on this the first time he and Luke have sex — when he notices Luke praying for forgiveness afterwards.

Luke found his own personal salvation long after his father and mother broke up and dad raised him as a single parent until he remarried — Luke's stepmother remains off-stage and is the only member of his family we don't meet, or even learn much about. His accident brings his dad and his biological mother back together and just reawakens the tensions that split them apart in the first place. They're as one, though, in their reflexive condemnation of homosexuality and refusal to believe that their son could be one of those people.

Next Fall is a play full of hidden depths, and it's a testament to Nauffts' skill as a playwright that his script manages to be emotionally, morally and spiritually complex without getting preachy. Plot-wise it has some similarities to the film Latter Days — also about the unlikely love affair between a non-religious man and a born-and-raised believer in a homophobic religion — but Next Fall is richer because it treats the parents with love and sympathy instead of presenting them as campy caricatures. For a Queer theatergoer of a certain age, it's nice to see a play that opens with a Gay man in a hospital for reasons that have nothing to do with AIDS — indeed, Nauffts kids that when he has Adam ask Luke if he remembers the height of the AIDS terror, and Luke calmly fires back, "I was eight" — and it's also welcome, if somewhat perplexing, that whatever Luke's issues with his family are, the prospect of them clapping him into a "reparative therapy" center to try to burn or brainwash the Gay out of him isn't one of them.

Even the title — Luke's response when Adam pushes him to come out to his parents — is a subtle allusion to the truth that we make plans for the future and often put off distasteful tasks, only sometimes fate throws us a curveball and there isn't going to be a "next fall" for us at all. Next Fall is a cannily written play, the potential grimness of its subject matter relieved by a sly wit, and even when Nauffts wants to get on a Queer-rights soapbox he figures out a way to do it without hammering home the point. When Luke's parents are allowed to enter his room during a critical point in his care and Adam is told, "Family only," we feel the anguish as he turns away in sadness in a far deeper and more moving way than we would have if Nauffts had had him get angry and make an "I'm 'family,' damn it!" speech.

For the most part, Diversionary has treated this jewel box of a play well, though there's a rather odd flaw in the production. Matt McGrath (coming to this production from a far different role, Dr. Frank N. Furter in the Old Globe's production of The Rocky Horror Show) and Stewart Calhoun are both first-rate actors, and as individuals they're well cast in their roles — though McGrath is too young-looking to be believable as the anxiety-ridden 40-year-old he's supposed to be playing. But the chemistry between him and Calhoun seems a bit "off." It's not that they're not credible as a couple, but they make what divides them seem a lot more believable than what unites them.

Other than that, though, Diversionary's production of Next Fall is well cast. John Whitley's Butch stands out; like Nauffts' script, the actor's reading keeps the character from becoming caricature and makes us understand and even sympathize with him. Shana Wride's Arlene is effective and fun in what amounts to a 1930's-Hollywood style comic-relief role. Jacque Wilke's Holly is credible as a good-buddy to the dysfunctional family-by-choice she has (or had) working for her, and the height of her performance is reached when she dead-pans, "Can fag-hags get to Heaven?" Tony Houck's Brandon has little to do throughout the play until the big scene that lets us know who he is, what he wants, how he's accommodated his beliefs and his desires and what that's cost him, which Houck nails.

Other than the actors, the star of Next Fall is Matt Scott's set (Diversionary artistic director Bret Young and Dangerfield G. Moore get co-credit with Scott for "scenic construction"), which director James Vasquez uses effectively to keep the action flowing smoothly from present to past and back. Sound designer Kevin Anthenill, a Diversionary regular, has considerably less to do than he's had on some recent productions (on Edward II he actually got to provide an original score!) but he's managed to dig up some appropriately atrocious dance records. Michelle Caron's lighting subtly communicates the shifting places and times, and Shirley Pierson's costumes — which practically had to be breakaway, given how fast the time changes — are appropriate (and the fact that we get to see both Matt McGrath and Stewart Calhoun in their underwear a lot adds to the aesthetic appeal of this show!).

Next Fall is the latest in a quite remarkable run of Diversionary productions. It's the sort of script they do well: the Queer content is at the heart of the play but it's not didactic, and director Vasquez, his cast and crew are in tune with the play's subtlety and make it well worth seeing.

Next Fall plays through March 25 at Diversionary Theatre, 4545 Park Boulevard in University Heights. Performances are 8 p.m. Thurs.-Sat., 2 and 7 p.m. on Sun. General admission $31 Thurs. & Sun., $33 Fri. & Sat. For tickets or more information, call (619) 220-0097 or visit www.diversionary.org on the Web.
Report this post as:
Local News

Bernie Sanders in Lincoln Heights M23 8:23PM

Los Angeles Sit-In to Fight Voter Suppression M18 4:28AM

War Within California's 46th CD M13 11:42AM

NPR's David Greene & Alison Aubrey along with David Ludwig Shill For Factory Farm Eggs M13 7:55AM

2016 AT&T Shareholders engaged by Communications Workers of America D9 Activists M12 11:43PM

Communications Workers of America District 9 Action at AT&T Shareholders M12 9:38PM

Voter Registration at ELAC M10 3:31PM

LA Times Fails to Cover Protest Against Clinton M07 9:15PM

Violence Against Poor In Venice A29 12:59PM

California Safe Schools Honors 11 Year Old Daniel Randall A25 2:25PM

NPR's Marketplace: The Voice of Loanshark Capitalism A19 4:08PM

Assemblywoman Melissa Melendez, Pandering to the Corporate Whores of the Storage Industry A09 5:03PM

Lartiste Maestro iTunes télécharger de la musique gratuit et Légalement 2016 A08 3:20PM

Spring 2016 National Immigrant Solidarity Network Monthly News Alert! A05 2:14PM

KPFK and Pacifica, more doings, reposted here A04 4:18PM

Liberated Political Prisoner Sekou Odinga Speaks Out M11 9:39AM

Solidarity With Anaheim M08 10:16AM

Tribune Company Stock Bought By LAPD Union To Silence Criticism Of Police M02 8:01AM

KPFK as Pacifica may be in legal jeopardy, again... M01 2:43PM

Anaheim Anti-KKK Fund Drive F29 5:04PM

March For Bernie 2, Pasadena and Los Angeles F28 8:16PM

Innovative Approach To Fighting The Droughts F16 11:56AM

International Day of Solidarity with Leonard Peltier F12 5:51PM

January 2016 Honduras Coup update F12 4:42PM
More Local News...
Other/Breaking News

The Philippines' New Strongman M31 7:27AM

FDR's First 100 Days M31 6:05AM

Fbi and cia are despicable & cowardly terrorists M30 10:10PM

The fbi's psychological attacks on Target employ high tech equipment and low minded hoods M30 11:37AM

God save the ordinary man / woman, curse the wicked fbi / police M29 8:31PM

HOW LOU CORREA HAS EXPLOITED AND BETRAYED HIS COMMUNITY FOR POLITICAL AMBITION M29 10:58AM

The 12 Wars And Bombed Countries of Clinton and Obama M29 10:25AM

Is this the world's most radical mayor? Ada Colau of Barcelano M29 4:49AM

Overwatch Free Download (PC,PS4,XboxOne) M28 3:59PM

Trans Beauty contest M28 12:34PM

MURDERS IN WINNIPEG NOT BEING INVESTIGATED M28 12:21PM

Woman Touted As Trump VP Candidate M28 12:09PM

Real humans ou la pensée conditionnée M27 8:30AM

Back to Trotskyism! Revolutionary regroupment with the League for the Fourth International M26 6:56PM

The Shortwave Report 05/27/16 Listen Globally! M26 4:53PM

Illegal drugs, too big to fail M26 3:32AM

Paraphysique du syndicalisme M26 12:43AM

Fbi murderous corruption, per validated " fbi whistleblower " M25 2:13PM

Puerto Rico Debt Bill Heads for Full House Vote M25 11:18AM

A Case Against Hillary Clinton, Candidate Of Endless War M25 10:58AM

Swami in a Strange Land M24 5:07PM

Benevolence vs. Evil M24 11:42AM

Duterte offers cabinet posts to Maoist Communist Party of the Philippines M24 4:26AM

Who Owns the Sky? The Climate in the Globalization Trap M24 4:02AM

Gaza to overtake Saudi Arabia with executions per capita M23 10:46PM

Hillary Clinton Flunks Animal Rights And Environmental Issues M21 12:52PM

Propaganda Countdown to WWIII: Armenians in the Crosshairs M21 6:28AM

Paraphysique du chômage M20 10:21AM
More Breaking News...