Features
•
latest news
•
best of news
•
syndication
•
commentary

Feature Categories



KILLRADIO
printable version - js reader version - email this article - view hidden posts - tags and related articles

by Mark Gabrish Conlan/Zenger's Newsmagazine Sunday, Feb. 05, 2012 at 1:03 PM
mgconlan@earthlink.net (619) 688-1886 P. O. Box 50134, San Diego, CA 92165
The San Diego Democrats for Equality, a predominantly Queer Democratic party club, decisively rejected the Congressional candidacy of progressive former Assemblymember Lori Saldaña at its regular meeting January 26. Instead they endorsed moderate Scott Peters on the ground that he'd be a better "fit" for the district, could raise more money and would have a better shot at unseating Republican incumbent Brian Bilbray.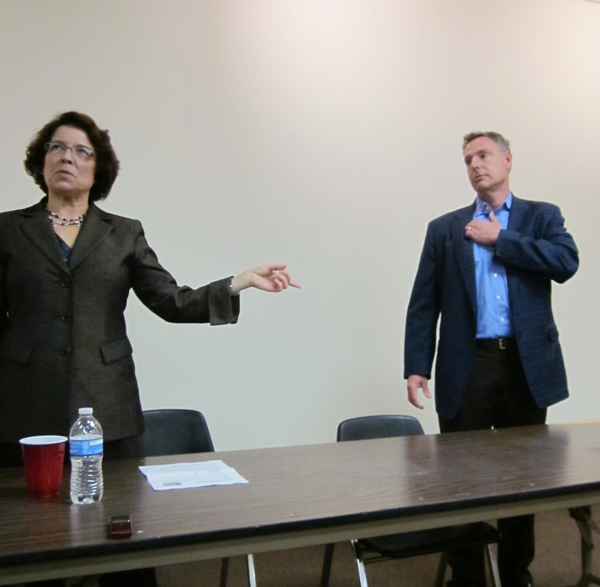 saldan__a___peters.a.jpg, image/jpeg, 600x587

Queer Democrats Endorse Peters Over Saldaña for Congress
Club Picks "Electable" Moderate, Rejects True Progressive

by MARK GABRISH CONLAN

Copyright © 2012 by Mark Gabrish Conlan for Zenger's Newsmagazine • All rights reserved

PHOTOS, top to bottom: Lori Saldaña and Scott Peters (L to R), Lori Saldaña, Scott Peters

At their January 26 meeting, the predominantly Queer San Diego Democrats for Equality (formerly the San Diego Democratic Club) overwhelmingly endorsed moderate Scott Peters over progressive Lori Saldaña for the 52nd Congressional District seat currently held by Republican Brian Bilbray. Attempting to unseat a Republican incumbent in a newly drawn and presumably more competitive district — though Republicans still outnumber Democrats and a large percentage of its voters aren't registered with either major party — the club accepted Peters' argument that precisely because he is more moderate than Saldaña, he is a better "fit" for the district and more likely to win.

With few openly expressed issue differences between the candidates — both scored 100 percent on the club's issues questionnaire, though Peters simply answered the yes-or-no questions while Saldaña cited her legislative record in three terms as a California State Assemblymember — the club's debate turned mostly on electability. Peters brought in several documents arguing that he could win the race and Saldaña could not, including a poll which had him leading Bilbray by 16 percentage points in the primary. Another Peters document argued that while President Obama carried the district in 2008 with 56.4 percent of the vote, Governor Jerry Brown and Senator Barbara Boxer both got just 46 percent of the district's vote in 2010.

Saldaña began her opening statement by challenging Peters' poll numbers and offering a poll of her own which, she said, documented that "I have very strong name identification in the area. I represented almost half of this district as an Assemblymember." She also pointed to her record on Queer issues, noting that "I was the only state legislator in San Diego besides Christine Kehoe who supported marriage equality, not once but twice."

"We have an unprecedented opportunity to defeat Brian Bilbray, who has taken Grover Norquist's pledge never to raise taxes and has voted to defund Planned Parenthood," Peters said. "I passed Margaret Moody's three-point test on choice" — supporting Roe v. Wade, opposing laws requiring parental notification when girls under 18 seek abortions, and supporting public funding for abortions — "and I was in favor of marriage equality in 2000 and I still am." He boasted that he had officiated at the wedding of Assemblymember Toni Atkins and her wife Jennifer.

Both candidates took similar positions on non-Queer issues as well as Queer rights and choice. Both endorsed single-payer universal health care and said they would oppose the Stop Internet Privacy Act (SOPA), an entertainment industry-backed bill which critics say would allow government and private companies to control and censor the Internet. Both supported the DREAM Act, which would allow foreign-born children of undocumented immigrants to remain in the country and gain legal status if they serve in the U.S. military or attend college.

While some club members asked questions about issues — and generally got similar, if not identical, responses from the candidates — others asked about practical matters like fundraising and endorsements. Asked how much money he would have to finance his campaign, Peters said, "We anticipate this will cost at least $2 million. We now have $300,000. Our first event was on November 12 and the first day we had a finance director was January 9. We'll be able to bring to the race the kinds of resources needed."

"If money was the only thing that determined an election, Meg Whitman would be Governor and Carly Fiorina would be U.S. Senator," Saldaña responded. "I've raised about $85,000 to $100,000, and those are from donors who will continue to give. The endorsements I've received from all eight Democratic clubs in the district will help." She also reminded club members that she won her Assembly seat in the first place against two better-funded opponents in a Democratic primary and then went on to carry the district against the Republican nominee.

Peters used a question about each candidate's chances to critique the poll Saldaña had cited earlier. "That poll came from a Web site that also said Ron Paul could win the Republican nomination for President," he said. "I did a poll with Lisa Grove, who polled for Susan Davis and is on Obama's team. The Left will go for a Democrat, the Right for a Republican, and we need to reach the people in the middle."

"We win with the best field campaign imaginable," said Saldaña. "Historically, women do better against Bilbray than men. We beat him by having a strong contrast. I've represented many independent voters, and my appeal is less about party than convictions."

Another club member asked the candidates what other offices they've run for besides Assembly, in Saldaña's case, and San Diego City Councilmember in Peters'. None, said Saldaña, who's been publicly criticized for launching, and then abandoning, campaigns for two other offices before she settled on the Congressional race. "I had a committee open for San Diego County Supervisor and stepped aside" for a family emergency, Saldaña explained, and "I had a committee open for State Senate but they redrew me out of the district" in the most recent redistricting.

Peters reminded the club that it had endorsed him in his campaign for city attorney against Democrat Mike Aguirre and Republican Jan Goldsmith in 2008, when he finished third in the primary. Later in the meeting he recalled that he'd "taken a lot of grief" for endorsing Goldsmith over Aguirre in the general election, but defended his decision by calling Aguirre anti-labor and saying his attempts to challenge city workers' pensions in the courts were comparable to Wisconsin Republican Governor Scott Walker's pushing through a bill eliminating collective bargaining rights for most of that state's public employees.

Both Saldaña and Peters presented long and impressive lists of endorsers. Most of Saldaña's political endorsements came from people she's worked with in the state legislature, including Congressmember and former Assembly Speaker Karen Bass, State Senator Mark Leno, former State Senator Sheila Kuehl, Assemblymember Tom Ammiano, City Councilmembers Marti Emerald and Tony Young, former City Councilmember Donna Frye, and statewide officeholders John Chiang (controller) and Dave Jones (insurance commissioner).

Peters' supporters boasted that his list of endorsers was more significant because it included more people from San Diego. Among them are State Senator Christine Kehoe; Assemblymembers Toni Atkins, Marty Block and Ben Hueso; former Assemblymembers Howard Wayne and Mary Salas; San Diego City Councilmember Todd Gloria; and the San Diego-Imperial Counties Central Labor Council.

Indeed, the head of the local Labor Council, Lorena Gonzalez, attended the club meeting, spoke for Peters and questioned his characterization as a "moderate" by other club members — including some who were supporting him. "Nothing about Scott Peters is a moderate," Gonzalez said. "In working with Scott on the City Council, it wasn't just a vote, it was, 'How do we get this done, and how do we get it through?'"

Another Peters supporter, Laurie Black, campaign manager for Francine Busby in her two attempts to win the seat under the old, far less Democrat-friendly district lines, embraced the idea of Peters as a moderate and said only a moderate can win the district. "I support Scott Peters because he knows how to build coalitions," she said. "Lori hasn't been able to do that in this part of the state."

"Either Scott Peters or Lori Saldaña would be better than Brian Bilbray," said former club president Stephen Whitburn, "but Lori is my first choice. The only thing that matters to me is how they're going to vote in Congress. Lori is the most reliable progressive vote by far. The biggest mistake we make as Democrats is to say that Republicans can elect 'conservatives,' while we have to settle for 'moderates.'"

"I serve with Scott right now on the board of the LGBT Center, but I'm supporting Lori," said former club president Andrea Villa. "She's supported other progressives in the state and the region."

"I do not want Brian Bilbray back," said club member Elaine Graybill. "We have got to endorse someone who can win. We've got to have the money. You don't get to vote for the things Democrats want unless you can get elected." Eventually Peters won the endorsement with 64 votes to 26 for Saldaña and two for no endorsement.

Report this post as:


by Mark Gabrish Conlan/Zenger's Newsmagazine Sunday, Feb. 05, 2012 at 1:03 PM
mgconlan@earthlink.net (619) 688-1886 P. O. Box 50134, San Diego, CA 92165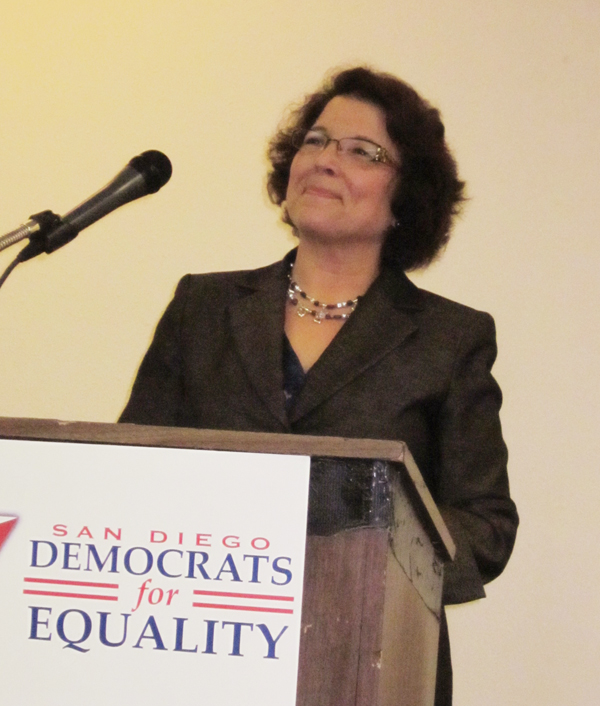 saldan__a.a.jpg, image/jpeg, 600x706

error

Report this post as:


by Mark Gabrish Conlan/Zenger's Newsmagazine Sunday, Feb. 05, 2012 at 1:03 PM
mgconlan@earthlink.net (619) 688-1886 P. O. Box 50134, San Diego, CA 92165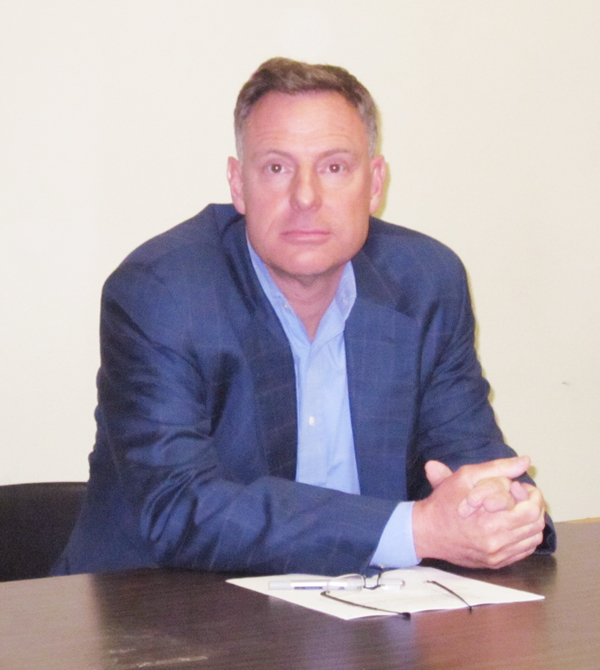 peters.a.jpg, image/jpeg, 600x670
error
Report this post as:
Local News

Indivisible local events F16 4:07PM

RACE RELAY - race relations dialogue F16 7:01AM

LA County Greens Oppose S F09 8:52PM

Our Revolution L.A Organizing Meeting F08 12:23AM

First We Marched. Now We Huddle F06 10:54PM

Indigenous, Sacred Lands Disrespected at L.A. Women's March J24 1:52PM

Massive Women's March Los Angeles Tells President Donald Where To Go J23 8:22PM

Massive Women's March Los Angeles Tells President Donald Where To Go J23 8:00PM

Massive Women's March Los Angeles Tells President Donald Where To Go J23 7:42PM

Massive Women's March Los Angeles Tells President Donald Where To Go J23 6:04PM

Massive Women's March Los Angeles Tells President Donald Where To Go J23 5:48PM

Massive Women's March Los Angeles Tells President Donald Where To Go J23 5:30PM

Massive Women's March Los Angeles Tells President Donald Where To Go J23 5:02PM

Massive Women's March Los Angeles Tells President Donald Where To Go J23 4:23PM

Massive Women's March Los Angeles Tells President Donald Where To Go J23 4:03PM

Massive Women's March Los Angeles Tells President Donald Where To Go J23 3:39PM

University of California Riverside Students Walkout J22 10:41PM

San Gabriel Valley Anti-Repression Committee Action J22 10:07PM

Staggering Turnout for Women's March L.A. J22 1:09PM

Los Angeles Braves Extended Downpour to Tell Trump Hell No J21 3:32AM

Los Angeles Braves Extended Downpour to Tell Trump Hell No J21 3:04AM

#J20 CalArts in SoCal Plan Walkout; NY Galleries & Nonprofits Plan Art Strike J18 5:25PM

Camp 120 Will Hold Space in Front of City Hall Until Inauguration Day to Protest the Inac J18 5:03PM

Teamsters Local 2010 Initiates Mass Walkout and Strikes at University of California J18 4:12PM

Nurses Storm The Boulevard To Pressure Trump on the ACA J17 4:49PM

Nurses Storm The Boulevard To Pressure Trump On the ACA J17 3:12PM

Jane Fonda Divests From Wells Fargo J03 8:27PM
More Local News...
Other/Breaking News

Summon Rush Hack Cheats F20 2:22PM

Kucinich Warns of Deep State's Plans for War Post-Trump Impeachment F20 4:54AM

MY TESTIMONY ON HOW I GOT MY LOAN F19 10:55PM

KLM refuses seven passengers following Trump's muslim ban/KLM accomplice to discrimination F19 3:50AM

Radio Libertaire ou Persona grata F18 3:47AM

Resistance Recess F17 2:21PM

Congress Moves Slowly on Bipartisan Puerto Rico Recommendations F17 9:30AM

The Shortwave Report 02/17/17 Listen Globally! F16 5:01PM

Help Wanted: How You Can Act Locally To Stymie Trump's Agenda F16 11:24AM

Paraphysique de l'emprise F15 10:34PM

107 More Groups Oppose Neil Gorsuch F15 4:38PM

Cloudflare's Transparency Report for Second Half 2016 - FBI National Security Letter F15 10:26AM

Attempt the Impossible! Theses for a New Left Majority F15 4:57AM

Breaking: Miller On Bakersfield Incident F15 1:56AM

Trump Voids Dodd-Frank 1504 Transparency Rule F14 1:49PM

Les mafias du capital F13 11:38PM

The Sleazy Corporate Nazi Tactics of Public Storage F13 3:11PM

Geral Sosbee Presents F12 4:58PM

Théodore dit Théo, violé par la police F11 6:44AM

Igor Sadikov urges students to "Punch a Zionist" F11 6:06AM

The Lie of the Civilized Western World F11 5:49AM

Rescue Team Head Straight From Peruvian Mountains To Durham Movie Screening F10 1:38PM

Trumpism and the Working Class F09 8:05PM

The Shortwave Report 02/10/17 Listen Globally! F09 5:14PM

Please Say No To Serially Executing Neal Gorsuch F09 4:27PM

Paraphysique du crétinisme institutionnel F08 10:47PM

Strategic Emergency Declared Upon Eastern Europe F08 8:29AM

War Without End F08 4:32AM
More Breaking News...