Tell the NSA:
StopWatching.US
Features
•
latest news
•
best of news
•
syndication
•
commentary

Feature Categories



KILLRADIO
printable version - js reader version - email this article - view hidden posts - tags and related articles
by Anon Y. Mous Thursday, Dec. 29, 2011 at 10:47 PM

Hollywood's 'The girl with the dragon tattoo' had its US opening December 20th. But Stieg Larsson was an investigative journalist with a degree of vision and social conscience few have, his novels portraying real-life aspects of 'the dark side of Sweden'.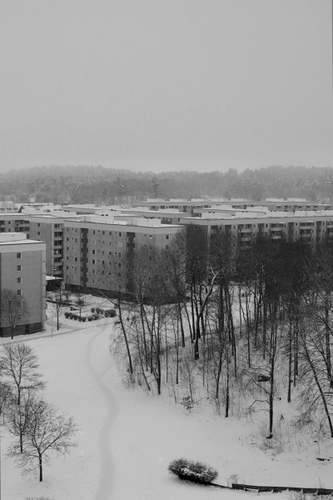 alby_sweden0001_..._photo_by_sickinsweden__mark_lewis.jpg, image/jpeg, 333x500
Stieg Larsson's 'Dragon Tattoo' ... some disturbing truth about Sweden
by Anon Y. Mous
Copyright December 2011
Reprints with attribution welcomed,
but no derivative works
Photo Credit: SickInSweden,
Mark Lewis


Dateline Sweden - David Fincher's Hollywood version of Larsson's thriller opened in the US December 20th, discussion of how it casts the darkest shadows over this Nordic nation dominating much of the film's press. But some aspects of the Swedish reality are perhaps even darker than Fincher's fiction.

One of the many pieces appearing about the film was in OpEd News, "Sweden and its dark side, Stieg Larsson, and Hollywood's 'The girl with the dragon tattoo'", but this piece addresses the many unsettling parallels that have occurred between actual Swedish news reports and Hollywood's film. In example, one segment reads:

"Dragon tattoo's heroine, Lisbeth Salander, is brutally bound and raped at one point by the man placed as legal guardian over her, Larsson providing comment upon the disturbing reality here of those that have been found to use their official position to ruthlessly prey upon the vulnerable. In example, about a year ago the former police chief of Uppsala County, a major city area in Central Sweden, was sentenced to six years imprisonment for a string of serious sex crimes.

According to an English language article in Sweden's The Local, 'Ex-police chief given lighter sentence', the court found the former chief guilty of 'aggravated rape, rape, assault, pimping, buying sex and attempting to buy sex.' The article noted that the crimes included the rape of a seventeen year old girl, with the court determining that the 'girl spent much of the rape tied up', paralleling Salander's being bound and raped."

The above excerpt doesn't seem to fit with a country famed for its propriety and level of gender equality, but that's what Stieg Larsson wrote about - the differnce between what seems 'proper and noble' while in fact is anything but. And, the Oped News article provides further examples, including those of the country's "Nazi heritage".

On just December 9th, the same day as the Nobel prizes were awarded, neo-Nazis with black shirts and khaki pants marched through Stockholm, parading by the Jewish Community's headquarters in protest of a perceived 'Jewish conspiracy'. But before his death, Larsson had predicted that a party with neo-Nazi roots, the Sweden Democrats, would be elected to parliament in 2010, and he was right.

In real ife, as an investigative journalist specializing in the 'far-right', Larsson had expressed concerns over the future of women, immigrants, and Jews in Sweden, fearing a return to the abuses that had once been common in this country.

Over the last five years, I've personally witnessed levels of xenophobia here that I had never thought possible, but recently I came to realize that the dark spectre of both xenophobia and structural discrimination had long afflicted Sweden. Like a shark lurking beneath the waves, it blatantly surfaces only for periods, then disappears.

Sweden founded the world's first race 'racial biology' institute in 1922, an institute associated with the forced sterilization of 63,000 in a program only ending in the mid-1970s.

As unsettling as the above facts are, what the OpEd News article described as "the banality of evil" Larsson depicts afflicting elements of Sweden's bureaucracy is perhaps worse, the examples of actual events provided by the piece making the point, as does a link to a 2005 Swedish government study on "structural discrimination". The article's author, Ritt Goldstein, notes that ongoing events have placed his own life in danger, describing his circumstances as "nightmarish".

On the positive side, both the article and the government report on structural discrimination suggest Swedish 'denial' is what has allowed such problems to take root and flourish, Goldstein specifically citing the "many good, decent, and fine Swedes that I've met, and some of these are indeed among the finest people I've ever encountered". The article ends by quoting 18th century Irish statesman Edmund Burke, in that "all that is necessary for evil to triumph is for good people to do nothing".

Stieg Larsson was considerably more than just a novelist, and David Fincher's 'The girl with the dragon tattoo' is a 'must see', on many levels.
Report this post as:
Local News

Foreclosure Victims Occupy Senate Stump Speech of Kamala Harris M21 4:58AM

LA Nakba Anniversary protest at the Israel Consulate M19 12:56AM

Long Beach Police Execute Unarmed Teen Hector Morejon on Suspicion Of Trespassing M15 6:08AM

Eagle-Con 2015 at Cal State L.A. M13 4:15PM

Brendon Glenn Dies and Venice S/Weeps M08 7:45PM

JOIN CLASS ACTION LAWSUIT AGAINST RONALD L. HAVNER JR's PREDATORY BUSINESS, PUBLIC STORAGE M08 4:48PM

Councilmember Bonin Calls People of Venice Outraged by Police Murder "Outside Agitators" M08 10:45AM

May Day March, LA 2015 M07 7:33PM

LA Progressive: Ref Rodriguez—What the PUC Is Going on Here? M05 11:26PM

L.A. Stands in Solidarity with Australian Aborigines M05 11:12AM

KPFK'S rep to Pacific Bd Whitleblower -being kicked out ...plse sign petiton here M04 2:38PM

Families Protest Abusive Foreclosure Practices of Wells Fargo Bank A26 10:37AM

How is CCSA's Ref Rodriguez hiding his billionaire and ideologue contributors? A21 12:08PM

What drives charter profiteer Ref Rodriguez? A21 12:04PM

Los Angeles Artist Threatens 40 Million Dollar Law Suit for Public Storage Illegal Auction A20 4:08PM

RAC-LA Community Center Grand Opening A20 1:44PM

KPFK and Pacifica- woes unrelenting... A19 4:20PM

RAC-LA Community Center Badly Needs Your Support A14 10:09PM
More Local News...
Other/Breaking News

The Shortwave Report 05/29/15 Listen Globally! M28 5:11PM

Ukraine Threatens Total Blockade on Donbass M28 12:25PM

The lowest common denominator rules the uSA M28 11:43AM

Racist Wendy Sherman Leaving State Department M28 10:01AM

Western Long Knives Out for FIFA's Sepp Blatter? M28 9:21AM

Washington Wages War on International Soccer M28 3:56AM

ATTO INQUISIZIONE REGNANS IN EXCELSIS M28 3:04AM

Four Winds of March Against Monsanto Los Angeles Take The Streets of Hollywood M27 2:49PM

Reinvented War Criminal Tony Blair Resigns As Middle East Envoy M27 11:47AM

Obama Memorial Day Big Lies M27 11:25AM

World Be Advised M27 10:50AM

19 Ways the USDA Kills People, Animals, Birds, And/Or Trees M27 10:22AM

Bernie Sanders: Populist or Opportunist? M27 7:49AM

G7 Finance Ministers Focus on Growth in Face of High Debt M27 7:26AM

Israel Wants 50% Increase in US Provided Military Aid M27 4:29AM

Abduction, Torture and Summary Killings of Palestinians by Hamas M26 10:44PM

Risks and Opportunities for Consumer Welfare, 56 pp M26 10:47AM

Mission Creep in Syria M26 10:46AM

Netanyahu's Sham Settlement Bloc Boundaries Proposal M26 10:25AM

China's Military Strategy M26 7:27AM

The Battle for Jobs M26 4:43AM

Sham Yemen Peace Conference Postponed M26 4:33AM

Trapps de la domination, trapps de l'aliénation M25 11:05PM

USA, fbi, et al Crimes Against Humanity M25 9:19PM

Netanyahu Appoints Right-Wing Extremist to Head Israel's Diplomatic Corps M25 11:33AM

Venezuelan/Palestinian Relations: Based on Brotherhood, Solidarity and Mutual Support M25 9:27AM

Propaganda Accompanies Kiev's Buildup for Escalated Aggression M25 7:35AM

Washington Created the Islamic State (ISIS) M25 4:45AM
More Breaking News...