Features
•
latest news
•
best of news
•
syndication
•
commentary

Feature Categories



KILLRADIO
printable version - js reader version - email this article - view hidden posts - tags and related articles

by Echo Park Community Coalition (EPCC) Tuesday, Dec. 22, 2009 at 11:16 AM
epcc_la@hotmail.com 818-749-0272 1740 W. Temple St. Los Angeles, Ca 90026
"Why don't we just get nooses for everyone of those lowlifes and hang them from a tree? They're used to that kind of treatment anyway!" read the message on an email sent to upscale co-op residents of a redevelopment project smack right in the middle of a Harlem neighborhood last October. The anonymous post which originated from one of the units within the co-op added: "I hope you all agree that the best thing that has happened to Harlem is gentrification. Let's get rid of these 'people' and improve the neighborhood once and for all."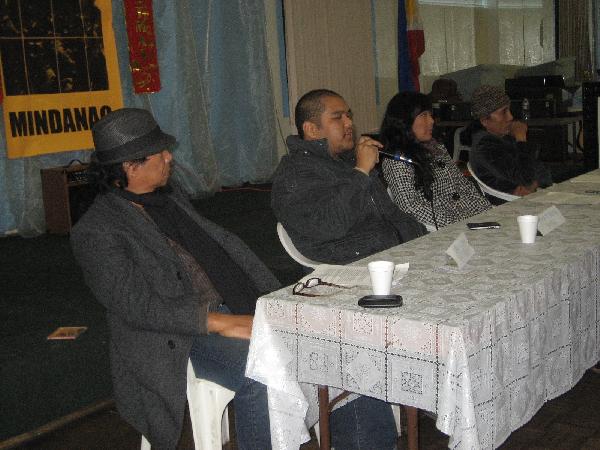 al__s_12-7-09_pix_008-3.jpg, image/jpeg, 1600x1200

EPCC NEWS AND VIEWS
December 21, 2009

THE RACIST GENTRIFICATION OF OUR CITIES

By Plaridel Inkana

Los Angeles--"Why don't we just get nooses for everyone of those lowlifes and hang them from a tree? They're used to that kind of treatment anyway!" read the message on an email sent to upscale co-op residents of a redevelopment project smack right in the middle of a Harlem neighborhood last October.

The anonymous post which originated from one of the units within the co-op added:
"I hope you all agree that the best thing that has happened to Harlem is gentrification. Let's get rid of these 'people' and improve the neighborhood once and for all."

Since 1969, drummers from Africa and the Caribbean have played an important role in shaping the social fabric and dynamic of Mount Morris Park, a traditionally-black Harlem neighborhood.

The mostly black immigrant musicians who played until 10 p.m. every summer Saturday, are widely credited with helping to make Marcus Garvey Park a place for neighborhood families to picnic and socialize on hot summer nights. The festive atmosphere recreates the cohesive culture that immigrants left behind in their country of origin.

But across the street from the park however, the residents of the building at 2002 Fifth Avenue "a new seven-story cream and red brick luxury co-op with a doorman, $1 million apartments and a lobby with a fireplace - most of them young white professionals, have a different perspective: When the drummers occupy a spot nearby, residents say, they are unable to sleep, hear their television sets, speak on the telephone, or even have conversations with their spouses without shouting. Some say they cannot even think straight. Collectively they filed a lawsuit against the drummers.

The original residents of that section of Harlem though see the problem lies in the new arrivals refusal to at least socialize or acclimatize with their new environment beyond the walls of the co-op.

POOR COMMUNITIES BEING TARGETED FOR RENEWAL BY THE BOURGEOISIE

At an alarming rate ,Harlem working families with an average earning of less than $20,000 per annum and small black-owned businesses are being displaced and priced out of the market by luxury condos and upscale stores. Even "subsidized units" tagged for low wage earners in the new buildings are pegged at incomes of $40,000-$60,000 - hence amortizations are well beyond the reach of the majority of the working class residents of Harlem.

The problem of redevelopment is not only in Harlem but sweeping across America for the last two decades.

As the crisis of capitalism deepens and the flight of industrial manufacturing to developing countries of the third world and leave fractions of most American cities resembling ghost towns - the capitalist found a way of making use of their surplus inventory: gentrification - a new way of maximizing profit even in the face of the capitalist economic crisis. Their answer to the crisis brought about by overproduction is more production. Their solution to the credit problem is more spending.

Their paradigm concludes that if the capitalist market can expand in places like Tanzania and Palau - then it can within the poor urban communities of the U.S.

Cities started cannibalizing themselves. New aesthetics are being shoved down the throats of neighborhoods as if its people are totally devoid of culture. The old are being displaced by the new in blatant disregard of heritage. A cookie cutter approach to urban renewal painted this asinine picture of cold conformity and duplicity. It seems that there is a Starbucks a few feet away from an ATM machine anywhere in America today.

Few cities, though, have been affected by gentrification more than San Francisco California. Its Mission District is a prime example. Primarily a Latino and immigrant community, the Mission has been undergoing gentrification since the "dot com" boom of the 1990s.

Once a comfortable mix of residential, commercial and industrial space, the corridor along Harrison and Bryant streets had many warehouses, garages and other light industrial establishments. But a walk down those streets today, or a quick visit to any of a number of real estate websites, reveals that those businesses have been displaced by luxury loft housing for the affluent.

In addition to the disappearance of light industry, small apartment buildings in the Mission have been converted to tenancy-in-common condos. TICs are exempt from tenant protections in the city's condo law. For example, tenants do not get the first right of refusal to buy their units and relocation assistance or pay, and senior or disabled tenants can be evicted. This has caused the number of evictions to skyrocket.

Gentrification in San Francisco has been accompanied by racist displacement like in Harlem, typical of the national trend. Starting with the "redevelopment" of the Fillmore area in the 1960s, San Francisco's African American population has been dwindling. In 2005, the African American population had shrunk to 46,779, just 6.5 percent of the city's population. That is down from 79,039, or 12.4 percent, just 25 years ago.

The same story goes in Washington DC, Detroit, Chicago and many cities of America.


IN LOS ANGELES, CAPITALIST STRUCTURES DESIGNED TO HIGHLIGHT INEQUALITY IN SOCIETIES

One glaring example of how the ruling elite perpetuate class divisions is by building mixed-used projects wherein segments are created to designate income levels. Bigger units with fantastic views are reserved for the very rich while units for low income are akin to scarlet letters that put you in your proper place in society. Are we suppose to genuflect every time the guy with the helipad walk by?

Such structure is now near completion in Los Angeles.

Here in Los Angeles gentrification and redevelopment continue unfettered and reaching a fever pitch. Most notable are the Metro Mixed-use projects: while 95% of metro riders are low income immigrant workers new housing and commercial development projects are targeted towards the more affluent market.

On glaring example is located at the world famous intersection of Hollywood Boulevard and Vine Street in Los Angeles, the new W Hollywood Hotel & Residences and 1600 Vine Apartments is a $600 million, 1.7 million-square-foot, mixed-use project covering 4.5-acres.

The W Hotel is an 11-story, 305-room full-service hotel with a rooftop pool, a chic nightclub, a signature Innovative Dining Group (IDG) restaurant, and a Bliss spa. The W Hollywood Residences is a 15-story, 143-unit luxury condominium tower.

The 1600 Vine Apartments project includes 375 apartment units in one eight-story and two 12-story towers. The project was constructed around the Hollywood/Vine Metro Red Line Station, which is located beneath Hollywood Boulevard and a portion of the site.

Other features include three elevated swimming pools, two helipads, 30,000 square feet of advertising signage, and a sky bridge connecting the hotel rooftop to the W Hollywood Residences.

One wonders if the need of the Salvadoran girl selling tamales at the Beverly portal and the countless homeless residents of Hollywood and Vine came into considerations in designing this glaring monument to capitalism.

"I've asked my supervisor if I could take my son on the upper level of 1600 Vine to see the city from up there," said Miguel, a worker at the W site. "The view is fantastic. You can see our neighborhood on the eastside, the Hollywood sign, Santa Monica Pier and all that!"

But when asked if he has a desire to live there, he replied: "Desire? A dream maybe. Even if I work my butt off for the 100 years I can never afford to live here."

Workers are building homes that they themselves cannot afford.

EARLY EXAMPLES OF GENTRIFICATION IN LOS ANGELES .

The first former residential areas that were The Manila Town ( now Little Tokyo), The old Asian towns ( Now the Grand avenue and Civic Center of LA, the Crown Hill who were bulldozed to turn it as a downtown center form the 1960's to the 1980's.

Than later in the early 1990's the old downtown hotels and buildings were turned to lofts under the Riordan-Hahn administration. Using public funds from the CRA, more than 147 old building were turned into lofts and new rental units for young yuppies.

It increased the population of downtown LA from a miniscule 10,000 to more than 25,000. The they built the Staples Center displacing old renters and low-income people to the fringes of the city.

Under the Latino Mayor Villaraigosa, he continued the old scheme of gentrifying downtown LA and its periphery . They closed the Skid Row and built a yuppie kingdom.

Now they are congratulating themselves in "reviving" old downtown LA.

Gentrification, urban renewal and redevelopment are in fact a form of theft by the bankers and developers from the workers and poor. Shelter is a basic necessity of life. To be deprived of that is theft enough.

But even more, long-time renters may have paid many times the value of the property in rent for their dwelling to landlords who often provide no services or maintenance. Even for those lucky enough to have bought homes, the equity could never compensate for the higher rents and property taxes should they choose to relocate in the area.

A NEED FOR AN EGALITARIAN SYSTEM

Only by eliminating the profit motive from housing and real estate can the right to housing be truly guaranteed. Otherwise, this basic right will always be controlled by real estate speculators and slumlords.

Countries that are much poorer than the United States have been able to provide this right by organizing society along socialist lines, for people's needs instead of for private profit. Countries like Cuba and North Korea are able to guarantee home ownership or rentals for less than 10 percent of one's salary.

But as long as the economic system is organized to serve the bankers and landlords, every home and community is threatened not only by greedy gentrifiers but by racists who are hell bent in destroying our communities.

The McArthur Park/Westlake Red Project is one of the most contentious in the country so far. Pegged to open last summer the II phase hasn't broken ground yet.

The Master Plan for the project is tantamount to ethnic cleansing. Two city blocks have to be razed to make way for new gleaming buildings that absolutely have no identifiable feature of what the heavy Latino area is. Hundreds of Latino families will be displaced.

A thriving Mecca of anything from south of the border will be replaced by haute couture crowd hovering around retro theatre and noveu restaurants and haberdasheries.

The demarcation of pro and cons is sadly along racial lines.

And just to illustrate how contentious and vicious the arguments are here is a sampling:

"McArthur Park is filthy, and I have witnessed both male and female immigrants urinating and defecating in public. I totally welcome WORKING people to this area, but the illegal slackers have got to go. There are men of working age just standing around 6th/Alvarado all day long doing nothing but offering fake identification. I recently had friends visiting from Salt Lake City, and I was so embarrassed to have them witness vomit at the Redline station, along with an immigrant letting his child defecate on a sidewalk right in front of my residence in broad daylight!" stated by a pro-developer commenter on a recent public forum on the McArthur Park/Westlake Red issue.

It solicited a pointed reply from one of the community activists in attendance, he said: "The only act of public defecation in our community is being done by the greedy developers, the greedy bankers, THE GREEDY POLITICIANS who come to our neighborhoods to rearrange our lives, to dislocate the poor, to deprive us of our livelihoods and rob us of our equity in building our city!"

Amen to that!

********



Report this post as:


by Echo Park Community Coalition (EPCC) Tuesday, Dec. 22, 2009 at 11:16 AM
epcc_la@hotmail.com 818-749-0272 1740 W. Temple St. Los Angeles, Ca 90026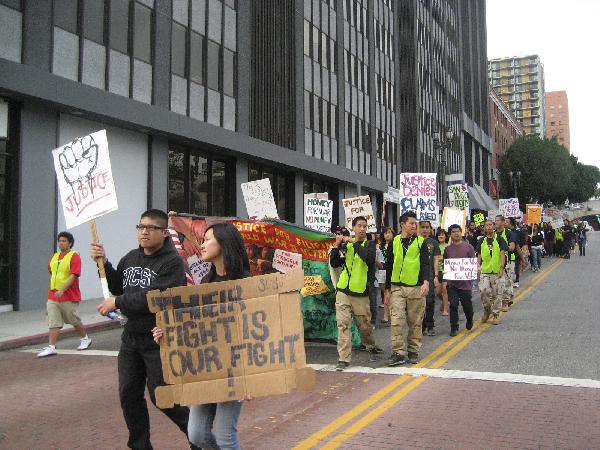 al__s_jfav_pix_002.jpg, image/jpeg, 1600x1200
EARLY EXAMPLES OF GENTRIFICATION IN LOS ANGELES .

The first former residential areas that were The Manila Town ( now Little Tokyo), The old Asian towns ( Now the Grand avenue and Civic Center of LA, the Crown Hill who were bulldozed to turn it as a downtown center form the 1960's to the 1980's.

Than later in the early 1990's the old downtown hotels and buildings were turned to lofts under the Riordan-Hahn administration. Using public funds from the CRA, more than 147 old building were turned into lofts and new rental units for young yuppies.

It increased the population of downtown LA from a miniscule 10,000 to more than 25,000. The they built the Staples Center displacing old renters and low-income people to the fringes of the city.

Under the Latino Mayor Villaraigosa, he continued the old scheme of gentrifying downtown LA and its periphery . They closed the Skid Row and built a yuppie kingdom.
Now they are congratulating themselves in "reviving" old downtown LA.
Report this post as:
LATEST COMMENTS ABOUT THIS ARTICLE
Listed below are the 10 latest comments of 1 posted about this article.
These comments are anonymously submitted by the website visitors.

| | | |
| --- | --- | --- |
| TITLE | AUTHOR | DATE |
| bad idea | Madonna Constantine | Saturday, Dec. 26, 2009 at 3:30 AM |
Local News

THE WHITE CITIZEN'S COUNCIL ... AKA KPFK AND FOLKS ON THE WESTSIDE J27 11:16PM

Hundreds March Long Beach to Compton to Protest Los Angeles Sheriff Murder of Noel Aguilar J27 11:14PM

Bernie Sanders at The 2016 Rose Bowl Parade J27 4:25PM

Bernie Sanders at The 2016 Rose Bowl Parade. J27 3:54PM

Vigil for O'Day, Helen, Barry, and Carol-Ann Short, killed by racist terrorists in Fontana J25 8:55PM
More Local News...
Other/Breaking News

Murderous USA F13 6:08PM

International Day of Solidarity with Leonard Peltier F12 5:51PM

Save Midtown-Black Homes Matter F12 4:57PM

January 2016 Honduras Coup update F12 4:42PM

Sandstorm Pirate Wars Cheats Power Cells, Bolts F12 2:14PM

Insults & Injuries by fbi/police F12 1:02PM

US Judge Explores Lifting Argentina Sanctions After Country Offers $6.5 Billion F12 8:49AM

Tutelle comportementaliste F11 10:56PM

The Shortwave Report 02/12/16 Listen Globally! F11 5:22PM

Sandstorm Pirate Wars Cheats Power Cells, Bolts F11 3:38PM

Farewell to Homo Oeconomicus F10 7:06AM

The Disgraceful United States Supreme Court F09 11:46AM

Street Fighter 5 CD Code Activation F09 4:15AM

Paraphysique de proxémie guerrière F08 10:56PM

Mr. Trump : F08 5:43PM

Audio: What's Wrong with the TPP? 27 min F08 4:43PM

Examples of fbi heinous crimes against me and others F08 10:25AM

La Relación Mortal Entre el Abuso de Drogas con la Falta de Educación. F08 8:36AM

Capitalism's growth problem F08 2:39AM

Super Bowl 50: Super Militarization and Super Inequality F07 7:09PM

NOT A GRIMM FAIRY TALE F07 2:16PM

The GOP Plan To Steal The Ohio And National Elections F07 12:59PM

28 Reasons To Defeat Jeb Bush's Presidential Ambitions F07 11:49AM

Paraphysique de manipulation mentale et sociale F07 1:36AM

Cartoons Worth a Thousand Words F06 2:01PM

Mortal Kombat X Free Koins F06 10:08AM

Make A Heaven of Hell F06 9:56AM

The world awakens F06 8:11AM
More Breaking News...