by Echo Park Community Coalition (EPCC) Sunday, Sep. 13, 2009 at 2:16 PM
epcc_la@hotmail.com 213-241-0906 337 Glendale Blvd. Los Angeles, CA 90026
The 40th day of the death of Philippine president Cory Aquino was commemorated with a memorial mass in St. Philomena Parish in Carson city in Los Angeles county last September 9, 2009 The memorial mass led by the parish community of St. Philomena Church at 21900 S. Main St. Los Angeles, CA 90745. More than 250 people attended the memorial mass celebrated by Fr. Thomas Asia, Filipino associate pastor at St. Philomena Church.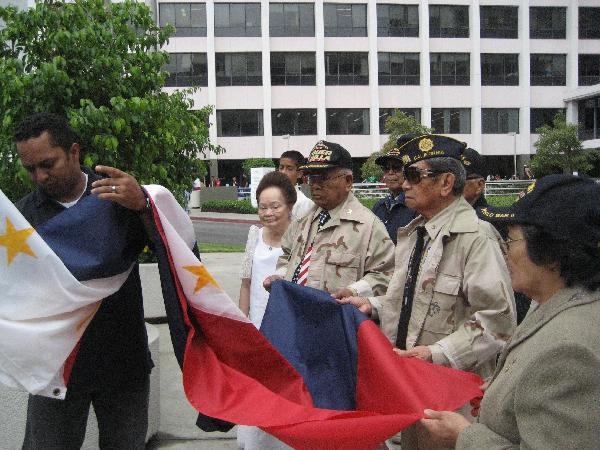 flag_ceremony_007.jpg, image/jpeg, 2816x2112
EPCC NEWS
Sept. 12, 2009

Carson Filipino-American Community Honored Cory Aquino, Sept. 9.

Carson- The 40th day of the death of Philippine president Cory Aquino was commemorated with a memorial mass in St. Philomena Parish in Carson city in Los Angeles county last September 9, 2009

The memorial mass led by the parish community of St. Philomena Church at 21900 S. Main St. Los Angeles, CA 90745. More than 250 people attended the memorial mass celebrated by Fr. Thomas Asia, Filipino associate pastor at St. Philomena Church.

Alex Cainglet, parish community leader acted as the moderator while Fe Koons who organized the event gave the eulogy before the end of the mass.

Fe Koons,, a member of the board of director of People's CORE and one of the funder of GABRIELA in the Philippines n 1984 pointed out that "Mrs. Aquino made her promise to restore democracy and released all political detainees during her time"

She thanked the Echo Park Community Coalition (EPCC), People's CORE, Ecumenical Fellowship for Justice and Peace ( EFJP), Alliance-Philippines (AJLPP), Bagong Pilipinas, Bagong Pilipino Movement. Long Beach Coalition for Good Jobs and the EJN for supporting the event.

The whole city council of Carson led by the Mayor Jim Dear, Elito Santarina, Mike Gipson and others were also present at the event. The mass was ended by the singing of BAYAN KO and PILIPINAS KONG MAHAL with participant raising up their clenched fist.


*********