Features
•
latest news
•
best of news
•
syndication
•
commentary

Feature Categories



KILLRADIO
printable version - js reader version - view hidden posts - tags and related articles

by Mark Gabrish Conlan/Zenger's Newsmagazine Thursday, Sep. 03, 2009 at 6:30 PM
mgconlan@earthlink.net (619) 688-1886 P. O. Box 50134, San Diego, CA 92165
The predominantly Queer San Diego Democratic Club celebrated Women's Equality Day August 27 with a program featuring the club's women's caucus chair Kate Lyon, California NOW president Patty Bellasalma, Congressional candidate Francine Busby and Assemblymember Lori Saldaña discussing the history of feminist activism in the U.S. and the continuing difficulty of electing women to public office. The club members also considered an initiative to impose term limits on the members of the San Diego County Board of Supervisors, but decided to delay taking a position on that for a month.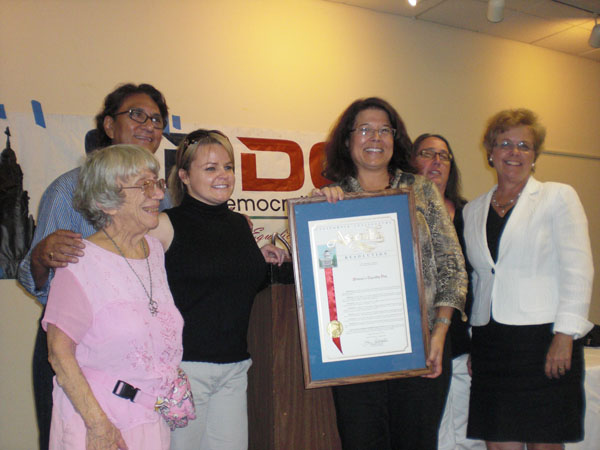 proclamation.a.jpg, image/jpeg, 600x450

Queer Democrats Honor Women's Equality Day

Question Proposal to Impose Term Limits on County Supervisors

by MARK GABRISH CONLAN

Copyright © 2009 by Mark Gabrish Conlan for Zenger's Newsmagazine • All rights reserved

PHOTOS, top to bottom: Assemblymember Lori Saldaña presents the San Diego Democratic Club with a proclamation honoring Women's Equality Day at the club's August 27 meeting. L to R: former club president Gloria Johnson, current club president Larry Baza, club women's caucus chair Kate Lyon, Assemblymember Saldaña, California NOW president Patty Bellasalma and Congressional candidate Francine Busby.

The Women's Equality panel: Patty Bellasalma, Francine Busby, Lori Saldaña.

San Diego Democratic Club women's caucus chair Kate Lyon.

Union representative Jacob Regalado promoting term limits for the San Diego County Board of Supervisors.

Assembly candidate Crystal Crawford.

Former San Diego Democratic Club president Gloria Johnson paid tribute to the memory of Senator Edward Kennedy by carrying her 1980 Kennedy for President hat and banner, which she wore on the floor of that year's Democratic convention as an openly Lesbian delegate.

The predominantly Queer San Diego Democratic Club gave over most of its August 27 meeting to a presentation honoring Women's Equality Day — the August 26 anniversary of the passage of the 19th Amendment to the U.S. Constitution, which gave women the right to vote nationwide. Hosted by Kate Lyon, the chair of the club's women's caucus, the panel also featured Patty Bellasalma, president of the California NOW (National Organization for Women); Francine Busby, North County Congressional candidate; and Lori Saldaña, California State Assemblymember and longtime environmental activist.

Lyon began the presentation with a brief history of American feminism. "In July 1848, Elizabeth Cady Stanton and Lucretia Mott led the convention in Seneca Falls, New York that articulated the rights of women," she explained. "At the time, women had virtually no rights at all. They became legally dead when they married. They had no right to property, voting or education, and their husbands had the legal right to beat or rape them. The organized movement for women's suffrage started a century and a half ago with a small group of people. Challenging the status quo, women protested in public — and were ridiculed and arrested for demanding basic rights."

According to Lyon, like the Queer activists of our own time, the pioneering feminists were accused of making demands that would destroy the family and all traditional morality. "The efforts of women to win the right not to be beaten by their husbands have been accused of 'demeaning motherhood,'" she said. "But they are working for all women. The early women's rights activists worked hard to bring us choices. On Women's Equality Day we look at how far we've come, but the U.S. is near the bottom worldwide on child support for working women — and our right to abortion is under constant attack, including terrorist attacks on clinics and the murder of doctors. We must renew our efforts for all women."

Bellasalma, a former private-practice attorney who won a major case on race-based employment discrimination against the city of Los Angeles and worked on the unsuccessful campaign against Proposition 209, which banned affirmative action in California state employment and college admissions, began her talk with the "two priorities" of California NOW and the state's women's movement in general. One is winning marriage equality for same-sex couples. As she explained, the women's movement has a broader concern with the California Supreme Court decision upholding Proposition 8, last year's initiative banning legal recognition of same-sex marriages in California. Her group wants an initiative that doesn't just repeal Proposition 8, but "protects the equal protection clause of California's constitution from modification by simple majorities."

The other major priority, she ruefully acknowledged, is "the perpetual: reproductive rights." Bellasalma mentioned that the Orange County Board of Supervisors — which, like San Diego County's, consists of five white Republicans — has implemented the gag rule countywide." What they've done is forbidden any hospital, clinic or other medical facility that receives state or county money from mentioning abortion or birth control to their patients — meaning that any health provider that wants to talk about, let alone actually offer, such services has to do so through a separate organization in a separate building. The fight against the local gag rule will be "long and hard," Bellasalma said. "We'll be doing everything we can to get our state legislature to fix it."

Bellasalma predicted that Orange County's unilateral imposition of a local gag rule "is coming to a county and city near you," and tied it in with the current effort in Congress to ban all taxpayer funding for women's reproductive services as part of the health insurance "reform" — which could leave many women with less access to birth control or abortion than they have now. She said women are already being discriminated against in health coverage. "Women pay 40 percent more than men for individual health insurance," she said, "and on top of that we're charged extra for pregnancy and maternity services because for some reason we can't share pregnancy and maternity with men — but we can share costs for Viagra and Cialis with men."

Weighing in on the continuing controversy over whether the Queer community and its allies should try to repeal Proposition 8 in 2010 or 2012, Bellasalma was unequivocal: "2010 is out of the question if you want to win," she said. "It's already a year too late to have an organization on the ground." She argued that because the California Supreme Court decision upholding Proposition 8 threatens all traditionally oppressed groups — since it means that all rights guaranteed by the equal protection provisions of the state constitution are fair game whenever a sufficiently willful and effective group puts an initiative on the ballot to take them away — there's an opportunity to reach out to communities of color and others who disproportionately supported Proposition 8 but whose rights are threatened by the court opinion upholding it. "We can create a coalition that will last for decades — if we get it right," she said.

Busby, who filled in at the last minute for Alex Rooker, female vice-chair of the California Democratic Party — who canceled due to the recent death of her mother — read a report from the party's women's caucus president, Karen Weinstein. Much of it addressed the problem of electing women to public office — which, as both Busby and Saldaña explained, often means persuading them to overcome their reluctance to run in the first place. "Women have a higher proportion of representatives in the congress of Rwanda than anywhere else, including the U.S.," Busby said. "Many countries have quotas within their political parties guaranteeing that a certain percentage of their candidates will be women."

According to Busby, only 17 percent of the U.S. Congress is female — mainly, she explained, because Congress has no term limits and therefore there's little turnover that would create open seats in which women could win. She noted the grim irony that the U.S.-mandated constitution for Iraq requires that 25 percent of its legislature be women — something that would never be tolerated in this country. Asked by an audience member how to get more women, especially young women, interested in politics, Busby said, "You have to make it real for them. When I first ran for Congress, I was just an ordinary person, no different from you. People need role models. If they don't see people they know [running for office], they won't do it. Also, women don't run if they're not asked. We need to plant the seed that says we deserve to be there."

"Men don't even think about that," Bellasalma said. "Competency is not part of the list of things they consider before they go after a job. There's a certain kind of innate self-confidence that comes from being raised male, which we have to inculcate in our daughters. We have to find other ways of networking and mentoring."

"Campaigning is about feeling confident and strong, and asking for money," added Saldaña, the only person on the panel who has actually won elective office. "A lot of women aren't raised to be comfortable about doing those things." Mentioning former eBay CEO Meg Whitman and former Hewlett-Packard CEO Carly Fiorina — who are seeking the 2010 Republican nominations for Governor of California and U.S. Senate, respectively — Saldaña said they are "very confident, did well in business and have a lot of money. My Republican women colleagues in the state legislature, with only one exception — Connie Conway — got there by being rich, and they don't have any problems exerting the power that comes with personal wealth."

Saldaña also discussed her work with the women's caucus in the California legislature — "the largest caucus and also the only bipartisan one," she explained. Among the issues they've dealt with are the rights of women in the U.S. military. "At least 50 percent of women in the U.S. military are harassed," she said, adding that the "don't ask, don't tell" policy that prohibits Queer people from serving openly in the military gives male harassers a powerful tool to blackmail women into having sex with them. "If a woman in the military doesn't have sex with a man, he can threaten to report her as a Lesbian and get her kicked out," she explained. "In countries where Gay and Lesbian people are able to serve openly, a much lower percentage of military women are harassed."

After the discussion on women's equality and in particular on getting more women to run for office, the club put its money — and its volunteer time — where its panelists' mouths had been by endorsing a Democratic woman against a Republican man in a state legislative race. Del Mar City Councilmember Crystal Crawford got the club's full support for her race against Republican incumbent Martin Garrick by an overwhelming margin — 26 in favor to one opposed and three abstentions — despite concerns from club legislative advocate Matt Corrales about her use of the words "choice" and "preference" to describe sexual orientation, even though she said that Queer people "deserve to be treated with full equality."

Supervisors' Term Limits Controversial

The club also considered an initiative sponsored by the San Diego local of the Service Employees' International Union (SEIU) to impose term limits on the San Diego County Board of Supervisors — but they delayed a decision on that measure for one month after several members were uncomfortable with endorsing a term limit when the club has always opposed them for other offices. According to SEIU spokesperson Jacob Regalado, who came to present the case for the initiative, the composition of the Board of Supervisors has remained the same since 1998, and no Democrat has served on the board since Leon Williams retired in 1994. What's more, he added, the overall low profile of the office and the $1.5 million slush fund in taxpayers' money controlled by each Supervisor has made it nearly impossible to defeat any of them at the polls.

"We have a Board of Supervisors that doesn't reflect our community or our county," Regalado explained. "We continually have to file lawsuits against them. We have the smallest food stamp program in the state. The San Diego Supervisors are the fourth highest-paid of all Supervisors in California, and their chief administrator, Walt Becker, is the second highest-paid in the country. Meanwhile, the wages of our members are near the bottom of the state and national averages." Regalado also said that, unlike the San Diego City Council or (after last year's election) the California state legislature, the Supervisors have final control over the design of their own districts — another weapon they've wielded effectively to deny challengers the ability to turn them out of office.

But while most of the club members agreed with Regalado's critique of the Board of Supervisors, many weren't convinced that term limits were the right solution. "We haven't had any good people running against these horrible people," said club activist and city workers' union leader Michelle Krug. "This year, we have a chance to put good people in two of those districts, and I don't want to handcuff them by subjecting them to a term limit."

Club member Harold Wayne, who's an announced candidate for the District 6 seat on the San Diego City Council to replace Donna Frye — who's being forced out by term limits — asked why SEIU hadn't done an initiative to take away the Supervisors' power to draw their own districts rather than one for term limits. Regalado replied that this would require an amendment to the county charter, "and that would be a long process" — but Wayne noted that imposing term limits would also require amending the charter. Regalado also questioned whether "you could actually draw progressive districts" in the County of San Diego.

Lori Saldaña, who was there to speak as part of the women's equality panel but is also planning a run against Supervisor Ron Roberts now that she's being forced out of the state legislature due to term limits, urged the club to delay the decision. "I would recommend that a more thorough discussion take place," she said. Both Saldaña and longtime club activist Elaine Graybill said that term limits had reduced the effectiveness of the California state legislature, and they wanted the club to deliberate longer before committing to support a term-limits initiative for the Board of Supervisors.

Club fundraiser and San Diego Pride at Work chapter co-chair Carlos Marquez called the comparison between the Board of Supervisors and the state legislature "apples and oranges," mainly because the legislature is a larger body and its members don't have the individual control over large chunks of tax money the way the Supervisors do. He also said that SEIU had already started gathering signatures for the initiative and wanted the club on board immediately to contribute both money and volunteers.

"Be careful, be very careful," said veteran women's and progressive activist Benita Berkson. "This is not typically a liberal cause. If you put effort into this, you could be sorry with what you come up with. You could wind up with no power and no continuity on the Board of Supervisors. I strongly recommend this issue be tabled for another time."

Youth activist Jonathan Goetz supported the initiative. "I don't care for term limits, but we have a county board of five white Republicans who don't believe in social services, who think social services are morally wrong, and their job is to run social services," he said. "I want to get rid of every single one of them."

But, as Regalado had explained during his presentation, even passing the term-limits initiative wouldn't necessarily get rid of them immediately. The current Supervisors would have the right to serve up to two more terms beyond the 20-plus years they've already been in the office. What's more, there's nothing in the initiative that would prevent the Supervisors from making so-called "legacy appointments" — resigning a year or so before their terms were up and appointing a new Supervisor who could then run as an incumbent. The Supervisors recently did this when county sheriff Bill Kolender decided to retire, and instead of serving out his term Kolender resigned a year early so his deputy, William Gore, could be appointed in his stead and run as an incumbent in 2010.

Eventually former club presidents Jeri Dilno and Gloria Johnson made a motion to table the decision on whether to endorse term limits for the San Diego County Board of Supervisors until the club's September 23 meeting. The motion to table passed, 24 to 16 — and one of the members who voted against delaying the decision said he did so because "I want to vote it down tonight."

Report this post as:


by Mark Gabrish Conlan/Zenger's Newsmagazine Thursday, Sep. 03, 2009 at 6:30 PM
mgconlan@earthlink.net (619) 688-1886 P. O. Box 50134, San Diego, CA 92165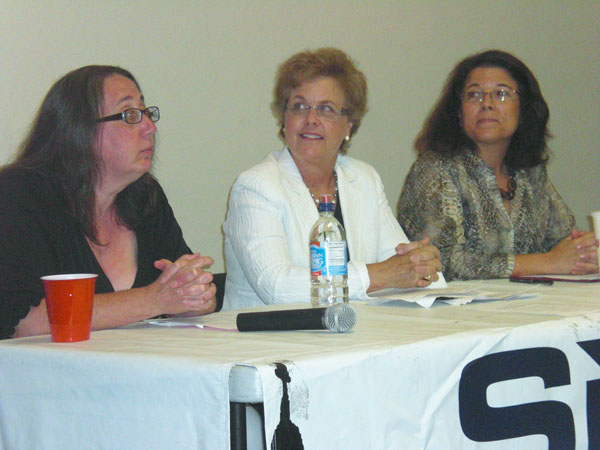 women_s_equality_panel.a.jpg, image/jpeg, 600x450

error

Report this post as:


by Mark Gabrish Conlan/Zenger's Newsmagazine Thursday, Sep. 03, 2009 at 6:30 PM
mgconlan@earthlink.net (619) 688-1886 P. O. Box 50134, San Diego, CA 92165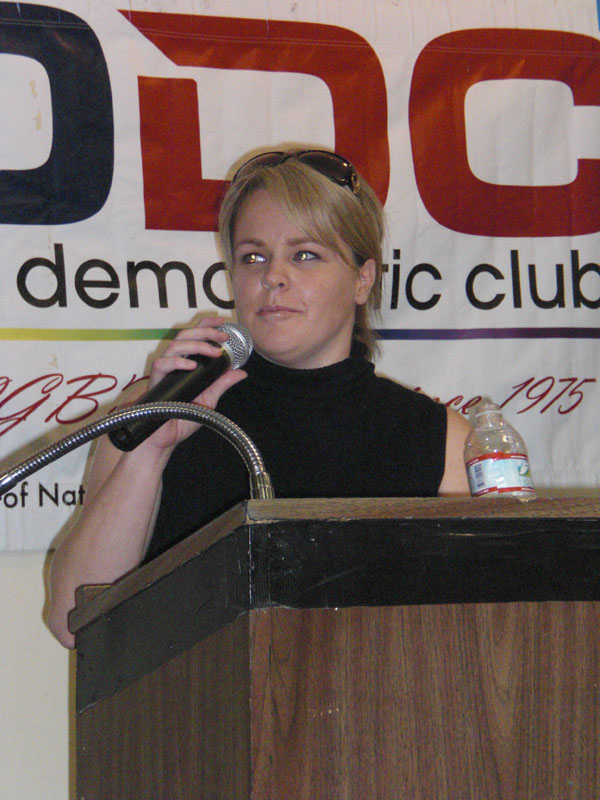 lyon.a.jpg, image/jpeg, 600x800

error

Report this post as:


by Mark Gabrish Conlan/Zenger's Newsmagazine Thursday, Sep. 03, 2009 at 6:30 PM
mgconlan@earthlink.net (619) 688-1886 P. O. Box 50134, San Diego, CA 92165

regalado.a.jpg, image/jpeg, 600x711

error

Report this post as:


by Mark Gabrish Conlan/Zenger's Newsmagazine Thursday, Sep. 03, 2009 at 6:30 PM
mgconlan@earthlink.net (619) 688-1886 P. O. Box 50134, San Diego, CA 92165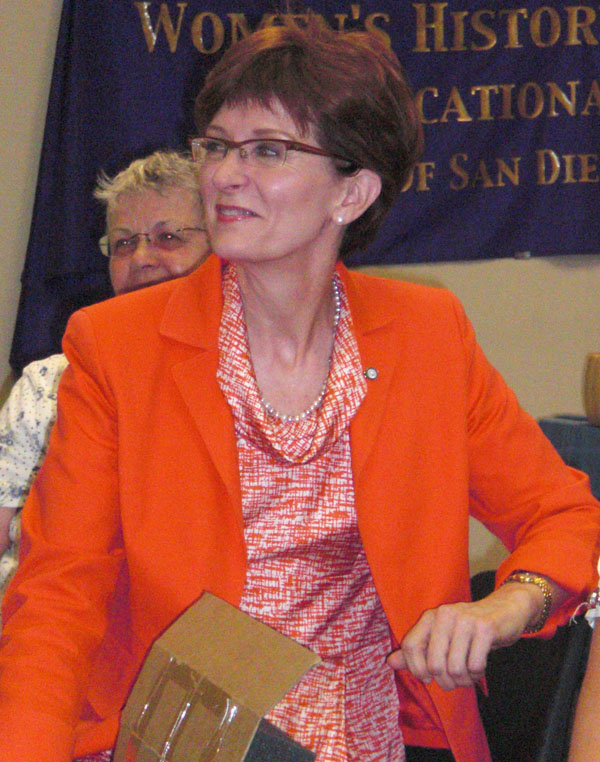 crawford.a.jpg, image/jpeg, 600x762

error

Report this post as:


by Mark Gabrish Conlan/Zenger's Newsmagazine Thursday, Sep. 03, 2009 at 6:30 PM
mgconlan@earthlink.net (619) 688-1886 P. O. Box 50134, San Diego, CA 92165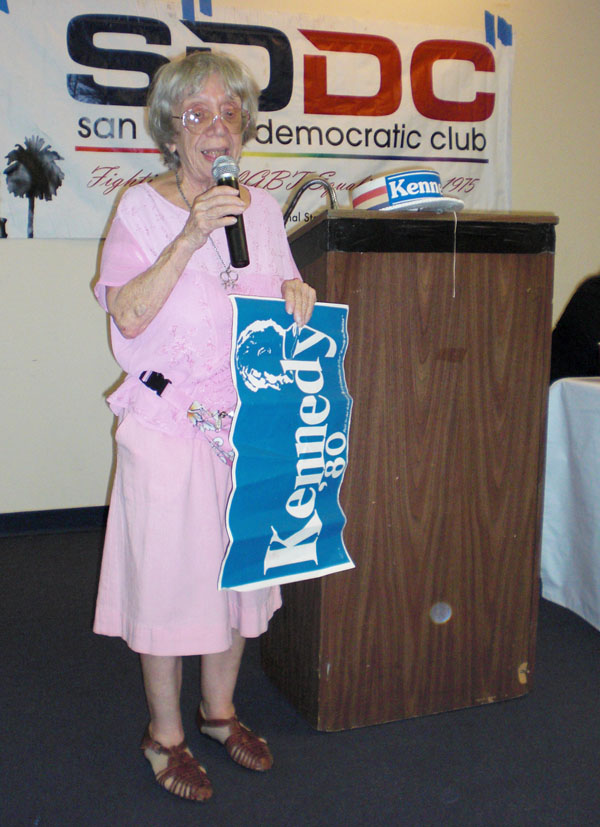 gloria_w_kennedy_sign.a.jpg, image/jpeg, 600x827
error
Report this post as:
Local News

Change Links September 2018 posted S02 10:22PM

More Scandals Rock Southern California Nuke Plant San Onofre A30 11:09PM

Site Outage Friday A30 3:49PM

Change Links August 2018 A14 1:56AM

Setback for Developer of SC Farm Land A12 11:09PM

More problems at Shutdown San Onofre Nuke J29 10:40PM

Change Links 2018 July posted J09 8:27PM

More Pix: "Families Belong Together," Pasadena J02 7:16PM

"Families Belong Together" March, Pasadena J02 7:08PM

Short Report on the Families Belong Together Protest in Los Angeles J30 11:26PM

Summer 2018 National Immigrant Solidarity Network News Alert! J11 6:58AM

Watch the Debate: Excluded Candidates for Governor of California M31 5:20AM

Change Links June 2018 posted M28 7:41AM

The Montrose Peace Vigil at 12 Years M22 8:01PM

Unity Archive Project M21 9:42AM

Dianne Feinstein's Promotion of War, Secret Animal Abuse, Military Profiteering, Censorshi M17 10:22PM

CA Senate Bill 1303 would require an independent coroner rather than being part of police M10 9:08PM

Three years after OC snitch scandal, no charges filed against sheriffs deputies M10 8:57PM

California police agencies violate Brown Act (open meetings) M02 8:31PM

Insane Company Wants To Send Nuke Plant Waste To New Mexico A29 11:47PM

Change Links May 2018 A27 8:40AM

Worker-Owned Car Wash on Vermont Closed A27 5:37AM

GUIDE TO REBEL CITY LOS ANGELES AVAILABLE A13 12:39AM

lausd whistle blower A11 6:58AM
More Local News...
Other/Breaking News

test O06 10:01AM

test O06 9:59AM

test O06 9:59AM

100 Ways GOP Have Stolen Elections Since 1876 O06 12:03AM

Proximospective de l'univocité réifiée O05 6:27AM

"Kava-no!!!" O04 6:42PM

Trump & Palestine vs. Genesis, Rashi & The Land of Israel O03 6:29PM

The Criminality of the Elites O03 11:35AM

Business de l'inhumanitaire O03 7:51AM

Marriage Rape/Date Rape Highest Rapes O02 2:59PM

Women I Know Get Raped - Too Many Times To Count! O02 2:55PM

Women In USA Have Stockholm Syndrom O02 2:50PM

Shooting Drill's Are Political Actual Shootings O02 2:47PM

Dr. Ford's Father Works With CIA O02 2:44PM

Weaponizing Frequencies O02 2:41PM

Google Abuses: Worldwide Spying, Censorship, War Promotion, Spying On Children, Etc O02 11:08AM

Paraphysique de l'administration O02 8:34AM

Paraphysique O02 8:31AM

Affordable Rents? A State of Emergency Intensifies O01 11:36AM

A Few Of Many Impeachable Acts by Trump Sessions And Others O01 4:41AM

Désengrammation, l'éloge de la suite S30 7:01AM

someone Should Work In Hollywood - Good Acting! S28 2:55PM

Ford Gives Psych Drugs To Lower Class To Shut Them Up? S28 2:51PM

Hilllary Calls Ford Trailer Trash? S28 2:47PM

Most Rapes Are In Marriages S28 2:43PM

Nice Boys Dirty Deeds S28 2:41PM

Minnesota 2nd Largest Rape State S28 2:39PM

Paraphysique de la plus-value S28 7:18AM
More Breaking News...