by Resolved White Wednesday, Jan. 28, 2009 at 2:29 AM

Now comes the payback.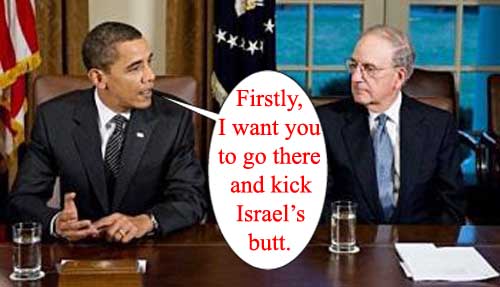 kick_butt.jpg, image/jpeg, 500x287
President Barack Obama vowed on Monday that his new Middle East envoy George Mitchell would engage vigorously in the quest for Israeli-Palestinian peace and expressed confidence he would achieve concrete results no matter who opposed his plans in the Middle East.

"The cause of peace in the Middle East is important to the United States and our national interests. It's important to me personally and nobody, especially Israel, will be allowed to block it," Obama said after a White House meeting with Mitchell, who was due to head to the region later on Monday.
"The charge that Sen. Mitchell has is to engage vigorously and consistently in order for us to achieve genuine progress. When I say progress -- not just photo ops but progress that is concretely felt by the people on the ground," Obama told reporters.