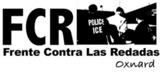 FOR IMMEDIATE RELEASE
International Workers Day, 2008:
March for Dignity to be held in Oxnard
VENTURA COUNTY REGIONAL MOBILIZATION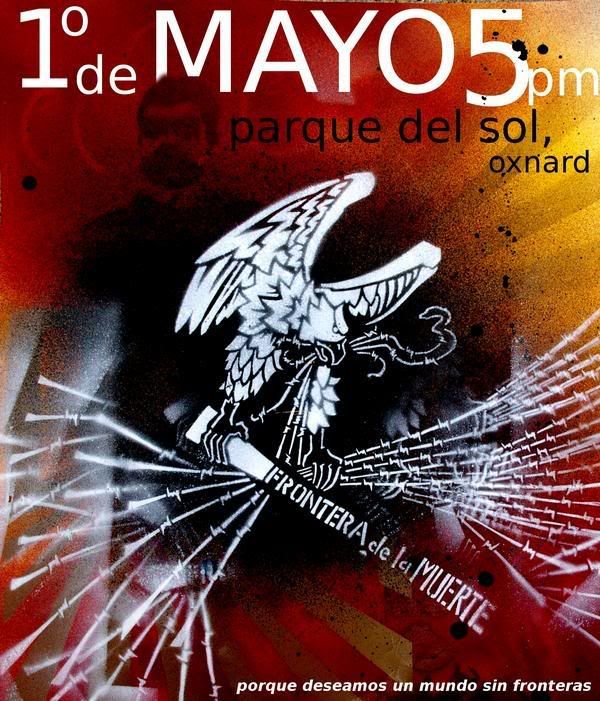 Who:

Frente Contra las Redadas del Condado de Ventura


What:

MARCH FOR DIGNITY: INTERNATIONAL WORKERS' DAY REGIONAL MOBILIZATION


When:

Thursday May 1, 2008 Starting at 5pm


Where

:

Camino del Sol Park (Corne
r of Rose Ave. and Camino del Sol) in the City of Oxnard.
Oxnard, California (FCR-VC) April 23, 2008
-- In the face of an economy in decline, wars in the Middle East, and skyrocketing costs of living, the immigrant and working-class communities are being subject to enormous pressure. The Frente Contra las Redadas del Condado de Ventura (FCR-VC) is calling for a May 1, 2008, "March for Dignity" under the slogans
Todo el Poder a los Obreros
(All Power to the Workers),
Alto a la Guerra Aqui y Alla
(End the War at Home and Abroad),
Alto a las Redadas Ahora
(End the Raids Now), and
NO al Muro de la Muerte
(No to the Border Wall of Death).
The purpose of this county-wide mobilization is to highlight the increasingly violent immigration enforcement practices, as well as the broader disdain for basic societal needs – such as school, medicine, job safety and security, the right to organize the workplace, safeguards against detainment without warrant or trial as well as other abuses of police authority- which are neglected or harmed by the government on the local, state, and national levels.
● In furtherance of the strategic goals of the Department of Homeland Security/Immigration and Customs Enforcement(DHS-ICE)'s Operation ENDGAME , the number of deportations of undocumented workers and families has increased by 750% within the years 2002-2007. Such a trend will only lead to the spread of fear within hard-working migrant communities – of Asian/Pacific Islander, Southeast Asian, Middle Eastern, and primarily Mexican/South American extraction – indicating a hostile attitude by the government towards our communities in particular and the interests of all working people in general.
● The present tone and logic of the "debate" regarding the questions of undocumented workers, budget cuts for social programs, and skyrocketing costs of living - among other hardships - has proven that no matter who wins the upcoming Presidential elections, the workers and immigrants lose. This march is intended to send a clear message that the effected communities in Ventura County will not sit idly by and embrace disunity, exploitation, and deceptive old promises regarding "Comprehensive Immigration Reform" ( i.e. crippling fees for working people, further border militarization, more ICE agents and raids).
● The "March for Dignity" will be held on International Workers' Day, Thursday, May 1, 2008, at 5 PM. It will begin with a rally in Parque del Sol, on the corner of Rose ave. and Camino del Sol in La Colonia, Oxnard. A march through La Colonia will be followed by guest speakers, music, and an outdoor screening of short films pertaining to immigrant rights and community empowerment.
The theme of this regional mobilization is the urgent need for working class and immigrant leadership, organization, and solutions.
● The Frente Contra las Redadas del Condado Ventura (Front Against the Raids [VC]) is a grassroots coalition of groups and individuals who are united to help organize a community defense against the Department of Homeland Security/Immigration and Customs Enforcement (DHS-ICE) strategy of raids and deportations –a campaign which spreads terror, rips families apart, and does grievous harm to the human rights standards of all communities.
Frente Contra las Redadas del Condado de Ventura
Front Against the Raids (Ventura County)
(805)436-5901
todopoderalpueblo@ yahoo.com
http://www.myspace.com/fcr_de_vc