by Mark Gabrish Conlan/Zenger's Newsmagazine Monday, Feb. 11, 2008 at 6:44 PM
mgconlan@earthlink.net (619) 688-1886 P.O. Box 50134, San Diego, CA 92165
Rich Merritt, whose book "Secrets of a Gay Marine Porn Star" caused a stir whe it was published in 2005, will be returning to the Los Angeles area Tuesday, February 12. 7:30 p.m., when he appears at A Different Light Bookstore, 8853 Santa Monica Blv'd., to promote his new novel, "Code of Conduct." Set in the early 1990's, the book is about what happened to Gays in the U.S. military when President Bill Clinton promised to end the ban on Queers in the U.S. military — and then reneged in the face of massive political pressure and agreed to the so-called "don't ask, don't tell" policy.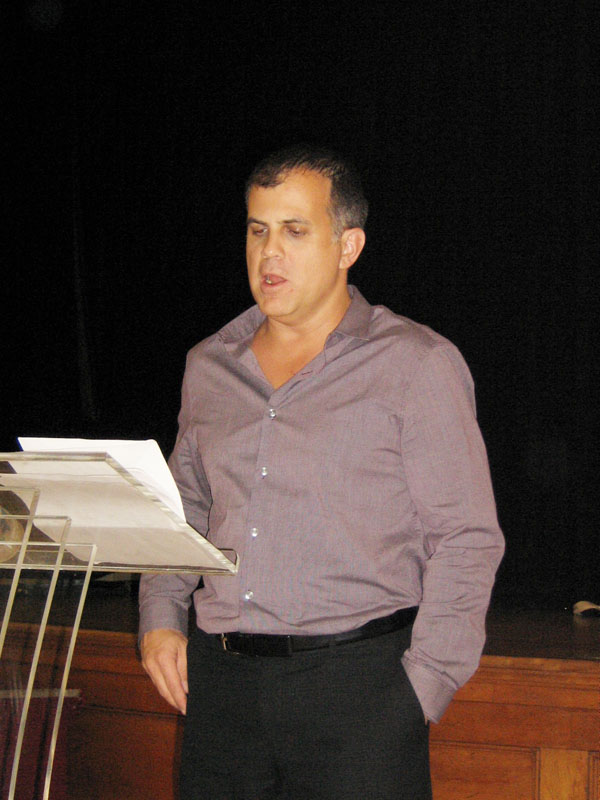 merritt_reading_2.jpg, image/jpeg, 600x800
"Gay Marine Porn Star" Returns to Los Angeles Feb. 12

Rich Merritt Hits Town to Promote Anti-"Don't Ask, Don't Tell" Novel

by MARK GABRISH CONLAN

Copyright © 2008 by Mark Gabrish Conlan for Zenger's Newsmagazine • All rights reserved

Rich Merritt, author of Secrets of a Gay Marine Porn Star, opened his February 9 talk at the Lesbian, Gay, Bisexual, Transgender Community Center in San Diego by asking the audience to do a thought experiment. A president named Clinton has just replaced a president named Bush and promised to end the ban on Gays and Lesbians serving openly in the U.S. military. But the proposal to lift the ban has run into major, highly publicized opposition and as a result Clinton and a hostile Congress reach a compromise that, in practice, leaves the situation of Queers in the military as bad or worse than it was before.

No, he explained, this isn't a prediction of 2009: it's what actually happened in 1993, when it was Bill Clinton replacing George H. W. Bush and the policy that emerged was called "Don't ask, don't tell, don't pursue." But the "don't tell" parts were enforced with a vengeance that actually increased the numbers of people discharged from the U.S. military on the grounds of homosexuality — while the "don't ask" and "don't pursue" parts were honored far more in the breach than the observance. This, in a nutshell, is the premise of Merritt's new book, a novel called Code of Conduct set in the mid-1990's in San Diego and the North County Marine base at Camp Pendleton, where Merritt actually served through much of his 13-year stint in the corps.

The publication of Code of Conduct is only the latest episode in Rich Merritt's remarkable life. He grew up in a Fundamentalist Christian home, was educated in the ultra-conservative Bob Jones school system, joined the Marines as an act of personal liberation, came out as Gay in the service, did porn videos, got discharged, drifted into the circuit party scene and the drugs that went with it, sobered up, went to law school, became an attorney and wrote a memoir that sold well but raised the hackles of many Queer community leaders because of Merritt's insistence on using the word "porn" in the title. He now lives in New York with his partner Jonathan, works as a researcher on securities fraud cases, and says he's gradually moving out of legal work to pursue a writing career full-time. "As my attorney career is going south, my writing career is going north, so that decision is being made for me," he said,

The lead characters of Code of Conduct are 33-year-old career Marine Don Hawkins and the man he's falling in love with when the book opens, helicopter pilot Patrick McAbe. The villains are Congressmember Ed Coughlin from Orange County(based on real-life former Congressmember Bob Dornan), who emerges as one of the principal campaigners against Queers in the military; and Jay Gared, an investigator with the Naval Intelligence Service (NIS), feared by Queer servicemembers in the Navy and Marines because of their reputation for infiltrating Queer bars, community centers and other gathering places in search of servicemembers to bust.

"When I was in the Marines at age 25," Merritt recalled, "we lived in fear that NIS had agents in the Center, in the bars, everywhere." Only in his book he's drawn Gared as a deeply closeted character, Gay himself but so conflicted about it he can only have sex with men in a context of attempting to entrap them. "It's obvious to everyone except Jay that he's Gay," Merritt said, "and I began to wonder if anyone would think he was real. Then along came Senator Larry Craig tapping his feet in that restroom, and I could say, 'I'm not making this up. Those guys exist in real life."

While Merritt insisted that his characters — except for Congressmember Coughlin — weren't patterned directly on real-life models, much of the book was formed out of his experiences as a Marine stationed at Camp Pendleton and coming to San Diego to socialize and cruise. He read a section of the book in which Patrick is invited to an officers' dinner at the U.S. Grant Hotel and realizes he's the only Gay Marine there who hasn't brought a female date for cover. This was for real, Merritt explained. "We would bring a fake 'date' and pretend to have a girlfriend," he said. "We'd call her a 'stunt babe.'"

Though published later, Code of Conduct was actually written before Secrets of a Gay Marine Porn Star, Merritt said. He began the novel in 1993 — in that first flush of hope that President Clinton was actually going to lift the ban on Queers in the military outright — and finished it in 1997, then put it aside. After the success of Secrets, Merritt said, his editor asked if had anything else. "I told my editor about this old manuscript and sent it to him, and he loved it," Merritt said. He did revise the book before it was published, mainly to improve the writing quality; he joked that much of the revision consisted of finishing sentences he'd left incomplete in his 1990's draft.

After joking that he tells people who ask if they're in the novel that if they'd been important enough for him to write about, they'd have been in his memoir, Merritt said he thinks novel writing is more satisfying. "I love fiction," he acknowledged. "I personally believe that memoirs are not the best way of telling a story. That's what Norman Mailer said, and now that I've written one I see what he meant. " Merritt explained that if you're writing an out-front autobiography you're stuck with your recollections of what "really" happened, but when you're writing a novel "you can take all these little bits of things and put them together."

Asked about the likelihood that the "don't ask, don't tell" policy will be repealed after President George W. Bush leaves office in 2009, Merritt said, "The key number to look at is public opinion. In 1993, 42 percent of the public was in favor of allowing Gays and Lesbians to serve openly, and over 50 percent were against it. Now those numbers have turned around. Today it's over 60 percent who support allowing us to serve openly. That's why it will eventually change. It'll be easier to repeal it if both the President and the Congress are Democratic, but I think even John McCain would sign a bill to repeal 'don't ask, don't tell' if a Democratic Congress sent him one."

Asked whether his memoir had been used by any of the Queer lobbying groups working on the repeal of "don't ask, don't tell," Merritt said rather ruefully that "the Gay and Lesbian groups run as afar away from my book as they can" because of what he called "the hypocrisy about pornography among Gay leaders. I've received so many e-mails [from Queer activists] saying the book was great but I shouldn't have put the word 'porn' in the title. I was booked for an interview with a Gay radio station called Twist, and then they cancelled me at the last minute, saying they were owned by Clear Channel and they couldn't broadcast a show with someone who'd written about doing porn. No Gay/Lesbian organization working for repeal will use my memoir — or even my novel, because my name is attached to it."

Similarly, Merritt reported that the word "porn" in the title of his memoir had kept major chain bookstores from doing author events with him. He said the frequent argument that it doesn't matter if independent Queer-oriented bookstores close because people can now buy Queer-themed books at mainstream stores or on the Internet is belied by his own experience — including the cancellation of an event at the Borders in heavily Queer Fort Lauderdale, Florida because the manager flatly refused to promote a book with "porn" in the title. "This time around, I'm having better luck because the word 'porn' isn't in the title," Merritt admitted.

Merritt said that this was his 10th event promoting Code of Conduct, and some of the previous ones had been in rather unlikely places — like Melbourne, Australia and Hawai'i — because he was vacationing there and seized the chance. He also got to do an event at the Chelsea Barnes and Noble in New York — which, he joked, was good because he and Jonathan could push all their friends to go — and has appeared on Sirius satellite radio. After his San Diego appearance he was scheduled for Acres of Books in Long Beach, an appearance before a Queer student group at USC Law School (where he attended after he left the Marine Corps) and A Different Light in Los Angeles. Admitting that "most authors are afraid to talk in public" — a problem he didn't seem to have — Merritt said that they nonetheless have to accept that they have to do tours to promote their books.

Asked if he'd had any interest from the movie business in either Secrets of a Gay Marine Porn Star or Code of Conduct, Merritt said he'd actually written his own screenplay based on his novel. He did a reading of the script with 10 friends, "and halfway through we decided it was terrible" — mainly, he decided, because he'd indulged in a common failing of novel writers who try their hands at plays or scripts: he'd made it too wordy and written unnaturally long and detailed speeches for the characters. "The problem is that authors like words," he said, "and on the screen you have to show other things.

Not that he's expecting either of his works to hit the big screen any time soon. "I've had a lot of interest in Secrets from producers, directors and studios," he said, "but the problem is who's going to pay for it and who's going to see it. They just don't make Gay movies. Brokeback Mountain was three years ago, and that was the Gay movie for this decade."