printable version - js reader version - view hidden posts - tags and related articles

by Digery Cohen Monday, Apr. 30, 2007 at 7:52 AM
digerycohen@yahoo.co.uk
loads of it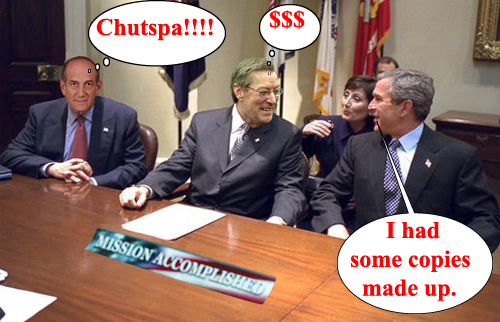 mission-accomplished5.jpg, image/jpeg, 500x322
Bush warned Democrats on Friday not to "test my will" because "I took the country to war under false pretences and am ready to do much worse if Israel asks me."

"Congress has voted to end this war and now but I'm not going to listen to them," he said.

"The American people have said, Republicans and Democrats, that it's time to end this war but they can go jump," Bush added.

You see the "Mission Accomplished" speech, in which he declared "major combat" over, was in fact true, he said.

"The strategic aim of this war, for those of us in the know, was to get America bogged down in a war on the ground in the Middle East with no exit strategy," he said.

"This only makes sense if you look at it from the economic side of some of the large American corporations and from the point of view of the Israel hardliners who don't want peace, " he concluded.


Report this post as: