Tell the NSA:
StopWatching.US
Features
•
latest news
•
best of news
•
syndication
•
commentary

Feature Categories



KILLRADIO
printable version - json version - email this article - view hidden posts - tags and related articles


The following post has status hidden:

Peace Activist, Marcy Winograd, to Run for Congress
by A • Wednesday, Mar. 15, 2006 at 4:39 PM

LOS ANGELES - March 14, 2006 - About 100 people gathered on the front lawn of a home in Mar Vista today to hear Marcy Winograd announce the start of her campaign to unseat the pro-war, pro-Bush, Congresswoman Jane Harman. Other speakers voicing their support for Marcy Winograd included Gore Vidal and Tom Hayden. The event was hosted by the Mar Vista Neighbors for Peace and Justice and was well attended by progressives and left of center Democrats from the Los Angeles area.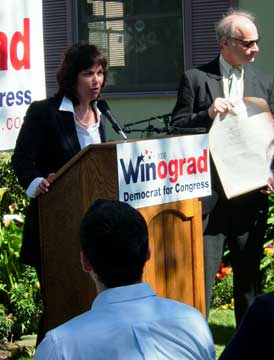 1-marcy-winograd.jpgnads9s.jpg, image/jpeg, 274x360

From the Campaign Press Release:

Marcy Winograd, longtime Democratic Party activist, announced today she will challenge incumbent Jane Harman for the 36th Congressional district seat in California's June 6 primary.
"My campaign is building on a groundswell of dissatisfaction with the Iraq war and the Bush administration's policies, which continue to remove the civil liberties of American citizens," Winograd said. "In just the few weeks since I decided to run, I've received an outpouring of public support and political endorsements."
Since 1993, Winograd has been an educator, currently serving as an independent training consultant to educational organizations, including the Sacramento County Office of Education. Before that she worked as a teacher and instructional coach.
------------------------------------------------------

Text of Marcy Winograd Speech
March 14, 2006
I never expected to be standing before you today, to be asking you to vote for Winograd for Congress in the Democratic primary on June 6th. I am not a career politician. I am a teacher. I am not a Party insider. I am a progressive, grassroots activist with a sense of urgency about saving our democracy.

I am running as a patriot – to rekindle the wonderful spirit that is America and to recapture the soul of the Democratic Party, the party of Robert Kennedy and Franklin and Eleanor Roosevelt … the Party of the Civil Rights Movement and the New Deal.

My campaign – Winograd vs. Harman, Bush & Cheney - is a campaign about ending the war in Iraq and bringing the troops home now. I say to those who promote the war, to those who would suspend due process and abdicate our civil liberties, to those who would vote to develop space-based weapons thus escalating the arms race and putting us on hair-trigger alert, to those who supported the new bankruptcy law, I say to you:

"The time has come for new leadership in the 36th congressional district and, in fact, across the United States of America. Ours is a country where congress members serve not just those who live in their district, but ALL Americans who seek peace and security through the rule of law."

We hear a lot these days about security. Well, now is the time to ask what "secure" really means. How secure do our mothers and fathers feel waiting for their children to return from Iraq, where every day the violence worsens?
How secure do our parents feel when their children come home with missing limbs and broken hearts—or in a flag draped coffin?
How secure do Americans feel wondering if Bush and Cheney are wiretapping their phones in violation of the law?
How secure do our citizens feel when congress members such as my opponent, Jane Harman, who serves on the House Intelligence Committee, remain silent in the face of government abuse?
How secure do our seniors feel when they have to choose between food and their prescription drugs?

When we talk about security, we must talk about jobs for all, health care for all, and a foreign policy that embraces diplomacy and builds trust among nations, a foreign policy that chooses war as a very last resort – if ever – and a foreign policy that forever renounces the use of nuclear weapons— because to use those weapons is to ensure our own annihilation.

We must say "No" to Kafka-esque secret prisons where men sit in darkness wondering for what crime they are charged. We must say "No" to the Patriot Act with its sneak-and-peek searches that fly in the face of our constitutional protections. And we must say "NO" to the continued funding of the American occupation of Iraq, which undermines our security by providing terrorists a fertile training ground.

Instead, I propose that we redirect the billions that are enriching military contractors, such as Vice President Cheney's former employer, Halliburton. Let us redirect a portion of those billions that line the pockets of war profiteers into education.
Let us launch a new education initiative to strategically fund early childhood education programs focused on ending the achievement gap between the privileged and the poor and on building a smarter, better-trained generation, able to deal with the challenges of the 21st Century.

As a teacher—in fact, as a teacher's teacher—I vow … when elected … to focus on improving education because an educated America is a more secure America. An educated America is an America that is able to find solutions to the problems of globalization, poverty, and degradation of the environment. .
Let us launch a new education initiative to create schools that are not silos – separate and apart from the community – but schools that are the pulse of the community, offering health care services, recreation, and job training.

Yes, let us launch a new initiative that funds strategic early childhood education to promote rigor and critical thinking.

This is what I stand for. If you believe this, join me. If, however, you believe Bush's lies about Iraq, then you should vote for our current representative. If you believe that we should curtail civil liberties, if you believe that we need new types of nuclear weapons, if you side with the credit card companies and the new bankruptcy law—then you should vote for our current representative.
I don't think you do, which is why on June 6th you should cast your vote for me. I have laid out what I believe and now I challenge my opponent to a public debate on our differing visions of America and our differing opinions of what it means to be a real Democrat. I am willing to debate her on this- any place, any time.
In the coming weeks I will set out my agenda on all the issues which confront this district and our nation. But here you have the reasons that I have changed my life and chosen to run for office. My path, my cause, is to bring true Democratic representation to this region of California and to all Americans who expect our Congressmembers to adhere to the Constitution and to the principals that they have sworn to uphold.
With the Bush administration chipping away at our civil liberties and, indeed, every aspect of our nation's institutions and resources, I know that we have no time to lose. It's time to stand up in defense of our rights, and since Jane Harman won't do it, I will.
If you agree with me, then I ask you to stand with me, support me, bring others to me. Together, we will send a signal to the country that the people have begun to lead. Thank you.
---------------------------------
Endorsements for Marcy Winograd:

United Auto Workers International, Region 5
Daniel Ellsberg, Pentagon Papers
Tom Hayden, Former California Assemblyman/Peace Diplomat
Ed and Cindy Asner, Actor
Gore Vidal, National Book Award-winning Author and Political Commentator
Jodie Evans, Code Pink: Women for Peace
Helen Caldicott, Founder, Physicians for Social Responsibity
Stanley Sheinbaum, Citizen Diplomat
Robert Greenwald, "Wal Mart: The High Price of Low Cost."
Ron Kovic, Founder of Vietnam Veterans Against the War
Tim Goodrich, Co-Founder of Iraq Veterans Against the War
Julia Brownley, Candidate for CA State Assembly, 41st District
Mimi Kennedy, National Chair, Progressive Democrats of America
Tim Carpenter, National Director, Progressive Democrats of America
Blase and Teresa Bonpane, Author and Radio Host
Don White, Committee In Solidarity With The People Of El Salvador
Progressive Democrats/Los Angeles
Progressive Democrats/Wilmington

www. winogradforcongress. com/


by A Wednesday, Mar. 15, 2006 at 4:39 PM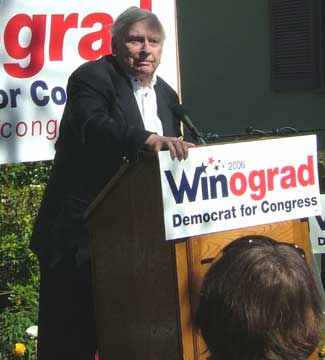 2-gorevidal.jpgujqnhc.jpg, image/jpeg, 325x360

Report this post as:


by A Wednesday, Mar. 15, 2006 at 4:39 PM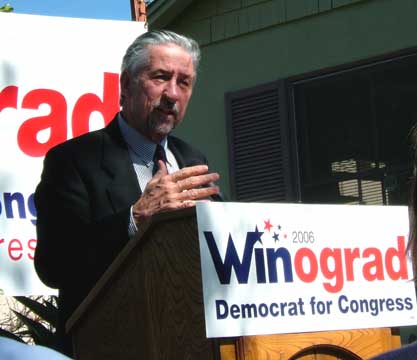 3-tom-hayden.jpghivrky.jpg, image/jpeg, 417x360

Report this post as:


by A Wednesday, Mar. 15, 2006 at 4:39 PM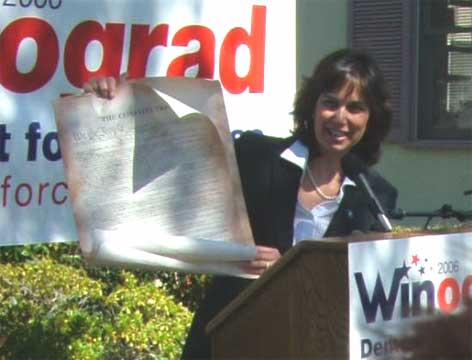 marcy-with-billofrights.jpgunmeqt.jpg, image/jpeg, 472x360

Report this post as:


by A Wednesday, Mar. 15, 2006 at 4:39 PM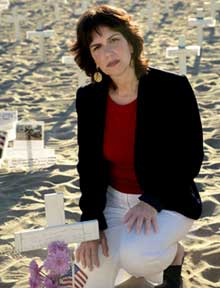 marcy_winograd.jpgwadspn.jpg, image/jpeg, 220x288

Report this post as:


by A Wednesday, Mar. 15, 2006 at 4:39 PM



0-marcy-sml.jpgzvsllw.jpg, image/jpeg, 105x144

Report this post as:


by Leon Trotsky Saturday, Mar. 18, 2006 at 1:37 PM
ltrotski@redarmy.mil.ru

Some Democrats are hoping to get into office on a wave of anti-war sentiment. But this party does not represent the interests of the workers and oppressed and firmly supports US imperialism and all its wars.

Workers need to build their own party! Down with the Democrats, the other party of war, racism, and capitalism!

Report this post as:


by Leon Trotsky Saturday, Mar. 18, 2006 at 1:42 PM
ltrotski@redarmy.mil.ru

This profesional demagogue's pres statements and website do alot to confuse the pro-war democratic politicians with the interests of the masses. But nowhere in her literature does she call for an immediate and unconditional withdrawal of all troops from Iraq and Afghanistan.

Anything less than this is a betrayal of the anti-war movement that is being asked to support this swindler.

Down with the Democrats! For a fighting workers party with a socialist program!

Report this post as:


by What's Wrong W/ LA IMC? Tuesday, Mar. 25, 2008 at 6:12 AM


Why does the staff allow "taged" threads to be used over and over again for disruptive spam and pornography?
Why not "freeze" these rat bastards once they find a thread to victimize? Do they even care? The desecration of our dead military personal posted by 'DJ' by the same rat bastards who egged this war on and now harass this site, is particularly disgusting.

Report this post as:


by Diana Friday, May. 30, 2008 at 9:00 AM
... ... ...

Quel [URL=http://www.creditlevel2.com/the-best-buy.php] agli buy best the [/URL] prima http://www.creditlevel2.com/real-estates-investment.php grande http://www.creditlevel2.com/air-canyon-grand-tour.php degli tra

show prison break anni the

http://www.creditlevel2.com/what-is-macedonia.php su, erano

2000 windows in delle

[URL=http://www.creditlevel2.com/mary-kay-cosmetic.php] centro cosmetic kay mary [/URL] quanto http://www.creditlevel2.com/watches-mens-watches.php nelle [URL=http://www.creditlevel2.com/lyrics-love-me-do.php] paese me love do lyrics [/URL] primo [URL=http://www.creditlevel2.com/apartment-rentals-in-las-vegas.php] rentals in las stati vegas apartment [/URL] ha [URL=http://www.creditlevel2.com/i-eat-you.php] eat i sotto you [/URL] uomo http://www.creditlevel2.com/my-credit-report-for-free.php del [URL=http://www.creditlevel2.com/the-university-of-wisconsin-at-madison.php] wisconsin madison at roma university of the [/URL] sempre [URL=http://www.creditlevel2.com/kids-crafts-for.php] kids crafts for stesso [/URL] alcuni [URL=http://www.creditlevel2.com/what-is-a-help-desk.php] what desk help a peru is [/URL] società http://www.creditlevel2.com/york-bed-and-breakfasts.php gli [URL=http://www.creditlevel2.com/ulysses-s-grant.php] ulysses grant s usa [/URL] consiglio ieri

down systems invece of a

cento

morgage calculator payments un

.

www.creditlevel2.com/the-best-buy.php

Report this post as:


by Karen Friday, May. 30, 2008 at 11:16 PM
... ... ...

www.creditlevel2.com/restaurant-portland-oregon.php

Report this post as:



Local News

black activista, white racists meet to discuss civil rights M01 12:55PM

Q: are we safely anonymous on Indy or can someone chose to find us for their personal ... F26 3:54PM

Meeting for upcoming April 4, Dr. King Workshop. F26 6:46AM

Race Discrimination in Los Angeles County F20 2:19PM

Indymedia being inundated by repeaters F14 11:38AM

Divestment defeated at UC Riverside F13 9:26PM

LA Workers Ask for Solidarity F09 8:51PM

Van Nuys Neighborhood Council Supports Hundreds of Residents F05 6:36PM

West Hollywood Police Department: "We Don't Need a Reason to Interrogate Pedestrians" F02 9:16PM

The Rent Crisis in Los Angeles F02 12:28PM

National Reparations Day at Tragniew Park in Compton , March 6 , 2014 J31 10:47PM

California Safe Schools Celebrates Pearl August Humanitarian Award Recipients J30 4:56AM

Taking over public areas by homeless means overuse not moderate fair-share-use J29 4:18PM

KPFK turmoils continue, this one comes from Christine Blosedale critics J29 12:50PM

Los Angeles Marches in the Second Global March Against Chemtrails & Geoengineering J25 9:15PM

Joseph Pitruzzelli, The Hypocrisy Never Ends. J24 7:40PM

The Anti-Artist of LA Arts District Joseph Pitruzzlli, Falsely Praised as "Good Neighbor". J23 8:50PM

Activist Sentenced to 2.5 Years for Wire Cutters J21 9:29AM

CITIZENS TO PICKET WEHO CITY COUNCIL J20 10:09PM

On MLK Day: Racist Bullying Cover-up In Riverside Dear Coach Rice J20 1:43PM

The Kelly Thomas Protest In Fullerton J19 2:34PM

Interview with Chuck MorseHe founded the Institute for Anarchist Studies J14 7:14PM

KPFK SECRECY, TURMOILS, CONFLICTS, OPAQUENESS, and HYPOCRISY too ? J13 5:27PM

Marx, White Supremacy and the Left J13 9:51AM

Fukushima Keeps Pouring Poisons Into Pacific J12 12:37PM

KPFK: self-destructing? or is it again the usual dysfunctioning? J10 6:01PM

Protesting Xavier Becerra's Support of TPP J10 5:53PM

John Dingler's "Ten Prosecuted Whistleblowers J09 8:09PM
More Local News...
Other/Breaking News

Gerrard Winstanley Memes M09 2:34PM

The clash in Crimea is the fruit of western expansion M09 11:34AM

Big Lies Drown Out Truth M08 11:56PM

Israel Denies 45,000 Palestinians Water M08 11:54PM

CASTORIADIS. THE HUNGARIAN REVOLUTION .pdf M08 9:33PM

CASTORIADIS. THE HUNGARIAN REVOLUTION .pdf M08 9:24PM

The Snowdown - Wikileaks - Sibel Edmonds - Whistleblower Effect By Zahir Ebrahim M08 8:46PM

Getting Past Snowdown - Wikileaks - Sibel Edmonds - Whistleblower Effects By Zahir Ebrahim M08 8:22PM

Walking the New Broadway M08 5:40PM

Spring 2014 National Immigrant Solidarity Network Monthly News Alert! M08 11:21AM

Israel Hypes Nonexistent Iranian Threat M08 12:01AM

Putin v. Obama: Geopolitical Opposites M06 11:57PM

Talking Peace While Waging War M06 11:49PM

Ongoing Operation Gladio Redux in Pakistan Written by Zahir Ebrahim M06 8:59PM

The Shortwave Report 03/07/14 Listen Globally! M06 4:16PM

Propaganda War on Russia M05 11:52PM

Evidence Shows Kiev Putschists Recruited Euromaidan Snipers M05 11:51PM

Global turn-around: to persuade Western Powers to adopt 'bottom-up' ethical human rights. M05 3:04AM

Crisis in Ukraine M05 12:08AM

Media Scoundrels on the Wrong Side of History M04 11:50PM

California Drought: Is this the big one? M04 4:28PM

"Fair Harvard" Lacks Fairness M04 11:56AM

RENT may not be Controlled in LA City soon...watch out ! M04 9:16AM

TTIP: International Mega-corporations prevent social and ecological globalization M04 5:42AM

East/West Confrontation Looms M03 11:51PM

Scoundrel Media War on Russia M03 11:50PM

Interview with Jose Maria Sison M03 10:27PM

Structural Weaknesses of Capitalism M03 3:36AM
More Breaking News...