printable version - js reader version - view hidden posts - tags and related articles

by Mark dameli Tuesday, Sep. 27, 2005 at 5:09 AM

A prominent journalist for an anti-Syrian television station was severely injured yesterday after a bomb rigged to her car exploded, the latest in a string of targeted blasts in Lebanon's capital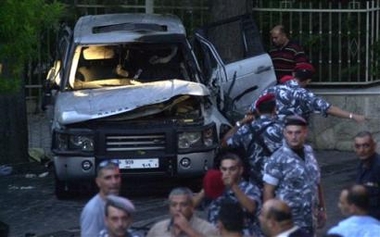 lebanon.jpg, image/jpeg, 380x237
May Chidiac, a political talk show host with the private Lebanese Broadcasting Corp., was inside her car when the bomb exploded, according to Lebanese security officials and the TV station. The bombing occurred in Ghadir, a town near the Christian port city of Jounieh, north of the capital.

Hotel Dieu Hospital in Beirut reported that Chidiac's left arm and leg were severed in the blast and her right leg and pelvis were broken. A hospital statement said she suffered various injuries and burns across her body, adding that her vital organs were ''stable" but would require close monitoring over the next few days.

A series of bombings has occurred in the Lebanese capital since a massive bomb killed former Prime Minister Rafik Hariri and 20 other people on Feb. 14.

Opponents of Syria's role in Lebanon have accused Damascus and its allies in the Lebanese security services of involvement in Hariri's death. Syria denies any role in the assassination, which prompted a wave of anti-Syrian protests here and helped end Syria's almost three-decade domination of Lebanon.

Lebanon has been rife with speculation of more attacks as chief UN investigator Detlev Mehlis prepares to issue his report on the assassination in late October.

Prime Minister Fuad Saniora, speaking to reporters outside the hospital in Jounieh, said the bomb, like other recent explosions, was related to the Hariri investigation. ''There is no doubt it is all related," Saniora said.

Saniora added that he had asked the US ambassador for technical assistance.

President Emile Lahoud condemned the attack and called for unity among the Lebanese, while student unions planned sit-in protests at universities and in downtown Beirut today.

A security official, speaking on condition of anonymity because he was not authorized to speak to the news media, said the bomb was made up of less than 2 pounds of plastic explosives, placed under the driver's seat.

Chidiac, in her 40s, is one of several hosts of a daily political talk show seen widely in the Arab world. She was hosting the show yesterday with a political analyst from the leading An-Nahar newspaper. LBC, a Christian TV station, is among the most prominent anti-Syrian media outlets.

On June 2, anti-Syrian journalist Samir Kassir was killed by a bomb placed in his car.


Report this post as: