by Patricia McAllister Tuesday, Aug. 30, 2005 at 12:55 PM
PatriciaMcAll@yahoo.com P.O. Box 86562, Los Angeles, CA 90086
Minister Tony Muhammad was savagely beaten by the LAPD. We are going to the Parker Center to speak to the new police commissioners.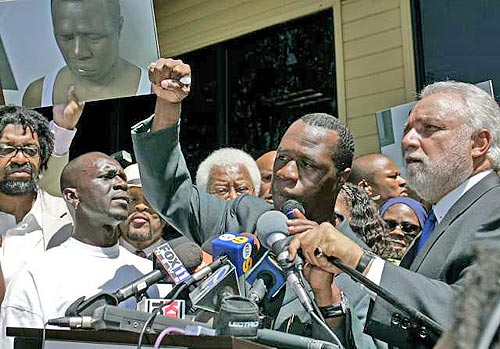 tonymuhammad.jpg, image/jpeg, 500x349
Appearing battered with a swollen face, the western regional director of the Nation of Islam, Tony Muhammad stood Friday with community activists, who accused Los Angeles police of beating the leader without provocation during a street vigil for a Hyde Park slaying victim Thursday night.

The incident prompted a day of press conferences and demonstrations, with Mayor Antonio Villaraigosa speaking on live television promising a full investigation and urging the community to stay united.

"The attack was unprovoked. He was wrestled to the ground, pepper-sprayed in his face, and once he was on the ground he was kicked brutally and punched in the mouth," said Bakewell, a longtime activist and founder of the Brotherhood Crusade.

The Community Call to Action and Accountability will again stage a protest at the new police LAPD commissioner's office.

When: Tuesday, August 30, 2005 at 9:00 a.m.

Where: 150 N. Los Angeles Street
Los Angeles, CA 90012

Please come out to show your support for Minister Tony. We are also still trying to have the officer who killed 13 year-old Devin Brown fired!