by NTAC Media Thursday, Oct. 09, 2003 at 4:54 PM
info@ntac.org P O Box 76027 / Washington DC 20013
A year can pass by in a seeming heartbeat. For family members of a slain child, though, a year can seem an eternity. On the first anniversary of her Gwen Araujo's murder, Sylvia Guerrero sat with approximately fifty family members in a memorial to her daughter.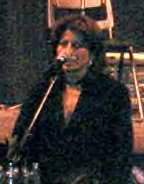 sylvia_guerrero.jpg, image/jpeg, 144x184
Family And City Remember Gwen Araujo
Murders of Transgenders Continue Unabated

A year can pass by in a seeming heartbeat. For family members of a slain child, though, a year can seem an eternity. On the first anniversary of her Gwen Araujo's murder, Sylvia Guerrero sat with approximately fifty family members in the front row of the Newark Memorial High School auditorium during a memorial to her daughter.

The shocking news of Araujo's murder and the discovery of her body in a shallow grave weeks later made national headlines. A year has passed and there is not yet closure for family, friends, the town, or the transgender community. "It's still fresh in our heads, almost like it [happened] yesterday," said Imelda Guerrero, Araujo's aunt.

Shocking as it was and as widespread the story, the murder of transgendered people continues at an escalating pace in the U.S. and around the world.

About 150 people gathered on Saturday, October 4th, for a mix of music, poetry, and speeches centering on the loss of Gwen Araujo and on the senseless killing that continues unabated. Several of Gwen's friends attended the memorial alongside government representatives, transgender activists, and other Newark citizens, including members of the anti-hate group "Not in Newark," formed after her death.

Speakers included Newark Councilman Al Nagy, Gay & Lesbian Alliance Against Defamation regional representative Monica Taher, past Chairman of the National Transgender Advocacy Coalition (NTAC) Yoseñio Lewis, Remembering Our Dead founder Gwen Smith, and Gwen Araujo's mother, Sylvia Guerrero.

Gwen's mother recalled the brutality of her death and the terrible pictures she was shown. "I look forward to the day that there are no more labels," Sylvia Guerrero said at the memorial. "We're all human. We all bleed the same blood."

The loss has been hard on Guerrero and has cost her her job, a relationship, and her peace of mind as well as the son she now considers a daughter. Besides being a grieving mother, Guerrero, a lifetime member of NTAC, has become an ardent transgender advocate.

Councilman Nagy said the city of Newark is using the terrible experience to help the city heal and grow. Using the butterfly symbolism so important to Gwen Araujo, he described the city's efforts to foster an evolving appreciation of one another. One of these efforts is the city's work with Not in Newark members to frame several proposals pertaining to improved understanding and protection of sexual and gender minorities.

Gwen Smith reminded the audience that at least 29 transgendered people have been murdered in the year since Araujo's death, 14 of them in the United States.

"These are far more than numbers," Smith said in her address, "these were human beings, like you or me, killed for no better reason than the flawed opinions and ethics of their murderers. These were sons and daughters, sisters and brothers. These were friends and lovers, people whom others held dear."

In a verse from a poem he wrote in memory of three slain transsexual teens - Gwen Araujo, Stephanie Thomas and Ukea Davis - Yoseñio Lewis reminded us that their deaths must not be in vain.

"Oh but my sisters you live on," he said, "Your journey has but taken another form. Your 17, 18 and 19-year old voices resonate in the hearts of those much older than you. Your courage and joy inspire a woman's bravery that humbles this man."

"If anything, it is important to remember than Gwen was someone's daughter, someone's sister," said Ethan St. Pierre, of the Remembering Our Dead project and member of the NTAC board of directors. "When we remember her, we also speak out for all the daughters, sisters, sons, brothers - and all the others."

The large extended family and strong family ties are indeed what Imelda Guerrero credited with helping the family cope with Araujo's death. "I've had shoulders to cry on, and then it would be their turn to cry on my shoulder," she reported.

"There is progress being made," Guerrero added during a phone interview after the memorial. "We've gone a long way, but the fight isn't over."



- 30 -



Founded in 1999, NTAC - the National Transgender Advocacy Coalition - is a 501(c)(4) civil rights organization working to establish and maintain the right of all transgendered, intersexed and gender-variant people to live and work without fear of violence or discrimination.