printable version - js reader version - view hidden posts - tags and related articles

by Associated Press Monday, Aug. 11, 2003 at 5:20 PM

Has Dennis Kucinich gone MAD?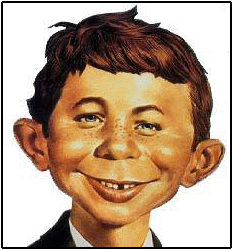 aenewman.gif, image/png, 233x250
Dennis Kucinich names running mate for VP
1 hour, 42 minutes ago

By JERRY SHIPMAN, Associated Press Writer

COLUMBUS, Ohio -- Congressman Dennis Kucinich has officially announced he will pick Alfred E. Neuman of New York to be his running mate for VP should he win the Democratic Party nomination for President.

"I think Neuman's name will help me in my efforts to become the next President of the United States," said Kucinich. "He'll lend credibility to the ticket."

Neuman, 51, is a model and a spokesperson for Mad magazine, a well-known, long-running satirical magazine owned by Warner Communications.

In a telephone conversation, Neuman stated he was honored the Ohio Congressman chose him for the job. "I'm really pleased Dennis picked me over Bugs Bunny and Donald Duck," he said.
Report this post as: