printable version - js reader version - view hidden posts - tags and related articles

by Latuff Sunday, Feb. 02, 2003 at 10:22 PM
latuff@uninet.com.br
Extra! Extra! Copyright-free by Brazilian cartoonist Latuff!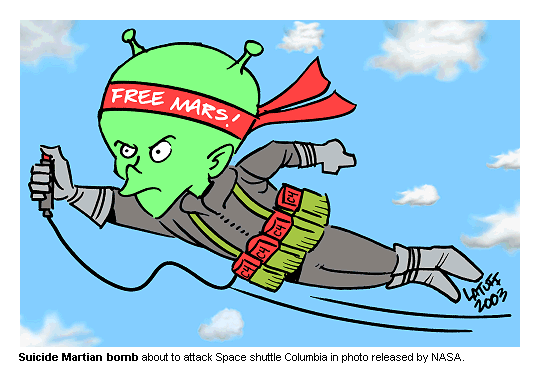 marsattack.gif, image/png, 540x367
MARTIANS CLAIM ATTACK AGAINST SHUTTLE

By LATUFF, Aerospace Cartoonist

(CAPE CANAVERAL, Fla.) - Martian National Liberation Front (MNLF) claimed responsability for the suicide bombing attack that broke apart in flames Space shuttle Columbia killing all seven astronauts including war hero Ilan Ramon, colonel in Israel's air force and that country's first astronaut. Former fighter pilot, Ramon had survived two wars.

MNFL's spokesman Mr. Spock said that "United States and Israel has lost its war against the Martian resistance and attack has proved that PMNFL is capable of reaching the enemy everywhere."

Israeli Prime Minister Ariel Sharon has promised retaliation against alien terrorists.
U.S. President George Bush has promised nothing, since he's too busy with Iraq.

Report this post as: