printable version - js reader version - view hidden posts - tags and related articles

by Robert F. Douglas Wednesday, Oct. 30, 2002 at 7:22 PM
mindeyed@yahoo.com
This week on CMF we begin a two part series on Bush's war on Iraq kicking off with Don Bustamy host of KPFK's "Middle East in Focus"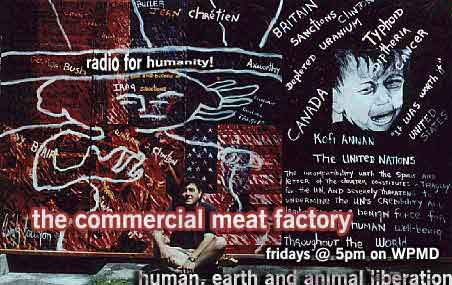 cmf-iraw-crimes-against-hum.jpgrmbgdn.jpg, image/jpeg, 452x285
This week on CMF (Radio for Humanity!) we begin our two part series about Iraq and the war we are faced with. Mr. & Mrs. Don Bustamy will be our in-studio guest. Mrs. Bustamy has been to the Middle East many times and can offer us first hand insight about the people of Iraq. Don has hosted "Middle East in Focus", a program on KPFK radio that has been running since 1979. A show that came out of the hostage crisis in Iran and continues today with "the war on terrorism", Palestinian/Israeli conflict & Bush's war on Iraq.

Listen Friday at 5pm on Cerritos College Radio's WPMD on the net at www.cerritos.edu or in the cities surrounding Norwalk at 1700 AM.

If you have an issue, any issue to talk about please contact me immediately via email.

Be sure to check out our site!

www.hop-frog.com/thecommercialmeatfactory
Report this post as: