by builder123 Sunday, Oct. 20, 2002 at 9:23 PM
builder123@mindspring.com
Greenpeace Delivers Message: "Don't Buy ExxonMobil"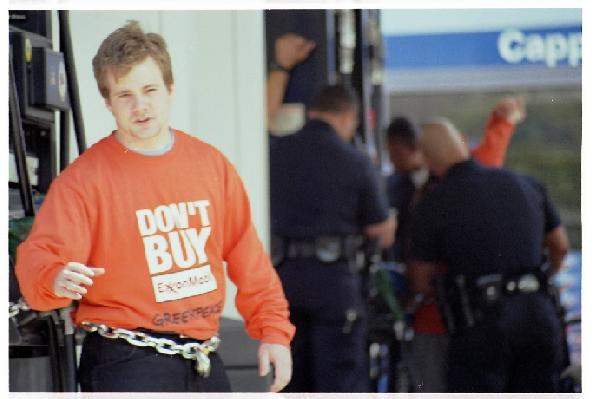 chained9401.jpg, image/jpeg, 691x460
Los California, CA – Greenpeace activists shut down a Mobil gas station today in the heart of Beverly Hills just hour after shutting down an Exxon station in Manhattan. Protestors peacefully chained themselves to gas pumps at both locations and dropped a banner that read "Stop Global Warming. Don't Buy ExxonMobil." The protests marked the start of a national day of action against ExxonMobil by environmental, human rights and pro-democracy groups.

"We are here today with a simple message – don't buy ExxonMobil products until they stop interferring with government action on global warming," said Melanie Duchin, Greenpeace Climate Campaigner. "It's time for concerned citizens to use the power of the pocketbook to force the world's number one global villian to change its ways."

The Los Angeles protest followed an action earlier in the day at an Exxon station in New York City. Activists are demonstrating at another 80 Exxon and Mobil stations across the nation.

"Greenpeace has launched an international campaign against ExxonMobil that will continue until the company stops sabotaging government action on global warming and agrees to support mandatory reductions in global warming pollution," saod Gary Cook Greenpeace Climate Campaign Coordinator. "In Europe and elsewhere, ExxonMobil is already feeling the heat from Greenpeace and consumers – now the campaign is being ramped up in the United States."

Greenpeace has documented ExxonMobil's efforts to prevent action on global warming in a report titled, "Denial and Deception: A Chronicle of ExxonMobil's Corruption of the Global Warming Debate." Despite multiple appeals from Greenpeace and others ExxonMobil has refused to change its policy. The company is using its sizable resources to support top politicians, like President Bush, in an effort to stifle U. S. action on global warming.