printable version - js reader version - view hidden posts - tags and related articles

by Mark Vallen - ART FOR A CHANGE Saturday, May. 11, 2002 at 7:39 AM
vallen@art-for-a-change.com
Here's a chance to support Artists and two wonderful social change organizations, while purchasing some Fine Art for yourself! At this upcoming Benefit, you'll be able to view and acquire the works of socially conscious L.A. Artists both new and established. The prices will be affordable to Proletarians... so come and support the Artists who support you! (Photo from the Arts in Action Grand Opening).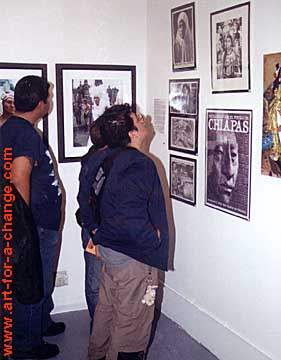 art.jisjk2d.jpg, image/jpeg, 281x360
Arts In Action & SOL Foundation present:
ART SALE EXTRAVAGANZA!

Opening Reception: Saturday, May 18, 7pm -
Closing Reception: Saturday, June 1, 7pm -

ARTWORKS FROM:

Angelo Logan
Sandra De La Loza
Mark Vallen
Rosalio Arias Jnr
Kristy Burgos
Lucy Castro
DASH 200
Gabriel Bienvenidos
Jerry Ortega
Homan Mortazavi
Elsewhere
Sean Diaz
DUCE
EVOLVE
EMI
Carlos Lobo
Angelo Logan
Sandra De La Loza
Ami Motevelli
NUKE
PEPS
RELIC
MAN ONE
MINER
Lida Abdullah
Jose Ramirez
Lilia Ramirez
Tito Sahua
SHERM
Z
Phloe
Ian Hart
Steve Irvin
KOKO
Tony Do
Robbie Conal

SPOKEN WORD & MUSIC BY:

Jerry Quickley
BessKepp
DJ Papalotl
Alfie Ebojo
Anita of Cihautl
Menoman Martinez
& Many More

Admission: $5.00
Includes one raffle ticket for Art raffle.
Additional raffle tickets $5.00 (must be present to win Art).

This is a benefit event and sale to raise fund for
ARTS IN ACTION and SOL Festival 5th Annual Human Rights benefit.

Food provided by Food Not Bombs

ARTS IN ACTION
1919 W 7th Street,
Directions: Take 101 FWY, Exit South on Alvarado, Left on 7th.
Take 10 FWY, Exit North on Hoover, Right on 7th.
Report this post as: