printable version - js reader version - view hidden posts - tags and related articles

by Mark Vallen - ART FOR A CHANGE Wednesday, Feb. 13, 2002 at 8:34 AM
vallen@art-for-a-change.com
At the Grand Opening of the ARTS IN ACTION Center, people were invited to "pull" their own Silkscreen T-shirts.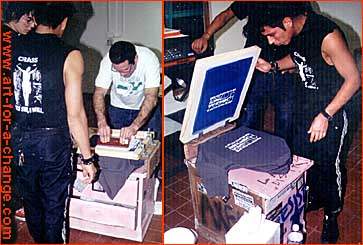 silkscreen.jpg, image/jpeg, 363x245
I attended and participated in the Grand Opening festivities of the ARTS IN ACTION Center this past February 9th, and can attest to the enormous success of the event. Many hundreds of people of all ages and races filled the new Center from Saturday afternoon till late in the evening. Visual Art, Music, Spoken Word performances, Independently produced Videos, Dance, and other disciplines were enjoyed by those gathered. The Center has a wonderful space for creating Silksreen Artworks, and all through the afternoon and evening of the Grand Opening, people were invited to "pull" their own Silkscreen T-shirts.

In this Photograph you can see some of the people involved in running the Silkscreen Workshop. The T-Shirts made that night had the ARTS IN ACTION logo printed on them, and everywhere people were wearing the shirts. Presently the Center's space dedicated to Silkscreen Printmaking has
rudimentary equipment and materials... but if everyone pulls together with donations of supplies and labor, it can become a hub for the production of Activist Art. Los Angeles needs such an Artistic production facility, so please don't hesitate to donate your skills, labor, supplies, and monies.

The ARTS IN ACTION Center is YOUR Center, and it needs your participation and support in order to succeed. Every Artist and Activist should come visit the Center, located in the Westlake Pico-Union area, at: 1919 W. 7th Street (between Westlake and Bonnie Brae). Call the Center at:
1-323-993-6001.
Report this post as: