by MICHAEL LOVEJOY Saturday, Oct. 28, 2000 at 12:05 AM
fflight@pacbel.net 818.775.0203 9625 MASON AVE. #13A CHATSWORTH CA 91311
BUD BOOTHE,LOCAL COMBAT VETEREN AND MEMBER OF THE VANDENBERG ACTION COALITION, HOLDS SIGN LISTING ALL OF 65 DEMOSTRATIONS IN 16 COUNTRIES JOINING THE PROTEST TO STOP THE MITARIZATION OF SPACE. ANYONE CROSSING THE SPOT WHERE THESE PEOPLE WERE LINED UP WAS SUBJECT TO ARREST. BUD BOOTHE WAS ONE OF THE FIRST PROTESTERS TAKEN INTO CUSTODY.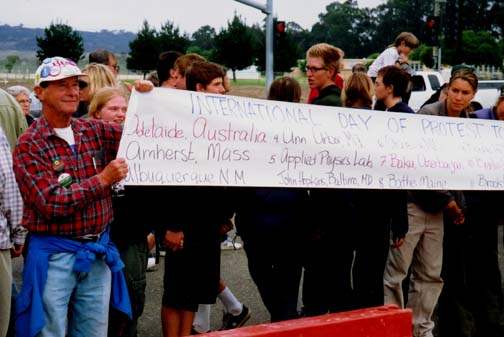 ml5vanbudboothe.jpg, image/jpeg, 504x337
Original: VANDENBERG AFB PROTEST #11 OCT 7,2000