production: previous page 2 next page | single feature archives | weekly archives
---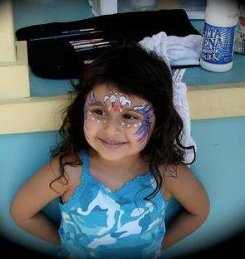 Activists Hold Prayer Vigil for Lexi Dillon and Jonah Rief in Orange County
Lamoreaux judges turned Lexi Dillon (pictured at left) over to a foreigner whom the Tustin police cast reports showed sodomized and raped the girl repeatedly. The foreigner is no longer allowed in the U.S. and due to a lifting of the travel ban on Lexi, as far as anyone knows, neither is she. The alleged molester only has citizenship in Thailand, the site of considerable sex trafficking.
Massive fear surrounds the trafficking of Jonah Rief to Australia via the San Diego courts. A man who is not the father and who did not have to prove paternity was allowed to take Jonah Rief to Australia and he did so using a falsified passport calling the "Rief" boy "Sullivan." Alabama had issued a protective order against Brian Sullivan on behalf of the child and on behalf of the mother Tammy Rief after Sullivan or someone associated with him uploaded misleading YouTube videos appearing to be aimed at getting people to kidnap Jonah from his Alabama home. California chose not to respect the jurisdictional orders of the court in Alabama, which was Jonah Rief's home state. Jonah entered Australia with Sullivan on February 26, 2013 and disappeared. Nude photos that appeared on March 4, 2013, on the Facebook page of Sullivan's accomplice Sara Francis AKA Denise Glasier AKA Denise Sullivan are believed to have been sales photos.
Full story: Activists Hold Prayer Vigil for Lexi Dillon and Jonah Rief in Orange County by Stand Up Orange County Coalition
More: Pressure on Orange County District Attorney to Prosecute Minors Counsel by PAA: Parents Against Abuse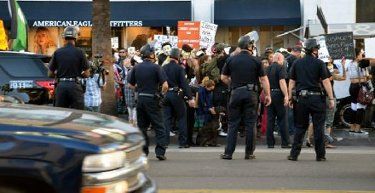 Los Angeles Questions Oversized LAPD Response to Million Mask March
LOS ANGELES--People assembled the morning of November 5, 2014 outside Los Angeles City Hall to participate in the worldwide #Anonymous Million Mask March. Signs bearing the messages "We Don't Want to Live in a World Government for the Corporations" and "Occupy Love" were among the dozens on display.
. . . As the march moved into the open space of the shopping mall at Hollywood & Highland, LAPD officers ringed the protest in pairs. Private security officers also came out to confront the masked masses, who continued dancing and waving signs. By remaining in one place for over a half an hour, the scattered participants were able to reunite, and the march was hundreds strong as it resumed down the Walk of Fame.
@LAPDHollywood tweeted "Please avoid Hollywood Blvd near highland due to protest" around 1:30 PM. LAPD Media Relations advised CBSLA.com "An anti-police brutality protest shut down a stretch of Hollywood Boulevard. More than 100 protesters took part in the march."
. . . Citizen journalist @PMBeers expressed her feelings about police: "The fact that riot cops come to peaceful protests and that intimidates people and makes them afraid to express their grievances is insulting. The fact that people equate protesting with getting arrested even if no laws are broken is insulting. It took me two years to realize that yes, in fact, all cops actually are bastards even if they think they are good people doing good things." #ACAP
Full story and pictures: Los Angeles Questions Oversized LAPD Response to Million Mask March by Los Angeles Peoples Media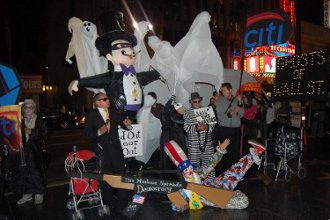 Ghosts of Wall Street Occupy Hollywood Blvd Halloween Night
HOLLYWOOD, CA -- Dozens of ghosts, grim reapers with bank logos on their scythes, and oversized banker puppets occupied the Hollywood Walk of Fame on Halloween Night as activists from Occupy Fights Foreclosures and Occupy Los Angeles portrayed the "Ghosts of Wall Street."
[The] rally assembled at dusk outside the mosaic-covered Chase Bank at the corner of Sunset & Vine. Familiar icons associated with Occupy Los Angeles filled the courtyard, including Nowhere Man's plea to "Imagine Fairness" and a black-and-glitter banner bearing the message "Fuck the Police."
. . . Led by a wide "The Nightmares From Wall Street" banner, the ghosts, reapers, and bankers marched north on Vine St, then west on Hollywood Blvd towards the intersection of Hollywood & Highland. The crowd responded positively to the procession, shouting out remarks that the "Ghosts of Wall Street" was both creative and true.
On the sidewalk outside the Dolby Theater, across from the El Capitan theater, the activists paused for a moment of street theater. . . .
Full story and photos: Ghosts of Wall Street Occupy Hollywood Blvd Halloween Night by Occupy Los Angeles OWS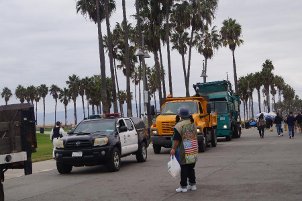 The "Cleaning Up" of Venice
If we wish to honestly "clean up" Venice we need an expanded storage program, an adequate number of trash cans and 24/7 bathrooms. The current city program of criminalizing unhoused people does not solve anything and wastes hundreds of thousands of dollars. "Cleaning up" cannot equal criminalization. That is discrimination, and is illegal. The act of being without housing is not a crime.
. . . If we had an expanded storage program and adequate public hygiene, like they do in other communities, like Costa Mesa, [Councilman Mike] Bonin could accomplish his goal of "cleaning up Venice" but without being punitive or harassing vulnerable people. He could actually help them. He could help all of us! It would cost the city far less and be a huge win/win for Venice.
. . . Why not try? Bonin has been made aware of this inclusive program but has not seen fit to implement one yet. He needs to feel public support. . .
Full story: The "Cleaning Up" of Venice by Deborah LaShever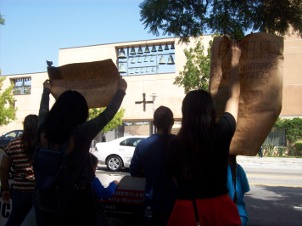 Columbus Day Protest, Downtown L.A.
Columbus Day has been suffering setbacks of late. Minneapolis; Berkeley, California; and most recently Seattle now observe Indigenous People's Day instead. San Francisco has Italian Heritage Day; Hawaii, Discoverers Day (i.e., the discovery of the islands by Polynesians); and South Dakota, Native American Day. Venezuela dropped Columbus Day in 2002 in favor of Day of Indigenous Resistance. Mexico, El Salvador, Argentina, and other countries celebrate Dia de la Raza. While Columbus Day's still recognized here in Southern California, a new annual protest occurs in downtown L.A.
While en route to the ornate Cathedral of Los Angeles, we got a clear view of it with a homeless camp in the foreground. Well over 30 protesters lined the sidewalk across the street from the church with signs. Several horrific and barbaric deeds of Columbus and other pious Europeans were mentioned via megaphone as patrons, including a large group of teenagers, exited the church and stood in front.
Full story and photos: Columbus Day Protest, Downtown L.A. by RP
---
production: previous page 2 next page | single feature archives | weekly archives