production: previous page 2 next page | single feature archives | weekly archives
---

Activists Mark 150 Years Since Chimney Rock Massacre
Sunday, February 12, 2017
LUCERNE VALLEY - Nearly one hundred-fifty years after the tragedy, a group of activists gathered at the site of what was likely the largest massacre in the recorded history of Southern California:
. . . Although the entire continent had been affected by the plagues that spread from nation to nation after the arrival of European pirates in 1492, until 1813, encroachment inland had been relatively minimal. But that year, Yuhaviatam (aka Serrano) supported Tongva relations in a raid on the San Gabriel Mission and were thereafter pursued into the mountains, where Spanish soldiers killed several warriors and took some prisoners.
. . . The next few years brought a rapid succession of changes that would greatly impact the region: Mexico won its independence from Spain and the land, while legitimately Indian, was nominally transferred from the possession of the Kings of Aragon and Castille to the government of Mexico. Meanwhile, those rapacious white settlers who had long ago thrown off the yoke of the British kings who sought to limit their domination of the North American continent, had begun to explore California to see what natural resources they might exploit there...
Full story: Activists Mark 150 Years Since Chimney Rock Massacre by Rockero, photos by M.A. Cruz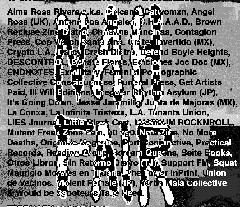 Nah Fair 2017 (Feb. 24 & 25)
As a counterpoint to the LA Art Book Fair, Nah Fair is an annual book fair that prioritizes ideas and work produced by artists and small presses; with a focus on experiences of people of color, queer projects, political concepts active in the city and other peripheral expressions
This year's Nah Fair is being hosted one block away from the LA Art Book Fair at 374 E 2nd St, Los Angeles, CA 90012. Spanning two days, includes over 50 participating vendors and projects; highlighting POC projects, Queer projects, Los Angeles-rooted projects, and other politically-active projects from various parts of the United States as well as Japan, UK, Canada and several projects from Mexico.
More here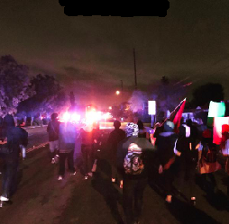 San Gabriel Valley Anti-Repression Committee Action
On January 20th, 2017, ANTIFA member, Bridgetown supports, and community collectives gathered at the corner of Valinda and Maplegrove to respond to a recent fascist threat against the Bridgetown Collective. Around 30-40 individuals gathered and took the streets; they marched down Valinda into Hacienda Boulevard blocking traffic. The sheriffs were present, but were not sure how to respond to the action. The sheriffs blocked traffic as the people marched down the street. The community members were generally supportive of the action and some even joined the march. The march lasted over an hour and eventually made it back to Bridgetown.
Full story: San Gabriel Valley Anti-Repression Committee Action by Mercedes Figueroa Solidarity Collective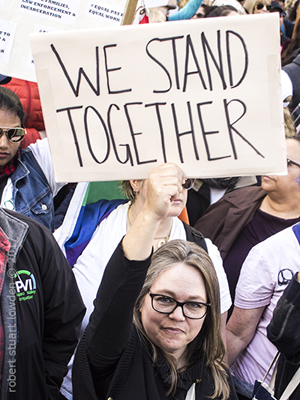 Massive Women's March Los Angeles Tells President Donald Where To Go
Saturday, January 21, 2017
LOS ANGELES-Across the United States and throughout the globe women rallied and marched in opposition to now president Donald Trumps threats, lies, federal appointments and anachronistic notions of a lost cultural empire. Women and men of all pronouns rose up and met publicly worldwide with numbers reaching 750,00 people in downtown Los Angeles or one million in Washington D.C. to denounce the coming administration's policies. They met to organize, they met for the fellowship that comes from consoling and affirming one another. They met to state openly that they were alarmed , alarmed for the survival of 250 years of American civil progress.
Story and photos: Massive Women's March Los Angeles Tells President Donald Where To Go by Robert Stuart Lowden
More: Indigenous and Sacred Lands Disrespected at L.A. Women's March posted by Ross Plesset
Additional photos and observations: Staggering Turnout for Women's March L.A. by Ross Plesset
http://la.indymedia.org/news/2017/01/294555.php
The heavy rain started in downtown los angeles on inauguration morning at about 3 am and did not let up until that afternoon. A series of marches had been planned to meet on Broadway and Olympic at 11 am and proceed to City Hall. At the starting time Donald trump had already been president for two hours.
---
production: previous page 2 next page | single feature archives | weekly archives