Womyn: 1 next page | single feature archives | weekly archives
---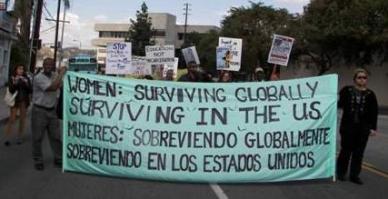 14TH ANNUAL INT'L WOMEN'S DAY EVENT Women Surviving Globally, Surviving in SoCal
Saturday, March 9, 2013: The daylong event began with a rally at the Downtown Jail, close to where several inmate families were waiting for visitation. "We were able to speak with some of them, and they were happy to see us out there rallying for justice, for themselves, their loved ones and for all women around the world," reports Wanda Miller. "Lots of people signed our sign-in sheets [and] wanted to join us in future events. Passersby were honking horns and waving in support.
"Even though we were across the street from the jail, some of those inside could [likely] see us through the tiny windows and were perhaps encouraged that we were outside protesting, that we were in solidarity with them."
The rally was followed by a "lively" March for Survival, with the message Invest in Life and Welfare, Not War and Prisons. At about 1:30, there was a teach-in at The Last Bookstore, about a mile away. Panels included Women Surviving Globally, which featured "video presentations from or about Haiti, Tanzania, Guyana, and IJAN (International Jewish Anti-Zionist Network). The last clip was of President Hugo Chavez of Venezuela talking about how important women were to what he was trying to do in Venezuela. . . ." The next panel was Women Surviving Locally with speakers Diana Zuniga of Californians United for a Responsible Budget (CURB); Tanisha Denard Youth Justice Coalition; Rachel West, US Prostitutes Collective; Alexa Rishton, Military Families Speak Out; Rosamaria Segura CHIRLA Household Workers Campaign; Lydia Ponce, an Indigenous from Idle No More/LA; and Wanda Miller, DCFS Give Us Back Our Children.
Full report and photos: 14TH ANNUAL INT'L WOMEN'S DAY EVENT Women Surviving Globally, Surviving in SoCal by Wanda Miller, DCFS Give Us Back Our Children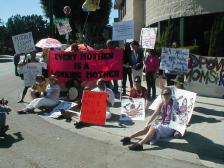 Mothers, Caregivers, Occupiers Demand Answers from Candidates
A multiracial group of mothers, children, other caregivers, occupiers, women and men, older people and youth, held a Speakout and Protest outside the Republican Party Headquarters in Burbank, California on Monday, October 15th, the eve of the second presidential debate.
The action was part of coordinated activities in 12 US cities held October 15th to launch a campaign for recognition of and resources for caregiving work and an end to the immoral and shocking poverty of mothers and children. The campaigners are calling for support for and enactment of the Women's Option to Raise Kids Act (WORK Act HR4379) introduced by Rep Pete Stark (D-California) and the Rise Out of Poverty Act (RISE Act HR3573) introduced by Rep Gwen Moore (D-Wisconsin).
Complete story and photos: Mothers, Caregivers, Occupiers demand answers from candidates by Global Women's Strike/LA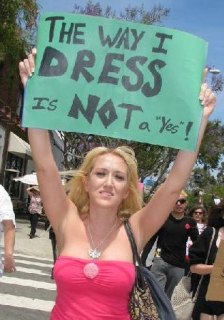 SlutWalk Los Angeles Storms West Hollywood California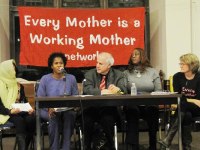 Community Dialogues in four US Cities: Mothers and Other Caregivers Speak Out
Mothers & other caregivers speak out against child welfare injustices, budget cuts, criminalization and war. Together they planned joint actions to demand that child "protection," welfare and other government policies end the trashing of mothers and recognize the value of their caregiving work.
Story and photos: Community Dialogues in four US Cities: Mothers and Other Caregivers Speak Out by Global Women's Strike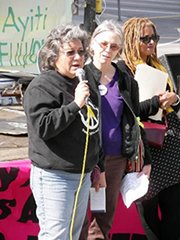 Mothers March & Speak Out
On Saturday, March 13, about 150 mothers, grandmothers, women who are not mothers, children, and men, came out for the Mothers March and Speak Out in Los Angeles. This was an International Women's Day event called by the Global Women's Strike and Women of Color/GWS.
Led by women and the Aztec Dancers, they marched down Wilshire Blvd from Shatto Place to speak out in front of the Department of Children and Family Services and in MacArthur Park. Mothers in a number of countries took part in the Mothers March to highlight all the work mothers contribute to society and to demand justice. In cities, towns and villages, mothers demanded our entitlements in Guyana, Haiti, India, Mexico, Peru, Turkey, UK, USA (Los Angeles, Philadelphia, San Francisco), and Venezuela.
Story/pictures: Mothers March & Speak Out by Ruth Todasco | Indymedia.Org Roundup
---
Womyn: 1 next page | single feature archives | weekly archives